Best Wireless Gaming Keyboard and Mouse Combo (2022)
Gaming keyboards and mice are sold individually, but they are also sold in sets. What are the benefits of buying a set instead of individual units? One of the reasons…
Gaming keyboards and mice are sold individually, but they are also sold in sets. What are the benefits of buying a set instead of individual units? One of the reasons why people do it is to save a few bucks.
Yep, you can actually make savings by buying two products in a package. It's no surprise that products sold in a bundle come with lower price tags. Although the amount you save is probably not too significant, it means a lot if you're on a shoestring budget.
Another good reason to get them through bundling is to maintain uniformity. Keyboards and mice sold in sets usually sport similar designs. If this is a big matter to you for aesthetic reasons, then you should definitely get a combo or a set instead of buying them separately. It's not just the designs, but their colors should also be identical.
For your information, many keyboard and mouse combos share a single dongle. That means you don't have to worry about running out of ports on your computer. Just one port is enough to make both work. As far as quality is concerned, there's nothing to worry about as long as you buy the right package.
Don't randomly purchase a set without doing some prior research. By the way, these are some of the best wireless gaming keyboard and mouse combos you can consider.
The Best Wireless Gaming Keyboard and Mouse Combos in 2022
---
The design on this keyboard and mouse combo is simply stunning. The attention to detail makes it stand out in the crowd. If you want a keyboard that doesn't look like the typical black-themed keyboard, this can be an option. It's not just the design that will catch you off guard.
The quality also can match the complexity of the design. There are 114 keycaps with laser engraved letters on this keyboard. The letters don't fade away quickly thanks to this application. Furthermore, you can find 10 multimedia keys on it, which would come in handy when you need a quick access to multimedia content.
The keys are conflict-free. This should be the norm in every keyboard because gaming needs it a lot. The keyboard sports a lightning theme, so it's unacceptable if it doesn't feature an amazing backlight. The backlight on this is great, anyway. You can change its color, breathing mode, and brightness levels.
As for the mouse, it doesn't fall short in quality. They complement each other very well. It's made of ABS, which is no stranger to peripherals in generals. There are 6 buttons all around with 4 levels of DPI shift.
As seen on the picture, a mouse pad is also included. Whether you have it already or not, it comes as a bonus, so let's just appreciate it.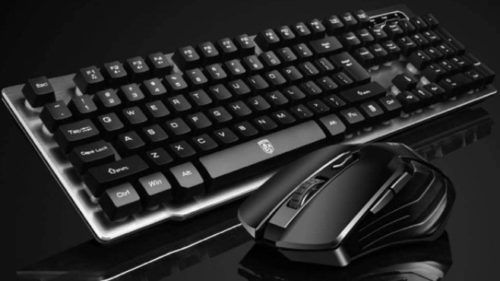 In contrast to the previous product, this bundle looks calm with its black design. Black keyboards are ubiquitous, so it's not difficult to find one for your gaming rig. The keyboard has metal elements that reinforce its sturdiness.
Despite the simplicity, the addition of metal gives it a modern appeal. It connects via 2.4G wireless technology. A wireless keyboard is probably not the best option for gaming, so you need to be more thoughtful in making a decision. Meanwhile, the mouse utilizes a 3212 gaming chip. It also features 6 buttons, pretty typical for a gaming mouse.
A keyboard isn't the only thing that matters for gaming. You'll use a mouse a lot, too. This mouse in particular is able to deliver terrific performance in various game genres, including your favorite titles like DOTA and World of Warcraft. Back to the keyboard, it has 12 multimedia keys.
We're sure you know the function of these by now. When it comes to installation, this product is like any other. There's no driver needed to connect it. Just plug it and you're ready to play.
What's up with these back to back immaculate keyboard designs? We've reviewed numerous keyboards before. However, they usually take a simple approach to design. Well, this is in no way as showy as the first product, but it still looks gorgeous. The construction is solid thanks to the aluminum alloy body. This material is known for its endurance and sturdiness.
For your information, the keyboard comes with a 3,000 mAh battery, while the mouse has a smaller 800mAh battery. Both are respectable capacities that translate to hours of usage time. It takes advantage of 2.4G wireless technology, a good pick for a two-way transmission. This keyboard is versatile as you can use it for different purposes, like gaming and office work.
Additionally, the layout is clean as evidenced by the neat key arrangement. As for the backlight, we find it very pleasant. The colors blend perfectly, not to mention that it also offers some cool effects. Don't worry about quality. The keycaps, for instance, adopt two-color injection molding technology to help them withstand wear and tear better.
The mouse is equally good especially the metal roller. And just like the keyboard, it also has a special LED light, adding more fun to your gaming experience.
One of the first things to look for when choosing a wireless keyboard is the battery capacity. It becomes a concern because it determines how long it lasts before needing a recharge. This product does decently in this area. While it doesn't pack the gigantic battery of the previous product, a 1000mAh battery is quite good if you ask.
Combined with a 650mAh in the mouse, you'll get a pair that can last for a whole week. Charging is easy with a USB cable. And then, the backlight also offers some customizations. The first adjustable part is the brightness. You can turn it down in case it's too bright or turn up if you need more illumination.
The second part you can personalize is the effect. A press on the Fn+pau simultaneously will change effect quickly. The device utilizes 2.4G wireless connection that provides a stable transmission.
There are a total of 104 keys on the keyboard with 12 buttons dedicated for multimedia content. The keys already have anti-ghosting, so nothing can stop you from hitting multiple keystrokes all at once.
This combo reminds us of old-fashioned keyboards and mice that tend to have simple and universal designs. If you're not a fan of extravagant details on either, you can opt for this package. It consists of a keyboard and a mouse that work wirelessly using 2.4 GHz wireless connection.
The maximum range is about 33 ft, which means they should be functional within the radius. In terms of performance, the keyboard has 8 anti-ghosting keys. This is paramount for regular typing, even more so for gaming. Hitting different keys shouldn't be a problem as the system would recognize each one of them.
Additionally, it has macro support. It's not really surprising that a keyboard geared towards gaming has this included. It's an essential feature that gaming folks use a lot. As for the mouse, it supports DPI switching of 1000/1500/2000. All in all, this combo is multifunctional.
Be it for gaming or another, you can rely on it. And it's pretty durable, too. The waterproof design will keep it safe from liquid spills, so you can use it for longer.
How to Choose The Best Wireless Gaming Keyboard and Mouse Combo
---
1. Design
Do you want a quirky or a professional design? Manufacturers are becoming more playful with their products. It's not hard to find keyboard and mice with unconventional designs.
The problem is not everyone is into such designs. If you don't want any extra embellishments on your keyboard, then choose a simple one, instead.
2. Battery capacity
Since wireless peripherals are powered by batteries, you should find out the capacities before making a purchase. Read the specs as they're normally included there.
Larger capacities equate to longer life spans. You don't have to charge too often when the keyboard and mouse pack massive batteries.
3. Price
The higher the price, the better the quality. The same applies to a keyboard and mouse combo. However, part of the appeal of bundled products is they cost lower, which allow us to make savings.
Basically, if quality is everything to you, don't hesitate to allocate a bigger budget. If it's the opposite, be ready to settle for cheaper alternatives.
FAQs – Keyboards and Mice for Gamers
---
What is the best budget wireless gaming keyboard and mouse?
The products mentioned in this review are for budget-conscious consumers. For the record, they sell for less than $60. If you want a budget combo, forget popular brands. Although some are priced reasonably, many of them come with high price tags.
There's nothing wrong with that since well-known brands have quality to fall back on. But if you're more concerned about getting a cheap pair, it's better to stick with a lesser known brand.
Remember small companies can also put out quality products, so there's no need to underestimate.
Are wireless keyboards good for gaming?
Wireless keyboards have their own benefits that make them appeal to many people especially professionals. They have no wire, which means no clutter on the workstation.
Despite all the benefits, they are less desirable for gaming. Wired keyboards although lacking the minimalist presence are great for gaming due to their responsiveness. The wire plays a big role in that.
So if we compare the two purely by performance, wired keyboards would be more compelling to buy. There's a reason why some of the best gaming keyboards are wired.
What is the best one-handed wireless gaming keyboard?
It's difficult to narrow it down to just one product because there are many amazing choices out there. Apart from quality, the number of keys is a factor to consider. Although they are operated with one hand, they vary in the number of keys.
There are keyboards with 25 buttons, 32, 42, and more. With that in mind, choose the most fitting one. Razer Tartarus Pro, Razer Orbweaver Chroma, Logitech G13, these are just some of so many choices.
What is the difference between wireless keyboard and bluetooth keyboard?
They are slightly different, but Bluetooth keyboards can be more convenient to use. Why? Bluetooth connectivity has been built into a lot of modern laptops, meaning an external dongle isn't necessary to establish a pairing.
As long as it is present on your device, you should be able to connect the keyboard with no problem.
Which is better wired or wireless keyboard and mouse?
It's hard to play favorites given that they are both great in their own way. Wireless keyboards and mice are suitable for applications where fast data transfer isn't a necessity, like regular typing.
They are also better at keeping the space clean and tidy. Hence, if you need one to fill your office room, a wireless pair is a great addition. Meanwhile, if speed is your biggest concern, a wired keyboard and mouse combo is the right solution.
Final Thoughts on Keyboard and Mouse for Gamer
---
The best wireless gaming keyboard and mouse combo is the one that meets your specific criteria. A keyboard and a mouse are two of the most essential peripherals. Many people decide to buy them separately in order to get the highest quality possible.
Meanwhile, those who decide to buy them in a bundle must also have a reason to do so. They probably feel tempted by the low prices or just want a mouse and a keyboard that that offer a seamless experience.
Mind you, when both come from a set, they are designed to complement each other, which lower the risk of incompatibility. Whatever the case might be, you have the freedom to choose between a pair or individual units.