The Best MOBA Gaming Mouse in 2023
Choosing a mouse is one thing, choosing the best MOBA gaming mouse is another. Although gaming mice are already a specific niche, to begin with, MOBA is even a smaller…
Choosing a mouse is one thing, choosing the best MOBA gaming mouse is another. Although gaming mice are already a specific niche, to begin with, MOBA is even a smaller niche but with many enthusiasts. That's why some manufacturers create mice that cater to this audience.
If you're looking for a mouse to play MOBA, then it's important to choose one specially built for this game genre. Apparently, these mice come in different specs. Some are lighter, while others are heftier, but the latter isn't necessarily bad for gaming.
There are many things that matter besides size. Sensor accuracy, programmable buttons, and memory are some of them. The good news is there are quite a lot of options available. Some products are made by established manufacturers that have spent years building their reputation.
As we know, MOBA games have plenty of fans, so it's not surprising that companies are vying to create premium peripherals for them. Well, MOBA games are addictive. It's fun to have total control over a character and team up with others to destroy the opponent's structure.
Gaining new abilities also adds to the fun. However, gaming for hours can put a strain on your hand, which is why choosing quality mouse matters because it can relieve tension in your hand and wrist.
The Best MOBA Gaming Mice
---
The name of this mouse says a lot about its gaming capability, especially for MOBA gaming. The features will give you an extra competitive edge, like programmable thumb buttons and quality switches.
Those switches are able to endure up to 10 mil clicks, meaning that it takes long before it shows signs of wear and tear. The high accuracy makes it perfect to play any game.
One of the key features of this product is the thumb buttons. You can use them to save spells and abilities. When they're saved, launching strikes will be easy. As for the performance, it relies on a 5600dpi Razer 3.5g laser sensor, which will step up your gaming experience tremendously.
For the record, a responsive sensor remains one of the most important aspects of a gaming mouse, so you'd need to make sure yours have a dependable one. Furthermore, the 11 hyper response buttons offer extra customizations.
If you need additional shortcuts to access skills, you can count on these buttons. The lighting is equally impressive, too. To be fair, light can make or break a gaming mouse. When light can be assigned to profiles and shows mesmerizing colors, it will elevate the atmosphere.
There are a couple of reasons to trust this as your gaming mouse. First, it pays attention to how your thumb rests on it. Why? The buttons move in accordance with your thumb movement, which allows for easy clicking.
Second, it gives you an option to pick in-game events for a tactile alert, not to mention that changing the response is easy. Whether you want to assign it to ammo, health, or another, this feature will come in handy. The level of customizations provided is uncanny.
There are many parts of the mouse that you can adjust to your liking, including the vibration. You can set its durations, patterns, etc. And don't worry about performance because there's a Pixart 3360 Optical Sensor embedded in the system. It's a high-quality sensor that is known for its gaming capability. It can provide you with an effortless tracking experience.
Now let's take a look at the left and right buttons. At a glance, they don't look special, but you should know that they have excellent rigidity thanks to the reinforced plastic construction. This part is hard to break and increases the life span of the mouse.
Does a large number of buttons make for a better gaming mouse? Programmable buttons are indeed essential, but they aren't everything. A quality sensor and overall performance still determine the quality of a mouse. However, we can't overlook these functional buttons.
This mouse has 12 on the side that you can reconfigure for macro playback. There are also preset profiles readily accessible. In terms of performance, the 16000 DPI optical sensor doesn't disappoint. It's excellent for gaming thanks to the ultra-accurate tracking.
Accuracy has always been an important part of a mouse, even more so a gaming mouse, so this is a win for you. On another note, the Omron switches further boost the performance. They're made to withstand up to 50 million clicks, which means durability isn't a problem. Even when you use it in long gaming sessions, the mouse will last.
Comfort is another thing it's good at because it's designed to conform to the natural shape of your palm. So whether or not you have large hands, the mouse will provide proper support.
It's a no-brainer to add a Logitech mouse to your arsenal. Logitech has some awesome products designed especially for gaming. And if you're into MOBA, this is a good pick. For those unaware, the company teamed up with professional MOBA gamers to come up with this product.
Who gives better advice other than those who're passionate about these games?
There are many highlights of this product, one of which is the Delta Zero sensor which guarantees a high level of accuracy. Meanwhile, the buttons are also made to withstand abusive gaming.
And then, the metal springs added to this mouse have an impact on the responsiveness. They can be found on both sides. As you press on the buttons, you'll feel tight and firm clicks, which clearly matter for gaming.
Additionally, it comes with 6 buttons that can be remapped to the needs. Programmable buttons have become a standard addition to every gaming mouse mainly because they serve a purpose. Those buttons help save time by storing all the frequently used commands.
Another helpful feature is the adjustable DPI settings. While they aren't groundbreaking or anything, it's nice to see them included because that means you can switch between those levels to suit the game. It can go from 240 DPI all the way up to 4000 DPI.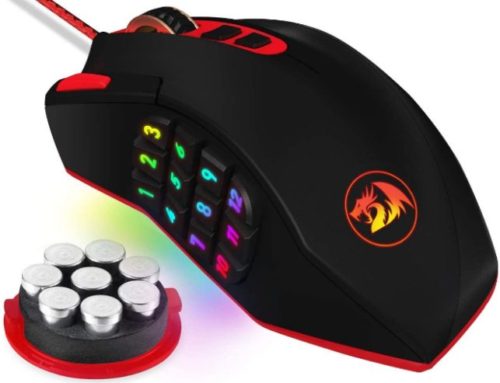 The button configuration on the left side of this mouse is hard to resist. It looks neat and clean. Gaming mice usually have this arrangement on that side. It serves to save preferred commands and profiles. This product is made with gaming in mind, so it makes sense that all the features gravitate towards gamers.
First of all, It has a 12400 DPI sensor and a polling rate of 1000 Hz. These two alone are enough to make it stand out in the crowd. The sensor delivers accurate tracking, while the switches offer excellent durability.
It also comes with a total of 18 programmable buttons. That's a significant number for a mouse even if it's intended for gaming. The LED is also programmable.
You can set a different color for each profile to avoid confusion. For extra comfort, it comes in an ergonomic shape, so it brings the ultimate comfort to your grip. This is paramount especially to those who spend hours playing games.
In terms of compatibility, it mainly supports the Windows operating system (10, 8, 7, VISTA, XP). It includes Mac OS, too, but the use is somewhat limited.
What to Look For in a MOBA Gaming Mouse
---
1. Button placement
This should be the first to come to your mind when choosing a mouse for MOBA games. A good mouse for this purpose not only needs to have many buttons but also keep them within reach.
Some mice have left button configurations that can be moved around to suit the user's needs. You can consider this type for the ultimate comfort.
2. DPI
Dpi is also important for gaming as it determines how far the cursor moves relative to the physical movement. Adjustable DPI has become the norm in gaming mice.
What differs is the DPI levels. Some have more levels, which means they give more freedom to adjust the sensitivity.
3. Grip type
Please decide on the grip before you shop around. It can be difficult to tell at first, but you can make sure by taking a closer look at a mouse.
The palm grip is a common grip type. In this type, a mouse comes in direct contact with the palm mostly. It's good because it provides natural support to your hand. On the other hand, claw grip has fewer contact points. They are slightly shorter but offer good agility.
---
More Gaming Mice from our store:
What is the best gaming mouse 2020?
Every brand deserves at least to be mentioned once because gaming mice are too varied to settle with one choice. From Razer, you can consider the Razer Basilisk Ultimate because it packs a superb sensor with a CPI of up to 20,000. The IPS are just as impressive, which can reach a max of 650.
Design-wise, it's remarkable since it's crafted carefully to meet the needs of the average gamer. From SteelSeries, one of the most prominent choices is the SteelSeries Rival 710. It's a bit expensive, but still, a worthy investment when all things are factored in.
It has much to offer from an incredible sensor to a well-built design. Meanwhile, Logitech has some great products, but the Logitech G502 Lightspeed steals the spotlight with its hefty price tag and fascinating features.
It's very lightweight and delivers top-notch performance even on wireless mode.
What is the best mouse for FPS games?
You don't need a mouse with a bunch of buttons to play an FPS game. A lightweight design and excellent performance are way more important.
There are some that meet the criteria, but you can consider the Finalmouse Ultralight 2 – Cape Town as it's designed to be ultralight. It's filled with holes, which significantly shed extra weight from the device.
If you need an affordable option, the Logitech G305 is a good alternative. It's a bit heavy but has a reasonable price to make up for it.
What DPI do most pro gamers use?
DPI adjustment is normally included in a gaming mouse, but a higher maximum DPI doesn't always translate to a better gaming experience. That just means you have more options to choose the setting that suits you the most.
Apparently, many pro gamers limit their DPI from 400 to 800 especially for FPS, but it could be a different case with other games. The reason why a low sensitivity helps for these types of games is that it makes it easier to lock the target.
Are gaming mice worth it?
Absolutely. These mice are loaded with features that are not present in regular mice. So if you want to get your feet wet in esports, using a gaming mouse is a necessity because it increases your competitive edge.
Some of these mice come with unbelievable prices, but they have the quality to fall back on. The good news is not every mouse costs a fortune. Some are priced below $50, which we're sure many can afford.
Are cheap gaming mice good?
'Good' is a good way to describe a cheap mouse. Now if you say most cheap mice are great or perfect, that would be a stretch.
Well, you can still find a quality mouse for less than fifty bucks. Some products in this price range are even from reputable manufacturers which bring quality to the forefront.
Top MOBA Gaming Mouse Conclusion
---
Getting the best MOBA gaming mouse isn't particularly difficult since some products are crafted for this game genre, but what may confuse is to pick one out of so many choices.
Well, you can start by figuring out your needs. These mice come in different specs. Some are more well-equipped but pricier, while others suit budget-conscious buyers despite not having as many advanced features. One thing is for sure, choosing the best mouse will give you that extra advantage over your competitors.
After all, we all play to win and if a quality mouse can bring you closer to victory, then why not buy one?
Price matters, but knowing your needs is way more important. Just because a mouse has advanced features doesn't mean it's the best for you especially if you just got into MOBA gaming.
Please read reviews, so that you know what works best for you.