[2023] Best Gaming Mice Under $50
Gaming mice vary in price. None is stopping you if you want to buy a cheap mouse. The question about price needs to be asked in advance because it will…
Gaming mice vary in price. None is stopping you if you want to buy a cheap mouse. The question about price needs to be asked in advance because it will guide you to find the right product.
If you decide to get a budget mouse, there are some sacrifices that need to be made. Why?
Being realistic will save you from major disappointment. If a mouse costs $10, then don't expect features found in pricier models. Just lower your expectations the lower the price goes. While an affordable mouse isn't perfect, it's also wrong to assume that it would be poor in quality.
In fact, an entry-level mouse can also compete with mid-range products. Why should you go for a cheap mouse when there are many models with great features? Well, not everyone has big bucks to blow on a fancy mouse.
Today we will review some of the best gaming mice under $50. To be fair, $50 isn't a low price for a mouse. It belongs to the mid-range category. By paying this amount, you'll get a mouse with decent features. Here are some that we'd recommend to you.
Best Gaming Mice Under 50 Dollar
---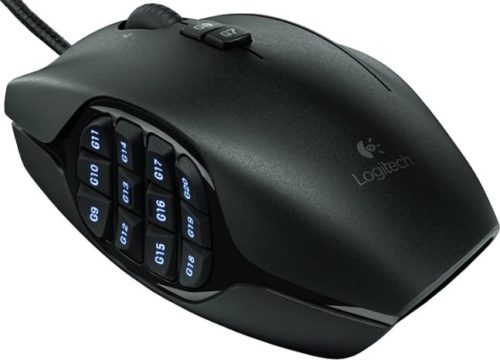 Logitech has some of the finest gaming mice, but for under $50, you can consider this one. It costs $36.99, pretty affordable if you ask. As seen in the picture, it's pretty well-equipped. Just look at the 12 thumb buttons. You can use them to execute combos and win the battle.
The best part is those buttons are arranged nicely to lower the risk of misclicks. They kind of slope off, so it's easy to tell which set you're using. There's also a G-shift button that's useful to increase the number of actions.
As with other gaming mice, it includes DPI adjustment. Anytime you feel the need to change the sensitivity of the mouse, just head right to the setting. There are 5 levels available. Another interesting part of this device is the lighting.
While not a novelty, the 16 million colors are fascinating to look at. And the light can be assigned to profiles. There are 3 memory profiles provided, which will come in handy when you use them on different computers.
For performance, it relies on an 8200 DPI sensor. The buttons also can endure up to 20 million clicks, very decent for the price.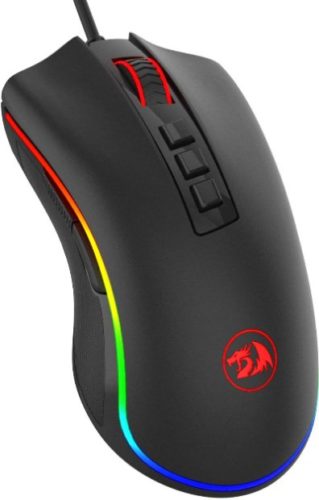 This is another you can consider for under $50. It costs $21.99 to be exact, not something you'd call expensive considering there are mice that double or even thrice the price. Now, let's delve deeper into the specs.
First of all, this mouse comes with 5 DPI options. Many mice stop at 4, so this gives more flexibility to you to adjust the sensitivity. It can be suited to each game. There are also 7 buttons on the mouse, all of which can be programmed.
As for the lighting, it uses the standard RGB LED. But even if it's used in other devices, this still has distinct options. Another useful feature you'll use a lot is the 5 memory profiles. This is a common inclusion in many gaming mice because we often play multiple games. Each profile can be assigned to a particularly light color.
Performance-wise, it utilizes Avago to take accuracy to another level. It's a must for a gaming mouse to move with high precision because every small movement matters. Meanwhile, the tracking speed of 100IPS is considered decent.
This mouse has a sleek design. It's not adorned with too many curves and embellishments. The simplicity is what makes it perfect. You can install it on systems that run Windows 2000/ME/XP/03/VISTA/7/8/10. There's also support for Mac OS.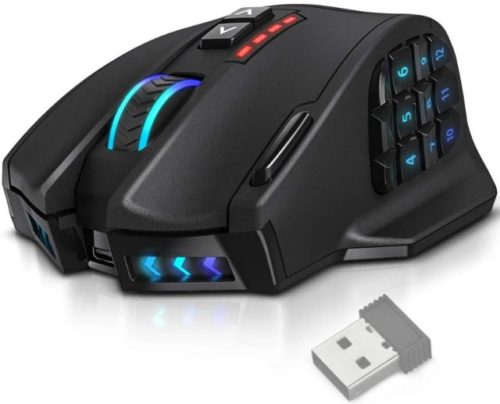 The design of this mouse is eye-catching. It looks futuristic and buffs with all the buttons all over the body. This is a wireless mouse and is priced at the upper limit of the range. If you have $50 to spend on a mouse, this is a good pick. Although wireless, it automatically goes to sleep mode when not in use. This omits unnecessary power consumption.
The battery capacity is 1000mAh which provides up to 70 hours of continuous use. It takes just 2 hours to charge it to full capacity. To ensure performance, a PixArt PMW3335 sensor is built into the system, which is terrific for gaming. The DPI is also adjustable up to 5 levels.
Another incredible feature is the 1000 Hz polling rate, which interferes with on-screen pointer sensitivity. As the name suggests, this mouse is suitable for MMO games, but it can be just as useful for other genres. You probably have a doubt about the wireless connection. It's understandable because latency often comes with a wireless connection.
However, in this particular product, it's claimed that the data transmission is stable and timely even when there's no cord in between. Furthermore, the design makes it look bulky, but little did you know that the hump on the posterior has ergonomic benefits.
It keeps you from hand fatigue. The mouse has 16 buttons that can be customized to the needs.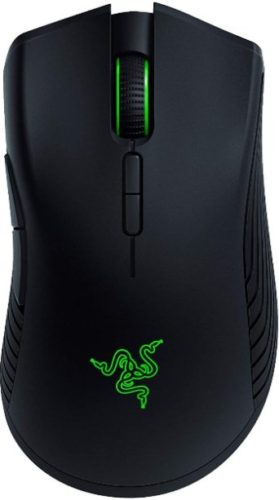 The most important thing for a gaming mouse is performance. It can look as simple as this one, as long as it delivers great performance, it's what matters the most. According to the product description, it's the number 1 wireless gaming mouse under $50.
Well, it's not an exaggeration if we look at the manufacturer. Razer is a reputable brand when it comes to gaming-oriented devices. If you need a mouse with top-notch quality, this is the one. It costs $45 and for the price, it offers a bunch of tempting features.
To start with, it's packed with a 16,000 DPI optical sensor. It also has its own DPI buttons. They can be reconfigured to your needs. The backlight is another standout feature. The color quality is mesmerizing as it can show 16.8 million colors. There are even preset profiles that will surely boost your gaming experience.
Back to the design, it takes a minimalist approach. The good news is it still sports an ergonomic shape, which means it aids in reducing fatigue, especially for long gaming sessions. The clicks give tactile feedback. This also matters for gaming as it reminds you of the sequence of clicks.
This mouse brings a lot of bang for the buck, no wonder it becomes one of the most-rated products in its niche. Judging by the average rating, it seems that most consumers are happy, too. Now, let's review the specs. In a nutshell, this mouse is highly programmable.
There are numerous customizations to increase your productivity as a gamer. The sensitivity can be adjusted up to 10,000 DPI. And there are 5 levels provided, so be it for gaming or work, it will be useful either way. The tracking speed can reach an upper limit of 1001 IPS, while the polling rate can be set to 1000 Hz.
From an overhead view, it looks as if the mouse has limited buttons, but don't be fooled. All buttons can be assigned to commands. The left, right, middle, forward, back buttons on top are all programmable. 2 others sit on the left side. We also find the backlight pleasant to look at. It's simply stunning especially when you alter the appearance through the 12 configurations.
Gaming is fun with this mouse, but you need to make sure it's compatible with your computer. It supports many Windows versions, such as 2000, ME, XP, VISTA, 7, 8, and 10. Luckily, Mac OS is also included.
What to Look For in a Cheap Gaming Mouse
---
1. Number of buttons
Gaming mice differ in many ways from traditional mice. Mice that are meant for professional work usually just have two buttons with a scroll wheel in the middle. Meanwhile, a gaming mouse can pack more than 8 buttons.
They are programmable for macros, which gamers need to execute skills. Even when it's cheap, you shouldn't ignore the number of buttons that a mouse has.
2. Weight
Weight is also an essential factor as it affects the time you spend with a mouse.
A larger mouse isn't the best choice for gaming because it will trigger hand fatigue more quickly. Instead, opt for a lightweight model, so that you can play for longer.
3. Tracking speed
This matters for gaming because it determines the speed that the mouse can detect. A mouse with a low IPS won't be able to track the pointer quickly when you move the mouse fast.
Although this feature may not show its best performance in a cheap mouse, it's not to be overlooked.
---
More Gaming Mice from our store:
What is the best cheap gaming mouse?
We have included some in this review. The one by Razer is great because it comes with a reasonable price tag yet has many advanced features.
Logitech also has some awesome choices, like Logitech G403 Prodigy, and Logitech G300s Optical Ambidextrous Gaming Mouse.
Is there any SteelSeries mouse under $50?
If you're a big fan of SteelSeries products, we'd love to reveal that it does have affordable mice in the lineup. The following ones don't cost more than $50 on Amazon; the SteelSeries Rival 310, SteelSeries Rival 100, SteelSeries Rival 3, SteelSeries Rival 110.
Needless to say, SteelSeries is one of the most notable brands when it comes to gaming peripherals, so don't hesitate to invest more in its higher-end products.
What about best gaming mouse under $30? Any recommendation?
You can find many in this range still, but your choices from popular brands will be somewhat limited.
Here are some that are priced under $30; the Redragon M602, Corsair Harpoon PRO, Redragon M601, HyperX Pulsefire Core.
What is the best lightweight gaming mouse?
We'll mention several products, let's start with the Logitech G Pro Wireless mouse. This is fantastic not only because it weighs little, but also because it's equipped with superior features, such as 16,000 DPI and a battery that lasts up to 60 hours.
The Razer Abyssus V2 is also comparable in this area with only 67g. Additionally, you can consider the Finalmouse Ninja Air58 that weighs only 58g.
Is Logitech G403 Prodigy RGB good for gaming?
Absolutely. For the price point, it packs incredible features. Besides an ergonomic design, the sensor also delivers high accuracy, which shows when you use it for gaming.
And it features 6 programmable buttons to help with in-game actions.
Affordable (Budget-Friendly) Mouse for Gaming [Conclusion]
---
An inexpensive mouse isn't necessarily bad quality, but we also shouldn't get our hopes up. It's worth noting that an affordable mouse can last for years with the right maintenance. What's usually lacking in these devices is features. They are not as advanced as high-end models, but that's to be expected. As long as a mouse can support your work, it's all that matters.
In choosing a mouse, price isn't the only concern, especially pertaining to today's review of the best gaming mice under $50. Since it's more like the mid-range category, there are a lot of features you can expect. You can start with the type, whether it's wired or wireless.
They're both great for professional use. But for gaming, wired mice are highly favored by gamers thanks to the low latency. We just gave advice, the final decision is all yours. If you prefer a wireless model for being simple, then go ahead.
Next, design is also important. Do you want a traditional mouse or one with an ergonomic design? The latter is good as it's suited to the user's needs.
Size is another factor to consider since it affects comfort. It's true that a heavy mouse feels solid in the hand, but at the same time, it's fatigue-inducing. Hence, it's probably best to stick with a medium-sized one.