Best Keyboard for CSGO: Reviews and Buyer's Guide [2023]
Skills aren't all it takes to be a good player. Proper equipment is just as essential. For FPS titles like Counter Strike: Global Offensive, a mouse plays a vital role…
Skills aren't all it takes to be a good player. Proper equipment is just as essential.
For FPS titles like Counter Strike: Global Offensive, a mouse plays a vital role in keeping you ahead of the competition.
However, we shouldn't forget that a keyboard also contributes a lot to your performance. Imagine if a keyboard has serious latency issues, it would be tough to fight in the battlefield.
Hence, we suggest you buy a quality keyboard.
What makes up a good keyboard? There are many factors, but there are certain features that are typically present in a gaming keyboard, like tactile feedback, audible sound, macro support, etc.
Find out if there's anything missing as it could make or break your decision.
If you're looking for the best keyboard for CS:GO, we've compiled a list of good products you can consider.
The Best Keyboards for CS:GO [2023]
---
This keyboard is built to meet the needs of an eSports athlete. It incorporates features that can help you improve your skills and advance to a higher level.
Besides speed and precision, it also offers a low sound output. Gaming keyboards are notorious for being loud. That's in no way a bad trait, but if you need one that's a bit quieter, this can be an option.
It also utilizes Romer G switches for quicker actuation. It's claimed to be 25 faster than the average mechanical switch.
As for durability, according to the listing, the keyboard is able to withstand up to 70 million keystrokes.
That's impressive given that many have an upper limit of 50 million. Design-wise, it looks nifty and slim. If you need to allocate more space for other peripherals, this will be great.
It comes with a detachable wire, making it easy to put in storage.
To install, make sure your PC is running Windows 7 or up. And if it's Mac OS based, it should be version Mac OS X 10.10 or higher.
Corsair needs no introduction, but this product does as you're probably not aware of the specs. We can start with the keys. They feature anti-ghosting technology with full key rollover.
With this, performing in-game functions wouldn't be a problem regardless of the complexity. The keyboard uses the Cherry MX switches which can deliver 1.2 mm actuation.
Typing feels effortless because every key press registers swiftly. And it doesn't take much effort to go past the actuation point. In terms of strength, this keyboard is also commendable.
Premium anodized brushed aluminum is used to construct the frame, which in turn, significantly boost its quality and endurance. The backlit is another awesome part of the keyboard.
Dim the light, you'll see the vivid colors coming out of the keys. Additionally, it has CUE support which takes customization to the next level.
Be it light or macro, there are many things you can do with it. By the way, the wrist pad at the bottom can detached from the keyboard.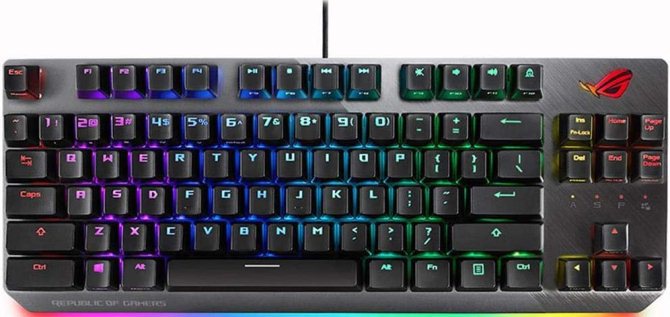 Asus is known for its laptops, but have you heard of an Asus keyboard?
If not, this may take you by surprise. The first impression of this product is it looks slim, which makes a good gaming keyboard. A compact design often leads to a decrease in weight.
It will help prevent early fatigue in a long gaming session. Under the keycaps, there are German Cherry MX brown switches which deliver tactile feedback and first-class performance.
The left CTRL key is another highlight. It can help avoid mistyping since it's made larger than usual. You know how important it is for a keyboard to have a layout that can prevent wrong clicks.
Because in gaming, a small typing error can ruin everything. This keyboard also cuts down on weight by removing the numpad.
Yep, this is a tenkeyless design, which is terrific for playing games like CS:GO. There are more incredible features, like macro support and built-in memory.
Many gaming keyboards go the extra mile in the looks department. That's a good move because many keyboards look very similar.
But if you crave simplicity, products like this may suit you more. It looks nifty without intricate detailing. However, the simplicity turns out to be its strength.
If you want to spruce up the desktop with a sleek keyboard, this will help. Despite the compact design, it's rich in features. It has 7 media keys for quick navigation through multimedia content.
It also includes a dedicated game mode key. Meanwhile, the backlit looks vibrant with dazzling colors. Don't start with the performance.
This keyboard proves that it has more than just a nice design. It serves a wonderful typing experience thanks to the red mechanical keys.
Most importantly, they're made to last. Expect them to last up to 50 million clicks.
Another essential feature is 100% ghosting, which should be a staple in every gaming keyboard as it has an impact on gameplay.
If you don't mind spending over a hundred on a keyboard, we'd recommend this product. It's designed to deliver an unparalleled experience to the user.
From the fine detail to the awesome feedback, it has everything to quench your thirst for a premium keyboard. It uses Cherry MX switches.
Well, we didn't expect less from a keyboard with that price point. The switches deliver tactile feedback with audible sound for improved accuracy.
There are 2 options available, blue and brown switches. Each type has its own characteristics. It also features a media control cluster.
Some keyboards have them layered with other keys, but since it's a full-size design, it's reasonable to be included. There's also a volume wheel on top right corner, which makes it easy to adjust volume to the desired level.
And for ultra-fast data transmission, the keyboard has two USB 3.0 ports. With these, data transfer becomes so easy, and it's claimed to be 10x faster than version 2.0. Overall, we can say that it's the epitome of perfection.
The attention to detail, robust design, laser etched key inscriptions, are some that make this keyboard great.
This is another offering from Redragon. It has 5 programmable keys for macros.
You can save macros quickly without the need for extra software. It also includes dedicated multimedia controls.
The perks of buying a full-size keyboard is you can access this element in a separate section, not overlapped with other keys. Access to music is easy and there's no need to exit the game first.
The same level of comfort is offered by the backlight wheel. With this, you can control the light easily by spinning it around. Another basic yet powerful feature is anti-ghosting.
Hitting an array of keys is no longer a problem with this on board. If you wonder about the switches, the keyboard uses Outemu blue switches that offer snappy feedback and noticeable sound, which is perfect for gaming.
Besides, the keys are also durable as they can last endure 50 million presses.
How to choose the best keyboard for CS:GO
---
1. Price
To achieve the best quality, price is a good indicator. Keyboards are diverse, you can get one for less than $20 to upwards of $100.
The higher the price, the more you can expect from a product. Branded peripherals and flagships usually belong to this group as well. Ask yourself if you can afford a keyboard worth $100 or more.
If yes, go for it. If not, you can go for a cheaper alternative. There are many of them, so don't worry.
2. Size
Whether you're an amateur or a pro , size helps in many ways. Slim keyboards are usually more lightweight, which would contribute to comfort during use.
If you play CS:GO just for fun, a larger keyboard can still be an option. But for a professional setting like eSports, a compact one can have a major impact on gaming experience.
Not only is it easier to drag around, it also creates more space for your mouse.
3. Mechanical switches
Membrane and mechanical keyboards can be hard to distinguish especially by novices.
Apparently, membrane keyboards are still extremely popular as they are cheap and easily accessible. But if you want to take gaming seriously, a mechanical keyboard is where your money should go.
It comes at a high price not without a reason. It delivers tactile feedback, something that a membrane variety can't provide. It also lasts much longer, up to 50 million strokes compared to 5 million for the average membrane keyboard.
On top of that, it produces an audible sound which helps you sense key presses.
FAQs – Gaming Keyboards
---
What keyboard do most pros use?
It's hard to keep track of all gears pro gamers use because they have their own equipment. But one thing for sure, you'll always see popular products mentioned in conversations about them and competitive gaming in general.
If you need some suggestions, here are some keyboards that occupy some gamers' battle stations: the Steel Series Apex M800, CORSAIR K70 RGB MK.2 Low Profile, Logitech G Pro Mechanical, and Razer BlackWidow X Chroma Mechanical.
Does keyboard matter for CS GO?
Obviously, gaming keyboards are created because there is demand for them.
Players need keyboards that can help them progress further in games they're focusing on.
Gaming keyboards usually have these traits; light, ergonomic design, anti-ghosting keys, tactile feedback, etc.
What keyboard do CS:GO pros use?
Again, these are just some examples of keyboards that pro CS:GO players use; the Corsair K70 RGB MK.2 SE, Logitech G Pro, Xtrfy K2-RGB, SteelSeries Apex Pro.
You can find more by discovering more players that compete in this title.
What switches do pro CSGO players use?
It's easy to check out the type of switch that a player uses.
First, you have to know the product. And then find information about the specifications of the product. You'll know what switches installed under the keycaps.
Due to the superiority of Cherry MX switches, it's likely that many keyboards use variants of these switches. Remember that switches come in several colors and each one has its own characteristics.
Any example of CS:GO pro settings?
You can try these greenade keybinds. There are some keys that will be assigned to the functions, namely F (Flash), C (Molotov/Incendiary), Z (Decoy), X (HE).
Bind f "use weapon_flashbang"
Bind c "use weapon_molotov"
Bind c "use weapon_incgrenade"
Bind z "use weapon_decoy"
Bind x "use weapon_hegrenade"
Final Thoughts on CSGO Gaming Keyboards
---
Choosing the best keyboard for CS:GO is not an easy matter.
To start with, some keyboards come with hefty price tags. Although expensive keyboards rarely disappoint, there are specific features you may want to exist in the product that you buy.
As we know, keyboards vary in price. Those with moderate prices aren't necessarily bad, but you should also lower expectations. It's unrealistic to expect an affordable keyboard to perform like a high-end one.
But even in the mid-level category, some great features can be squeezed in, like mechanical switches and n-key rollover. If you're a long-term membrane keyboard user, switching to a mechanical one could surprise you because it's a totally difference experience.
A rubber dome keyboard has this smooth typing feel, not bad, just different. It can be put to good use in certain environments. For gaming, however, a mechanical keyboard is the clear winner.
Mechanical switches allow for more precise inputs, which in turn, put you at advantage over the others. Besides, they're rather loud, which help you feel keystrokes.