The Most Ergonomic Gaming Mouse [2023]
Peripherals with ergonomic designs are made to suit the needs of the user, not the other way around. When you use a mouse that's tailored to your needs, it will…
Peripherals with ergonomic designs are made to suit the needs of the user, not the other way around. When you use a mouse that's tailored to your needs, it will increase convenience while using it.
Besides, it can help delay the onset of hand fatigue. Doing a repetitive task for an extended period of time can cause problems like aching and pain.
The purpose of an ergonomic design is to prevent those problems by positioning your hand in the most comfortable way possible. This can prevent an injury and extend the time spent on your laptop.
Ergonomic mice are carefully designed by taking into account factors like weight distribution, posture, pressure points, and others.
What's the most ergonomic gaming mouse?
Before you find out, let's talk about the things that make them special. One of the recognizable features of an ergonomic mouse is its contoured shape.
Unlike ordinary mice that don't pay close attention to details especially shape, an ergonomic mouse has a form factor that makes it fit perfectly in your hand. It feels as though the mouse is specially made for you.
With this contoured design, every part of your hand rests comfortably upon it, which eventually reduces strain. These mice are also responsive although this feature isn't exclusive to ergonomic mice.
The Most Ergonomic Gaming Mice in 2023
---
If you ever saw a mouse that looked like this, that was probably a vertical mouse. As the name implies, a vertical mouse stretches vertically, not lying down like a traditional mouse.
It's designed this way to prevent strain on the wrist and put your hand in a comfortable position. Moreover, it can relieve tension in your forearm. The risk of having a wrist injury will decrease when you decide to switch to this mouse. There are many awesome features that this product has.
First of all, it's equipped with a Pixart PMW3325 IR sensor. It also offers 5 levels of DPI shift. 4 levels have become the standard for many mice, so this is a plus. Not only can you adjust the sensitivity with ease, but you can also control the way the RGB lighting looks.
There are 11 buttons on this device that can be reconfigured to the user's needs. In terms of OS support, surprisingly it can work with the older Windows XP.
If your computer runs on a newer version, like Vista/7/8/10, the mouse is compatible, too. It's not just Windows, anyway. Linux-based systems can also use this mouse.
When choosing a gaming mouse, the polling rate is one thing you don't want to miss out on because it affects how responsive the mouse is relative to the on-screen pointer movement. It's important to choose a mouse that gives you a broad range of options.
This one offers 4 polling rates, while for performance it relies on a 7200 DPI sensor. You can also switch between the 5 DPI levels. It's one step ahead of conventional mice that usually offer 4. This setting can be easily adjustable through the dedicated DPI button. It's not just useful for gaming, anyway.
Everyone has different preferences when it comes to mouse sensitivity, so it will benefit professional users, too. As with other gaming mice, macro support is included. It plays a role in the execution of long keystroke combos.
The best part is the saved macros can be remapped at will. On another note, the backlight looks lit. It features 16 million colors with a number of settings that will improve the user experience. Turning on and off is also easy because it's connected to another dedicated button.
Speaking of the design, it's ergonomic. While it's not the most outlandish mouse ever made, the design supports the needs of the average gamer. It has a nice claw-grip, which will keep hand fatigue at bay.
The main benefit of a contoured mouse is it's built at an angle that provides support to your hand. If you want an ergonomic mouse from Corsair, please consider this product. It sports a unique design that allows your wrist to rest comfortably on it. It's not the only advantage provided.
In terms of performance, it has Corsair written all over it. The manufacturer is no stranger to high-performance peripherals. So if you need a mouse, a keyboard, or whatever, you can always trust this brand for quality. This specific product has a 16000 DPI optical sensor built into the system. It also offers 3 different thumb grips.
For the record, it's unlikely that one grip will fit every user since each one of us has uniquely-shaped fingers. With all these choices, you can pick the one you're most comfortable with. Another feature you may use a lot is profiling storage. The lighting effects on this device can be saved and are swappable.
The same goes for the macros. You can assign the buttons to specific commands. Furthermore, the mouse works well for left-handed users. Ergonomic and ambidextrous are different things. This product is the former, but surprisingly it's suitable for left-hand use.
Last but not least, the mouse is built to endure 50 million clicks, talking about extreme endurance.
If you're new to gaming, using an ergonomic goes a long way. The difference will be more apparent when you play for extended periods of time. Make sure you use the best gaming equipment to prevent hand problems.
This mouse from ASUS has a streamlined design that will benefit any pro gamer. Be it the tiger claw style or open palm style, you can use the mouse in any way you're comfortable. Additionally, it can save gaming profiles.
The opportunity to save profiles increases the value of a mouse. That's because gaming puts us through practice sessions and we want to make sure that those sessions are stored properly. Apparently, this mouse can provide a medium for you to keep profiles for future use.
When it comes to performance, you can benefit from the premium specs from the 6400DPI to 200ips speed. They will give you leverage over your competitors.
It also utilizes an optical sensor, which places it ahead of a laser sensor in smoothness. A laser mouse can feel jittery especially at lower speeds.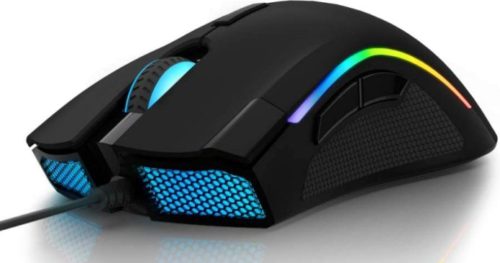 This is another mouse that we'd recommend to pro gamers. Judging by the specs, it's undoubtedly reliable for gaming. It comes with adjustable DPI of 1000/2000/4000/8000/12000. As a result, it can deliver a quick response if you need to.
The polling rates also vary from the lowest of 125 to the highest figure, 1000Hz. This way, you can set it to suit every game and mood. Meanwhile, the lighting looks magnificent especially with the metal mesh accent on the front. Of course, this part is customizable. You can change to breathing mode or another in just a few clicks.
Design-wise, it conforms to the contour of your hand especially the palm. This results in extra comfort as you rest your hand on it. As for the keys, they can be reprogrammed to the user's needs. That means if you need to change effects and macros, just assign them to the keys.
What to Look For in an Ergonomic Gaming Mouse
---
1. Design
Gaming mice come in vertical and horizontal varieties. Horizontal mice are basically traditional mice we're already familiar with. Vertical mice are slightly different because they stand upwards, not lying down on a surface. That's what makes them taller.
This unique design is great at reducing strain. Therefore, it may improve gaming experience because it lets you play for longer without feeling fatigue. That's not to say that regular mice are inferior because they can also come in contoured shapes to bring the most comfort.
2. DPI
DPI or Dots Per Inch is measurement for sensitivity. It's important to learn this information as every mouse has different DPI levels.
Higher figure indicates better sensitivity as the mouse reacts to smaller movements. 4 DPI levels are a commonplace. That would better if a mouse has more.
3. Brand
Despite the small size, choosing a mouse can be a painstaking process especially when you have many requirements and it has to check all the boxes.
One good way to ensure quality is by choosing a trustworthy brand. Some brands are known for making products geared towards gamers. If you find it hard to decide, it's a good idea to buy from a well-known brand.
---
Are ergonomic mice good for gaming?
A company pays attention to the smallest detail when designing an ergonomic mouse, so the answer to this is yes. Organic mice are simply better because they're designed to keep the hand at the most natural state.
Thus, this can prevent problems associated with prolonged use of a mouse, such as RSI or Repetitive Strain Injury and carpal tunnel syndrome. Both can hurt like crazy at an advanced stage, so better take precautions before any of these affect you.
Why are vertical mice better?
Vertical mice are one type of ergonomic mice. They're typically taller than the average mouse. Using this will give you many benefits. First, the forearm will be positioned comfortably on it, which in turn reduces strain in that area.
The state of relaxation also travels to the wrist because it keeps the wrist tissue strain-free. There will be no compression when you place your hand like that on a mouse. Besides, it allows larger muscles to partake in moving the mouse.
Is Razer better than Logitech?
It depends on what you look for in a mouse. Both companies have strict quality control over their products, so expect the best from their peripheral devices. They're on par in quality, so it comes down to personal preference.
If you want something specially made for gaming, then a Razer product will make a great fit considering Razer is known for making gaming-oriented devices.
Its relentless pursuit of perfection in the niche it's worked on deserves the heartiest appreciation. Meanwhile, if you need a mouse for general use, then a Logitech mouse is good, too
Are Corsair mice good?
How is this even a question? Anyone who is on the lookout for sophisticated gaming devices and power supplies knows that Corsair is a go-to brand. Much like Razer, its products come up a lot in reviews of gaming-oriented products.
The mice are especially great because they include features that avid gamers access frequently. The designs are ergonomic, feature multiple levels of DPI, and the sensors are also the highest quality to enhance your gaming experience.
What Mouse does MrFreshAsian use?
He's probably still using the Finalmouse Air58 Ninja CBR Edition if he hasn't changed it yet.
It comes in a beehive design with holes all over it. Just beware if are kind of trypophobic as it may trigger your anxiety.
More Gaming Mice from our store:
Final Thoughts
---
Is ergonomic worth considering? Absolutely, in fact, you should have one if you're concerned about the health of your hands. As trivial as it may sound, overworking your hands can pose serious problems like carpal tunnel syndrome.
When you constantly type and scroll using the hands, the muscles in this part of the body will be under tension, too. Without rest, the strain will kick in eventually and manifest as pain. When not well taken care of, it may progress into something more serious.
Therefore, we suggest you invest in an ergonomic mouse as it's designed with hands in mind. Replace your old mouse with this one, you'll feel the difference in the coming weeks or even days. All the tension and discomfort will go away assuming you haven't had an underlying condition.
Take time to choose the most ergonomic gaming mouse because there are quite a lot of choices out there. Find one that brings the most comfort to your grip.