Best Membrane Keyboards: Reviews and Buying Guide 2022
A quality gaming keyboard helps provide the greatest comfort while playing your favorite games. Therefore, you shouldn't overlook this part. It's just as important as a responsive mouse or a…
A quality gaming keyboard helps provide the greatest comfort while playing your favorite games. Therefore, you shouldn't overlook this part. It's just as important as a responsive mouse or a high resolution display. Don't use price as the only factor in your decision. That being said, it doesn't mean cheaper products can't do the job well.
Whatever you end up with, make sure it fits your needs and budget. Have you heard of membrane keyboards? Many people aren't aware of the type of keyboard they're using. They just measure quality by key responsiveness and overall experience.
While there's nothing wrong with that, as a professional gamer it's essential to know the different types of keyboards. This way, you can add the right one to your battle station.
A membrane keyboard has keys that are not separated and don't have many moving components. This is the opposite of a mechanical keyboard in which each key comes with a dedicated switch. With such a configuration, membrane keyboards typically wear out faster, but it doesn't automatically make them inferior.
Those wanting a quiet typing experience would go for membrane keyboards because they don't make much clicking noise. They are also relatively cheaper than the other type.
When it comes to the best membrane keyboards, there are many choices available. Please check out down below and see if any of these products interest you.
The Best Membrane Keyboards in 2022
---
One thing you'll quickly notice from this keyboard is the radiant lighting. It's even better that it also includes 6 different presets you can choose at will.
The keyboard boasts spill resistance, which makes perfect sense to those who always have drinks while working on their laptop. The best part is it can handle up to 120 ml of liquid.
Another good side of this keyboard is works quietly. Despite being responsive, the keys register with a low noise output. This is especially useful if you need to type peacefully.
There's also anti ghosting functionality which ensures all the key presses will be registered. Keyboards vary in weight. Being heavy isn't necessarily better because it takes more effort to move it around.
Since this one is made of reinforced plastic, it's lightweight and durable at the same time. As for compatibility, it works for the Windows operating system, but is limited to version 10, 8.1, 8, 7.
Adding metal to a construction has a good impact on its sturdiness. That's what this product is trying to achieve. The material not just lends its modern charm to this peripheral, but also reinforces its strength, making it more durable.
If you need a keyboard that's resistant to wear and tear, choose one that has metal parts like one. That's not the only thing that will lure you into buying. The uniform backlight is also hard to resist. The light comes out nicely from the bottom of the double-colored injection keycaps.
Does it have spill resistance? Luckily, yes. Now there's no need to feel conflicted as to whether you should keep your drinks close or not. The keys also have good feedback that suits all kinds of work, like editing documents, gaming, etc. Take a look at the rainbow-themed backlight. It's nice to look at and comes in handy in dark environments.
The backlight has some adjustable settings, including breathing speed and brightness. Add it to the fact that the keyboard also sports a stair-step keycap design, you'll experience the ultimate comfort.
This design is known for reducing hand fatigue as it keeps the hands in a very natural state. Even if you use it for a long time, the wrist and fingers won't hurt quickly. It supports various operating systems, including Linux, Max, and Windows.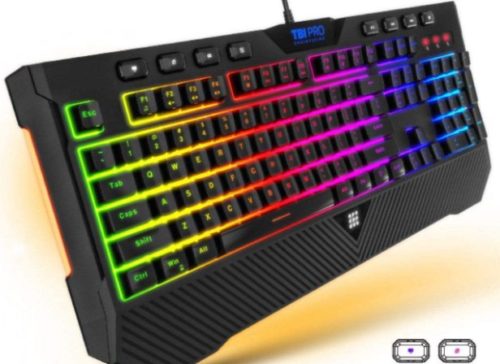 If you're a serious gamer, it's a good idea to use a keyboard created for this purpose. This keyboard is the membrane type, but it's claimed to offer the same feel as a mechanical keyboard. It's accentuated with stunning RGB backlighting that you can customize to level up your gaming experience.
ABS is the base material for the construction. ABS is widely used to make computer accessories, but it's not a popularity contest. This material has been proven to possess great impact resistance and structural strength. The backlight offers a selection of 8 colors which will also elevate the whole atmosphere.
There are many modes available, such as breathing and flickering modes. Another key feature is 25 anti-ghosting keys and 8 others assigned to multimedia functions. You can now open different apps with ease.
Heck, it's easy to play a song by pressing a simple button. Meanwhile, the ergonomic design is well-thought out. It will help reduce tension in your muscles, which results in less hand fatigue. The keystrokes feel great as your fingers depress them.
Ever find yourself wondering about what lies under the keycaps? This keyboard will satisfy your curiosity. The keycaps can be lifted, which will expose the inner components. It offers a mechanical click experience despite not being one. You'll also be entertained by the backlight with its varying modes.
It's easy to adjust brightness to your comfort level. And if you don't want to see any light while working, just turn it off. The keyboard also supports multimedia functions. All it takes is a combination of Fn+F1 or another key. Another feature to appreciate is the anti-ghosting technology that allows you to register multiple keys all at once.
Speaking of the design, the extra weight at the bottom helps it stay in place. While it's good when a keyboard is lightweight, the opposite also works especially when you use it rough like for gaming.
This design provides maximum stability while typing. Are you a Linux user? Don't worry, this keyboard supports platforms other than Windows. In addition to some windows versions, Mac and Linux users can also attach it to their computer systems.
Backlight has become a standard in many keyboards. However, this feature varies in the amount of customization provided. Some can only adjust brightness, while others also come with effects that make it more pleasant to look at. This keyboard, for instance, offers various customizations and effects.
In terms of build quality, it's not susceptible to water damage. The IP42 protection does a good job at preventing it from damage caused by liquid spills. And then, you can take advantage of the macro keys for easy combos in a single stroke. For those into gaming, these keys can repeat the same action over and over again.
This keyboard looks rather bulky with that large space at the bottom, but it isn't there for no reason. If you're unfamiliar with this type of design, it serves as a palm rest, so you can avoid a strain on the wrists. This boosts comfort especially with prolonged use of the keyboard.
There are also dedicated controls for multimedia. This way, there's no need to quit a game anytime you need to change audio settings. Additionally, Corsair iCUE software comes preloaded in this device. It gives you total control over the of RGB lighting and macro programming.
Although it's terrific for gaming, it's just as good for regular typing. The quietness is why we recommend it because many keyboards are too noisy for doing tasks that require focus.
Picking The Best Membrane Keyboards
---
1. Build quality
This matters just as much as a radiant backlight. In fact, a sturdy construction should come first as it determines how long you will use it before it starts declining in functionality. There are a few things that contribute to build quality, one of which is the material.
It doesn't have to be metal or something. Plastic is good, too. For the record, plastic comes in different grades. Strong ones likes ABS are ideal for computer peripherals like keyboards.
2. Macro keys
Macro keys are specific keys that allow you to execute an action after hitting a sequence of keystrokes. For example, if you need to launch an attack that requires pressing some keys, you can assign the action to a macro key.
As a result, the same action can be replayed each time you press the specific button. Some keyboards offer a list of macro keys that can be remapped. You can consider getting one with this feature.
3. Price
Gaming keyboards come in a range of prices. However, there's a general consensus that membrane keyboards are cheaper than mechanical ones.
If you don't feel like spending big bucks on a keyboard, a membrane one might be a good pick.
FAQs – Buying Membrane Keboards
---
1. Are membrane keyboards good?
Yes, of course. Membrane keyboards have unique traits that set them apart from the mechanical counterparts. For example, they have great feedback. That's not to say that mechanical keyboards don't as both are excellent in this department.
What we're trying to say is don't simply assume every membrane keyboard to be inferior in quality just because they cost lower. Another thing that might tempt you to buy is the quietness.
Mechanical keyboards can be loud, but that's not a bad trait in itself. Some people like loud keyboards because they help them feel every key press. This is especially true for gaming as you have to maintain focus on the game.
But for writing or doing something that needs focus to gain some new ideas, a membrane keyboard will sure help because it operates quietly.
2. Are membrane keyboards tactile?
This is not a membrane keyboard's strong suit. People use membrane keyboards for reasons other than being tactile although they can be modified to give that sort of feedback.
Tactile is an area where mechanical keyboards shine. Tactile switches causes a small bump once you reach the actuation point to notify that the key has been registered successfully.
3. What is the best gaming keyboard 2020?
When it comes to the best gaming keyboards, higher price usually equates to better quality. Well, this doesn't apply to just keyboards. Nearly all peripherals will increase in quality as they get pricier. Everyone has their own set of criteria for what they consider the best.
If budget is a restraint, you may find mid-range products more appealing. But when we strictly talk about quality, the following keyboards meet that requirement; Razer Huntsman Elite, Redragon K552-RGB, SteelSeries Apex Pro.
4. Do laptops have mechanical keyboards?
It's hard to squeeze a mechanical keyboard into a tiny laptop because key switches are typically thicker than rubber domes.
As a result, models available with these type of keyboards are also limited.
5. What is the fastest keyboard for gaming?
There are many that belong to this category. A good gaming keyboard is more than just a nifty and luxurious design. It should also deliver great performance.
Since speed is a good measure for performance, one of these products might get you intrigued; Roccat Vulcan 120 AIMO, SteelSeries Apex Pro, Corsair K95 RGB Platinum XT.
Summary – Choosing The Best Membrane Keyboards
---
Choosing one of so many quality keyboards can be overwhelming, but you can start by deciding on the type. Membrane and mechanical keyboards are two common types that are widely used to this day.
When it comes to the best membrane keyboards, the choices are varied. Are they better than the mechanical counterparts? They are better in some ways.
To start with, it's no secret that these keyboards don't make a loud clicking sound while typing. This makes many people prefer them to the other type. Besides, they are also cheaper to make, which in turn reduces retail price.
If you need a keyboard that has an affordable price and provides good feedback, you can count on a membrane keyboard.