Best Small Gaming Keyboards: Reviews and Buying Guide 2022
Full-sized keyboards with extensive features are tempting to buy, but they are probably not the best choice for pro gamers. Gaming isn't like typewriting where most of the keys matter….
Full-sized keyboards with extensive features are tempting to buy, but they are probably not the best choice for pro gamers. Gaming isn't like typewriting where most of the keys matter. You probably just use some and leave the rest untouched.
For this reason, it's better to choose a small keyboard instead of an oversized one. But how small should it be? If you're not new to gaming, we're sure you've heard of gaming keypads. These are a unique type of keyboards developed specially for gaming.
They include the most essential keys and omit those that are rarely accessed while gaming. You don't have to go with this, though.
Choosing a small keyboard can simply mean choosing one that feels lighter and compact than the average keyboard. It will provide many benefits. A small keyboard should keep all the keys close, so it's easier to move from one key to another. Besides, it will also save space.
If your battle station is already comprised of chunky devices, then you can free up some space by using a smaller keyboard. There's nothing wrong with that. Despite the tiny size, it can deliver good performance like a full-sized one.
If you're looking for the best small gaming keyboards, here's a roundup of some quality products available on the market.
The Best Small Gaming Keyboards
---
Before shopping around for a gaming keyboard, decide whether you will buy a keypad or a compact keyboard. Both are different but good for gaming. As seen on the picture, this keyboard keeps only the essential keys. If a traditional keyboard has over 100 different keys, this has much fewer.
It's strictly for gaming, anyway. If you want to use it for regular typing, you'll find many letters missing. But for gaming, it's excellent and can boost the whole experience. It will be easier to execute actions because the keys are close to each other.
Although many are absent, at least the essential ones like Alt, space, and Ctrl are all included. It also doesn't make a loud sound, which may make or break your decision. Another advantage of using this keyboard is it offers a mechanical experience.
The switches respond quickly as your fingers depress on them. And it's claimed to make it to 60 million keystrokes. To install, all you have to do is plug it into your computer. It doesn't need any driver for pairing.
As for compatibility, you can use it on various platforms, such as Xbox One / Xbox, PS4, and Windows.
This is another keyboard that takes on the same design as the previous product. The perk of using this type of keyboard is you can register keys more efficiently thanks to the unique layout. That being said, it can be useless out of gaming because many letters aren't present. In terms of design, this keyboard looks gorgeous.
Who said gaming keypad can't look awesome despite the limited number of keys? Meanwhile, the tactile keys will further boost your gaming experience. For those wondering the switches below the keycaps, they are OUTEMU blue switches, which can provide tactile feedback.
This product also has an edge in macro key support. There are 7 in total that you can remap to the needs. Macro keys are especially useful for gaming as they allow for quick actions. They will save you time and prevent hand fatigue as they eliminate the need for hitting a long sequence of keys.
Another highlight is the RGB backlight with 5 modes. Gaming just feels more exciting when the keyboard exhibits a light show. It can also help you see in low-light environments.
For the record, the bottom pad can be detached from the main structure. They're connected by magnets, so taking them apart is easy.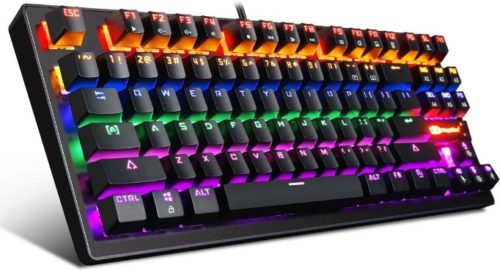 Unlike the previous products, this is a full-sized keyboard that comes in a compact design. If you need a multi-purpose gaming laptop, this can be an option. Thanks to the 87 keys, you can also use it to complete office work. The keys have good feedback, which lowers the chances of mistyping.
Apart from compact design, this keyboard also boasts liquid resistance. It's important if you always keep your drinks close. There's some sort of protection that prevents water damage. Another interesting part is the detachable keycaps.
Keep in mind that the keyboard can pick up dust. While it might not be visible to the naked eye, dirt and dust can accumulate below the keycaps. Since this part is removable, cleaning would be easy. It also comes with a non-slip rear feet. It can provide extra traction against slippery surfaces.
The build quality is solid because it utilizes aircraft-grade aluminum and ABS. Both materials are great in their own way and create a perfect combo together. Additionally, the key switches are also high quality, which contribute to their durability and crisp typing feel.
A compact keyboard may not have the most complete keys, but they do more than keypads do. If you need a keyboard that has nearly complete keys yet doesn't compromise gaming comfort, this makes a perfect choice. It has a total of 87 mechanical keys, so they should deliver pleasant tactile feedback.
The switches ensure maximum durability. The click sound is still audible. This is useful for gaming. Not every keyboard has to be quiet. But for gaming in particular, loudness is a desired trait. It features an LED backlight emitted from the molded keycaps. There are a few customizations provided to the user, among others, 5 lighting modes and breathing speed.
Design aside, the build quality is commendable. The keys, for instance, are conflict free. This is clearly important for gaming that often requires pressing multiple buttons simultaneously. 1
2 multimedia keys spread all over the keyboard to help you access multimedia content at any time. On top of that, the keyboard is splash proof. You can count on it to deal with accidental liquid spills.
What's so great about this keyboard is the typing response. It has to do with the medium height keycap. Key travel is an aspect of a keyboard we shouldn't belittle as it affects comfort. With this keyboard, your fingers rest on the keys at a natural state.
The rear is adjustable, you can change it to your comfort level. Meanwhile, the typing experience is great. It has a backlight with 7 different effects and modes. There's also an option to raise or lower the brightness levels. The light show will get you immersed in the gaming experience.
By the way, this keyboard includes 87 keys, quite a standard if you ask. You can also find 12 multimedia keys for easy control over multimedia content. The tenkeyless design sheds unnecessary weight, resulting in a keyboard that's terrific for gaming and regular typing.
Take a look at the keycaps. They are coated to ensure better endurance against wear and tear. In terms of OS support, it can work with various operating systems, such as Windows XP, Vista, 7, 8, 10, and Mac OS.
How to Choose The Best Small Gaming Keyboard
---
1. Material
Many gaming keyboards are made of reinforced plastics, but to give them an extra boost in sturdiness, please consider products that have metal elements. Needless to say, metal possesses incomparable strength and longevity.
When a keyboard is made partially from metal, like steel or another, it will be more resistance to scratches and other damaging factors. However, the use of this material will drive up the price, so you have to pay more. It's a worthy investment, though.
2. Backlighting
It has become a standard feature across gaming keyboards, but it still varies in the level of personalization provided.
Some just allow you to adjust brightness levels. Others are more complex. They offer a range of modes to turn it into a brilliant light show.
3. Wired or wireless
Wireless keyboards offer more comfort, but many still prefer the wired ones because they don't have latency issues.
This is a concern because speed and time play a huge part in gaming. If you miss a few seconds, you can be defeated by your enemies.
FAQs – Small (Compact) Gaming Keyboard
---
1. Are mini keyboards better for gaming?
Mini keyboards have fewer keys, which improve experience in some ways. When the keys are limited to only those that matter for gaming, it will take shorter to maneuver from one key to another. That's why gaming keypads have seen a surge in popularity recently.
Many gamers find these one-handed devices help execute actions faster. There are also keyboards that come with a wide range of keys but get rid of the least important ones.
They can aid in day-to-day typing, but also make a great addition to the battle station. Besides, smaller keyboards weigh less, perfect for those who've never been fans of chunky peripherals.
2. What is the best keyboard for FPS gaming?
Some products can fit in this category, like the HyperX Alloy FPS. The name alone speaks volumes about the specialty of this keyboard. It's made for FPS games.
The keyboard actually keeps it simple with its minimal ornamentation, but that's not really necessary for a gaming keyboard. At least all the essential features are on board, like a metal frame, quality switches, and a backlight.
The Corsair K70 RGB (MK.2) and Xtrfy K2-RGB are others you can consider.
3. Does a keyboard matter for gaming?
Gaming keyboards are a thing. They have unique features for competitive gaming. The bunch of gaming keyboards pretty much prove that these devices do matter.
If keyboards aren't that significant, companies wouldn't have developed these special keyboards to bring out the competitiveness of gamers. Besides, such keyboards also utilize tough materials to withstand hours of aggressive gaming.
4. What is the difference between membrane and mechanical keyboards?
As the name suggests, a membrane keyboard uses a flexible plastic sheet or a membrane to trigger keystrokes. Meanwhile, a mechanical keyboard uses switches for the same purpose.
The different constructions lead to different feels both have to offer. Membrane keyboards are typically quieter, but at the same time can provide good feedback.
They are suitable for office use. On the other hand, mechanical keyboards are louder and have tactile feedback. The individually built keycaps make them durable and satisfying to use.
5. How much does a mini keyboard cost?
You can get one for less than $30, but there are also variants that cost over $40. It depends on the type of the keyboard, brand, and quality.
If you refer to a gaming keypad, it should be cheaper considering it's smaller than a full-sized keyboard. But if it's a compact keyboard that keeps most of the keys, it should cost more as it requires more material to make.
Final Thoughts on Buying Gaming Keyboards
---
It can be hard to decide on the best small gaming keyboard because there are many to choose from, not to mention that newer models keep popping out. For this reason, assess your needs before searching around.
You can start by calculating your budget. It will guide you to find the most fitting keyboard. In case you have an unlimited budget, think of the built-in features. Keyboards vary greatly in features. They can come with mechanical keys, sport full-sized or compact designs, include macro keys, etc.
Every gamer has different needs. There's no need to compare yourself to others. Another way to find a quality keyboard is by choosing one that many people use. Although there are many keyboards on the market, some are more recognizable than others.