Best LED Keyboards: Reviews and Buying Guide 2022
What are some of the best LED keyboards? LED backlight has become a standard feature in many gaming keyboards. However, backlight itself isn't a measure for quality. People like it…
What are some of the best LED keyboards? LED backlight has become a standard feature in many gaming keyboards. However, backlight itself isn't a measure for quality. People like it because it adds aesthetics and helps improve vision especially in the dark.
But, should you choose a keyboard with this feature or not? As said before, it has become the norm, so if you want to buy a high-end keyboard, it's likely that this feature is included already. But don't worry, there should be an option to turn it off, too.
The extra illumination coming out from under the keycaps make it easy to see the letters. Besides, you may want to dim your room at times, which means this feature will come in handy.
Backlights come in a range of colors and effects, making them more appealing to look at. The more expensive the keyboard, the more customizations provided, so you can do more than just adjusting the brightness levels. The light also penetrates through the space surrounding the keys.
As a result, the keyboard will look striking especially when there's no external light. Many gaming keyboards have backlight as a built-in feature. In other words, it could be harder to escape than to expect this from a keyboard.
Expensive models are especially known for packing the most extensive features and this is rarely left out. Let's take a look at some of these awesome LED keyboards.
The Best LED Keyboards in 2022
---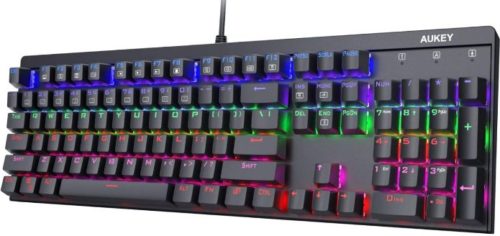 This combines a mechanical design an eye-catching LED backlight. If you need a keyboard that puts together these two elements, then this is for you. It offers 6 different colors with each assigned to every row. That's not the end of it.
The backlight provides another customization, namely 9 preset effects. You can even configure it on your own, too. As for typing experience, it feels great thanks to the use of blue switches. They contribute to the awesome feedback the keys have to offer.
They are not only responsive, but also accurate, which means they would be terrific for gaming and daily typing. The keyboard lasts 50 million keystrokes. That's a high figure that takes long to reach. Meanwhile, the 104 keys deliver good performance.
They won't be conflicted even when you press multiple keys simultaneously. Another feature worth shouting about is the liquid resistance.
Do you like sipping coffee while working on your laptop? With this feature, there's no need to be overly vigilant on how to hold drinks near the keyboard. ABS also plays a role in improving the endurance. This material can be found all over the keyboard along with a metal panel.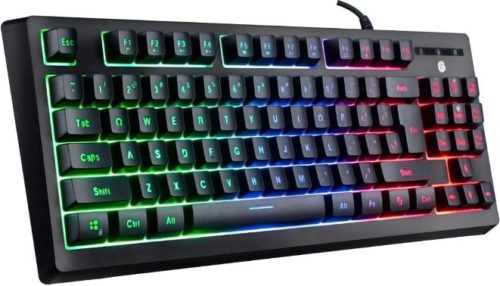 Some membrane keyboards are claimed to offer a mechanical typing experience. This is one of those products, but to know if it lives up to the claim, you need to try it yourself. That's not the only interesting thing about this keyboard. It features an RGB backlight which comes in several effects like breathing mode.
Design-wise, it's quite compact as evidenced by the total of 87 standard keys. Larger keyboards typically have more. Since this cuts down some, it becomes more compact. The best part is the keys are conflict free. Mind you, this is an essential feature to look for in a gaming keyboard.
There are also 14 keys for multimedia purposes. How does it manage to stay compact? Well, it's a tenkeyless design, so weight reduction is to be expected. The brightness is adjustable. To do it quickly, just hit the Fn + Home combo.
In the meantime, the keycaps are durable due to the double injection. They also allow for easy cleaning because the keycaps can be separated from the keyboard.
In choosing a gaming keyboard, comfort is everything. This product tries to achieve that with its ergonomic design. This way, problems like hand fatigue will be more manageable. It works for newer windows versions (10 / 8 / 7 / XP) and Mac OS.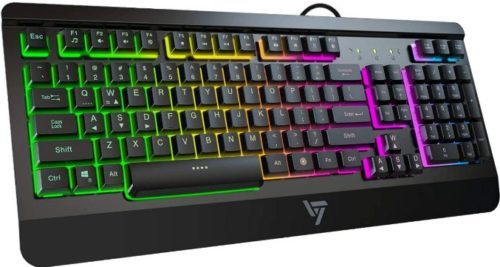 This keyboard looks sleek with its rounded corners, but that's not the only appeal. The construction is sturdy because it incorporates metal, which is known for its impact resistance. You can compare it to others in its price range and it will give them a run for their money.
The rainbow-themed illumination is breathtaking to see. Not all backlights are created equal. Some are very colorful like this one. It will be great to enhance your gaming experience. Customizations are included, but they are rather standard like those found in most LED keyboards.
Well, it's not a big deal considering it has more to offer. For example, the medium high keycaps takes feedback to the next level. It allows you to type faster and more precise. The keys are also anti-ghosting. Even if you're not a writer, this specific technology is useful for gaming as many actions require hitting long sequences of keys.
Another reason to buy this keyboard is for its low noise output. If clicking sound bothers you a lot, choosing a keyboard that offers smooth typing is the way to go.
This product fits perfectly in this category because it operates quietly. The platform support is also extensive. It's compatible Windows down to 95/98/XP/2000. Mac OS is also part of the supported platforms.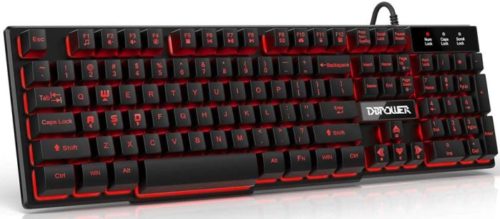 Compact keyboards tend to restrict the number of keys. This one manages to appear slim, but interestingly, it can squeeze up to 104 keys. That means it's perfect for day-to-day typing, not just gaming. The 19 non-conflict keys also make it easy to jump between keys without fear that some will fail to register.
As for the backlight, it comes in 3 nice colors. As we know, not every keyboard produces popping colors. Some go down the simple route with minimal backlighting options. Well, at least this one can still impress with its breathing mode. In case you're not a fan of flashy lighting, you can switch to permanent mode. The tactile feedback will make typing easier.
Apparently, it is a feature that many products emphasize because it appeals to gamers. This type of feedback is not only for gaming, though. The small bump that appears past the actuation point gives a sense of touch while typing.
This keyboard is wired. Wired keyboards have an edge in time response over the wireless ones. Since time matters in gaming, it's better to use a keyboard connected through a wire instead of a wireless connection.
If you're looking for a mouse and keyboard bundle, this package is for you. Speaking of the keyboard, it has 104 keys and 19 conflict-free keys. The latter is useful for gaming because every keystroke counts. It also boasts a mechanical experience. The backlight has a rainbow color theme with 3 adjustable brightness levels.
You can turn on the constant mode if you prefer this one. Breathing mode which is a commonplace for LED keyboards is also included. Now let's have a closer look at the mouse. It feels responsive and provides 4 levels of DPI shift. Choosing a reliable mouse is imperative especially for gaming.
Thankfully for this product, both the mouse and keyboard deliver commendable performance. The keys are said to give a mechanical feeling.
Well, the only way to measure it is by typing directly on the keyboard, so go get one and give it a try. Platform support goes beyond the Windows operating system.
Nearly all keyboards support Windows (2000, 2003, XP, Vista, 7, 8, 10 on this product) for an obvious reason, but this also includes Mac OS, so it's very much appreciated.
What to Look For in an LED Keyboard
---
Lighting options
To start with, please figure out lighting options you expect from a keyboard. Keyboards come with various effects and modes. Some have more color choices, while others offer fewer.
You can find this information on the product description. They usually tell you colors that the keyboard is able to produce and special effects provided.
Brightness settings
An option to adjust brightness is important. Why? Too much light can be hard on the eyes. For this reason, brightness settings are necessary, so that you can set it to your comfort level.
Since every product is different, you need to find out if a keyboard only allows you to turn on/off the backlight or it also offers brightness adjustment.
Compatibility
This shouldn't be a problem for Windows users because keyboards usually support this platform.
But if you use Linux or Mac OS, you should learn if a keyboard supports it or not. Otherwise, you may fail to establish a connection between the two devices.
FAQs – Best LED (RGB) Keyboards
---
1. What company makes the best gaming keyboards?
Some of the best gaming keyboards are made by well-known companies like Razer inc., Corsair components, inc., and Logitech. In choosing a keyboard, brand is a good way to gauge quality.
Peripherals made by reputable companies should be high quality because they have strict control over products they produce. For this reason, if you want to assure the quality of a keyboard, just buy one from a reputable brand.
2. What is the best RGB keyboard?
To narrow it down to one keyboard is painfully difficult because there are so many products that deserve a mention. We will suggest you some that are value for money.
In addition to the SteelSeries Apex 7, you can also consider the Redragon K552 and Corsair K95 RGB Platinum XT.
3. Is Corsair or Razer better?
Both are known for making high quality keyboards, so it all comes down to personal preferences eventually. One thing to remember is that keyboards vary in quality, so even in one manufacturer there could be many products with varying degrees of quality.
If you want the best one, then check out the top-tier products in the lineup. More expensive models usually bring a lot of premium features to the table.
4. What is the best budget gaming keyboard?
All keyboards mentioned in this review are priced under $100. You can buy one to improve your gaming rig.
However, in case you want a more expensive model but remains in the affordable range, the following products might interest you; Logitech G413 Carbon and Razer Cynosa Chroma.
5. Why are gaming keyboards so expensive?
Are you under the impression that gaming keyboards are expensive? It's not totally true. There are also cheaper alternatives, but the expensive ones usually come with fancy features.
For example, it's not realistic to expect a mechanical keyboard to have a low price tag especially when it's from a well-known manufacturer. If you need one for cheap, then don't put much emphasis on brand. You can get an affordable keyboard by excluding the popular brands.
Back to mechanical keyboards, they cost more because they are labor intensive to make and offer things that increase their value, like extreme durability and tactile feedback.
Final Thoughts on Finding The Best LED (RGB) Keyboards
---
While the best LED keyboards can deliver stunning effects, the main purpose of a backlight is to provide illumination. Many gamers like to play in the dark or in low-light environments. The light emitted from the computer screen isn't enough to light up the keys on your keyboard.
A backlight is much more effective to help us see the letters. The good news is a keyboard can provide an array of backlight customizations. Not only can you adjust the brightness, but you can also change its color theme and breathing speed.
More sophisticated effects are usually available in mid-range and high-end models. So if this feature is a big deal to you, don't hesitate to invest more.
By paying more, you'll get a keyboard that can exhibit a spectacular light show. It also features interesting hues that may elevate the gaming atmosphere.