Best Quiet Gaming Keyboards: Reviews and Buying Guide 2022
Quiet keyboards are easy to find, but if your goal is to get one for gaming, then it can be a taxing job. As we know, loud sound is one…
Quiet keyboards are easy to find, but if your goal is to get one for gaming, then it can be a taxing job. As we know, loud sound is one of the things that gaming keyboards usually highlight because it gives a sense of touch, which matters for gaming. It also has to do with the style these keyboards adopt.
Many gaming keyboards use mechanical switches that are known for their loudness. Hence, if you want one that works silently, you should either go for a membrane keyboard or a mechanical keyboard that has been optimized to reduce its noise level.
The latter isn't as common, though. Quiet keyboards are useful for gaming, but many prefer them for office work like typing or browsing through the internet because all these activities don't really need tactile feedback.
To get the best quiet gaming keyboard, it's important to read the specs because that's how you know the profile of the product. They will reveal the type of the keyboard, the noise output, etc. Linear switches are a bit quieter than others, but they don't have the strongest resistance.
Meanwhile, tactile switches come in two variations, one with a louder sound and one with a quieter sound. Choose one that works best for you.
Best Quiet Gaming Keyboards in 2022: What Are They?
---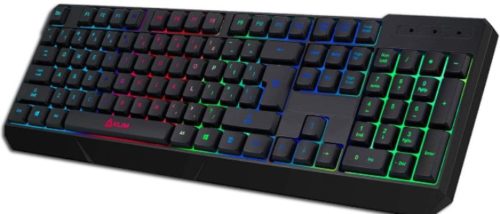 If you want a keyboard with a great price-to-performance ratio, this is a perfect choice. For about $35, you'll get a keyboard that delivers stellar performance and a comfortable typing experience. It's a membrane keyboard, so it's understandable how it remains quiet during operation.
It's also made of the best materials to provide strength and longevity. You can use it for years as long as you keep up the maintenance. When it comes to noise level, one of the advantages of membrane keyboards is they don't make much clicking sound during use. While it's probably not the best idea for gaming, it comes in handy for day-to-day typing.
Besides, the keyboard also features a short travel distance, which further boosts typing comfort. Another highlight of this product is the sleek design. There's nothing obtrusive about it. Everything is laid out nicely, even the RGB lighting doesn't look too striking.
Well, at least it's bright enough for you to see in the dark. And if you don't need it, there's an option to turn it off. Back to performance, it can endure up to 10 million key strokes.
In other words, you can use it long enough before some parts start to wear out. Surprisingly, it's also water-resistant. You'd think that an affordable keyboard like this would put this feature aside, but it proves us wrong.
The type of switches influences typing experience. This one uses OUTEMU red switches that provide a smoother experience. If you want a gaming keyboard that doesn't have the strongest resistance, this can be an option. The linear switches are the reason behind the lack of tactile response.
But it's not necessarily a bad thing. For those who care about smooth typing more than anything, this will do the trick. There are 104 keys on the keyboard. The best part is they adopt anti-ghosting technology, so there's no need to worry that some keystrokes will be left unrecognized.
There's also macro support that can be reprogrammed to the user's needs. As we know, macro support means a lot for gaming, so make sure this feature is included in your gaming keyboard. As for the backlight, it comes in 6 different themes, which will be helpful in low-light conditions.
The light arrangement isn't the only customizable element. The brightness levels can also be adjusted. Just press Fn + Up/Down simultaneously for a quick access to this setting.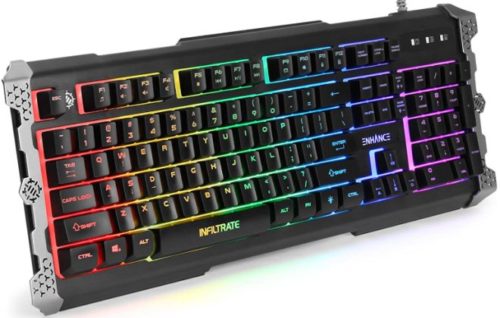 This is another option for those into quiet keyboards. Contrary to popular belief, gaming doesn't have to be noisy even if that's part of the excitement. If you want to enjoy your games religiously without that annoying click sound coming out of your keyboard, this is a good option.
There are some awesome features it has to offer. The first that will grab your attention is the backlight. The light shines through the transparent letters, creating a unique sight in the dark. There are 7 colors and 9 effects to choose from. It's even more interesting with the sound response that can be heard while using it.
As the name suggests, this keyboard is designed for gaming despite the quiet and pleasant keystrokes. There's 19 key rollover along with anti-ghosting feature that allows you to hit different keys fast. Meanwhile, typing feels great thanks to the tactile feedback.
It also has special protection against water damage. Check out the back of the keyboard. There are drainage ports over there for easy cleaning in case you accidentally spill liquid all over it.
Corsair is a household name when it comes to quality keyboards. This one looks handsome with its straightforward design. Let's take a look at the features. To start with, there are Cherry MX red switches underneath the key caps. They are the epitome of quality, so we don't need to explain further to see how well they affect your typing experience.
The keyboard is designed water and dust-proof. Basically, it doesn't get dirty easily, which keeps you from cleaning it too often. Water resistance also helps in the event of accidental spills. For your information, this keyboard comes with a wire. Wired keyboards have an edge in data transfer rate.
That's why they're recommended for gaming. Wireless keyboards aren't less impressive, anyway. They both have pros and cons. But if you're an avid gamer, a wired keyboard could be a great addition to your battle station. This, for instance, is terrific not only for its quick response, but also for the full key rollover.
Time is everything in gaming especially for action games. With this feature, you can ensure every stroke registers properly. In terms of customizations, everything is possible thanks to Corsair Utility Engine. Macro programming has never been easier with this. And if you like to change the way the lighting looks, this will also help.
What's not to love about this keyboard? The design looks clean and professional. Mind you, not everything has to be out of ordinary. This is a proof that a simple design can also be captivating. There's more to talk other than just the nifty design. The keyboard boasts the island-style chiclet keys, which give it a modern appeal.
For more comfort while typing, they also feature a short key travel. For gaming, this specific design helps as you can hit more keys in a relatively short time. Performance-wise, the keyboard stuns with its tactile feedback. The backlight options are also diverse. In addition to 6 lighting modes, you'll be provided with 4 brightness levels.
This means you can easily lower the brightness if it's too harsh on the eyes. The breathing speed is another adjustable element. Judging by the design, it looks as if it's made for office purposes, but turns out to be effective for gaming as well.
Moreover, the keyboard is relatively quiet compared to others. Another thing that deserves your attention is the conflict-free keys. This is highly important for gaming as we often have to type fast to win.
Things To Look For In A Quiet Gaming Keyboard
---
1. Type
Choose a membrane keyboard over a mechanical one if you think a low noise output is the most desirable feature. Despite lacking the tactile feedback that mechanical keyboards have, membrane keyboards offer a smoother typing experience. It's still possible to find a mechanical keyboard that doesn't make much noise, but it has to be the right type of switches.
2. Compatibility
That's not funny if the keyboard you bought doesn't support the operating system on your computer. Each product usually states clearly platforms it supports. If a product is incompatible with your computer or laptop, pairing would be difficult to do. Hence, learn about this before you buy a product.
3. Wired/Wireless
Both are good on their own way. Wireless keyboards are clutter-free, while wired ones are more responsive and not prone to latency issues. For gaming, you should just go for a wired keyboard so as not to hinder your gaming experience.
FAQs – Silent Gaming Keyboards
What is the best silent keyboard?
When it comes to click sound, keyboard style plays a big role in that. If you want one that operates quietly, a membrane keyboard is your best pick as they are generally quieter than the mechanical counterparts. However, we can't put mechanical keyboards in the same box given that they don't produce the same level of audible sound.
Just find one specially designed with a low sound if you're concerned about this. In case you need more choices besides the ones already mentioned, you can consider the Logitech Orion Spectrum G810 and SteelSeries Apex M750 RGB.
Can I make my keyboard quieter?
O-Rings will help you with that. They work as sound shock absorbers. The fraction between the keycap and the surface of the switch generates a loud sound.
When an O-Ring is stuck in between, it will prevent any friction which, in turn lowers the sound.
Why are keyboards so loud?
Not all keyboards are loud, but the mechanical ones usually are. It's expected because they use switches that are known for being noisy. That being said, it's worth-noting that not all switches are created equal. They come in several types with each having a unique way of closing a circuit. It will eventually affect the sound produced.
Linear switches provide a consistent keystroke. Thus, they tend to sound smooth as well. In comparison, clicky switches cause a sharp click sound past the middle of a key press. Tactile switches, on the other hand, have a bump that you can feel as you finger presses on a key.
Are smaller keyboards better for gaming?
Yes, because smaller keyboards either have fewer keys or compact designs which allow you to jump between keys with ease. There's a reason why gaming keypads are gaining in popularity. People like the idea of using a keyboard one-handed.
Gaming keypads are about the same size as your hand. Due to the limited space, many of the keys are excluded, but it's not a drawback. They are specially designed for gaming, so only keys that matter are included.
What about mouse, is there a quiet clicking mouse?
Apparently, silent mice are a thing. Even if a mouse makes a click sound, we usually aren't as bothered as hearing it from the keyboard. But if you still can't get over that sound, it's a good idea to switch to a silent mouse.
As the name suggests, this mouse works completely silent, meaning that you won't hear anything whatsoever. Just search around using the term 'silent mice / mouse'. You should come across a lot of products.
Choosing The Right Keyboard for Gamers – Final Thoughts
---
Have you decided the best quiet gaming keyboard to buy? It can be a tough decision to make considering each product has advantages and disadvantages.
If a keyboard doesn't provide tactile feedback, a low audible sound may make up for it. Basically, your needs are all that matters. If eliminating the clicking sound has been your top priority, than be focused on that.
Not all keyboards operate quietly, but when they do, other key features are probably missing. We'll say it again, stick with what you're looking, so you don't feel overwhelmed by the countless choices.
---