Best Twitch Streaming Camera: Reviews and Buyer's Guide [2023]
A webcam is a basic need for anyone who wants to share their game experience with others. Meanwhile, Twitch is a streaming platform that allows you to connect with other…
A webcam is a basic need for anyone who wants to share their game experience with others. Meanwhile, Twitch is a streaming platform that allows you to connect with other streamers.
Why is a webcam necessary?
Most of us find happiness in seeing someone we're a fan of playing and interacting with us. While not mandatory, a camera can help you keep in touch with the fans. Letting people know who play behind the computer can also effectively attract new viewers.
Basically, this can be a means of promotion if you want to pursue this career professionally.
What is the best twitch streaming camera?
With so many products out there, it's easy to be confused. Today we'll share some cameras that can improve user experience on this streaming platform. And it's not just for you, but also for the viewers. They would be more entertained if they can see the feed in high quality.
The Best Twitch Streaming Cameras for Streamers
---
If you're looking for a budget camera, this would be tempting to buy. Despite being low-cost, it's packed with awesome features. To start with, it comes with a 1080p resolution, which is terrific for streaming. The advertising also states that it's designed specifically for streaming.
If you're an active Twitch user, this makes a perfect camera to communicate with others. Meanwhile, the frame rate is measured up to 30fps, decent enough to get the job done. In terms of image quality, though, we have to say that it delivers. The AR coating makes it deal with glare better, resulting in improved clarity.
Another premium feature you can get is noise cancelling mics. There isn't one, but two at the same time. Noise reduction is especially useful for streaming because it picks up one sound source only and ignores the rest. As we know, background noise can be annoying that it may bother your viewers as well.
Design-wise, there's no striking element of this camera. It sports a quite universal design that you can find in many other webcams. And it comes with a tripod, so you can put it on the desk instead of clipping onto the monitor.
This webcam looks adorable with its large head. It costs more than the previous model, but there are also extra features to go along with it. The most interesting part is probably the built-in ring. It encircles the lens and provides 3 brightness levels. This comes in handy for streaming in dark rooms.
Not everyone likes to stream or game with ambient lights on. They'd rather see nothing but light coming out of the monitor. The problem is it can put a strain on the eyes. Besides, it may not look good enough when recorded on camera. This extra illumination can help you fix that. It provides you with proper exposure, so that you can get yourself ready for a livestream at anytime without setting up additional lighting beforehand.
The tripod head can be rotated full 360° to any angle. Furthermore, it has a 90 degree angle lens, which gives you the freedom to capture the surrounding scene. This webcam is ideal for streaming in general, not just Twitch. Besides, it's also easy to use with the plug-and-play operation.
If your computer runs on Windows, setup would be easy. The platform support also extends to many other OS, including Mac, Linux, Ubuntu, and Android. Another highlight of this product is it can compress video files to smaller sizes without losing their quality.
Apparently, many mid-range products can give more expensive ones a run for their money. This is another that comes at a moderate price. It's just slightly over $50. By paying this sum, you can already get a camera that has 100-degree wide angle as well as other premium features.
A wide angle lens can accommodate more people, so none needs to be cropped out due to a tight space. It has a full HD 1080p resolution, which is great for today's standards. And it also comes with dual microphones. This seems to be a new trend for webcams along with noise reduction. Many products have both covered for less than a hundred bucks, so don't settle for less.
With some research, we're sure you can find one that includes these features. Have you heard of ChromaCam?
It also makes an appearance here. It's basically an app that allows you to replace the background or blur it without the need for a green screen.
It sounds awesome, right? You have to try it yourself.
On the paper, the features embedded in this cam make it look expensive, but in reality, this just costs $31.99. That's quite a low price especially compared to others that cost over $100. Despite the low price, it will impress you with the extensive list of features.
Let's talk about the resolution first. This cam has a full HD 1080p, which can capture high quality footage at 30fps. If you want a high-res camera without paying top dollar, this makes a good pick. It's not just for Twitch. You can also use it on other streaming platforms, like Skype and Youtube.
Another interesting feature is dual mics enhanced with noise cancelling technology. When it comes to pickup pattern, the mics fall into the omnidirectional category. Additionally, the camera also boasts automatic light correction, so you don't have to sweat over unstable lighting conditions because the system will fix it for you.
The wide angle of 110 degrees further boosts its appeal. For the price, all these features sound too good to be true, but they're included in it. Not just a wide field of view, it can also rotate freely, allowing you to point it at any angle desired.
Now if you want something from a brand everyone is familiar with, consider this product. Logitech doesn't need an introduction. Everyone knows the good reputation of this company especially relating to the manufacturing of computer devices. This product is great, but the price is also a league of its own.
Yes, it's pricey, but it has quality to back it up. Simply put, this webcam is the epitome of perfection. If you need a cam with supreme quality to record live videos, this 4K image sensor camera with HDR and reliable autofocus will do that. Besides, it has the ability to zoom in 5x digitally while maintaining its quality. To top it off, it also offers 3 field of view options to the user.
Another thing captivating about this webcam is the way it adjusts exposure under different lighting conditions. This feature is clearly important because the lighting in your game room may change frequently. There are times when you want to play with lights on. But there also times when you like the serene feeling of darkness.
What about facial recognition? Have you tried to unlock a Windows 10 device this way?
Well, that becomes a reality thanks to the Brio webcam. Once it's set up, you just have to look into the cam to sign in.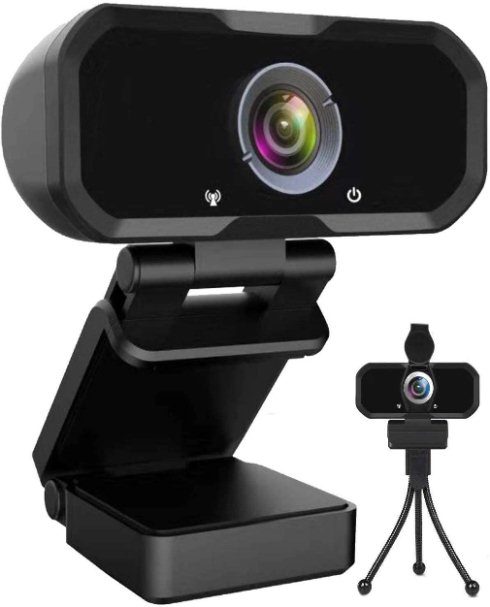 The features of this webcam are similar to those in its price range. It features a 1080p resolution, 30fps, automatic light correction, and HDR. All these contribute to the good images and videos produced.
As for the field of view, it has a 110-degree wide angle, which allows you to capture a larger area. This is a common term in photography, but it can also be useful in various applications, including streaming. While this is probably not a deal breaker if you stream only by yourself, a wider field of view lets you take the surrounding scene as well.
This can make the video footage feel more spacious even when you do it in a small room. For the record, the webcam connects via USB, so you can get it ready in no time. No driver is needed. All you have to do is plug the cable into the right port, and it's ready to play.
What to look for in a twitch streaming camera
---
1. Resolution
This is one of the most important aspects of a webcams. In fact, many products put it front and center in their titles. That's because many buyers can buy a camera based on the resolution alone without considering other features.
You can choose a 720p, 1080p, or 4K camera. A higher resolution is preferred as it captures more details and prevents pixelation.
2. Autofocus
This is another thing to look for in a streaming camera. Autofocus helps lock focus on objects automatically.
In other words, you don't have to worry if you make a lot of movements while recording a video because this feature ensures that you don't take blurry footage.
3. Automatic lighting correction
If autofocus lets you to focus automatically, this does the auto adjustment on light exposure. Keep in mind that the lighting condition in your room won't be the same all the time.
If there are a lot of fixtures installed in the room, it's likely that the lighting will change from time to time. To adapt to changes in exposure, this feature helps a lot.
FAQs
---
What is the best camera for streaming on Twitch?
In addition to what has been explained, we can suggest a few more to you.
The Logitech C310, Logitech StreamCam, and Logitech C615 all can make the list. Notice that everything from this bunch is Logitech products.
Well, that shouldn't surprise you because Logitech is an expert in PC peripherals.
Can you use a GoPro for live streaming?
Yes, you can do that with some GoPro models, like the HERO8 Black, HERO7 Black, and GoPro MAX.
They allow you to stream on various platforms, including Twitch, Facebook, and Youtube.
The step-by-step instructions are also provided. Just visit the GoPro community site if you want to know about the setup.
Can you use a DSLR for streaming?
You can, but you're not recommended to do so. Despite the superior image quality, DSLRs are a bit too expensive compared to conventional webcams.
You never know the extent of abuse your DSLR can withstand if you decide to use it as the default streaming device. Besides, some DSLRs are designed to disable the camera automatically when it gets too hot internally.
What is the best mic and camera for streaming?
We've mentioned some of the best cameras for streaming on this review.
As for the best microphones for gaming, we've also made reviews about them before. Go check them out.
We've explained all popular types of gaming mics and their classification on the previous posts.
Who is the #1 streamer on Twitch?
If we rank them by number of followers, then the answer is Richard Blevins. He's the person behind the channel Ninja.
To date he has amassed over 14.9 million followers, keeping a huge lead over the second ranker.
There's a wiki page dedicated for the most followed channels on Twitch. You can visit it if interested.
Final Thoughts
---
After reading this article, we hope that you can decide the best Twitch streaming camera for yourself. Twitch cameras aren't different from streaming cameras in the sense that they have similar requirements to produce the best quality videos.
For example, a high-res camera will do great on Twitch the same way it does great on Youtube.
Hence, if you want a quality camera for Twitch, make sure it packs all the features necessary for making quality videos. Resolution, frame rate, autofocus, and light exposure correction are some of the parameters you should take into account.