Wondering About What Games to Stream?
What does it take to be a successful streamer? There's no definite answer to this question. Everyone has a different path to success. However, it's important to know that something…
What does it take to be a successful streamer?
There's no definite answer to this question. Everyone has a different path to success. However, it's important to know that something big often starts out small. It's no different from streamers that you look up to.
Choosing the right games obviously matters when becoming a streamer. That's because there are tons of games available. Playing favorite games is a good thing, but if the games aren't especially hot or garner people's attention, it would be hard to get noticed. Hence, you should consider playing popular titles as well.
If you're still confused to choose what games to stream on your Twitch or another platform, here are some to consider:
What Games to Stream?
---
1. League of Legends
League of Legends is the first that comes to mind when it comes to games you should consider for streaming. It's among the most popular MOBA games in the world. For those unaware, MOBA stands for Multiplayer Online Battle Arena. LoL has a huge player base. There are at least 80 million of them across the globe.
LoL is by no means new, given that it has been around for over a decade, but the way it maintains popularity is interesting, to say the least. One can argue that the constant improvements keep the fans loyal because they have something new to try. It has recorded a whopping 150 champions and 175 items.
The objective is actually simple. There are 2 teams consisting of up to 5 players fighting against each other in a selected arena. Your task is to strike down the main building in the enemy base. While it's easy to comprehend, getting close to the target isn't because the opponents are trying their best to keep their base safe.
Anyways, we have just posted about best lol youtubers just in case you need some role models.
2. Dota 2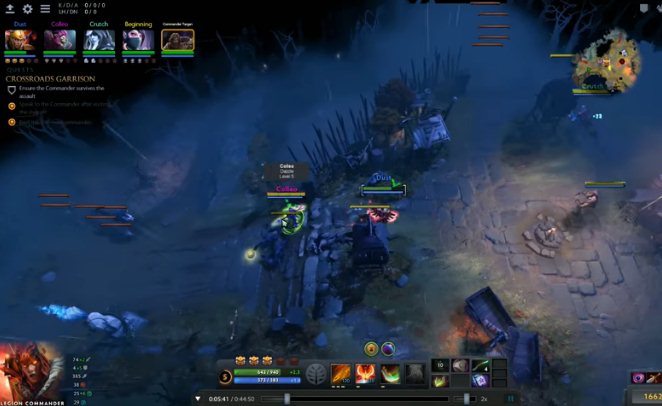 Dota 2 is reminiscent of League of Legends. Similarities aside, they are still 2 different games. There's a misconception that Dota 2 takes a leaf out of the other game's book. If you're focused on what makes them same, then it's easy to see why you jump to that conclusion. But you have to remember that Dota 2 has distinct elements that make it unique.
There's a reason why it ranks high on the list of the most streamed games on Twitch. In this game, there are two teams, each with five players. And like usual, you have to demolish the opposing team's ancient stronghold. But it's not an easy task knowing the area is highly protected.
One unique feature of the game is it equips you with a hero with abilities that you can enhance over time. As creeps get defeated, you can level up the experience. When the hero absorbs enough of it, it will gain a level which eventually affects its skills.
The hero comes with default skills, but there are extra inventory slots that you can use to store more abilities. Dota 2 is all about improving skills and building a solid teamwork, so that you can defeat the other team before they do it first.
Also Read: How to Become a Girl Twitch Streamer?
3. Fall Guys
Fall Guys quickly became the talk of the town because it is highly addictive. If you like to watch game shows on TV, you'd quickly notice how similar it plays to those shows. That's a cool thing, though. You'll be one of the 60 players competing through different rounds of minigames.
After each round, you'll see the ones that have been kicked out and can no longer continue the journey. The variety of minigames is what makes it interesting. There's no way you'll be bored because they are surprisingly diverse. There are different rounds with different gameplays. And you'll be flocking with many others in a crowded space.
The entire arena looks as hectic as they come, but it will surely pump your adrenaline nobody wants to be left behind.
Why does it make a good game to stream?
Well, it's one of the trending games right now, so you can use the immense popularity to your advantage. As we know, hopping on what's popular is an instant way to increase visibility especially for new gamers and channels. They players are all humans, anyway.
If you assume that some are bots, then you're wrong because that option isn't available, yet. Every gamer has to be online to participate in the exuberance.
4. Call of Duty: Modern Warfare
Up next on this list is Call of Duty: Modern Warfare. For those who are into first person shooter games, you shouldn't miss this one out. The graphics are extremely realistic to the point that you may feel uncomfortable witnessing certain scenes. We're talking about torture, deaths, and some other disturbing things.
The idea of seeing such incidents up close is already appalling, now it's presented in realistic graphics, you should be mentally prepared for it at least. However, that doesn't seem surprising since the game is meant to represent what's happening in today's world especially in warzones. We all know how cruel terrorists can be. It's hard to portray them in a good light because these people are evil.
What's exciting about this game?
The variety is one of the things that will get you hooked. In one of the missions, you'll be handed over the job to control security cameras with the aim to keep a hostage secure. And in another scene, you'll turn into a kid that has to run away from the enemies. The whole experience feels intense that you must always be cautious of what's happening around.
5. Roblox
Roblox is another game you can play to build your gaming channel. However, before you make a long series of Roblox playthroughs, you need to know what it's all about. After all, gaming should represent what you're interested in. While it's true that Roblox is popular with the Gen Z and has gained around 115 million active users, it will be hard to keep going if you're not into this type of game.
What is Roblox?
It's a gaming environment designed for children. Notice that we didn't use the word game for this software because 'environment' suits it better. In the environment, there is a vast library of games that you can play.
There are about 50 million of them on the platform as of today. They do have similar feels, but these games are still different or don't co-exist. You're given the opportunity to download the games as you wish.
6. World of Warcraft
It's hard to be the center of attention all the time with how many games released recently. That's what this old game is trying to achieve. It's still competing with new releases despite debuting in 2004. People still talk about it constantly and its popularity shows from the large number of people streaming it on different platforms.
World of Warcraft is an online multi-player game that has received numerous improvements throughout the years. The premise of this game is you control a character and have an adventure with it. There are monsters to beat along the way and there are missions that you have to complete.
Isn't it interesting that it remains so popular after all these years?
Some would've faded into oblivion due to people losing interest. Well, it could be a combination of several factors. First, it keeps improving and gathering feedback from players. And then, the nostalgia factor might come into play.
For some, this is the first MMO game that they played. So even if the genre has grown so much, many refuse to move on and decide to stick with the game.
How to choose games to stream
---
1. Use the search feature
On the platform where you broadcast the stream, make sure you use the search feature to find what's on trend or liked by the masses. Youtube Gaming has that, and Twitch has that, too.
Remember that new games are constantly popping up and become new hot commodities. Instead of relying on intuition, this feature can give a proper insight on what people are excited about lately.
2. Take notes from favorite streamers
Another way to get titles to pick for streaming is by watching your favorite streamers. These big streamers keep an eye on what's popular, so don't be surprised if they play games that are on the verge of breaking through. There are pros and cons in playing popular titles.
On the one hand, it seems easier to get noticed since such games have huge player bases, but on the other hand, major streamers also get on broad trying to collect views for themselves. In other words, the competition is tight and you can't escape that.
3. Play what you like
Perhaps, the easiest way to decide what to play is by doing what you've been doing. If you have games you are addicted to already, just port them onto your streaming platform.
There's no need to look for another because it will require extensive research and is time-consuming as well.
FAQs
---
What makes a streamer popular?
There are many reasons why a streamer can be popular. One thing to remember is that making it big on a platform is not a short process. You have to build your own fanbase, which can take months or even years. An overnight success sounds too good to be true unless you have strong promotional tools to help you increase visibility. Putting in effort to promote your material is also important.
A video won't just suddenly pop up on the first result page. The thing is many streamers are competing for the same position. You have to promote your videos to make them noticeable. And then, a good amount of luck is also involved. Some people never planned to break into the mainstream, yet they did it, anyway.
And then there are some who struggle to get noticed even after doing the most with promotional campaigns. But you shouldn't be discouraged. Keep doing what you're doing and pray that luck will be on your side one day.
What are the best games to stream on Youtube?
Mobile Legends: Bang Bang is the first on this list. The 5-on-5 battle arena has been growing in popularity in many places around the world. Asia particularly is very fond of the game. You can use it to drive traffic into your channel. You can also play PUBG.
When it comes to popular games across platforms, you'll find that the same titles top different sites, which speaks volumes about their popularity.
Who doesn't know PUBG?
It's everywhere now. People love it to death and streamers use it to boost their channels by making content based on this game. Garena Free, Grand Theft Auto V, and Minecraft are other games you can consider for streaming.
What to stream on Twitch?
The six games mentioned above are huge on Twitch. League of Legends, for instance, has an average weekly viewership of 196k, more than other games on the service.
Fall Guys is also growing in popularity, hitting the 178k mark in viewership during the same period. Valorant and Fortnite are other titles that have great stats there.
What are some good games to stream on Facebook?
Let's start with Candy Crush Saga. The game has over 50 million monthly users. It's playable for free, but you need to send requests to friends on Facebook in order to proceed further. Candy Crush Saga is made for everyone because it's easy to play. Although it's not new, it never gets old. 8 Ball Pool is another you can play on Facebook.
If you're into pool games, then this is a must try. It has awesome graphics and the gameplay is also simple. Besides, it allows you to meet gamers from everywhere and participate in online matches. Additionally, we'd also recommend Dragon City and Clash of Clans.
What is the best game to stream on Mixer?
Mixer is a streaming platform that facilitates you to stream content. As for the content itself, you can choose anything. It's better to play games that you actually like instead of jumping on the trend wagon for the sake of it.
When you don't enjoy a game, your viewers will realize that sooner or later. They may be reluctant to see the upcoming streams as a result. You can pick any of the aforementioned games to play on this platform.
How do you entertain a stream?
To make a channel grow, you should build a solid base. The problem is it's not easy to make them stick around. Keeping a healthy relationship with your subscribers is the way to go.
One good way is by interacting with them. Answer their questions during a live stream instead of focusing only on your game. Or make a Q&A session if you don't want to be bothered while gaming.
And then, be creative with how you present the stream. Create an identity that will set you apart from others.
Final Thoughts
---
Are you still undecided on what games to stream?
Well, there are too many, so it's normal to feel that way. Why not start with games you actually like?
Playing what's cool will undoubtedly open up the opportunity for more traffic, but at the same time, you have to compete with other streamers because they're trying to get noticed as well.
Better stick with games you're passionate about, even if they aren't the most popular titles right now. You can always play hot games later, though. After all, there are no restrictions on what there is to play.