How Much RAM Do I Need To Play Mobile Legends?
Smartphones are extremely diverse, but companies anticipate their customers' varying needs by focusing on specific aspects of their products. In a lineup, for example, the Samsung Galaxy Note series typically…
Smartphones are extremely diverse, but companies anticipate their customers' varying needs by focusing on specific aspects of their products.
In a lineup, for example, the Samsung Galaxy Note series typically has larger and higher resolution displays than other models. Meanwhile, the gaming variants are primarily concerned with performance.
As a result, instead of crisp displays with high PPI, they frequently reduce the resolution to optimize gaming performance.
They also do so by outfitting the phones with more powerful processors capable of handling graphics-intensive games.
The amount of RAM crammed into the system is one of the most important considerations when selecting a gaming Smartphone.
Simply put, more RAM (Random Access Memory) equals better performance. And this is true for the device's overall performance, not just gaming.
How Much RAM do I need to play Mobile Legends?
MLBB demands a minimum of 3GB.
As more data becomes available, e.g. updating to the latest version, the need for extra RAM also increases naturally.
Mobile Legends System Requirements
Mobile Legends: Bang Bang requires fairly high phone specifications. As a result, this game is unlikely to be suitable for older or low-spec smartphones.
Here are the specs for lag-free performance:
| | |
| --- | --- |
| Operating System | Android 7.0 and up |
| Processor | Snapdragon 665 octa-core |
| GPU | Adreno 618 |
| RAM | 6GB |
| Storage space | 3 GB |
Is it possible to play Mobile Legends (ML) with a 1GB RAM device?
1GB is far below the recommended amount to play this game with no lagging.
Unless the Smartphone doesn't share the RAM with other heavy apps, you can probably still play it.
But even that is a stretch because the system will also take a portion of the RAM.
If you insist on running the game on an entry-level phone, performance issues will emerge sooner or later.
How to fix lag in Mobile Legends with a 1GB RAM phone?
Lag is frequently caused by an unstable internet connection. So, before blaming the phone specs, you should run a speed test on the connection to ensure you get the desired upstream and downstream speeds.
Instead of mobile data, a WiFi network, preferably from a reputable Internet Service Provider, is a good idea.
Another option is to change the graphics settings. Switching to low graphics mode allows the game to run smoothly on a low-end device.
While this may reduce graphical fidelity, sacrifices must be made if you want to play it on a low-cost Smartphone.
Then, check the battery settings to see if there's a Game Mode option. When activated, it consumes less power and resources.
Is 2GB RAM enough for Mobile Legends?
On paper, this appears to be a good specification, but Mobile Legends can be quite draining when the graphics settings are set too high.
The first thing you can do is reduce the quality of the graphics. It's fine to lose some detail as long as you can play it without hiccups.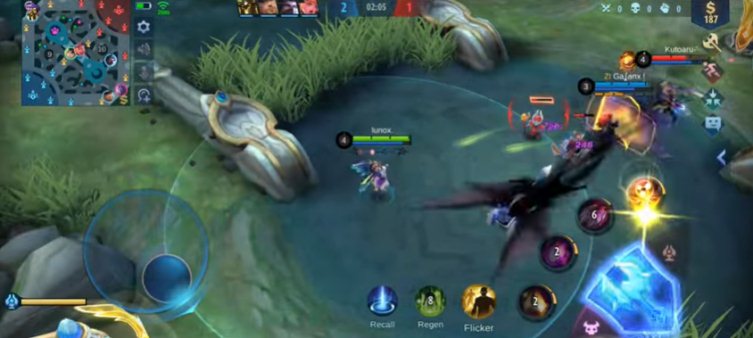 It will also make a difference if you turn off notifications.
If you have a lot of utility apps installed on your phone, they will take up a lot of space in the background and beep a lot.
Consider temporarily turning off notifications so they don't bother you.
You can also use a system cleaning tool, such as SD Maid, to remove any unnecessary files that were created during app installation.
Your device will remain clean and tidy thanks to its ability to scan for leftover files.
Is 3GB RAM enough for Mobile Legends: Bang Bang (MLBB)?
The RAM capacity listed in the table above is ideal for playing MLBB at 30fps on high settings.
The minimum threshold is 3GB, which is lower than that. This is actually sufficient to play the game without experiencing vexing lag.
However, if this continues, it is likely that your phone is running low on RAM as a result of the numerous apps you have installed.
Getting rid of some and better managing memory may solve the problem.
Can I play Mobile Legends in 4GB RAM?
Yes, it's a tad bit higher than the recommended amount, which should put an end to all problems that typically plague low-spec devices.
How many GB is Mobile Legends? How big is Mobile Legends (latest version)?
The official page on the Play Store states that the file size of the game varies by device.
But according to one user who kindly shared a screenshot of their storage usage, this game took around 3.28 GB of space.
This figure could be higher on other devices. One thing for sure, that's not a small size though seems reasonable given the game's stunning graphics.
Wrap up
Hopefully, this article answers your confusion about how much RAM you need to play Mobile Legends.
At the very least, the Smartphone should have a 3GB RAM capacity to deliver a seamless gaming experience.
Is yours lower than this?
Don't worry, that's not the end of the world. Remember that the game offers adjustable graphics settings. You can utilize it for a less capable device.