Can I Use Controller on Mobile Legends?
Mobile Legends is a popular game released for mobile devices. It belongs to the MOBA category or also known as Multiplayer Online Battle Arena. It adopts the Classic 5 vs…
Mobile Legends is a popular game released for mobile devices. It belongs to the MOBA category or also known as Multiplayer Online Battle Arena. It adopts the Classic 5 vs 5 gameplay like many other MOBA titles.
In this game, you lead a hero to sneak into the enemy's player base. You also have to defend your area from their invasion. As you're fighting your way into the enemy's base, weaker minions will be constantly spawned, which can help fight off the opponents.
In terms of power, these minions are nothing compare to the heroes, but they can deal significant damage in large groups. Teamwork is important to play this game as there are 3 lanes that should be watched over. You and the team have to cooperate to keep all areas safe.
In Mobile Legends, the opponents are actual players, not CPUs. This can make the battle unpredictable, so please be vigilant. As for the heroes, there are many to choose from. They come in different types, such as mages, marksmen, tanks, etc. Each one in these categories serves a purpose and has strengths as well as weaknesses.
Once you've picked a hero, you have to control him or her using the virtual joystick. The right side of the screen houses controls to unleash skills of the hero.
Can I Use Controller on Mobile Legends?
---
The short answer is yes. MFi controllers are supported in Mobile Legends: Bang Bang
The iOS version of Mobile Legends: Bang Bang does support controllers and is MFI-compliant.
Although the virtual controls are good enough, you may wonder if using a controller is possible. Luckily, controller support is available, but please do it at your own risk.
Why?
Some people are concerned that using a controller might lead to you getting banned. Pairing is actually easy. We've mentioned on the previous article that Fortnite can also be played using a controller. Mobile Legends is the same.
First you have to obtain a controller that's compatible. Keep in mind that every controller is unique in the sense that it may or may not support certain systems.
If this is the Android version of Mobile Legends we're talking about, you should look for a controller designed for Android. The good news is this information is usually included in the product page.
Once you have the controller on your hand, find the buttons used to turn on the Bluetooth. Press on them and wait until the light flashes, which indicates that the Bluetooth is in pairing mode.
Go back to Settings on your Smartphone, enable Bluetooth, and try to locate the gamepad. Tap on it to start the pairing process. Now that both are connected, the gamepad is ready to control Mobile Legends or any other game for that matter.
The Best Mobile Legends Controllers 2022 (Available on the Market)
---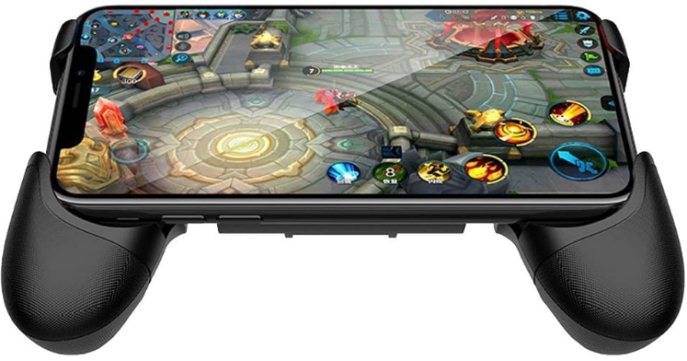 This controller has a versatile design that makes it fit Smartphones of all sizes. It supports popular mobile operating systems, such as Android and iOS. Unlike other controllers adorned with buttons everywhere, this looks sleek and simple.
Well, it's a different type of controller after all. It still relies on the touch controls on your Smartphone. It basically serves as a dock to help you hold your phone firmly.
The button-less design also makes it cheaper than the average controller. Others can cost over $50 each, but you can get this for less than $15. While cheap, it still has a cooling feature to prevent overheating.
As we know, playing games continuously produces a large amount of heat, which can cause overheat if it's not quickly dissipated. To solve the issue, the gamepad comes with 3 piece 3mm soft mat to promote air circulation. The design is nothing to brag about. It's quite simple, but has ergonomic elements to it, which help reduce hand fatigue.
Since it doesn't work like a traditional controller, it also doesn't drain battery. There's a conductive material in the package, which acts as a physical substitute to the on-screen button.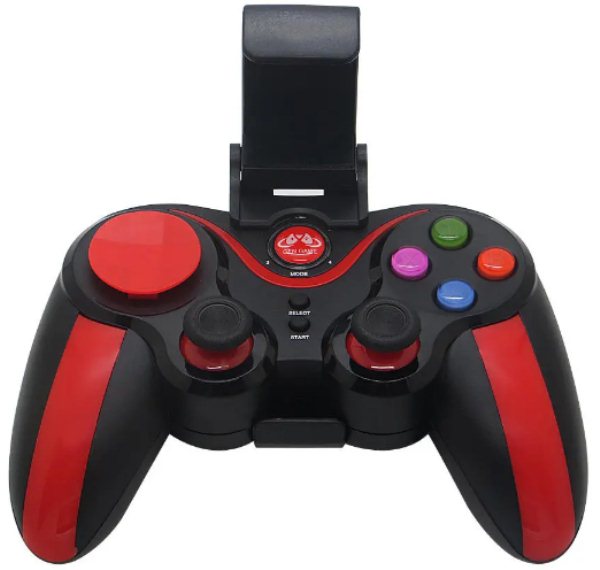 This product is listed under the 'Mobile Legends Controller' section, so we'd assume it supports the game. Let's jump right into the specs. The unit appears sleek with black being the predominant color. It operates via a USB cable and is compatible with iOS and Android.
The build quality is overall good for the price. It belongs to the entry-level category, not bad especially to those seeking cheaper alternatives. It's constructed using ABS.
We all know the quality of this material. It's widely-used in the industry because it's cost-efficient and sturdy. To start playing, you'd need to install the Octopus first. It's an app designed to facilitate the use of a controller on mobile.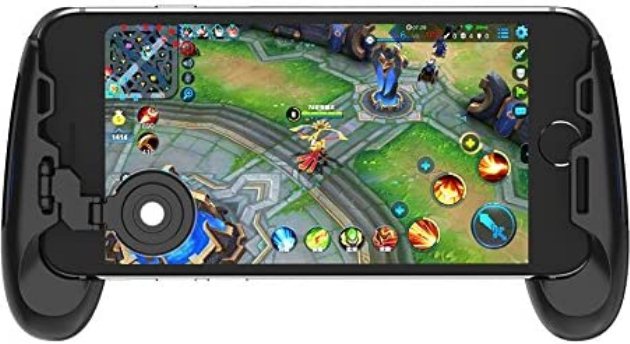 The GameSir F1 stands out in platform support. Be it an Android or and iPhone, you can use it with this controller. It works with various Smartphones thanks to the special telescopic boom design. All you need is a few simple adjustments if a phone is a bit too large.
Design-wise, it's quite straightforward. It doesn't have intricate details on the exterior. Well, this is an affordable gamepad, so don't expect too much. At least it already sports an ergonomic design, which means it will keep fatigue at bay and prevent unnecessary strain to your hands.
Needless to say, Mobile Legends is addictive. You can play it for hours and if you don't hold the phone correctly, it can cause tension and end up with an ache in the hands. There's a conductive joystick in the package, which serves as physical manipulation for in-game controls.
The joystick is attached on a swing arm mount. Besides Mobile Legends, there are many other titles you can play with the gamepad, including PUBG, FIFA, and GTA.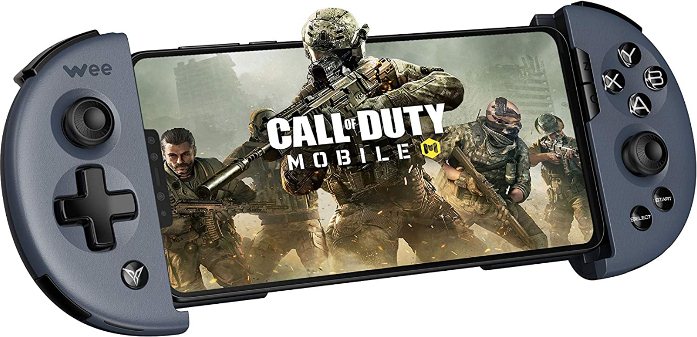 Although it's Call of Duty on the picture, the seller has confirmed that this controller is also compatible with Mobile Legends. It works for various systems, such as Android and iOS, excluding iOS 13.4. The build quality is good, doesn't look bulky at all.
There's still a holder, but it's more like the retractable type where the controller engulfs your Smartphone. The whole unit is covered in matte finish, giving it a luxurious look. Moreover, it also features flash technology which eliminates the need for rooting your device.
Another awesome feature on this product is motion sensing. It comes with built in 6-axis gyroscope to deliver better performance and accuracy. For data transfer, the controller relies on Bluetooth 4.0 which has an operating range of 10 meters.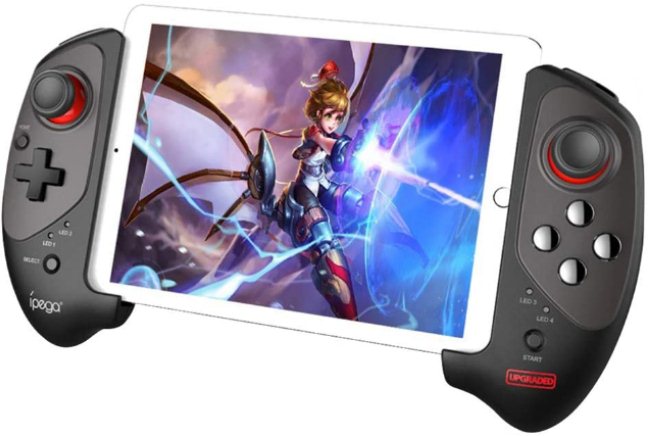 Before buying a controller, check out the compatibility. If it says it's compatible only for Android, then don't buy it for your iPhone, and vice versa. This one supports both, but only version 6.0 or higher for Android and version 11.0 or higher for iOS with the exception of iOS 13.4.
For connection, it relies on wireless 4.0. Setup is easy, even beginners can do that. You just need to select the right pairing mode which corresponds to the type of device used. There are 3 different modes to choose from, namely Android Standard Game Mode, iOS V3 Direct Mode, and Android V3 Direct Mode.
After picking the appropriate mode, hit the home button and hold for a moment. The LED light will come on and blink, which suggests that it's ready for pairing. The next step is to enable Bluetooth on your Smartphone. Scan and locate the device, select from the list and then wait until the connection is established.
That's it, you can now play Mobile Legends with the gamepad. Another highlight of this product is the ergonomic design.
It's made to suit the shape of your hands, so you don't feel uncomfortable while holding it. The material is also non-slippery, which gives it extra comfort.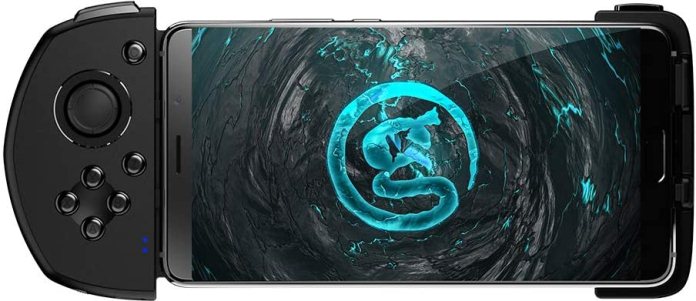 The asymmetrical design of this controller might catch you off guard, but it is what it is. It's designed this way not without a reason.
In some games, controllers aren't evenly spread out on both sides of the screen. The left is usually for a directional joystick, which requires just the thumb for movement. Meanwhile, the right side has more complex controls that involve a lot of buttons.
This gamepad takes a unique approach. It puts all controls on one side, allowing you to operate it with one hand. Well, the title of this product pretty much sums it up. If you want a new way of using a controller, this can be an option.
In terms of OS support, it's made for Android specially version 6.0 and higher. The display size support is also extensive as you can tuck any Smartphone into it as long as the display doesn't exceed 6.57 inches.
The gamepad is suitable for playing FPS and MOBA games. The side where the buttons flock together can help you unleash skills, while the other side is for aiming.
Despite the compact design, this gamepad comes with 10 programmable buttons along with 1 3D joystick. On top of that, it's also low power and can net around 80 hours of continuous use.
Can you play Mobile Legends on Razer Kishi?
Unfortunately, no. According to reports from users, Razer Kishi was incompatible with Mobile Legends.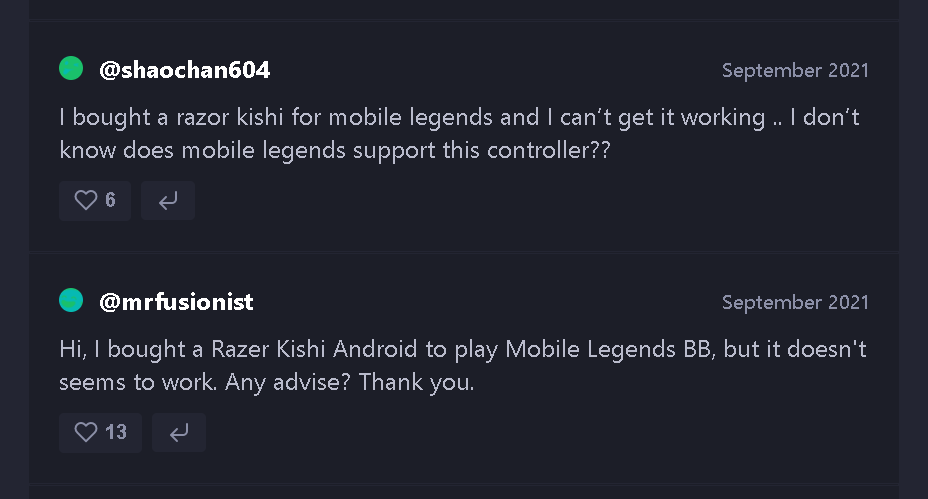 Actually, that's a letdown. Especially since it was designed by a well-known gaming brand (Razer).
Also Read: Can I use Controller on Fortnite Mobile?
FAQs – Mobile Legends Controller
---
How to play Mobile Legends with Xbox controller?
You must turn on the Bluetooth connectivity on the controller first. Press down on the button until it flickers. Once it's in pairing mode, head to the Bluetooth section on your mobile device.
Turn it on, find the gamepad on list. And then tap on it to complete the pairing process. Install the Octopus app from the Play store, use it to launch the game. That's it.
Check out this video to learn more.
How to play Mobile Legends with PS4 controller?
To initiate pairing, enable Bluetooth on the controller. All you have to do is press down the PS and share buttons at the same. Hold until the light flashes.
Once it's ready for pairing, open Settings on your Smartphone. Turn on Bluetooth and scan for nearby devices. Find the gamepad on the list, select it. After pairing is successful, open the Octopus app and play the game from there.
Please keep in mind that your android phone has to be rooted in order to do this.
Does Mobile Legends controller support iOS?
It depends on the controller itself. If it has iOS support, then you should be able to play the game. If it's not, then no. For this reason, make sure the controller you want to use is compatible with your Smartphone. Try to find this info in the product details.
Do you own a Playstation 4? If so, you're in luck. Because you can now use a PS4 controller on iOS (iPad or iPhone) without the requirement for a jailbreak, see this video.
Any Mobile Legends controller for PC?
Many mobile controllers actually have PC support. Just read in the description if a controller supports Windows. If so, it means that you can connect it to a desktop computer or a laptop.
Many products we've mentioned before fall under this category, so you won't have a hard time finding one.
Check out the videos below for a simple step-by-step tutorial on how to set up a joystick for Mobile Legends on PC.
How good is Ipega controller for playing Mobile Legends?
Apparently, ipega controllers are among the most recommended for playing Mobile Legends and MOBA games in general. Ipega has released a number of gamepads with their unique characteristics.
We've included one in this review. You can give it a try, or if you want another model, just browse through the store's catalogue.
Play Mobile Legends with Controller: Final Thoughts
---
The key to excelling a MOBA game is familiarizing yourself with the controls. Mobile Legends is mobile-based, so the default controls come in the form of virtual buttons. Granted, many of us have been taught to use them since all mobile games use touch screen.
However, the thought of replacing it with a controller may have come across your mind.
Can I use controller on Mobile Legends?
It's actually a possibility. There are tutorials online where some people have successfully connected their Smartphone to a controller. The most important factor that comes into play is compatibility.
If a gamepad supports this game and vice versa, you should be able to control your hero this way.
Related Posts