Fortnite Iphone Wallpaper: Cool Backgrounds for Your Phone
What gamer doesn't know Fortnite? This is among the hottest games you can play right now. It works like the typical battle royale game. You must fight off other players…
What gamer doesn't know Fortnite?
This is among the hottest games you can play right now. It works like the typical battle royale game. You must fight off other players and be the winner.
Fortnite has good graphics although they are painted in a cartoonish way. It's something to appreciate since not everyone is fine with realistic imagery in games.
Besides, a good chunk of the player base is young gamers who are easily impressionable. Hence, choosing the right game for them is important.
There are several modes to choose from in Fortnite, but the most popular one is the Battle Royale. Here you play all by yourself or as a team. There is a total of 100 players loaded onto an arena. The goal is to be the last man standing in order to win.
Doesn't it sound a lot like PUBG?
Well, it does, but it's understandable since they belong to the same genre. Despite the similar premise, both games have distinct elements. Let's find out down below.
Cool Fortnite iPhone Wallpapers / Backgrounds
---
There are a few noticeable differences between PUBG and Fortnite. First, we can talk about the graphics. During your search for Fortnite iPhone wallpapers, you'll notice that many of the images look cartoonish. That has to do with the fact that the game was intended to look that way.
So, yeah, Fortnite's graphics tend to be lighthearted, cartoonish, but also quality at the same time. Meanwhile, PUBG's graphics are more on the realistic side.
In terms of gameplay, however, many people say that Fornite is very well developed. Another key difference is the maps. PUBG has 4 locations with the biggest ones being Erangel and Miramar.
The smallest one is Sanhok, which is about the same size as the new Fortnite chapter 2 map. The selection of vehicles further distances the two.
Fornite used to offer gamers a variety of vehicles, but nowadays, they are kept in the vault. The only thing left is the boats. The good thing is the map is smaller, so you won't struggle traversing the area.
It's easy to be astounded by the massive popularity of this game. For the record, Fortnite has a player base of over 350 million. And if that wasn't impressive enough, it broke all-time concurrent player record with 12.3 million people playing at the same time.
The astronomical figure was recorded earlier this year when Travis Scott launched his new single. Teaming up with figureheads really work for the game because it keeps people excited, but there should be other reasons behind its popularity.
To start with, this game is free. Of all marketing methods, offering free content has always been an effective way to drive traffic. This game is easily accessible across platforms, including PlayStation 4, Xbox One, Nintendo Switch, PC, etc.
Sure, there are in-game purchases, but that's like a standard practice nowadays. The genre also helps. Just take a look at Fortnite iPhone wallpapers. Many have multiple players in them. It's a battle royale game after all, so it's not a hard concept to grasp.
Fornite is known for being immersive. It doesn't last too long and is action packed. In just 20 minutes, you have to beat the game.
If you don't have the right strategy, your time on the arena will be even shorter.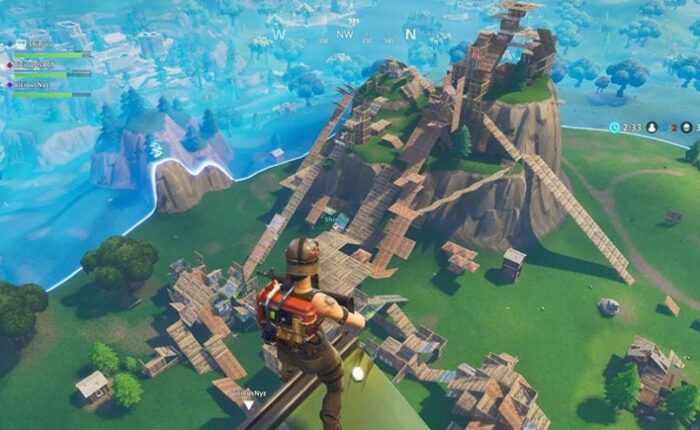 As for modes, there's more to see besides Battle Royale although it's the one people usually associate with this game.
Have you tried Save the World?
There's an interesting trivia you should know about this mode. Back when the Battle Royale wasn't born, yet, Save the World had existed in Fortnite.
The objective of this game is you partner with 3 others to complete missions. As you progress further into the game, you can collect items and experience.
And then, there's also Fortnite Creative that takes a totally different route. It plays more like Minecraft than PUBG. Well, it's a sandbox game, so it makes sense. On this mode, you're provided with tools to make your own games and rules.
The fun part is you can also invite friends to play with . Just as the name implies, this mode is all about being creative.
When it comes to Fortnite wallpapers, there's one thing that stands out on many pics.
Can you take a guess?
Yep, that's the outfits or known as skins. This kind of customization isn't exclusive to Fortnite, so this is probably not something new to you. Skins are a way to dress up characters. If you feel that the default outfit is too generic-looking, you can invest in a skin.
Skins vary in style and price. They are classified into different categories, namely Legendary, Epic, Rare, and Uncommon outfits. You can purchase some at the Cash Shop with V-Bucks. Another way to obtain skins is through promotions or advancing tiers.
For your information, skins don't increase your competitive edge over other players. However, some may put you at disadvantage since they look flashy and stick out against the background.
Final Thoughts – Fortnite Wallpapers for Iphone
---
Understanding the basics of Fortnite isn't difficult, but to drag 99 other players out is. There is saying, some games are easy to learn, but not easy to master.
The same applies to Fortnite. If many of the players turn out be experts, you may not last long on the battlefield. But the good news is Fortnite keeps on improving. And recent updates show that new gamers can also have a chance to win against the professionals.
Besides, you won't forever be an amateur, right?
With practice and experience, you'll eventually be good at playing and level up as a pro.
How long should you train become a pro?
It depends. If you're more like a hobby gamer, there's no need to set a schedule. But if you aspire to get into eSports, you can train 5 to 10 hours a day. This is the amount of time spent by the average pro player.
eSports has become a lucrative business, so nobody should bat an eye if you say you want to be a pro gamer. Many players have earned millions from participating at tournaments.
Of course, you have to win if you want to bring home some money. That's the purpose of training, anyway.
…