Best Nintendo DS Emulator for Mac 2021 (still perfect for 2022)
Every Nintendo console is iconic, not only in design, but also in the selection of games. The Nintendo DS, for instance, comes with dual screens and a stylus. It was…
Every Nintendo console is iconic, not only in design, but also in the selection of games.
The Nintendo DS, for instance, comes with dual screens and a stylus.
It was launched in November 2004, followed by a number of reiterations that offered improvements on many fronts, including size and performance. One that's highly notable was the DSI, which came equipped with a camera.
There are many games released on this system that may make you reminisce the good old days.
After all, the console was released at a time when graphics had gotten so much better compared to the predecessors.
Want to experience that again? You can do it with a used console.
The DS isn't that old, so there could be some units circulating around that remain functional. It's okay to play with a used console as long as there are no errors in the system and the buttons are mostly intact.
But if you can't find one, you can resort to an emulator.
Have you heard of this? It's a piece of software or hardware designed to imitate the functions of another system.
If it's a DS emulator, then it basically means software or hardware that can run Nintendo DS games.
Not all emulators are available for various systems. Support for Windows turns out to be the most common.
Some also support other OS, such as Linux and Mac.
Because of this, it's important to know whether an emulator supports your computer system or not before downloading.
Here are some of the best Nintendo DS emulators for Mac.
Best Nintendo DS Emulators for Mac in 2021 (and still great for 2022)
---
1. DeSmuME Emulator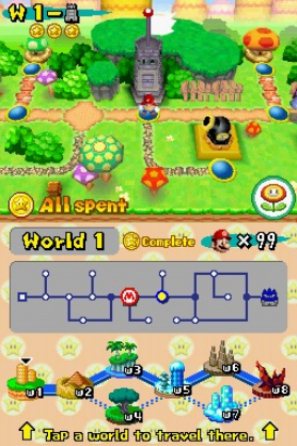 This is one of the emulators you can consider to run DS games on your Mac system.
It has a long list of features, such as action replay cheat management and ROM properties. However, its biggest appeal is probably the fact that it's free to use.
You can use it without needing to spend a penny. It's also open-source, you can expect regular updates from time to time.
DeSmuME is arguably the most well-rounded program in its niche.
As we know, finding an emulator that works on Mac especially for a specific console can be difficult.
If you can find one that's compatible, then features are probably the least of your concerns.
As long as it allows you to play games from your favorite console, that would be good enough.
By the way, this emulator also provides tools for Youtubers, players, and speedrunners. Besides, there's a range of mods and forks that would boost the functionality especially for gaming.
2. OpenEmu Emulator
One thing that may surprise you about this emulator is how effortless it is to browse, add, and organize whatever built into the program.
You can put all the games into a single library, which makes organization even easier.
And then, you can directly see the process as it's in progress. There's also an option to make a collection mix.
Wonder about controller support?
It's included, anyway, and the pairing is pretty straightforward. You can do that with a regular USB or Bluetooth controller.
Another useful feature is auto control mapping for connected devices.
On another note, the user interface is streamlined. You can navigate through menus with ease.
To install this Nintendo DS Emulator on Mac, obtain the file first. Visit the official OpenEmu site and then locate the download button.
The next integral element is ROMs. A ROM basically refers to a game file. Without it, nothing you can play on the emulator.
After you've had one, unzip the file assuming it's still archived, and then add it to the library.
3. RetroArch Emulator
Of all Nintendo DS emulators for Mac, RetroArch is one you should try considering the features are comprehensive.
But let's round up the highlights. This all-in-one front end spoils the users with a broad range of settings.
There's a lot you can tweak to your liking, but it also has to do with the system. In terms of recognition, it can give other programs a run for their money.
The extensive system support is one of the things that have catapulted it into the limelight.
As a proof of its popularity, the emulator has been downloaded millions of times already.
It's designed to provide support for cores of various systems.
RetroArch is such a fun way to dive into the world of emulation especially with the incredible configurations it has. If you're on the lookout for an emulator with highly adjustable gameplay elements, this is the answer.
That said, installation requires more attention as it can be daunting for novices. But don't worry, there are tutorials that can guide you through the intricate process.
Once you understand the basics, it will be more seamless the next time you decide to add another system.
Besides the Nintendo DS, it also has support for the SNES, Nintendo 64, Gamecube, to name a few.
Speaking of the features, the most essential ones include screen filter, snapshots, and save states.
4. Citra Emulator
Citra emulator is known for its 3DS support, but in case you need another option besides the previous ones, try this.
One of the prominent features is the ability to uspcale games, which positively impacts the visuals. Regarding performance, it's not going to replace the original console.
Slowdowns pop up constantly, which can be hard to sweep under the rugs. Installation is similar to other emulators.
As usual, to install you'd need the emulator file and ROMs. Speaking of ROMs, if you want to download, do it at your discretion.
We aren't in any way, shape, or form suggesting that because games are usually protected as intellectual property.
If so, then why are they still up on third-party sites?
We don't know exactly, but if any of the official publishers wants to send takedown notices, they should be able to do that.
Or you may want a more ethical way, transferring games from an original console can be an option.
Once you have both elements ready, install the emulator and then add the ROM file using the drag-and-drop feature.
FAQs – Nintendo DS Emulator for Mac Users
---
How do I get DS emulator on Mac?
That's quite simple. First you have to know the name of the emulator, and then download it from the official source.
For example, if you want to download DeSmuME, then you should head to the site. Find out the download link to the latest version.
Some of these programs are also available on third-party sites, but unless you can't find the direct link, it's not recommended to get it this way for safety reasons.
There are third-party sites that are trustworthy, though. Just make sure to do proper research before downloading content from this sort of website.
What emulator should I use for Pokemon (Mac version)?
Probably DeSmuME since it has good compatibility with this operating system.
But since the choices are quite limited, you might as well try all the emulators mentioned above.
This way, you'd know which one offers the most compelling features and runs smoothly on your system.
It's worth-noting that different programs run differently on computers with different specs. So the best way to find out is by installing one yourself.
Are there any Nintendo DS emulators for iOS?
Yes, there's a program called iNDS that offers some interesting features.
For instance, it can directly download ROMs, which eliminates the dependence on an external PC system. This emulator is said to achieve up to 60fps on newer iOS devices.
Having said that, the installation of this software is likely to be considered a jailbreak, which could result in a warranty void.
For this reason, be careful anytime you decide to install an app on your iOS device because Apple is strict with their security measures.
How do you get emulators on iOS?
In theory, you're not supposed to run an emulator on an iOS device.
These are the type of apps you'd have difficulty finding on the App Store.
However, they are still available on third-party sources.
The problem is the installation often requires jailbreaking, which is not the best way of doing things.
It comes with drawbacks that may far outweigh the benefits. But it's your device, so you have the rights to use it the way you want.
Anyway, if you want to add an emulator on your iPhone, there are options that don't involve a jailbreak, like using emulators via Safari.
Go find some tutorial for more instructions.
Are there Pokémon emulators for iPhone?
Yes, but again, they're accessible outside the App Store.
The best that work for Pokémon games are iNDS and Delta.
They have broad system support, such as the Nintendo Ds, Nintendo 64, GBA, GB, and GBC.
Final Thoughts on Nintendo DS Emulator
---
Now that you know some of the best Nintendo DS emulators for Mac, which one do you want to install?
Each emulator has its own set of features, but compatibility is still the main concern with regard to running this type of software on a computer or a laptop.
Hence, you need to make sure if an emulator is developed for the system you use or not.
Since this is Mac we're talking about, the emulator should include support for the OS. Otherwise, it's not gonna work.