The Best Galaga Arcade Machine 2021 (still great for 2022)
Playing Galaga on the best Galaga arcade machine isn't just a dream. You can find some mini arcades that feature this game online. Do you know Galaxian? For the record,…
Playing Galaga on the best Galaga arcade machine isn't just a dream. You can find some mini arcades that feature this game online.
Do you know Galaxian? For the record, Galaga is the sequel to this game.
Like the predecessor, it remains a retro shooting game but has some differences in the gameplay. And although it reminds us of a lot of space invader-themed games, it still offers a unique gaming experience. Galaga was one of the classics that defined the 80s. And even today, it's cherished for the impact it has had in the gaming industry especially in its specific category.
Galaga has a simple gameplay. All you have to do is collect points by shooting down the enemies, but it's not that easy as the player has to deal with various formations of strikes. You must try your best to keep them from taking out your starship.
The player is given a few lives. Once they've disappeared from being constantly shot by the enemies, it's game over. Despite the similarities to the original, it allows you to do a few different things. For example, you can fire 2 shots, making it easier to protect the spacecraft the best way possible.
Basically, it offers new strategies that let you get further into the game. Another noticeable difference is in this version there is a challenge in every few rounds to help the player gain extra bonus points.
This feature wasn't present in the previous version of the game. Are you ready to play? Check out the following mini arcade machines.
The Best Galaga Arcade Machines You Can Buy in 2021 (but still perfect for 2022)
---
This product is by My Arcade. During your search for a mini arcade, you'll come across a lot of products from this supplier. It has a very extensive collection of mini arcades actually. In case you need one that has Galaga on it, this is perfect for you. It takes cues from the original artwork which gives it a strong retro vibe.
Since the game belongs to the retro category, it makes sense that the console tries to capture that image. The mini arcade has a 2.75-inch display. It could've been bigger, but at least it is in full color quality. Display is a huge concern when it comes to selecting a mini arcade.
Just because it's called a mini arcade doesn't mean the screen has to be extra small. Any size above 3 inches would be much appreciated because that means it won't put a strain on the eyes. This device also comes with a removable joystick. This control is pretty much a standard for arcade machines.
But if you want to get rid of it access the directional pad, you can do that, too. Other features aren't too special. There is an external speaker along with volume controls. If you need blaring sound effects, just plug in your premium headsets via the 3.5mm headphone jack.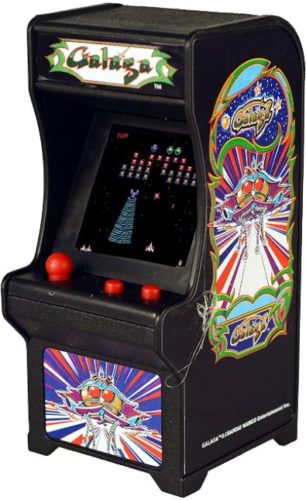 Speaking of the form factor, this machine looks a lot like the previous model especially the color scheme. However, the screen on this one is much smaller, which is 1.5 inches diagonally. Needles to say, it personifies the word miniature very well, but the screen size ain't it.
For those with large hands, you'll have difficulty playing on this 3.75 x 1.75 x 1.75 machine. Don't expect a coin slot because it's too miniscule for it. Besides, they've never been part of any mini arcade. Most mini arcades operate on batteries.
Coin slots are more likely to be added to larger machines, but even so, many of them are deactivated. As an arcade machine, this product is functional although the screen is very small. Surprisingly, the display comes in a high resolution, but we don't count it as a groundbreaking feature given the size.
In the meantime, the retro sounds are authentic. They compliment the joystick and two other control buttons. Is this product worth buying?
As an actual gaming console, it's not reliable. But as a collectible, machines with a screen this small is quite a rarity, so it would make a great addition to your collection.
Want to relive the memories of destroying alien ships that come down the screen on a set path? If so, you can buy this machine. As one of the most highly-praised retro games, everyone should've played Galaga at least once in their lifetime.
Choosing the right device to play it on is equally important. For starters, this arcade machine displays authentic graphics of the 80s. An old game needs to have dated graphics because that's where the nostalgia comes from. It also features authentic sounds which further reinforce the vintage appeal of this game and console.
Buy one and play it like the original. Those alien spacecrafts need to be shot down before they touch you. By the way, make sure you prepare 3 AA batteries because they are necessary to power the device on.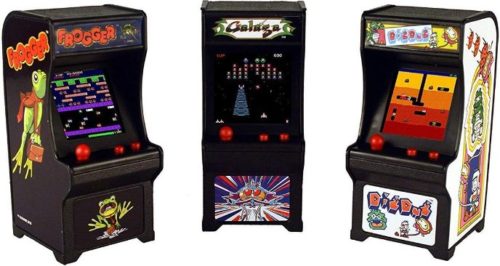 Not all arcade machines are created equal although they look kind of similar. This package, for instance, has more than just Galaga on it. It comes with 2 additional games, Dig Dug and Frogger. If you happen to be a fan of both or just want to explore more games other than your favorite space invader game, this is a perfect choice.
They measure 3.75″ H X 1.5″ W X 2″ D with a screen size of 1.5 inches. The small screen makes it hard to see, but it's called a mini arcade for a reason. If you're bothered by the tiny display, go for another product. There are some that have larger screens. Coming with the package is a keychain, instructions, and 3 AAA batteries.
There's no need to buy them separately because they're all included. All games preloaded on this device are classics. Starting with Frogger, the game is highly addictive. Don't miss the chance of playing it once the package has arrived at your doorstep.
Dig Dug is another classic title on this list. The player is required to dig tunnels and kill enemies found along the way. The more you kill, the more points you'll get. This game is such a throwback. You'll feel overwhelmed with joy had you been a fan since early days.
This package has a set of 4 mini arcades, namely Dig Dug, Frogger, Galaga, and Pac-Man. It is not that different from the previous product in terms of game collection. It just includes an extra Pac-Man aside from the other three. For Pac-Man fanatics, this would be a great pick than buying another machine just to play it.
Pac-Man is huge commercially that many arcades are made specifically for the game. The screen size for all the units are about the same, approximately 1.5″. The package also includes batteries, so you can play right after unboxing. Who is this for? Anyone who likes all the games included can have one.
Buying an arcade machine can be time-consuming especially when you're picky. To save time and money, we suggest you pick a set that puts your favorite games together. This package has 4 in total. Hopefully you're going to appreciate them all.
The machines in this package offer authentic game sounds, which really elevate the atmosphere to another level. They also have full-color displays. Although the screens are relatively small, the awesome quality would make a difference.
Some mini arcades have not only 1 or 2, but over 10 games at once. This product has 20 and all of them are classic titles, including Dig Dug, Mappy, Galaxian, and Rolling Thunder. The best thing about this device is the stunning 4.25-inch display. Larger screens offer a better gaming experience, no wonder many people want to connect their consoles to TV.
The build quality of this product is simply amazing. The title marquee combined with the glowing trap power button adds a premium touch to the device. Meanwhile, the speakers are placed on the front, so the sounds will travel right into the ears. They won't sound muffled at all.
There is also a 3.5mm headphone jack, something that's becoming a rarity since the emergence of wireless connection. If your headphones are the corded type, pairing would be easy.
FAQs – Mini Arcade Gaming Cabinet
---
Do they save game progress?
Some products don't have this feature, which means if you lose your last ship, you have start from the beginning aka game over.
Some go as far as deleting scores with every restart of the device. So if you don't want to lose your scores, keep playing as far as you can.
Do these machines only have Galaga?
Some machines pay homage to this game. There is no other game but Galaga on them. However, there are also mini arcades that have a collection of games. The thing is they often cost more.
If you want a machine that includes numerous retro games, be prepared to spend more. There are also products sold as sets like we've just reviewed. For example, in one package you'd get a few machines with each one featuring a different game.
What's the difference between Galaga and Galaxian?
Galaga came after Galaxian and many consider it superior in many ways.
They're basically two games with different gameplays. We've explained the key differences before, just scroll back to the top to find out.
Is the game official?
Some arcade machines have officially licensed Galaga. However, it's also possible to find knock-off versions of this game on emulators. You just need to be careful.
While they could be unmistakably similar to the original, there are differences when you pay attention to detail. A machine that the game is officially licensed would be identical to the original. Nothing would seem off from the graphics to the sound effects.
What's with the ship automatically firing missiles?
If the ship fires shots when you're not touching any controls, chances are you're in the demo mode.
Please read the instructions that come with the package on how to activate the game-play mode. It would solve the problem.
Final Thoughts on Galaga Arcade Machine (Mini)
---
A lot goes into choosing the best Galaga arcade machine. Just because it's a single game machine doesn't mean your job will be a lot easier. The thing is these devices come in numerous varieties. You should know exactly what you're looking for.
First of all, think about size. Do you need a full-sized arcade machine or a miniature one? The former is way more expensive, but it has a very large display which positively contributes to the gaming experience.
A mini arcade isn't inherently bad even if it lacks the experience the bigger counterpart has to offer. Mini arcades are still quite diverse. Some are very tiny that they look more like accessories than consoles. Others are slightly bigger, making them ideal for gaming.
By the way, Galaga is a gold standard when it comes to classic gaming, so don't be surprised that it's featured a lot in mini arcades. Some even fully dedicate themselves to this game. If you want a machine that only has Galaga on it, one of the aforementioned products might interest you.
But if you're a fan of retro games in general, there are a quite a lot of products that come preloaded with multiple games. The fact that Galaga is still on people's mind after all these years is a testament of its endurance and timeless appeal. It will go down in history as one of the most iconic old school games ever.