Best Portable GBA Emulator: Reviews and Buying Guide [2022]
Retro games are all the rage right now. They may have outdated graphics, but people are still drowned into them. Some love these classics because they were the games that…
Retro games are all the rage right now. They may have outdated graphics, but people are still drowned into them.
Some love these classics because they were the games that defined their childhoods. Others like them because they have a whole different vibe compared to newer titles.
The thing is it's not easy to get your hands on retro games as they're no longer in production.
The copies circulating today are either old ones or emulator ports.
Today we'll be talking about the GBA. The nostalgia will hit you hard the moment you see the view of this console.
The GBA is often mentioned with the original Game Boy, GBP, and GBC, but there are things that make this variant special.
It's built on a 32-bit architecture, which places it ahead of the predecessors.
What's not to love about the GBA?
Sure, there were aspects that people criticized, but it's still an interesting console to play.
The library of games is impressive with some being carried over from the older siblings. Games like Pokémon, Zelda, and Mario are some you can play on this console.
It's always exciting to bask in nostalgia with classic games, but is it possible to play them right now?
Yes, emulators can make it happen. They're developed to mimic the behavior of older consoles.
Interested? here are some of the best portable GBA emulators you can try.
The Best Portable GBA Emulators in 2022
---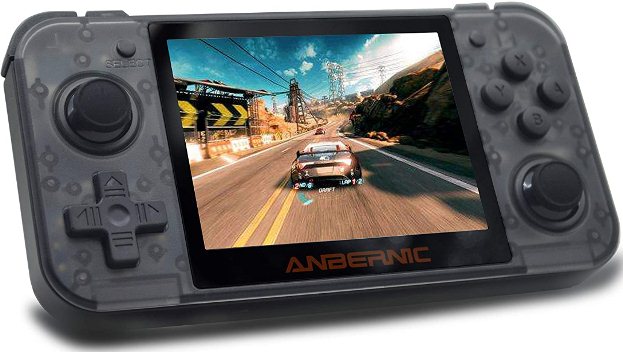 The price of this console may cause you to raise an eyebrow. It costs almost a hundred, which is a high price for a console aimed to play retro games.
But looking into the features, it becomes apparent that the price is justified.
It has a vast collection of games, with over 2,500 built into the system. It also comes with 32GB storage via SD card.
The best part is the games have no repetitions.
GBA isn't the only platform it supports, anyway. You can use the same exact device to play games from the FC/NES, SFC/SNES, NEOGEO, NEOGEO POCKET, PCE, and more.
Furthermore, the 3.5-inch display feels quite spacious. Most importantly, the quality is good. It looks clear, vibrant, and detailed.
For added protection, the screen is layered with tempered glass to make it resistant to scratches.
There's also a 2500mAh inside which provides up to 6 hours of continuous use.
This handheld is roughly half the price of the previous console. It boasts many awesome features.
Let's start with the display.
The 4.3 inch LCD screen has good color reproduction. It also comes equipped with 8GB of memory and a built-in rechargeable battery. Just connect it to a power source once it runs out of battery.
The game library is large, too, with around 1,200 titles. What makes it better is you won't encounter repeated titles.
Apart from GBA, it can run games released on the SEGA, GBC, FC, and SFC. To browse through the titles, select the 'Games' icon at the bottom of the screen.
Hit the 'O' button to enter, and then select "ext-games" > "dir list".
The list of games will show up right after.
Anyway, this console can do more than just play video games. It has a good deal of other features, such as a calculator, recorder, e-book, and camera.
This is another handheld you can consider to play GBA games. It's packed with the classics.
Although it falls short compared to the previous products in terms of game collection, 650+ games aren't exactly a small library.
It supports a number of platforms, including the PS1, GB, NES, SNES, and MD.
The games are sorted out systematically to ensure easy searching. It allows the user to find the desired game with ease.
Another useful feature is data save. With this, there's no need to start over when you lose a game, which can be frustrating regardless of the difficulty.
Design-wise, this console looks nice with attractive detailing.
Although it appears somewhat simple, it's still eye-catching nonetheless.
Besides, it's very compact, which means it's suitable for gaming on the go. There are many other features included, like music and movies.
A retro console is a perfect item to relive childhood memories.
Some people are lucky enough to be born and raised when retro games were at their peaks.
That would leave you with so many beautiful memories.
If you want to revisit those eras, this handheld can do that. It has a whopping 1200 games in its library.
It also features double joysticks for easy control. As for the design, this console appears laid back with a black theme.
That would suit those who are not into flashy colors. The display also looks spacious, measures 4.3 inches diagonally.
The broad system support is another highlight.
Apparently, this has become a standard in emulators. Instead of giving you the option to play one format of games, they offer multiple.
In this product specifically, the support extends to the SMC, SEGA, SNES, FC, NES, ARCADE, NEOGEO, and more.
It also includes a rechargeable battery, which takes about 5 to 6 hours to reach full capacity.
There're more the portable console can do, like playing music, taking pictures, measuring time on stopwatch, etc.
All products in this review are comparable in price, including this one.
For the price, you can get a handheld with a 4.3-inch display, 8GB memory, and a battery that lasts approximately 6 hours.
In terms of game selection, it has over a thousand with no repeated titles. They are from various systems, including the SMC, GB, GBC, and GBA.
There's also an option to save game progress, which lets you pick up where you left off, not starting from the beginning. Just hit 'Select', and then 'Save Game', the progress will be saved immediately.
Another interesting feature is TV output. In case you need to enjoy gaming on a larger screen, this feature will help a lot.
Additional features are also provided, such as a stopwatch, voice recorder, e-Book reader, calendar, etc.
How to choose a portable GBA emulator
---
1. Screen size
Handheld emulators come in several screen sizes. While larger screens may provide a better view, some people prefer smaller ones because they are more compact.
Don't worry, this information is always included in the product description. Read the specs to discover the screen size.
If it's too large or small for your taste, you can skip it and keep on searching.
2. Price
Price is a good indicator of quality. A big price gap may indicate a big gap in quality.
Let's say there are two GBA emulators, one costs twice as much as the other.
Which would you go for assuming the budget is unlimited?
We're sure you'd pick the more expensive one for an obvious reason.
The product should be better on many fronts, not just in display quality.
3. Features
The main purpose of a GBA emulator is to play GBA games. However, in some products, it goes beyond the ability to play games.
They also pack additional features which takes functionality to the next level.
Camera, stopwatch, e-book reader, music player, are just some of the examples.
They vary from console to console. Some with higher prices may offer more, and vice versa.
4. System support
This is by far the most important thing in choosing a GBA emulator.
Imagine buying an expensive console and you didn't realize that it had no support for GBA games.
You're probably going to regret the purchase unless you weren't strictly looking to play games from this system.
The information about system support is also included on the product page, so don't miss it.
FAQs – Best GBA Emulator (Portable/Handheld)
---
What is a portable emulator?
It's a portable device designed to imitate the characteristics of an original console.
A portable emulator can play games from one or several consoles.
Handheld emulators are known for their support for retro games, which makes sense because they are no longer in production.
Although a portable emulator can resemble an original console in looks, they aren't actually related.
What is a good GBA emulator for PC?
There are quite a lot of choices, but if you gotta pick one, then we'd recommend the mGBA emulator because it's easy to use.
Besides, it's loaded with games and allows the user to utilize cheat codes.
That said, it's not perfect. The lack of advanced features will probably keep you from installing.
There are other options, though, such as Higan GBA Emulator for PC, No$GBA, and VisualBoy Advance.
What is the best portable emulator?
To find one, you need to narrow down the search to consoles that cost considerably higher than the rest.
In this category, there is the GPD XD Plus. The price on this one easily puts it on the same level as some original consoles.
But it's justified because the system is powerful.
It comes with an MT8176+PowerVR Hexa-core processor and 4GB RAM. It also provides 32GB of storage.
Other than that, the graphics are also remarkable, not to mention that the battery is huge with a capacity of 6700mAh.
Where to get GBA (Game Boy Advance) ROMs?
It's everywhere on the internet. Just type in GBA ROMs on Google and press 'enter', you'd see relevant sites filling up the first page.
For those unaware, ROMs actually mean games.
While necessary to play on an emulator, this should be the least of your concerns if you decide to buy a handheld console as they come preloaded in the system. There's no need to do it manually.
Is GBA better than SNES?
On the paper, the GBA does come off as the more powerful system out of the two with its 32-bit processor, but opinions are split on what people consider the better and why they think that.
Some prefer the SNES for its variety of games and its TV output. Others lean towards the GBA because of the specs and superb ports.
Can DeSmuME run GBA?
Given that DeSmuME is a Nintendo DS emulator, it's likely that you won't be able to play GBA games on it.
A real DS may have a GBA slot for GBA games, but this emulator isn't particularly developed for that.
If you want to play GBA games, then find an emulator that's actually compatible. There are many choices like some already mentioned.
Are GBA emulators illegal?
Well, we are not Lawyers, but from what we've gathered from several sources, emulation doesn't fall under any copyright infringement.
In other words, it's not considered breaking the law to use an emulator.
Final Thoughts on Good Portable GBA Emulator
---
Retro games have seen a surge in popularity in recent years.
It seems that people are thrilled with the idea of playing games that shaped their childhoods.
The thing is the production of these games has ceased long ago. Hence, the only to play them is through old consoles and ROMs that are still in good shape, which would be a rarity nowadays.
Another alternative is emulators, which as the name suggests, serve to mimic the functionality of another system.
Many of them emulate not only one, but several systems. That's why you can find hundreds or thousands of games on a single console.
If you want one, we've provided some of the best portable GBA emulators in this review. Go check them out.