Best Drone Landing Pads: Reviews and Buying Guide 2022
A landing pad is not a must-have accessory for piloting a drone, but it's a nice addition regardless. As the name suggests, a drone landing pad is a pad that…
A landing pad is not a must-have accessory for piloting a drone, but it's a nice addition regardless. As the name suggests, a drone landing pad is a pad that aids in the launch and landing of a drone. It becomes necessary because propellers can create clouds of dust during a take-off. If the place where you play the drone is dirty, then this accessory would come in handy.
Another reason to use a landing pad is when grass is tall enough to disrupt the way the propellers work. The pad will clear it out of sight, so that the drone can fly without a problem. Apparently, pads can be very beneficial under the right circumstances. Besides the reasons already mentioned, they can also be an area for Return-to-Home landing.
As we know, many drones come with a feature to let them fly back to the area where they took off. To make it look like the landing of an actual aircraft, a landing pad will help. These items come in different sizes and materials, so take time to choose a quality one.
If your drone costs over a thousand, it makes sense to give it the best treatment you could. A landing pad is one little thing that means a lot to the operation of a drone. By choosing the right pad, it will extend the durability of your drone since it keeps away accidental exposure.
Best Drone Landing Pads You Can Buy in 2022
---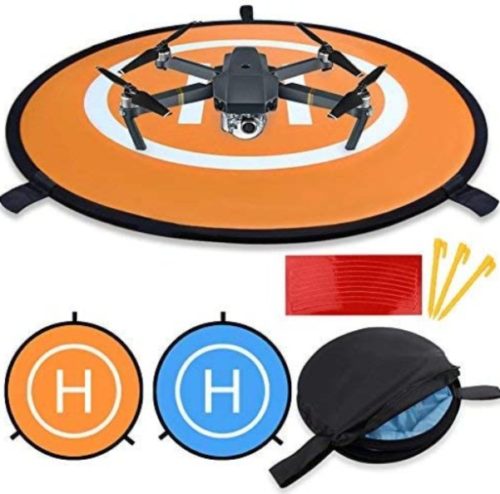 For those looking for a pad with great endurance, choose one made of nylon like this product. It's lightweight, which makes it easy for storage. The fold size measures 28cm and it will expand to 75cm folded out. It's fairly resistant to fade and the printing is also top-notch.
Another feature it has to offer is water resistance. You can use it outdoors worry-free because water won't cause damage easily. This pad is versatile, you can use it for an array of drones from DJI to Holy Stone drones. Just match the size to your drone size. If it's fitting, then just buy it.
Flying at night shouldn't also be an issue since it comes with 8 reflective strips. They will keep the pad visible in places with low illumination. If you're wondering how such a light material deals with the wind, there are 3 nails included in the package. Instead of relying on weight to counter the force of wind, you just need to secure it to the ground.
Both sides of this pad are colored. A double color design might add nothing to a pad's functionality, but it does improve aesthetics. Besides, you don't have to double check which side is facing upward because either side will work. It's also made of a waterproof material. This feature is easy to overlook, but when you use the drone a lot, you'll notice how important it is.
With a waterproof material, you won't stress out over the weather because rain won't cause any damage. Not just protection against water damage, it also has protection against the harsh UV rays. They are known for causing color fading.
With this level of protection, the pad will maintain its color much longer. It measures 75cm unfolded. After folding it up, it will shrink to 29cm. Do you want to take it for traveling? Just pack in the carrying bag and you're good to go.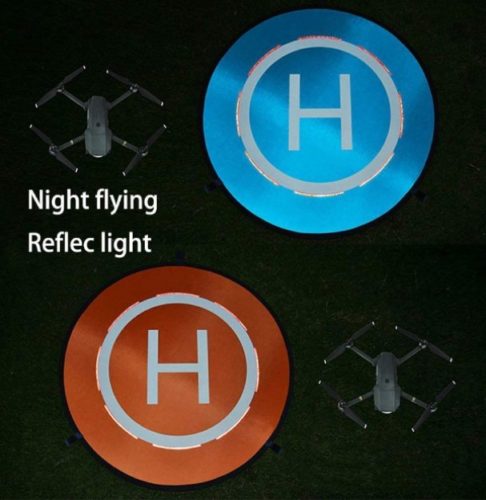 A lot of landing pads are made of nylon. It comes as no surprise given nylon is a popular choice for clothes for a number of reasons. Aside from durability, this fabric is also known for its abrasion resistance and versatility, making it suitable for different things, not just garments. The high precision printing shows that the pad is manufactured with great craftsmanship.
As with other landing pads, the color doesn't fade quickly on this one, part of it is because it's made of a high quality material. It's also perfect for outdoor use. Constant UV exposure does little to no damage to this product. Of course, nothing lasts forever, but at least it handles wear and tear well to slow down color fading. At 75cm, it has a broad surface for your drone to land on. It's suitable for different types of RC drones.
From the picture, you can tell that this product is made of nylon. Well, knowing how popular it is for landing pads, you'll come across many products utilizing the material.
Who doesn't want to benefit from the resilience this fabric has to offer? It doesn't get damaged quickly even if you place it in the sun every day. Not just the structure, but the color won't become dull fast with proper maintenance.
Size-wise, it's almost the same as other pads. 30 something inches seem to have become a standard for landing pads. Well, this number is just perfect. Neither does it feel big nor small. It's fitting for most quadcopters. It also takes on a double color design.
When one starts to look dirty with scratches everywhere, all you have to do is flip it over and it will look brand new. It offers a 24-month warranty, anyway. In case you don't feel too content or there's serious damage eligible for a claim, you can contact the supplier right away.
Most of us would want to provide the best protection to our drones. Using a landing pad is just one way to extend the lifespan of your drone. How does it make sense? Although it's not directly connected to a drone's body, it protects by keeping away damaging factors like dust and weeds. Imagine if the propellers constantly cut through weeds, they will decrease in performance as time goes by.
Dust can also get into crevices of your drone especially when you play it in dusty places. This landing pad helps avoid all those disturbances. By securing it to the ground, weeds won't get in the way of the propellers when they're spinning around. It's made of a strong yet lightweight material.
Meanwhile, the design is simple yet effective, and the color is long-lasting even if it's baked in the sun at all times. What's included in the package? Besides the main product, there's a carrying case, nails, reflective strips, and a manual. For the record, the strips come in handy as dusk settles in.
Things To Look For in A Drone Landing Pad
---
1. Size
A landing pad needs to be big enough to plant firmly on the ground and cover the drone. The bigger the drone, the broader the surface should be. Even for a small drone, a spacious pad is still necessary since its primary function is to provide convenience.
2. Waterproof
The material greatly affects its water resistance. Keep in mind that some materials are absorbent. Since commercial drones are used outdoors, it becomes important to choose a pad that has this feature especially when you plan on using it during the rainy season. A non-waterproof material will experience structural problems when it's continuously used in wet environments.
3. Durability
Again, material plays a role in determining a landing pad's durability. Choose one that's weatherproof, you'll get a pad that's extremely durable and can be used for years to come. Apparently, water is not the only damaging factor to a pad. Constant UV exposure can also wreak havoc on its construction and color.
FAQs – Landing Mat/Pad for Drones
---
1. Do I need a landing pad for my drone?
If you often fly your drone in an area where the grass grows high, it's important to use a landing pad to protect the rotor blades. Operating a drone in this environment can cause problems because fine quartz penetrates through crevices easily.
The pad may also keep the lens clean. Dirt can get trapped on the lens, which eventually interferes with the clarity of video footage. If the flyer is mostly for photography, you should know the importance of a clean camera lens.
2. How do you make a drone landing pad?
You can create a pad out of any material. The products on this review are made of fabric, but fabric is not the only choice available. You can use something sturdy like a wooden board or even metal. Rubber mat is another good idea. Each material has its own advantages and disadvantages.
Wood and metal make sturdy constructions, but they're heavy to carry around. The reason why fabric is popular is because it's lightweight. Once you've got the material, cut it to the desired size and then sew if necessary. Painting is also an option, but you can leave it as is, too.
3. How do you fold a drone landing pad?
There might be slight differences in how pads are folded up. But you can try this on your pad and hope it works. First, hold the pad with both hands with the other end touching the floor. Bend forward and push it down at the same time.
Next, turn your hands inwards until the left and right sides overlap. At this point, the bottom will automatically kick upwards, forming a smaller round shape consisting of 3 loops. Press the loops against each other and then store it in the carrying bag.
4. What is the size of drone landing pad?
They come in all sizes. You can find some with a diameter of 30 cm. There are also larger varieties with a diameter of over 50 cm. However, 75 cm seems to be the standard size. They are ideal for medium-sized drones.
Meanwhile, smaller pads only fit small or even micro drones. Choosing a fitting size is important, so that there's enough space to accommodate the whole part of the drone.
Final Verdicts – How to Choose The Best Landing Pad
---
Buying an expensive drone takes effort and willingness. The next logical thing to do is buy accessories that can extend the life of your precious drone, like a landing pad. It's probably hard to wrap your head around the fact that something couldn't be more disconnected to a drone to have a huge impact on it.
Well, it's the truth. A landing pad might not be part of a drone or has an expensive price, but it gives the protection it needed. It keeps your drone functional for longer by shielding it against factors that contribute to the damage of your quadcopter. For this reason, take time to choose the best drone landing pad.
Starting with the material, decide whether you want fabric or a sturdier material. Despite being so delicate, fabrics like nylon turn out to be a popular choice for landing pads. A pad doesn't have to be made of a hard material to do well. As long as it can clear obstacles out of the way, even a delicate material will do.
If you choose one made of fabric, make sure it comes with nails to secure it tightly to the ground. Other materials like wood and metal might not need that kind of assistance knowing they're naturally heavy, but these two aren't as practical as nylon.
Packing a wooden pad will be a lot of work, not to mention that it will be difficult to carry around. The worst part is wood isn't really waterproof. The more it's exposed to water, the weaker it will be although this can be overcome with sealer application.