[2022] Best FPV Drone Kits: Reviews and Buyer's Guide
Building a drone requires expertise, but an inquisitive mind can get you far. A person's natural inclination to investigate their surroundings and piece together their environment may be all that's…
Building a drone requires expertise, but an inquisitive mind can get you far.
A person's natural inclination to investigate their surroundings and piece together their environment may be all that's needed to learn about and master a complicated structure.
Are you searching for the best FPV drone kits?
There are a wide variety of kits available, each with its own unique set of included materials. Keep in mind that you must select high-quality components to ensure a high-quality final product.
Obviously, constructing a drone from scratch is much more difficult than purchasing one already assembled. You will, however, come out of the process with a good idea of how this flying machine works.
The choice of components is just as crucial as the assembly process because it determines the drone's final shape, be it a quadcopter, an optocopter, or something else entirely.
We have scoured the internet for the best drone kits, saving you countless hours of research time. Check out the following products and see if one sparks your interest.
Best FPV Drone Kit You Can Buy in 2022
---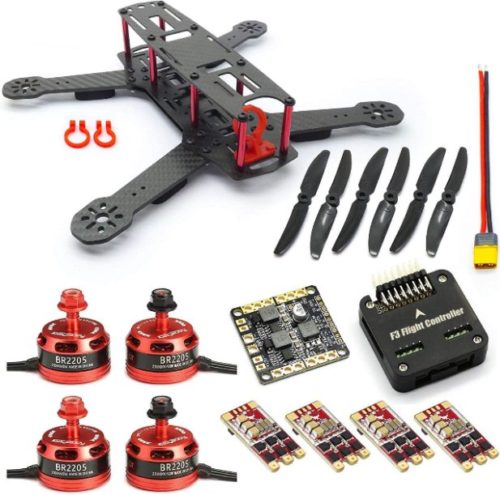 This drone is an option for those seeking a swift aerial vehicle. The ZMR250 frame appears simple, but it is extremely easy to maintain.
The entire structure is made of 3K carbon fiber, which is lightweight and can aid in acceleration. The brushless rotors on this drone promise long endurance, which is also matched by the propellers.
The benefit of purchasing a kit is that all of the parts should be compatible. Meanwhile, the F3 flight controller provides a simple plug-and-play setup. It also includes a cable set as well as a variety of receiver inputs.
While not the largest, the kit is ideal for beginners who are just beginning to learn about drone components. Starting with a simple kit is a good way to get started with UAVs.
Is the drone lightweight? Because it is pre-assembled, you won't know the exact weight until all of the parts are in place.
The total mass, however, could be predicted by the frame's weight. The total weight of the frame is about 140 g, which isn't excessively heavy.
Click the above button to visit the shop and learn more about the parts' specifications.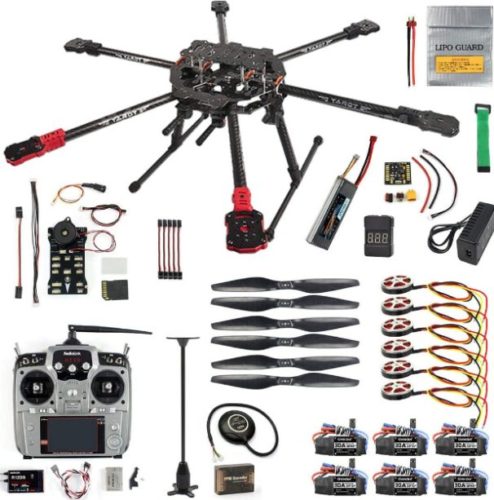 There's no denying the widespread interest in quadcopters, but that doesn't mean there isn't room in the market for variants with even more propellers. This could be a viable choice if you need something with six arms.
The drone's construction includes 3K carbon fiber and CNC machining, with a total frame weight of 600 grams.
Larger frames are nothing to be concerned about because they typically feature more powerful motors that can generate more torque. So, even though the drone's chassis is a little heavier, the system can make enough power to lift it.
The kit contains many different items and is offered at a reasonable price. The package also includes a RadioLink AT10 2.4GHz 10CH RC Transmitter, which allows you to control the frame remotely.
What about the motor? It has a 750KV brushless output. Other accessories include a mini GPS and an extra wire and lead for your servo receiver.
With the PX4 PIX 2.4.8 Flight Controller, performance shouldn't be an issue either. If you're building a drone yourself, it'll serve you well if it can carry out elaborate flight plans. This makes things even more exciting because it can do a lot for this unmanned vehicle.
The transmitter is also notable because it is compatible with many different types of control systems, not just those used in planes and helicopters.
Getting a flexible transmitter is important because it lets you change the design of the drone to fit your interests and needs. The remote control has a 3.5-inch screen with a resolution of 320 x 480 that is bright and clear. It certainly promises a satisfying control experience.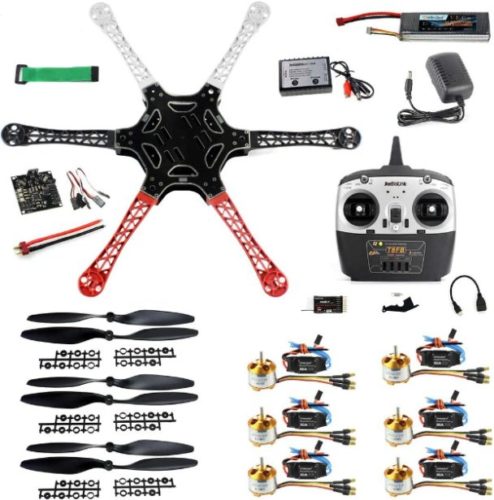 This is something else that QwinOut has to offer. Notice that it is also a hexacopter, but the frame shows that it is a different model. Given how cheap it is, it makes sense that the kit is smaller.
For just $209.99, you can get everything you need to build your own hexacopter, including a transmitter and some other basic parts.
This kit is meant to be fun. However, this does not preclude it from performing maneuvers. It can float in the air, move around, and even roll.
You can use it to take pictures from the air. We all know that this new niche has grown a lot in the past few years. The great thing about aerial photography is that it lets you see everything around you.
Also, it gives you a different way to record videos. This package comes with an F550 hexa-rotor airframe kit, which is known for being tough and durable; A2212 1000KV 13T brushless outrunner motors, which perform very well; and high-quality propeller blades.
A 3K carbon fiber weave forms these blades. This material's low vibration means the drone can fly with minimal noise.
It's perfect for your project; it's compact, lightweight, and can spin at a high rate of speed. So, we believe it'll work out great for your do-it-yourself venture.
4. QWinOut, DIY FPV Drone Quadcopter (4-axle Aircraft Kit)
Note: This product is currently unavailable, but you can always visit Qwinout Official site here.
This quadcopter is easy enough for a beginner to use. Not only does it not have too many things, but the prices are also fair. There are several flight modes, including fixed-point, fixed-height, self-stabilization, and headless mode.
If you're new to putting together drones, choose fixed-point. This makes it so that the flyer is very stable. A user with more experience can switch between all of the modes, but the manual and self-stabilization modes are the best. Another cool feature is the map transmission and PTZ, which require you to keep it in one place.
To get clear and focused pictures, you have to hover. In the meantime, you should check the transmitter, especially the quality of the display. The frame is pretty thin, which should make it easier for the drone to move around.
If you want to see a list of the items, you can visit the official shop here. There is a frame, 4 AIR2216 880KV Motor, a GPS, 4 propellers, and other parts. If you are just starting out, this is something you should think about.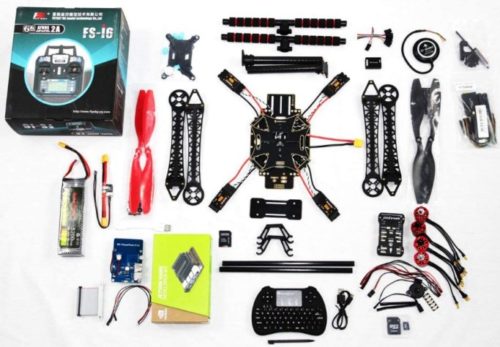 This FPV drone kit is great for first-timers because you don't have to solder anything. It comes with an S500 quadcopter frame with a soldered XT60 connector, so you can move on to the next step.
This kit was made by a company that spent time and money researching drone hardware. They are dedicated to making advanced systems that people who use drones of all kinds will like.
Most of their drone kits can be used with a touchscreen. It is equipped with the Linux-based Maverick OS, which is a good choice for making software apps for air vehicles.
Even though there is no manual in the package, the supplier said they would be happy to help customers if they had trouble putting it together. You can also use online tutorials to learn because most drones are put together in the same way.
No matter what kind of drone it is, it will have the same basic parts. The package comes with important parts like a frame, brushless motors, a transmitter, propellers, a GPS module, and much more.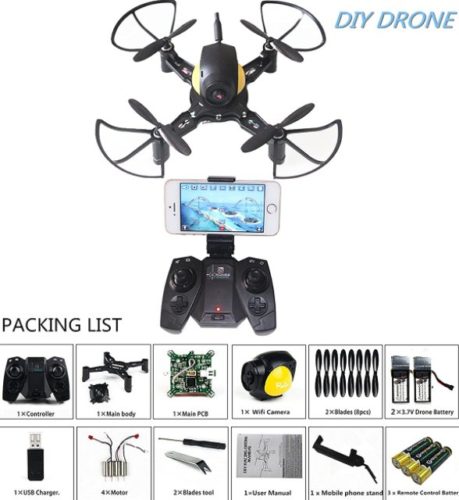 Kids would have fun with this drone because it has something called Battle Mode. In this mode, the drone moves differently whenever it gets shot.
When it gets shot once, it will hover around 1 circle, gunned twice it will hover around 2 circles, and the third strike it will hover around 3 circles. After it gets the fourth shot, the quadcopter wild make a safe landing. You can turn it on again to play.
When it comes features, the basics are included. Like for photography, it utilizes a 480p camera. It could've been higher, but looking at the size, it's decent to say the least. It also comes with 2.4GHz WIFI real-time FPV, can be connected to Android and iOS devices. All the pictures and videos taken using the camera are stored on your phone's storage.
The drone has dimensions of 13.5 x 13.5 x 5 cm. It can fly for up to 5 minutes. We think it's enough time to get your kid entertained. Besides, the 3.7v 350mah is rechargeable, so whenever it runs out of power, just plug it into a power source. It takes about 50 minutes to reach full capacity.
Things to Look For in a FPV Drone Kit
---
1. Size
This should be one of the first to consider because the size of a package corresponds to its price. A smaller package would cost less, but it will also have fewer items. But is it a bad choice after all?
Not necessarily, don't force yourself to buy a super complete package if you don't have a reason to.
A small package should be sufficient for a beginner. Besides, with fewer items, you can learn about the components without mistaking one for another.
2. Price
Another consideration is cost, as drone kits vary in price.
A simple kit with fewer than ten parts may cost between $100 and $200. But if you want more, you'll have to pay more.
3. Quality
Quality is also an important consideration.
Two kits with similar kits can have a significant price difference if there is also a significant difference in quality.
4. Components
Make sure that the package you want to buy includes basic components such as propellers, a transmitter, motors, ESCs, a frame, and so on.
A quadcopter and a hexacopter both require the same basic supplies.
Good FPV Drone to Start With (FAQs)
---
1. How much are FPV drones?
This should be the first thing you think about because the size of a package corresponds to its price. A smaller package would be less expensive, but it would also contain fewer items.
But, is it a bad decision?
Not necessarily; if you don't have a compelling reason to do so, don't force yourself to purchase a super-complete package.
For a beginner, a small package should suffice. Furthermore, with fewer items, you can learn about the components without mixing them up.
2. What is the best racing drone to buy?
We can recommend the EMAX Hawk Pro, Hubsan H122D X4 Storm, and Redcat Racing Carbon 210.
But building is also a good idea because you can speed up the process by changing some of the components.
3. How do I choose an FPV motor?
A motor affects the amount of torque it can supply to a drone, so choosing quality motors for your drone is important. Decide between brushed and brushless motors.
Brushed motors are cheaper. However, they are more prone to wear and tear. It's the opposite of brushless motors that need little to no maintenance.
4. Where to buy racing drone build kit?
There are many stores that sell drone kits, but online, you can visit marketplaces like Amazon or if you want special discount price, please take a look at our own store: hobbiestly.com.
We will be adding some of the best drones to our store soon.
Final Thoughts: Expensive or Cheap FPV Drone
---
When it comes to the best FPV drone kit, there are so many choices. It can have as many or as few extras as you like.
So, whether it's going to be an expensive or cheap FPV drone kit, it's completely up to you.
Check to see if it has enough power to transport everything you intend to bring. Please note that hobbyist drones are relatively small, so the carrying capacity is low. If you overload the drone with too many parts, it will lose lift and become difficult to control.
What exactly do each of those components entail?
Choosing a frame is a good first step because many parts will be attached to it.
Determine the number of arms the drone will have. Four-propelled designs are very popular and ideal for beginners who are embarking on their first DIY project.
Size is another factor to consider. Drones range in size from extremely small to enormous. After settling on a chassis, pick some propellers. For the most part, you can choose between a brushless or brushed motor. The latter is less expensive, but it won't last as long as a brushless alternative. Brushless motors are the way to go if you value longevity in your rotors. However, if money is tight, you shouldn't feel obligated to use them. Similarly, brushed motors can accomplish the same results.
The next essential component is propellers. The quality and size of a propeller appear to contribute to the vertical lift provided by the drone.
Is that all you need?
Nope. There are still many other items to purchase, such as a battery, a PDB, a controller, and so on, so take your time.
The holiday season is quickly approaching, so don't delay in purchasing your kits.
Maybe you can spend the holiday finishing up this little project and then surprising your loved ones at home with it.