Best FPV Drone Kit: Reviews and Buying Guide 2022
It takes a professional to build a drone, but a little curiosity goes a long way. Curiosity could be a sufficient trigger for someone to learn about a complex structure…
It takes a professional to build a drone, but a little curiosity goes a long way. Curiosity could be a sufficient trigger for someone to learn about a complex structure and put together parts to create that structure.
Luckily for a drone, there are many kits that can help you achieve that. Just make sure to choose quality parts, so that the end product would be high quality as well.
Building a drone from scratch is clearly not as easy as buying a ready-to-fly one. However, by going through the process, you'll know how this aerial vehicle works and understand its components.
Besides assembly, one of the important steps is to choose parts as they determine the final form of the drone, whether it's a quadcopter, optocopter, or another.
Are you looking for the best FPV drone kit? There are many kits with different numbers of supplies. Check out the following products and see if one sparks your interest.
Best FPV Drone Kit You Can Buy in 2022
---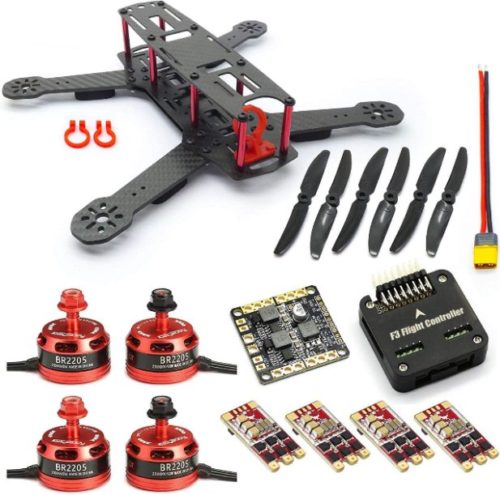 If you're looking for a drone to speed up in the air, this can be an option. The kit includes a frame and a few other accessories. The ZMR250 frame looks simple, but it's great for maintenance.
The whole thing is made of 3k carbon fiber, very lightweight and can help with acceleration. This drone has brushless rotors which promise good endurance. The propellers match them, too.
The perk of buying a kit is all the parts should work together with no compatibility issues. In the meantime, the F3 flight controller offers an easy plug-and-play setup. It also comes equipped with a cable set as well as a variety of receiver inputs. While not the largest, the kit makes a perfect fit for beginners who just started to learn about components of a drone.
Starting with a simple kit is a good way to embark on your adventure in UAVs. Is the drone lightweight? Since it's pre-assembled, so you won't know the actual weight until all parts are put in place.
However, the weight of the frame could tell how much it is gonna weigh in total. In this case, the frame weighs about 140g, not that heavy if you ask. If you're wondering about the specs of the parts, visit the URL above.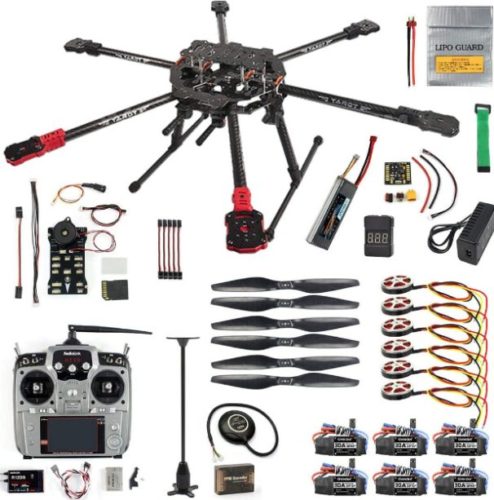 Although quadcopters are very popular, variants with more rotors aren't less appealing. If you need one with 6 arms, this can be an option. This drone is made of 3k carbon fiber with full CNC machining. The frame weighs 600 grams.
Big frames aren't something to worry about since they usually come with a larger number of powerful motors for higher torque. So even though the chassis is slightly heavy, the system can still generate enough power to lift the drone.
Looking at the pic, the kit has a long list of supplies. And it has a decent price tag, too. In addition to the frame, you can find a RadioLink AT10 2.4Ghz 10CH RC Transmitter in the package. As for the motors, they are 750KV brushless motors. There's also a mini GPS, Servo Receiver Extension Lead Wire Cable, to name a few.
By the way, performance shouldn't be an issue thanks to the PX4 PIX 2.4.8 Flight Controller. It's reliable when it comes to integrated multithreading. Your DIY drone will benefit from its ability to execute complex scription of missions and flight behavior. This brings a new level of excitement as there's much it can do to the unmanned vehicle.
The transmitter is another highlight mainly because it works with various control systems, including airplanes and helicopters. Choosing a versatile transmitter is indeed important because it gives flexibility to build a drone that suits your interest and needs.
It comes with a 3.5 inch screen with a resolution of 320×480. Quality-wise, it looks sharp and colorful.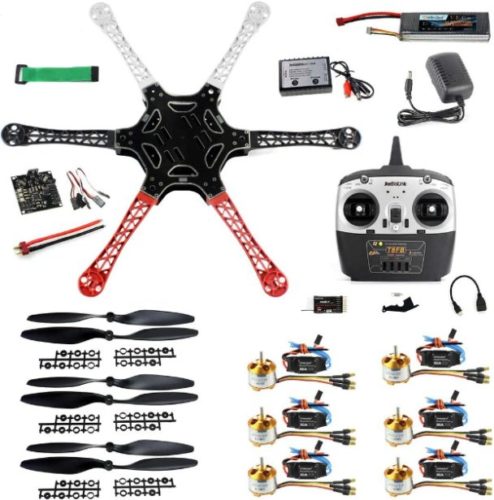 This is another offering from QwinOut. Notice that it's also a hexacopter like the previous model, but the frame shows it's a different design. The kit is smaller, which is understandable given the affordable price. For only $209.99, you can build your own hexacopter complete with a transmitter and other basic supplies.
This drone kit is made for fun. But even so, it's more than capable of doing maneuvers. It can hover, cruise around, and even roll in the sky. You can use it for aerial photography. As we know, this new niche has gained a lot of traction in recent years.
What's great about aerial photography is it can give a full view of the surroundings. Besides, it offers a new experience of recording videos. In this package, you'll find a F550 Hexa-Rotor Air Frame Kit known for its toughness and durability, A2212 1000KV 13T Brushless Outrunner Motors that deliver exceptional performance, and high quality props blades.
They're 3K Carbon Fiber based. This material produces low vibration, which results in a less noisy drone. It also has a lightweight construction and can provide high RPM.
This quadcopter is suitable for novices. Aside from the fact that it doesn't have too many items, it's also priced reasonably. There are some flight modes available, namely fixed-point, fixed-height, self-stabilization, and headless mode.
If you're new to drone assembly, it's better to choose fixed-point. This allows the flyer to be very stable. A more experienced user can switch between all the modes, preferably the manual or self-stabilization. Another interesting feature is map transmission and PTZ in which you'd need to make it hover steadily.
Hovering is necessary for taking detailed and focused images. Meanwhile, the transmitter is worth-checking especially the quality of the display. The frame is quite slim., which should positively affect the drone's maneuver ability.
If you're curious about the list of items, they're all in the picture. There's a frame, 4 AIR2216 880KV Motor, a GPS, 4 propellers, and others.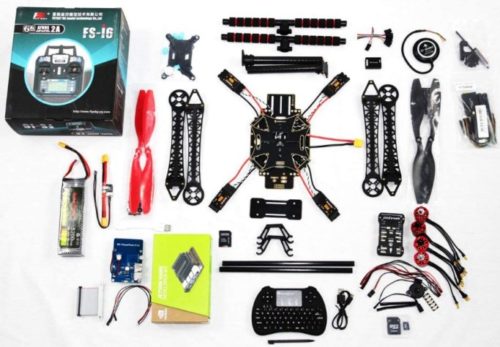 This drone comes with a S500 Quadcopter Frame with XT60 connector that has been soldered, so you can proceed to the next step. It comes from a company that has put time and effort into the research of drone hardware.
They're committed to creating advanced systems that will appeal to all types of drone users. Most of their kits have a touchscreen interface. And then, the maverick OS that runs on Linux is reliable for creating software apps for aerial vehicles.
Although the package doesn't include a manual, the supplier said that they'd be glad to help customers if they find trouble during the assembly process. You can also learn from online tutorials because most drones are assembled similarly.
Regardless of the type, most drones have the same basic components. The package includes essential parts like a frame, brushless motors, a transmitter, propellers, a GPS module, and much more.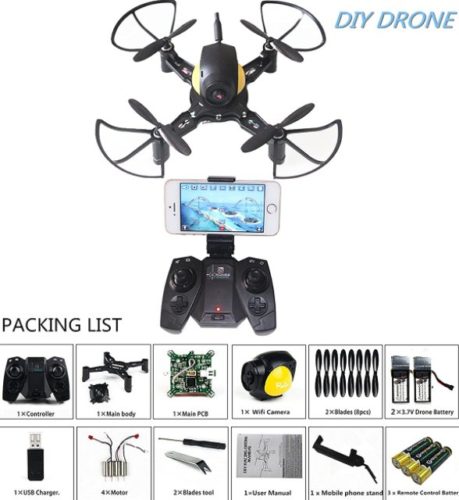 Kids would have fun with this drone because it has something called Battle Mode. In this mode, the drone moves differently whenever it gets shot.
When it gets shot once, it will hover around 1 circle, gunned twice it will hover around 2 circles, and the third strike it will hover around 3 circles. After it gets the fourth shot, the quadcopter wild make a safe landing. You can turn it on again to play.
When it comes features, the basics are included. Like for photography, it utilizes a 480p camera. It could've been higher, but looking at the size, it's decent to say the least. It also comes with 2.4GHz WIFI real-time FPV, can be connected to Android and iOS devices. All the pictures and videos taken using the camera are stored on your phone's storage.
The drone has dimensions of 13.5 x 13.5 x 5 cm. It can fly for up to 5 minutes. We think it's enough time to get your kid entertained. Besides, the 3.7v 350mah is rechargeable, so whenever it runs out of power, just plug it into a power source. It takes about 50 minutes to reach full capacity.
Things to Look For in a FPV Drone Kit
---
1. Size
This should be one of the first to consider because the size of a package corresponds to its price. A smaller package would cost less, but it will also have fewer items. But is it a bad choice after all?
Not necessarily, don't force yourself to buy a super complete package if you don't have a reason to. A small package should be sufficient for a beginner. Besides, with fewer items, you can learn about the components without mistaking one for another.
2. Price
Price is another concern because drone kits come in different prices. A simple kit with less than 10 parts may cost from $100 to $200. But if you want more, you'd need to pay more as well.
Quality is also a factor. 2 kits with similar kits can have a big price gap if there's also a big gap in quality.
3. Components
Make sure the package you want to buy have basic components included, such as propellers, a transmitter, motors, ESCs, a frame, etc. Whether it's a quadcopter or a hexacopter, they require the same basic supplies.
FAQs – FPV Drone to Start With
---
1. How much are FPV drones?
They usually cost over $100, but it also depends on the size of the package. Larger kits cost more, like over $300. One thing for sure, building a drone isn't necessarily cheaper than buying one already assembled.
You might think that it would be cheaper to buy parts separately and assemble them yourself, but it's not the case.
2. What is the best racing drone to buy?
We can give a few suggestions, such as EMAX Hawk Pro, Hubsan H122D X4 Storm, Redcat Racing Carbon 210. Building is also a good idea because you can increase the speed by modifying some of the components.
3. How do I choose an FPV motor?
A motor affects the amount of torque it can supply to a drone, so choosing quality motors for your drone is important. Decide between brushed and brushless motors.
Brushed motors are cheaper. However, they are more prone to wear and tear. It's the opposite of brushless motors that need little to no maintenance.
4. Where to buy racing drone build kit?
There are many stores that sell drone kits, but online, you can visit marketplaces like Amazon or if you want special discount price, please take a look at our own store: hobbiestly.com.
We will be adding some of the best drones to our store soon.
Final Thoughts: Expensive or Cheap FPV Drone
---
When it comes to the best FPV drone kit, the options are endless. You can equip it with as many features as you want. Just make sure it has enough power to carry all those things. Commercial drones are quite moderate in size, which means the load capacity is also limited.
Adding too many components will reduce vertical lift and make it hard for the drone to maneuver freely. What are those components, anyway?
You can start by choosing a frame since many parts will be attached to it. Decide the number of arms the drone will have. Four-propelled designs are very popular and suitable for beginners who want to carry out a diy project for the first time.
You should also think of the size. Drones come in all sizes from nano to very large. After selecting a frame, choose the motors. There are 2 main types, brushless and brushed. The latter costs less, so don't expect superior durability compared to the brushless counterpart.
If you want rotors that last longer, brushless motors are where it's at. But in case budget is a constraint, don't force yourself to use them. Brushed motors can also get the job done.
Propellers are the next essential component. Apparently, the quality and size of a propeller contributes to the vertical lift it provides to the drone. There are many others to buy, including a battery, a PDB, a controller, etc, so take your time.