Review of Emotion Drone: Is It Worth Buying in 2022?
In this Emotion drone review, we'll share all the great features it comes with and why you should buy it.
As an Amazon Associate, we earn from qualifying purchases (at no extra cost to you). See our disclaimer page for more information.
Drones vary greatly in price and features. Those that belong to the high-end category are hard to compete with because they have features that are rarely present in entry-level products.
Anyone who is into drones should know the quality of DJI drones for example.
Well, that's hardly a surprise because the brand is the leader when it comes to unmanned aerial vehicles.
The product we're going to review has some resemblance to a DJI drone, but it doesn't come with a heavy price tag as the average DJI drone does.
Although we're familiar with DJI already, some smaller companies are trying to jump into the business by offering products with good features and affordable prices. One of those manufacturers is Eachine.
If you need a drone that doesn't burn a hole in your pocket, consider the following product. It's called the Eachine E58.
In this Emotion drone review, we'll share all the great features it comes with and why you should buy it.
Emotion Drone Review: Our Quick Look into Its Features
---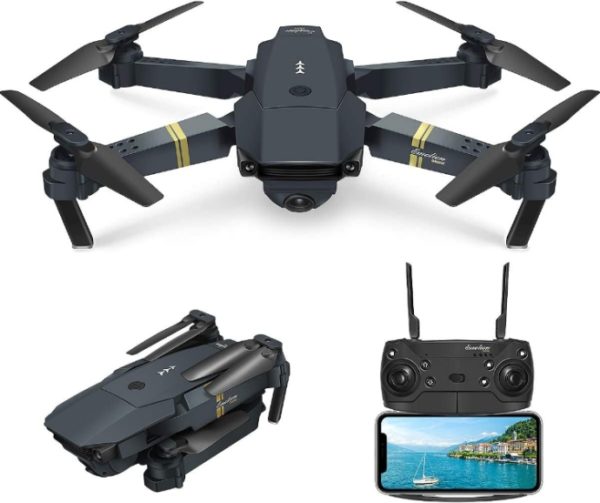 You can call it the Emotion drone or the Eachine E58. The word Emotion is printed on its body.
It may look similar to a popular DJI drone, but the moment you notice the brand, you'd know that it's not the same product.
Let's start with the build quality. It's made of plastic, very reasonable given the price.
The good news is it still feels premium thanks to the nifty design and high-quality plastic used to construct its fuselage.
You can find a 720p camera installed on the nose. While not the best, it gets the job done. It's hard to expect too much from a drone costing less than a hundred dollars.
At least the resolution is high enough to take photos and video footage clearly. It has some great capabilities, too.
For instance, the camera can record wide-angle videos.
It's also adjustable up to 90°. However, it won't adjust automatically like that in more expensive models.
You have to adjust it manually instead.
There's also a 2MP sensor that can take some good photos. That being said, the image stabilization feature isn't the most reliable, but not bad, either.
The 6 axis gyroscope will ensure that you can take video footage with minimal distortion.
And if you're looking for a live stream feature, it's built-in in the system. This is especially important when you need to broadcast the footage live.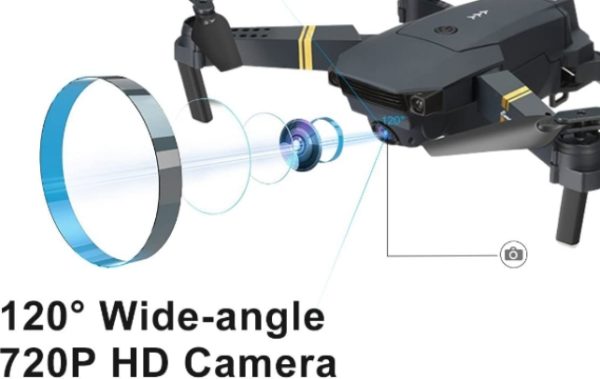 Emotion Drone Features
---
1. Altitude Hold Mode
It helps the drone to lock the height and provide hover stability. As a result, you can record video and photos with minimal distortion.
2. One key take-off and landing
A useful feature that makes it easy to fly or land the drone. There's even a feature that helps the drone find its way home if you have trouble bringing it back.
3. Headless mode
This feature eliminates the barrier of how the drone flies in different directions.
There won't be confused when the head is pointing in the wrong direction. All you have to do is activate the mode and the drone will fly relative to the controller, not the flight orientation.
4. 3D Flip
This drone has a unique ability to flip around in the air. All you have to do is press on the 3D Flip button, it will start doing aerobatic maneuvers.
5. Gravity Sensor Mode
Allows the drone to move in accordance with your Smartphone's movement. Basically, you can control the flight just by moving your Smartphone at any angle you want.
6. VR Mode
You can enable this to see things from a first-person perspective. This is not a new feature, but very awesome nonetheless.
FAQs – Emotion Drone
---
1. How much is the price of Emotion drone?
Hurry up! This drone is normally $74.99 on Amazon, but it is currently on sale for as little as $56.99 (with 1 emotion drone battery) on Eachine's official distributor.
You can find the same product on other e-commerce sites with different price tags, but anything under a hundred dollars is reasonable.
2. How to fly Emotion drone (E58)?
You need to install the app for pairing on your Smartphone first. You can find it on the Play Store for a Smartphone running on Android.
Turn on the drone by pressing on the power button.
Toggle on the WiFi button on your phone. Make sure there's a notification that it's connected.
Launch the app, go to Settings, and toggle on the features you want to activate, like preview 720p.
Tap the play button on the screen. You should see several icons on top of the page. You can tap on the camera icon to take a picture, the video icon to record a video, and so on. On the same page, you'd see a button to turn on the drone. Hit that to start the propellers and you're good to go.
You can also put the Smartphone into the transmitter slot that comes with the package.
3. How do you reset the drone?
You can do it through the Settings menu. Find 'Gyro Calibrate' on the list, tap it.
Wait for a second, the LEDs will flash rapidly and then stop, indicating that the process is completed.
4. What is headless mode on a drone?
Headless mode on a drone means that the drone doesn't have a head, which is what it means. So, there's no need to remember which side of the drone is the left, right, front, or back.
Some drone manufacturers have made it easier to figure out where a drone is going by adding LED lights on each side that match the color of the LED lights on the other side.
And by looking at the LED lights on a drone, you can often figure out where it's going.
However, when compared to a non-headless drone, a headless drone mode is thought to be easier for beginners to use.
Final Verdicts – The Good and Bad of Emotion Drone
---
After reading this Emotion drone review, have you made up your mind to buy it or not?
For the price, it brings a lot of bang for the buck. Just take a look at the features we've listed down above.
For less than $100, you can get a drone that can take decent photos and video footage, hover with good stability, and has VR support.
On top of that, the drone is also compact. It's actually known as a pocket drone, which means it's small enough to fit in your pocket.
Whenever you want to carry it around, just fold it down for easy storage.
Despite its many advantages, we must admit that the drone is not without flaws.
There are some drawbacks for advanced users that may deter you from purchasing, such as a flight time of fewer than 10 minutes.
However, if you are a beginner who is just learning how these things work and what they are used for, it is the best value for money, given the numerous features it has to offer. Features that are only available on much more expensive, high-end drones.
If you're interested, Eachine is currently running a limited-time sale where you can get it for as little as US $56.99 (one battery of emotion drone). It is available from its official distributor, Banggood, here.
Disclaimer: The information in our articles should be considered for general informational purposes only. If you need expert advice for a particular question, you should seek the help of a licensed or qualified professional. Any action you take based on the information on this website is strictly at your own risk. Hobbiestly.com is a participant in the Amazon Services LLC Associates Program, an affiliate advertising program designed to provide a means for sites to earn advertising fees by advertising and linking to Amazon.com. We also participate in other various affiliate programs, and we sometimes get a commission through purchases made through our links, without any additional cost to you.