Fun and exploration to the next level
This Firefly Hand Motion Controlled Drone provides versatile functionality and control, as well as HD video capture, to elevate your outdoor enjoyment and filmmaking vision.
Enjoy versatile control system
Enter the sky with awe!
From gestures to wrist commands
Make your flying beauty fly with the accompanying strap-on command wristlet, which operates on radio control attached to the drone.
Designed for stable flying + footage
It has four blades that work in tandem with a built-in barometer and six-axis gyroscope chip to provide the best balance and smoothness in flight.
From backyard to park and beach
Go anywhere with this sky-crushing unmanned aerial vehicle (UAV). Take it to the skies and amaze your friends, family, and even strangers.
Your own aircraft are here
Measures 6.7" x 6.7" x 1.5" (L x W x H) for a sizable wonder that can fly and turn heads, wherever you go.
See it in the daytime
Thanks to its eye-catching yellow hue, this drone can be seen wherever it hovers in the sky.
See it in the nighttime
Built-in LED lights on all rings illuminate, giving a high-flying show of amazement.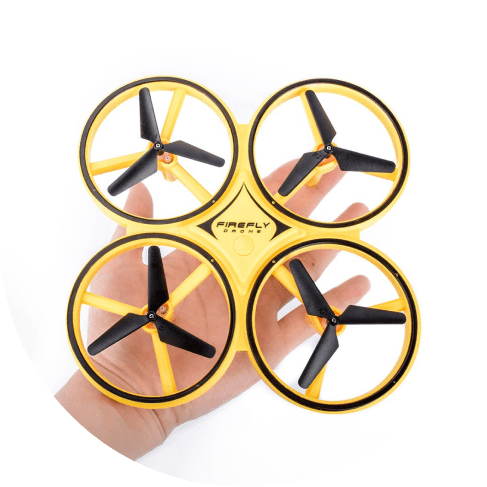 Gesture controlled drone: The gift of wonder for those who dream
Make visions of an aspiring filmmaker come to life or ignite curiosity of the skies and lands far away with the high-flying, multi-gesture ability, and footage-recording power of this Firefly Drone.