Can You Get STARZ on Hulu?
Is STARZ available on Hulu? If you're wondering if it's compatible with Hulu, you'll find the answer here.
Can you get STARZ on Hulu? Is STARZ available on Hulu?
This same question might pop up in your head after realizing how easy it was to add the service to Roku.
If you're wondering if it's up for integration with Hulu, you'll get the answer here.
First off, there are many reasons to subscribe to STARZ.
Premium cable services are starting to become obsolete now that people prefer to cut the cord and watch everything online.
Well, if that's your main reason for using streaming platforms, then STARZ deserves a spot on your wish list.
Starz has produced some enduring original series over the years, like Outlander.
That epic series spanning across genres isn't the only reason to check out STARZ.
It has a great catalogue of original shows that keeps on growing, including Blacksails and P-Valley. You can spend days binge-watching these amazing shows.
Feel free to use the free trial if you want to catch a glimpse of the service.
How much is it to add STARZ on Hulu?
STARZ costs $8.99 a month to subscribe to, which is the same price as bringing the service to Roku.
That's a fair price, and comparable to other streaming services.
In fact, it's cheaper than the standard plan of some services that charge premium users a minimum of $9.99 per month.
This small saving makes a big difference in a 1-year span and you'll pay considerably less annually with this base price.
How do I add STARZ on Hulu?
You can use a 7-day trial to gain free access to STARZ content. In this regard, Hulu is similar to Netflix, except that the trial period is significantly longer, up to 30 days.
Because Hulu has an extensive library of 1.600+ shows and 2.500+ movies, you can turn this short period into multiple weeks of movie time.
To add STARZ as an add-on to Hulu, you must first have a Hulu account.
If you don't already have one, take the following steps:
Visit the official Hulu website and select 'Subscribe to Hulu Only'.
Choose one of the provided plans.
Fill out the registration form and click 'Continue'.
Select the preferred payment option, and complete the billing information.
Click 'Submit'. Once your account has been verified, you can begin using the service.
Now to make STARZ's content accessible, you'll need to link both platforms.
While still logged in to your Hulu account, click on the profile account.
Choose Account > Manage Add-Ons.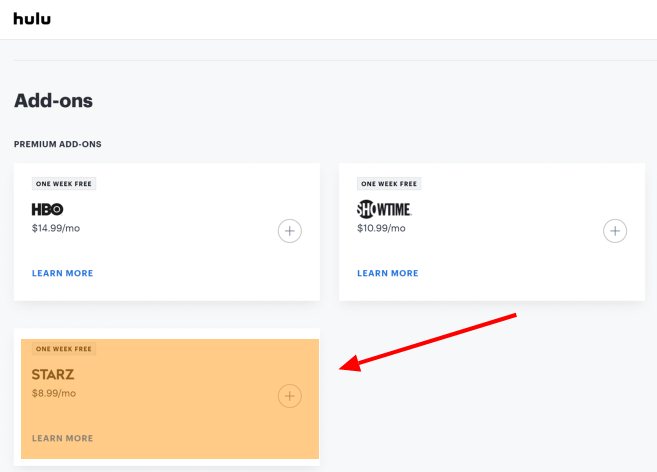 Choose 'Add STARZ'. This will officially activate the 1-week trial period that it offers to its users. If you want, you can always upgrade it later.
FAQs
Why can't I add STARZ on Hulu?
We don't see it becoming a major concern among Hulu users because if it does, it will raise a slew of questions.
Most of the time, it appears that people have no trouble adding STARZ, but if you encounter a problem with a third-party integration, it is most likely due to restrictions imposed by the provider.
Another possibility is that the add-on is only intended for Hulu's live TV. It should be noted that the availability of some add-ons is directly related to the plan to which a user subscribes.
How do I enter Hulu credentials on STARZ app?
For this to happen, the device must support the STARZ add-on.
If yours has met the requirement, log in to your STARZ account on its official website and then select Hulu as your TV provider.
After that, whenever prompted, enter the valid credentials.