How to Download and Set Up a Streaming Software?
Twitch has morphed into a go-to solution for gamers to broadcast their gaming content in just a few years. Twitch isn't exclusive for gamers only. Anyone can use it as…
Twitch has morphed into a go-to solution for gamers to broadcast their gaming content in just a few years.
Twitch isn't exclusive for gamers only. Anyone can use it as a means of promotion.
To go live on Twitch, there are a few things to prepare.
First, you'll need a powerful PC to handle the computing tasks. A gaming PC would be terrific because most are designed to handle demanding workloads.
The second requirement is devices to record you in motion and pick up your voice.
A dedicated camera and a standalone microphone are recommended to make the best content.
The last one is you must obtain a software encoder.
This special software puts together feeds and transforms them into a single interactive video complete with sound effects, gameplay, and more.
In this tutorial, we'll teach you how to download and set up a streaming software.
Why do we recommend Streamlabs Desktop (previously called Streamlabs OBS or SLOBS)?
Streamlabs has been growing in popularity like crazy in the last few years. It didn't steal the spotlight right out of the gate, but it struck gold with its OBS integration.
This piece of software is reminiscent of OBS Studio, but some things set them apart. Streamlabs Desktop (Streamlabs OBS) has a more intuitive user interface than awesome design.
The dashboard houses the important processes, and they've been enhanced to enable a better experience.
When it comes to features, you can rest assured that basic ones are all included.
There are audio filters, chatbox, overlays, alerts for games, face masks, and more. Another way that it raises above the competition has solid user support.
A lack of it, especially for complex software, would give you a headache.
Granted, this doesn't seem to be an issue with OBS Studio because although the setup isn't practical, its immense popularity bodes well for tutorials covering the program.
That said, an easy and intuitive setup is still welcome.
Back to Streamlabs, OBS has real-time troubleshooting, which further boosts the user experience.
It should be noted that this program is aimed primarily at gamers and those who want to generate a new revenue stream through live streaming.
Additionally, it also doesn't put much stress on the processor, thanks to the smart encoding.
This program runs on Windows computers for now. You can locate the file on the official website.
Overall, Streamlabs Desktop makes a great introduction to the world of software encoders. It is free, easy to use, and packed with cool features.
Set up a streaming software (using Streamlabs)
First, you need to install the software on your computer. Visit the website, scroll down until you come to the download button.

Another shortcut on the top right corner will prompt you with the .exe file.

Next, you must log in to your Twitch account to connect it to the software.

It will redirect you to two options, 'Import from OBS' and 'Start Fresh.' Assuming this is your first time using an encoder, you can select the second option.

The next page will show you webcam and microphone settings. Choose accordingly from the dropdown menu, and then click 'Continue.'

Next up, you'll see the dashboard, which looks like a blank canvas. This is where the editing process takes place.
To add a new scene, pay attention to the 'Scene' section on the bottom left corner. Click on the '+' sign, type in a name for that scene, and then hit the 'Done' button. You'll need to add new sources to this scene. By the way, the 'Sources' section is located right next to the 'Scene' section.

Click on the corresponding '+' sign; this will launch a pop-up menu with many options.

Let's try to add an image to the scene. Select 'Image' from the list, add a name to it, pick an image from the file browser, and click 'Done.' The image can be resized to appear partly or fully on the screen.

To add a webcam, return to the 'Sources' section, click the '+' sign once again, and choose 'Video Capture Device' from the list. Type in a name for it, and click 'Add Source.' This will take you to a pop-up window containing settings like resolution, video format, color range, etc. But you can skip them for now. Select the webcam you want to use from the dropdown menu and save it by clicking 'Done.' The webcam showing your face will appear on the scene. You can adjust the position by dragging it around the screen.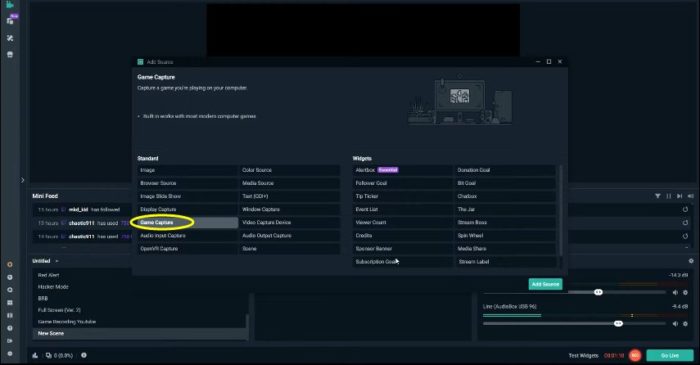 To add gameplay, first, you should load the game. Go back to the dashboard, particularly the 'Source' section. Click on the '+' sign once again (notice we say once again because you'll frequently access this menu) > Add Source > and then toggle 'Add a New Source Instead' to on. Hit the subsequent 'Add Source' button, you'll see all the game choices on the next window. It will automatically detect the currently running game. The preview will be there on the screen right above the settings. Click 'Done,' the game will show up on the scene.

Once you've completed the editing, hit the 'Go Live' button on the bottom right corner.
You add new elements by repeating the process of adding an unknown source. There are many more to add, including chatbox, display capture, and image slide show.
What software can be used for live streaming?
Live streaming requires a specific program called a software encoder.
Many of them, such as OBS Studio, Streamlabs Desktop (previously named Streamlabs OBS or SLOBS), Gamecaster, vMix, and Wirecast.
Check out the compatibility since each program has additional platform support.
What is the best free live stream software?
Streamlabs Desktop and OBS Studios are two that streamers widely use. However, the paid ones like vMix and XSplit are also great.
Which is better OBS or Streamlabs?
There's a brief comparison earlier in this article. Please scroll back up to read it again.
Wrap up
Setting up a live stream shouldn't be difficult if you use the right product.
Some programs require extra work to install, but some are more intuitive. Luckily, Stremlabs OBS has user-friendliness that's lacking in some software.
If you're looking for a tutorial on how to download and set up a streaming software, then you've come to the right place.
The step-by-step guide explained in this article is for Streamlabs, anyway.