Is Twitch Partner the Same As an Affiliate Program?
The term "affiliate" is tossed around a lot these days. Affiliate marketing is a type of advertising in which an affiliate receives a commission after selling a company's product. This…
The term "affiliate" is tossed around a lot these days.
Affiliate marketing is a type of advertising in which an affiliate receives a commission after selling a company's product.
This is a method for online marketers to build a cash stream. However, it has a distinct meaning when used in the context of Twitch.
You can earn money in ways other than selling things if you have Affiliate status. It's more of an all-around strategy for monetizing a Twitch channel.
If you want to make money from your streaming, you must first achieve this status. To get there, you must regularly go live and execute strategic planning to grow an audience.
An approved user can earn money from bits utilized in games in addition to commissions from game sales.
You'll reach a higher tier known as "Twitch Partner" when you level up your stats.
It's comparable to the Affiliate badge, but it comes with extra bonuses, such as personalized cheermotes and more unlockable sub emotes.
And this will also provide an opportunity to work with brands/sponsors.
In a previous post, we listed a number of gaming/streaming sponsors. If you want to learn more, click here.
So, is the Twitch Partner program the same as the Affiliate program?
Well, the answer is obviously No, and here's the reason why…
Twitch Partner vs. Affiliate: What's the difference?
In short, the Affiliate status is a necessary step to move up to the Partner status, which is the next level up.
Technically, you can't skip it because it has the same requirements as the Partner program.
The second one is like a sequel, where you need to keep making progress to get the benefits.
Since it takes more work to be a Partner, it makes sense that Twitch gives better rewards to this tier.
Now let's compare the perks of both!
Twitch Affiliate Program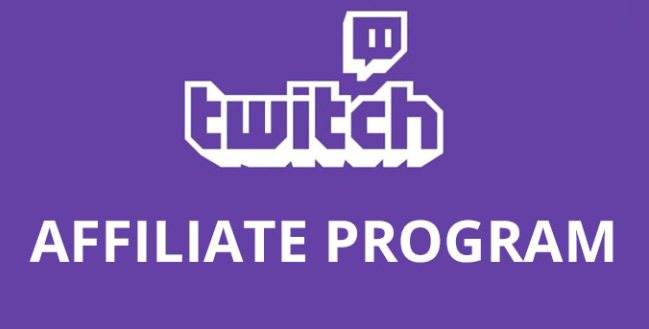 Offers cheering with bits, but without custom emotes.
Earns money from subscriptions, comes with 5 unlockable sub emotes.
An opportunity to take a cut of the revenue ads.
Transcoding is available, granted priority access.
No squad stream.
Includes subscriber streams.
VOD storage for a duration of 14 days.
Has no stream delay capability.
Allows to rebroadcast old content and first showing of new videos.
Twitch Partner
Offers cheering with bits, with custom emotes.
Earn money from subscriptions as well as access to 60 unlockable sub-emotes.
An opportunity to take a cut of the revenue from ads.
Transcoding is available, granting full access.
Includes squad stream
Includes subscriber streams
VOD storage is for approximately 60 days.
Offers stream delay capability of up to 15 min.
Allows rebroadcasts of old content and new video debuts.
Some of these differences may appear insignificant, but they have a significant impact on how much you can rake in.
They can use bits to solicit extra subscriptions and donations, similar to how cheermotes and sub-emotes are used.
The number of sub-emotes available to a user varies depending on their eligibility, but you can get more by increasing your subscribers.
Another notable distinction that cannot be overlooked is the duration of VOD storage. VOD refers to the archiving of previous content.
This feature is useful for viewers because it allows them to scroll through streams they may have missed previously.
They have more time to check out old content with an extended archiving period, which makes a big difference, especially for dedicated streamers.
To get the most out of monetization, aim for partner status. It's not a stretch because the Affiliate program is a stepping stone to this tier.
Once you've gotten past that, it's time to earn the Partner title and gain access to a slew of new features, such as transcoding and squad streaming.
Not only that, but you'll be able to claim the stunning verified channel badge.
How to Become Twitch Partner or Affiliate
Twitch Affiliate Requirements
To be a Twitch Affiliate, you have to meet the following criteria:
Stream for a total of 500 minutes or more in the last 30 days.
Stream in 7 different days within the same period.
Get 3 concurrent viewers for the live broadcasts.
Have a minimum of 50 followers.
Some of these requirements are achievable, but the most difficult part may be exceeding that follower count.
Keep in mind that constant streams do not always translate into followers. As a result, you should up your game in order to convert devoted viewers into fans.
There are numerous approaches you can take, such as connecting with them on a personal level and creating a nice layout for your channel.
Remember to sync your brand identity across all social media accounts.
For example, if you've chosen a stage name for Twitch, use it as your bio on Twitter, Instagram, and other platforms.
Viewers will be confident that you are the person behind these accounts.
Third-party integrations, such as StreamElements, are also recommended.
It has many features, such as a stream store, giveaways, a leaderboard, and so on, that encourage people to stay with it and interact with it.
Twitch Partner Requirements
Here are the requirements to be approved as a Partner:
Get 75 concurrent viewers on average in the last 30 days.
Stream on 12 different days / times within the span specified before.
Accumulated over 25 hours of stream time in the past month.
Due to the disparity in requirements for both programs, even if you complete the former in a relatively short period of time, upgrading to Partner status can take months.
The stats for the partner are significantly higher, but the effort is well worth it.
Once you've met these requirements, you'll receive all of the tier's benefits.
There's no reason to be disheartened, especially if your channel has gained traction.
Concurrent viewers accumulate over time. From less than 10 on any given day, you'll gradually increase your score and get closer to what this program requires.
We're confident that if you put your heart and soul into it, you'll succeed.
The fans would also like to rally behind you to keep you on track with the plan.
Instead of being passive, please devise a strategy to quicken the pace. If all you do is wait, no one will come in.
Begin by increasing the value of your content. Long-term viewers will be enticed to return, while new viewers will be enticed to visit.
Can you be a Twitch Partner without being an Affiliate?
No, because the requirements for both are overlapping. Being an Affiliate is the more attainable of the two programs because it is a smaller milestone.
It necessitates fewer concurrent viewers per stream, fewer days for a user to stream in the previous month, and a shorter total stream time.
Once you've completed them, the opportunity will be unlocked automatically. You will be invited to participate in the program, though Twitch must eventually give its approval.
Following the invitation, click 'Get Started,' which will take you to the "Preferences" tab.
Here, you can finish all the steps, like giving general information and agreeing to the terms of service.
How much is Twitch Partner revenue split?
It's usually split equally between the streamer and Twitch.
The company takes a 50% cut of the total fees paid by viewers, regardless of how much you make from subscriptions.
In comparison, YouTube defines a 70/30 revenue split, with the streamer receiving the greater share.
What is the Twitch Partner payout policy?
If a partner has at least $100 in their account, they will be considered for a payout.
If this threshold is not reached for the current month, the balance will be carried forward to the following month.
The payment is due 15 days after the last payout. The qualified return may take up to 5 days to reach you.
If you want to learn more about previous payouts, please visit the payout history section.
How many Twitch Partners are there?
According to a report, approximately 27,000 streamers have been approved for the program.
This may appear to be a large number, but it pales in comparison to the 2 million active streamers who have joined the platform.
Aside from having strict requirements, the manual review makes approval more difficult.
Before making a decision, the team considers all aspects of a channel. That is why you must demonstrate your worth to demonstrate that you are deserving of the position.
Cross-promotion on social media, joining a community, and demonstrating your eagerness with a professional streaming setup are all things that will help you get there.
What is the payout policy for Twitch Affiliates?
The payout schedule is similar to that of a Twitch Partner.
If you've upgraded to this level, you'll also get paid 15 days after your balance reaches a minimum of $100.
If not, the payout will be put on hold until the following month if it exceeds the limit.
How many Twitch Affiliates are there?
A recent report indicates that the number of Twitch Affiliates has exceeded 740,000 individuals.
These are significantly higher than the overall Twitch Partners, but this is understandable given that the Partner program has much higher requirements than the Affiliate program.
To become an Affiliate, you simply need 50 followers, an average of three simultaneous viewers, and the ability to stream in seven different sessions.