How to Add Overlays to OBS Studio?
If you're looking for a tutorial on how to add overlays to OBS Studio, look no further. You came to the right place because this post has the answer. If…
If you're looking for a tutorial on how to add overlays to OBS Studio, look no further. You came to the right place because this post has the answer. If you read carefully, you'll be a pro at OBS Studio in no time.
---
You might think that live streaming is as simple as clicking the "Go Live" button.
Well, there's some truth to it. But if you want a live stream that shows more than your face, there's an extra effort put into it.
Besides providing a stable connection, you should also know using broadcasting software.
This specific software can edit live stream data before it's transmitted over the internet.
Live streaming software (also known as encoders) compresses video content, making it easily accessible to end-users.
OBS Studio is one of those programs you can use to enhance the look of your live streams. And, one way to do it is by adding overlays.
So, how to add overlays to OBS Studio? You'll find the answer below.
Tutorial: How to add overlays to OBS Studio
Before adding an overlay, you have to decide which scene the overlay will be inserted into.
If this is your first time installing the software, you can create a new scene.
Click on the '+' sign below the 'Scene' box, type in a label or a name for the scene, and then hit 'OK.'

Now that a new scene has been created, you can add a new overlay to it. The addition also requires you to click on the '+' sign, but this time it should be the one under the 'Sources' box.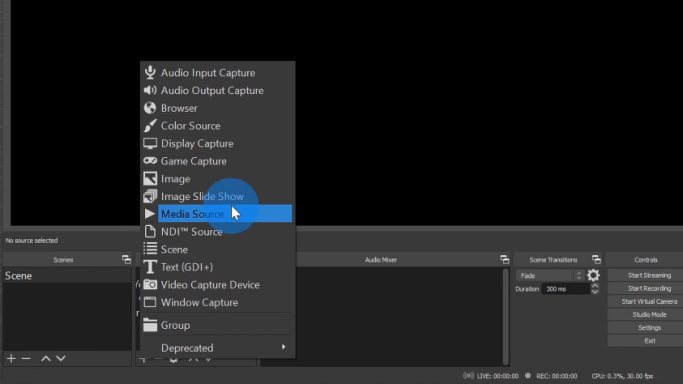 Next, you'll be prompted with choices. To add an animated overlay, hover the pointer over 'Media Source,' click it. Label the file by typing in a name in the 'Create New' field, and then hit the 'OK' button.

The next pop-up window will ask you to find the file in the local storage. Just click 'Browse' and navigate to the folder where it's saved.

Double-click the file to open it. Don't forget to tick the 'Loop' box because you'll want the animation to play repeatedly. Ignoring this will cause it to play once and then disappear.

Likely, the animation doesn't fit the screen after the import. To ensure that no part is getting cropped out, you'll need to resize it. Or, to make it easier, right-click the image, move the cursor over 'Transform,' and then select 'Fit to Screen.' The image will automatically be repositioned in the middle.
How to add an overlay URL to OBS?
You should have the overlay link ready before adding it to OBS.
Many services can assist you with overlay creation. This time we're gonna assume that you've made on in StreamElements.
To get the link, complete the overlay-making process. In the end, you'll see the chain icon in the top right corner.
Click on it to copy the URL. To move it to OBS, here are the steps to take.
Launch OBS. Create a new scene if you haven't already.
Highlight it, and then add a new source. Basically repeat the process as already explained before.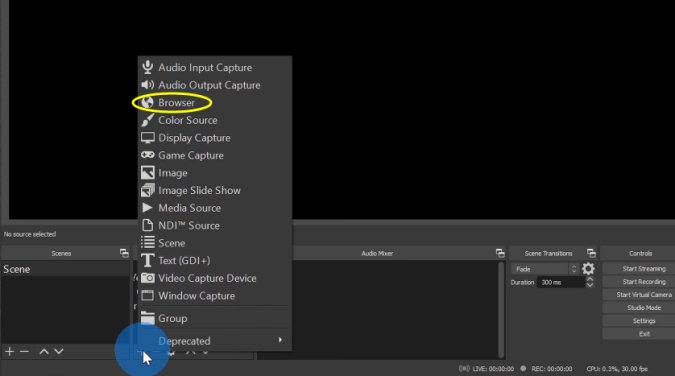 In the 'Sources' section, click '+,' and find 'Browser' from the list. Select that to open the window for adding the URL.

Simply paste the link into the URL bar, and adjust the weight and height. Just delete a code in the 'Custom CSS' box if you notice it. It's only necessary when you want to style the browser link on your own.

Hit the 'OK' button. That's it; you'll see the overlay in your live stream.
Does OBS have free overlays?
Yes, it does. All the overlays you can add to the program are free.
But if you want more than the default ones, there are some sources to acquire them, one of which is OWN3D.Pro.
Just visit the link, and then sign up for an account. After that, select the free plan.
The next step is to install the OWN3D Pro plugin. You can now add a free overlay by clicking on it.
In addition to free overlays, you can also upgrade to premium ones. Premium overlays come with perks.
First, you won't be bothered by watermarks, which cheapen a live stream. Second, they are also more intricate in design.
Suppose you want exclusive overlays crafted with strong attention to detail. In that case, you definitely need to purchase premium overlays from the store.
How do I set up Twitch overlays in OBS?
A Twitch overlay is essentially an overlay added to a Twitch live stream.
The compatibility of an overlay with your streaming software matters more regardless of what platform it will be broadcast to.
Using an overlay on a Twitch live stream should be fine as long as it can be integrated into an OBS scene (provided the overlay is obtained from a third-party source).
As for the tutorial on how to add one, it's exactly the same as the step-by-step guide provided before.
To summarize, you should create a scene and add a new source to it. Use the "+" icon below the "Sources" box and navigate to "Media Source" if the overlay is animated or "Image" if it's the static type.
Fill in the necessary fields, click OK, that's all. For more overlays, you can go to OWN3D.pro. It's one of the trusted sources for high-quality live stream graphics.
Other alternatives to try include Nerd or Die and Fiverr. The latter is known for its affordable prices, but there are also premium plans if you want to amp up quality.
Summing it up
If you've used Streamlabs before, you shouldn't have difficulty using OBS because both have very similar interfaces.
There are things in OBS that you'll recognize as you go through the menus. Many people say that OBS Studio is not easy to use.
Fair enough, it might happen to people who haven't used the software before, which is understandable because they didn't have a lot of time with it.
Then, if you've learned the basics, you shouldn't have a hard time customizing a live stream with this app.
How to add overlays to OBS Studio?
We've written a tutorial covering this subject. Please scroll back to read the step-by-step instructions.
Is OBS a good software encoder? Yes, it's customizable and offers multi-platform support.
It can run on Windows, Linux, and Mac OS as well. And it also works with a lot of different platforms, like Twitch, YouTube, and Facebook, to name just a few.