What Extension Do I Need for Twitch?
There's no hidden secret to becoming a prominent figure on Twitch. Nearly everyone who has made it big on the platform did it through hard work and a little bit…
There's no hidden secret to becoming a prominent figure on Twitch.
Nearly everyone who has made it big on the platform did it through hard work and a little bit of luck. The former is definitely a key factor that will fuel your success.
Building a solid following is not easy. Besides verbal communication skills, it also requires you to have technical knowledge of encoding software and other components to make up a live stream, including extensions.
By way of information, Twitch extensions are add-ons unique to the platform that streamers can use to boost their audience engagement.
What extension do I need for Twitch?
This extension tracks the followers that have recently joined your channel.
Seeing new usernames and their profile images on the screen is a good way to revive your excitement over how your channel has been growing so far. It's also a great way to say hi to your new followers.
Just give them a shout-out, they will definitely appreciate that warm welcome.
This extension refreshes each minute, so don't worry about going beyond the permitted API limits.
Another way that it keeps operations streamlined is by restricting the maximum display number to 100-follows.
Beside showing your recent followers, it also tells you how many you amassed in one day.
If you're looking for an all-around extension to manage your channel, this would be perfect.
It allows viewers to do many things, including taking part in polls, garnering loyalty points, and playing fun games.
There are also a variety of widgets you can access via the extension manager, such as chat boxes, donation goals, and more.
The layers of entertainment the service provides are flabbergasting.
It's really not surprising given its experience in the live streaming industry.
The power of sound is magical. They can tune our minds to the correct energetic resonance.
They also keep us alarmed about the surroundings. And that's what this extension tries to do to your viewers.
The sounds generated by the extension will get them hooked for the entire streaming session.
Steamers are allowed to upload their own sounds and connect them to an array of buttons. And for viewers, they'll hear a sound each time a button is pressed down.
This extension also supports bits usage, so it's a great way to earn extra revenue. Other than that, the bits used during actions will also count toward the leaderboard.
What if you don't have any clips to play? Don't worry, just use the stock audio files in the extension.
If you're curious about the countries where your viewers come from, this extension can shed light on it.
The purpose of this extension is pretty much as stated in its title. It helps provide information about countries from which viewers access your stream.
There's no doubt that your viewers speak different languages.
By getting your hands on this information, you can do something to get closer to them even more.
It's likely that in the next few years you'll see more diversified locations as Twitch tries to reach new territories for its local sub pricing.
Streaming is more than a platform to stay connected with people and share your gaming hobby.
It can be a viable source of income if you know to build a brand and grow your audience.
There has to be a driving force behind merch selling like hot cakes, right?
And that's usually none other than the streamer's appeal besides other factors, of course. This extension helps you capitalize on your fan base by persuading them to buy Amazon products displayed on the screen.
You're in charge of items that the extension shows. And for each successful transaction, you'll get a commission.
It's reasonable that fans demonstrate a genuine interest in the gear that their favorite streamer uses.
Instead of leaving their minds riddled with questions, why not present them the links to buy those items? Besides, you'll be rewarded with commissions for those purchases.
This is another awesome extension that can boost loyalty among subscribers while gaining new ones.
What it does is basically keep great content only for subscribers.
They'll be alerted when you upload new photos and videos. Meanwhile, regular viewers will also receive a notification that they should join to unlock those special gifts from you.
Use the builder provided by the extension to create your own content.
Beside videos and pictures, you can also create posts with them. Each time a new one is published, everyone will be able to see it.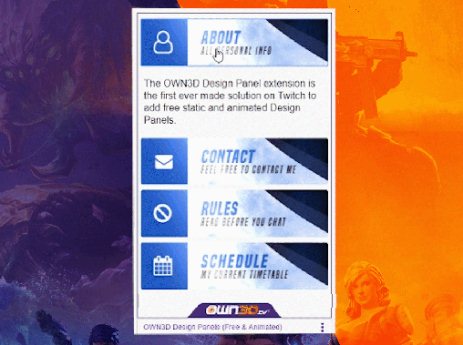 Don't be satisfied with how you arrange the live stream. There need to be dynamic changes from time to time to keep viewers tuned in.
Creativity should be the foundation for keeping your community vibrant and full of energy. This is one of the extensions that we think is appropriate for that. Let it take care of the visual aspects of your stream.
OWN3D is a major service when it comes to graphic design, so you can do no wrong by installing this extension.
It has a vast library of graphics you can use to embellish your broadcast, including animations, alerts, panels, and more.
Just alter the theme of your stream to make it align with the community's vibe.
Can you have more than 3 extensions on Twitch?
It actually supports up to six active overlays. This figure is broken down into 1 overlay, 2 components, and 3 panel extensions.
How many extensions can I have on Twitch?
You can install multiple extensions, but the ones running simultaneously are limited to only 6.
So if you want to add another, one in the active list should be disabled first to give room for the new extension. Otherwise, it won't work.
Why can't I configure extensions on Twitch?
First, make sure that you install the latest version of an extension, as the issue may stem from this. If it doesn't fix the problem, try to access it using another browser, like Opera GX, that's optimized for gaming.
Remember that extensions are developed by third parties, so any problem you encounter, you'd better examine it on a case-by-case basis.
Another thing you should inspect is the protection provided by the firewall, as a security conflict may lead to a program not running properly.
What are the best Twitch extensions for 2022?
We've mentioned some above, and plan on adding more in the upcoming articles, so please stay tuned.