How to Take Full Body Pictures by Yourself?
Taking selfies has become a necessity for many because advances in camera technology allow us to take photos more than we could've ever imagined. Camera resolutions keep growing steadily, which…
Taking selfies has become a necessity for many because advances in camera technology allow us to take photos more than we could've ever imagined.
Camera resolutions keep growing steadily, which results in detailed and sharper shots. They also provide more printing options due to the larger sizes.
Taking a selfie isn't difficult because the front camera has become a staple in Smartphones these days.
It's way more challenging to snap a pic using the back camera as you can't look at yourself.
Problems like getting certain parts cropped out are very common.
We'll address these issues in this article so that you can take full-body selfies perfectly before uploading them on your social media.
How to take a full-body selfie without a mirror?
This poses a great challenge, especially with the rear camera. But don't worry, there are a few solutions to try.
Besides, you'll get better with practice, mainly about standing correctly to lower the chances of your body appearing partially off the screen.
1. Use a tripod
This versatile 3-legged stand can solve all kinds of shooting problems. Besides obtaining prolonged exposures, you can also use it to snap quality selfies.
There's a wide array of tripods sold in the market. Make sure to get one meant for your photography device.
For instance, if it's for a camera, buy a tripod because the base plate is specifically engineered to accommodate this device.
Likewise, if for use a Smartphone, a mobile version of it would make more sense due to the inclusion of a cradle and an appropriate screw attachment.
Assuming you already get hold of one, please follow these steps.
Place the tripod on a surface, preferably an even one because it needs to be level to take an accurate portrait selfie.
Extend the legs using the lever locks. Note that this mechanism differs from one product to another, so please adjust accordingly.
To trigger the shutter release, you have two options. You can either set a timer or use the Bluetooth remote that comes with the unit. The latter is more practical as you don't have to run up to the tripod to capture a new photo. A press on the assigned button will do that.
If you want to use a timer, set it at 5 seconds or more to give you time to find a proper pose. There will be a click sound in the end. After that, go back to the phone to see the result.
With a Bluetooth remote, you just need to pose and hit the button when it feels right. Do other shots subsequently and check out the pics once you've had enough. Scroll through and delete the bad ones. That sounds simple, right?
2. Install a rear-camera selfie app
The back camera has an edge in quality and resolution, and this applies to most Smartphones.
If only the back had a second screen, more people would switch to the rear camera to snap selfies.
Well, a third-party app can make it happen. This app does it by providing voice commands to help you get into the right position.
There are some choices, such as Face It (iOS), Selfiex (iOS), and Smart Selfie (Android).
Instructions may vary, but these apps basically tell you to move to certain angles to achieve the best selfie pose.
For example, they may ask you to move your Face up, down, left, or right.
And in case you go off the camera view, they will notify by saying 'I Can't See You' or stuff like that.
How to take a full-body selfie with a mirror
This is probably the most convenient way to take a full-body shot because you can always glance at the mirror to fix the pose. Here are the steps to take:
First, stand in front of a mirror. We're sure there are some installed around the house. The bigger the better as you can see more of yourself in there. Also, it needs to be positioned vertically because that's the way to make your whole body visible.
Keep in mind that in this scenario, your phone will show up because its reflection is picked up by the mirror as well. It's impossible to single it out unless the pic only is focused on the face.
Now look at the camera. Meeting your own gaze in the mirror feels rather awkward, so better keep it this way.
Do a double check to ensure there are no cropped parts.
When everything looks fine, hit the shutter button. You can view the photo through the gallery app.
How to take a full-body selfie without tripod
Taking a full-body shot doesn't require a special tool. All you need is to find a surface to lean the Smartphone against.
It could be a pile of books, a mug, a loudspeaker, or another that provides solid support for the device.
Besides, it needs to be non-skid to keep the phone from sliding down.
This is the definitely cheapest way to snap a selfie as you don't have to buy anything.
Look around and see if there's something bulky to support the phone. A loudspeaker is a good idea because it's heavy and covered in a non-slippery material.
Set a timer at 5 seconds or more if the autofocus is rather sluggish. Besides, it gives you more time to hold a pose.
Once the countdown starts, go towards the speaker and lean the phone on it with the front facing you. Depending on the height of the speaker from the ground, you may need to tilt the phone slightly or further back. It's to ensure that the whole body fits in the camera.
Now get into position and wait until there's a click sound, which indicates that a picture has been taken. You can look at the result and see if a retake is necessary.
These steps can be repeated with the back camera. That being said, the most arduous part is probably to stand right in the middle, not disproportionately to the right or left side.
How to take a full-body selfie with a tripod
A tripod is a three-legged support stand used to hold a camera in place.
It offers numerous benefits, such as capturing long exposures and providing extra stability. It's also useful to photograph in low-light conditions.
Basically, suppose you want to unleash the camera's full potential and minimize human errors like motion blur. In that case, you can count on this handy tool.
They come in camera and Smartphone variants. The primary difference lies in its top section.
A camera tripod has a base plate into which the screw is driven. It's then put in the release plate using the locking lever.
Since Smartphones don't have a thread like cameras do, the tripod's design is approached differently.
It still uses the standard thread to mount it to the tripod's head, but instead of a base plate, it utilizes a cradler or a holder.
It's a special clamp (either spring-loaded or tightened with a screw) to secure a Smartphone. It has two L-shaped corners to grip the phone tightly.
Choosing the right type matters as it affects the setup.
For use with a Smartphone, a Smartphone tripod is the better candidate because it includes a holder.
It takes away the hassle of buying a special mount adapter since it's nowhere to be found in a camera tripod box.
There is a multitude of products out there, so please choose carefully.
A. Tripod with camera timer
We've walked you through the step-by-step guide of taking a selfie using a tripod. But we'll touch on it briefly again so that you understand it better.
First, all your focus should be on the tripod. It needs to be properly extended before you do anything on the phone.
Although all tripods have 3 points of contact to the ground, the legs aren't created equal. They vary in strength, stability, and locking mechanism.
Telescoping legs are the most common variety, but even so, they stretch out differently.
Some use the flip-lock system, while others adopt the twist-lock mechanism. Read the manual to figure out which one you belong in.
Once the legs are fully extended, place it on an even surface to get a level shot.
Slide the Smartphone into the holder and mount it on the tripod using the screw attachment.
Now tap to wake the phone, launch the camera app, switch to the front camera, and set a timer.
As the countdown begins, get into position until you hear the shutter sound. Go back to the tripod to check out the result.
B. Tripod with a remote trigger
Many tripods have dual functionality, acting as a selfie stick in addition to their original function.
These multipurpose tripods look almost identical to regular tripods, but the additional features make them worthwhile to purchase.
How to set up a Smartphone tripod with a Bluetooth remote?
Irrespective of the brand and model, the basics of the setup are similar.
First, you have to insert the phone into the cradle. It could be spring-loaded or has a screw for fastening. Just stretch it or twist the knob to open up the clamp holder.
After the phone is fitted inside, place it on the mounting socket. Use the screw to secure it.
Now connect the remote with the Smartphone. To do it, navigate to Settings, tap on the Bluetooth section, and then search for available devices. The name of the tripod should show up on the list. Tap it to start the pairing process.
Once the pairing is successful, you can use the button on the remote to trigger the shutter function on your Smartphone.
C. Tripod with auto follow camera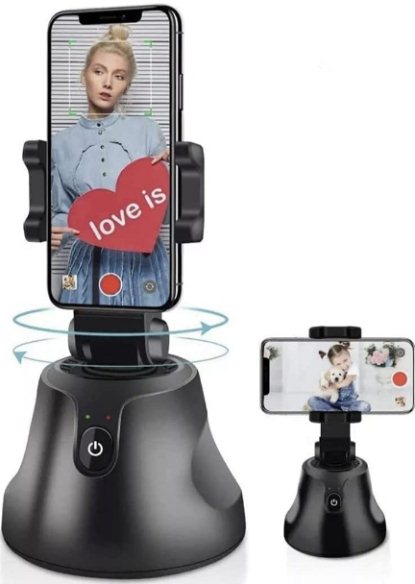 An auto follow camera holder like the RoboticCameraman would come in handy when there's none around to help press down the trigger button.
It completely negates the need for human intervention for capturing a moving subject.
While a tripod is rotatable, it won't move on its own. You need to adjust the angle right before a video is recorded.
The RoboticCameraman is the polar opposite. Just set it up, and it will turn into your personal assistant that monitors your every movement.
This gadget comes at an affordable price, and most importantly, the setup is very straightforward.
What you need is a Robotic Cameraman and 3 AA batteries (these aren't part of the package, so please buy separately).
Fit the batteries in, make sure to place them in the corresponding directions. Use the provided marks on the case if you're confused.
Clip the phone into the holder with the display facing you. For the record, this device requires installation of iOS 10.0 and up or Android 8.1 and up.
You can adjust the orientation given that it supports portrait and landscape modes. It offers a knob for easy switching between layouts.
Press and hold the power button to turn it on, the LED will flash shortly after.
Scan the QR code included in the manual or you can also install the app from the Play Store or the App Store.
To initiate the pairing process, head to Settings, and toggle Bluetooth to ON.
Open the app you just installed and the pairing process will start almost instantly.
Once connected, you can use it to shoot or snap a pic. Select the appropriate mode, could be object tracking or facial tracking.
Tips to get a perfect picture with phone camera
a. Use natural lighting
It's common knowledge that cameras tend to do better in well-lit environments. Conversely, they will struggle to capture many details in the dark.
That's why low-light performance has become a desirable trait in a Smartphone.
To create a good photo, take advantage of the sunlight.
Go outside and let the natural light be reflected off the scene before it's frozen in time through your camera lens.
But, avoid overly bright areas with many shadows because they can result in a bad-looking photo, especially if your phone can't handle such exposure.
b. Use ring lights/LED selfie ring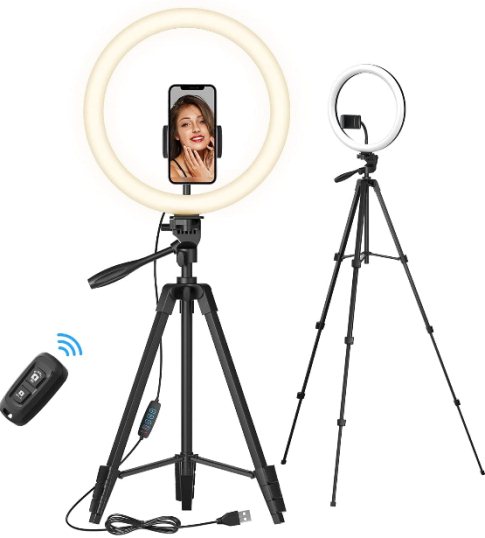 When the sun dips below the horizon and the stillness of the night appears, a ring light like this product can replace natural light.
While not as bright, it's very effective for eliminating noise, a major problem in low-light photography. They vary in brightness and temperature range.
The latter affects how warm or cool the light appears.
This product carries an awesome set of features, like 2700k to 6500k temperature range, a 12-inch round fixture loaded with 160 bulbs, and up to 20,000 hours of use.
c. Avoid looking at the phone camera
To bring a different feel, try to not make eye contact with the lens. Instead, look elsewhere as if you're observing something so far away.
Also, bring your arm to the front with the index finger pointing straight ahead. This pose will give off a completely different vibe.
The rule of thumb is to give the camera-less attention and focus more on the surroundings.
d. Use angles and lines when posing
Experimenting with angles and lines can also prevent the shots from getting boring.
Selfies shouldn't be synonymous with standing straight. Instead, you can bend over slightly to form an interesting pose.
There are do's and don'ts in selfie photography.
For example, pulling your Face back is a no-go, especially when there's a lot of fat in the jaw and neck because it will accentuate the double chin.
e. Incorporate movement
Capturing a moving object is tricky as it needs a perfect balance between exposure and shutter speed.
Though phone cameras are getting more impressive with each iteration, those in the entry-level segment still struggle to catch up to the flagships.
Well, a price reduction usually comes at the cost of features. If you want to snap a pic that involves quick movements, make sure the camera is capable of that.
Use the burst mode to take action shots. Delete the blurry ones via the gallery app.
f. Use photo editor app for awesome result
Most of us would want to look the best we possibly could in a photograph. Photo editing apps make it possible.
The best part is there are a bunch of them on the Play Store or App Store. Even your phone also comes preloaded with a default editor though it may lack advanced features.
If you're on the lookout for a creative app, try Snapseed, Adobe Lightroom Mobile, or Afterlight 2.
Wrap Up: Taking a Full Body Picture of Yourself with Your Phone
Posting selfies on social media has become a way of life. In layman's terms, a selfie is a self-portrait photo.
Taking one isn't particularly difficult because the front camera has become an integral part of modern Smartphones.
All you have to do is tap the camera icon to enable this feature. You'll see yourself on the screen immediately.
The problem is the arm's reach is quite limited, so there's only so much you can fit in the frame.
How to take full-body pictures by yourself, then?
Well, some methods would work, and we've explained them in this article.