Best Extendable Tripods for Smartphones [2022]
Getting the right composition is required to produce a high-quality image. In this situation, a tripod comes in handy. You can focus on this aspect instead of worrying about the…
Getting the right composition is required to produce a high-quality image. In this situation, a tripod comes in handy.
You can focus on this aspect instead of worrying about the blurry picture due to the constant handshaking.
Tripods are available in many types, but there are variants for cameras and Smartphones. It's imperative to get the right one because it affects usability.
Though mount adapters can help you secure a Smartphone on a tripod, getting it ready from the get-go saves you time and hassle.
Besides picking the right type, it also needs to feature extendable legs for quick elevation changes.
Product illustrations can give a hint that a tripod can be adjusted in height or not. Just take a look at the legs.
If you notice visible segments on the legs, then it's likely the extendable type.
But it's better to confirm by reading the specs, given that it's one of the basic details that are rarely missed out on.
Here are our top picks for the best extendable tripods for Smartphones.
The Best Extendable Tripods For Smartphones in 2022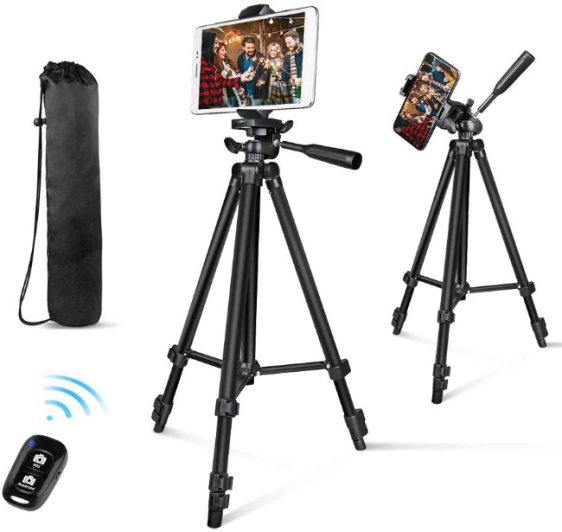 This tripod easily punches above the price with its unparalleled versatility. It turns out that Smartphones aren't the only ones it supports.
If you own tablets and cameras, you can mount them on the base plate. Setup is easy for it utilizes the ¼ standard thread.
Weighing just 497g, this tripod is easy to fit in the travel bag.
The maximum length it can reach when fully extended is 50 inches. Sure, there are longer options, but that's decent, all things considered.
You'll find it useful in various photography settings, both indoors and outdoors.
There's nothing off-limits with this stand because the pan head switches angle in 360-degree rotation.
Moreover, it can stand firm on uneven surfaces thanks to the anti-slip feet, which give it better stability.
That being said, pairing still needs special attention, considering it works only with iOS 6.0 or higher and Android 4.2.2 or higher.
Overall, the wireless connection is pretty darn great, and it remains functional within 33 feet radius.
There's no need to install any app to establish a relationship. Simply pressing and holding the button will do that.
The remote can be put to good use for distant selfies or videos. It operates on a CR2 battery. Just insert one and press the button; it will switch on immediately.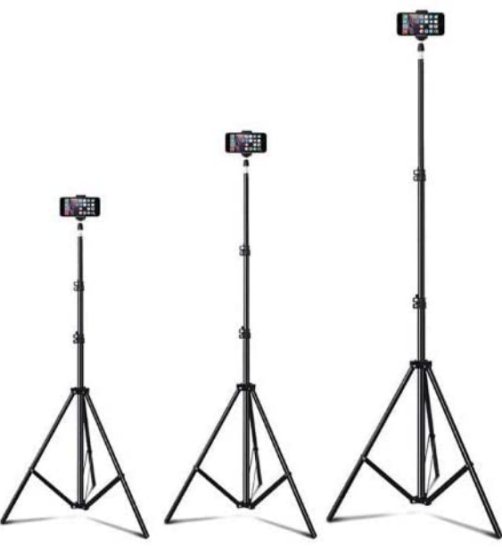 Obviously, this tripod gets taller than many others in its price range, which is great if you want to record from a higher elevation.
Stretch the legs out, the unit reaches 82 inches in diameter. It's indeed adjustable, with the lowest level being 28 inches from the ground.
It also supports a range of devices, such as DSLRs, Smartphones, and action cameras.
The clamp accommodates various models for phones specifically, including the iPhone, Huawei, and Galaxy series.
On the flip side, the 360°rotation allows you to point the cam to any angle. Although the price is a bit on the expensive side, it's a worthy purchase if you value height over anything.
Added to that, the holder is well-built to prevent scratch due to wrapping it around the sides of your phone. It's not surprising because an elastic material is used to craft this section.
Any Smartphone with a width from 2.91-3.93 inches will fit in the holder. You can fasten it without hesitation because the shockproof design will grip the phone tightly.
Despite its tall stature, this tripod is easy to put in storage because it collapses down to just 28 inches. And at 2.2 lbs, you won't have a problem carrying on the shoulder or by hand.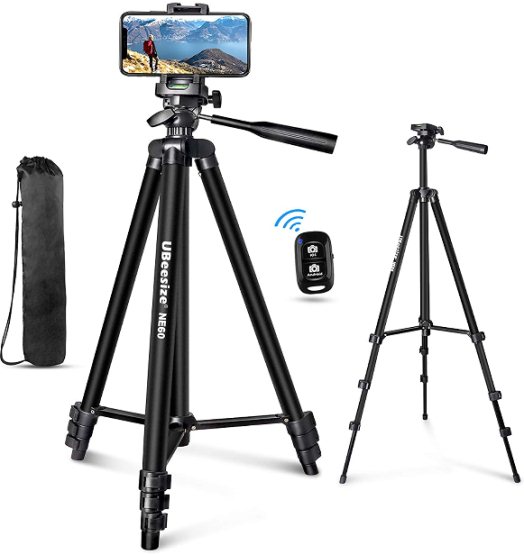 UBeesize is a household name, so don't hesitate to buy a product from this manufacturer.
This extendable tripod can stretch out as far as 60 inches. That's a decent length to give you the freedom to lock the camera at any height.
It also boasts a compact design, which helps if you don't have much room left in the suitcase.
Meanwhile, the clamp holder can be detached from the shaft if needed. Now let's talk about the features.
The free-rotating pan head allows you to pan the camera to take cinematic shots. Orienting the camera has never been easier with this.
Besides, it comes with 3 lever locks to ensure that it doesn't topple over easily. As the title says, the tripod unfolds to 60 inches tall, which is terrific for overhead photos. It lets you fit more scenes in the frame.
The 3-way pan head also guarantees a wide range of movement. Not only that, it's responsible for smoother video footage.
It eliminates natural vibrations from the hands, so that motion blur can be minimized. Add it to the fact that the handle has a nice grip; nothing beats the superior control this product has to offer.
Overall, this tripod has quality written all over it. And even if with the tons of features, there's no need to dig deeper into your pocket. You can get this 1.4lb to stand for just $20.99. And that already includes a free carrying case.
This is quite a big departure from the Mt-08 model. Not only does it get taller, but it also comes with other dramatic improvements.
First off, the MT-16 has wider feet, which are necessary to keep it from sinking into soft surfaces. It's also easy to fold open even by beginners.
Another noticeable change is the addition of a cold shoe mount that you can use to attach an external microphone.
A dedicated light is also compatible in case shooting needs brighter illumination. And at 170g, this tripod is portable enough to convert into a selfie stick.
There's no need to buy a separate stand with this dual functionality aboard. It also comes equipped with a ball head which enables swivel movement at 360 degrees.
It plays a big role in giving the camera smooth angle changes. Besides, it's directly connected to a mount for extra add-ons.
The built-in mic on your smartphone probably isn't adequate to produce crystal clear audio. To solve this problem, a standalone mic can be an option.
Just connect it to the phone and hook it to the provided socket. Overall, this makes a good pick because the lightweight design makes it easy to stow away.
It's also lightweight, which is a blessing for those always on the go.
On another note, setup is straightforward, thanks to the standard ¼ screw interface. The handle is also non-slip to ensure a convenient grip during use.
Lighting equipment has always been an integral part of quality photography, so you cannot afford to leave it at home.
While the smartphone has a flash, it drains the battery, which will create a new problem. It's better to buy it as a separate item.
If you're forgetful, incorporating it into the tripod is a good idea. This product is an example of a tripod, and a ring light merged into one.
It measures 12 inches in diameter, comprised of 162 lamp beads to project a uniform light. There are 3 color modes to choose from; cold, warm, and warm white.
The brightness in each mode can be raised up to 10 levels. Another interesting aspect of this 55-inch tripod is that it can hold not 1 but 3 different devices simultaneously.
Even bulky ones like tablets can perch comfortably on the holders as the construction is robust enough.
But why do you need multiple devices in the first place?
Live-streaming and recording are two different tasks, and by setting up several cameras, they can take place simultaneously.
Remote control is also included in the package, which negates the necessity to fire the shutter button yourself.
All you have to do is enable the feature through wireless pairing. The remote has an effective transmission distance of up to 10m, so avoid lugging the tripod too far.
This is another travel-friendly tripod you can consider for your day-to-day photography. And yes, it can be fanned out to get to its massive structure. It's readily usable right out of the box.
While it does need some technical work, it operates in the same fashion as other tripods. The 3-way pan head allows you to angle the smartphone to any orientation effortlessly.
This add-on also makes it easy to capture smooth footage. Meanwhile, the rubber feet provide a steady foundation for the heavy top section.
They're built anti-skid to create friction against the surface, so it doesn't slide around easily. The whole structure is also compact when folded away.
Granted, it's not the most lightweight, but it can be squeezed down to just 16 inches. It weighs 568g, pretty good for hauling around.
You can take it on your road trip or use it for other photography settings. It's versatile for different setups, not to mention that the Bluetooth remote also works like a charm for snapping distant shots.
On top of that, it pairs easily with Android and iOS devices. The maximum control range is approximately 33 feet, which is comparable to other products.
Compatibility is extraordinary as it doesn't just hold Smartphones but also tablets and cameras.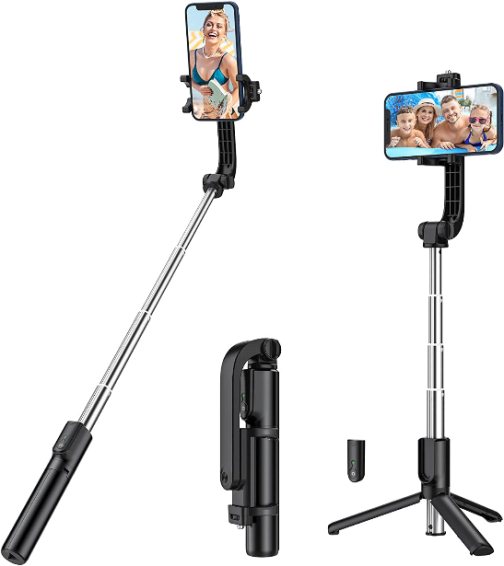 The number of reviews this product has received is fascinating. What's even more mind-blowing is that despite many notes left by buyers, it still maintains a high rating, which shows that it really delivers quality.
This tripod has a dual advantage, can be transformed into a selfie stick or a tripod. And when it's retracted, it turns into a portable structure that fits in small spaces.
It can be extended to 25.2 inches from its original 13.3 form. This tripod is designed more for medium-sized devices. At the same time, setup is easy because the cradle comes with a 1/4 standard thread, which means it should be compatible with most adapters.
A cold shoe mount is also included to support a variety of accessories, like a microphone or a light fixture. Whether it's a web conference or a live setting, just swap it out with any device to improve the recording capabilities.
And let's not forget the wireless remote, which adds a lot to its functionality. It communicates via Bluetooth to release the shutter from up to 10m away. It's great for shooting outdoors when there's none else to help you take a pic.
Another reason to get hold of this tripod is for its wide compatibility. The size support ranges from 3.5 to 6.5 inches, and the remote is equally versatile across platforms. You can use it with iOS and Android handhelds.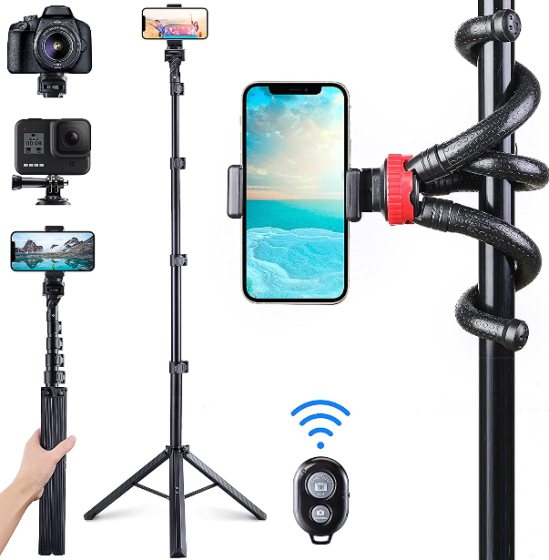 Do you need a flexible tripod that can wrap around a tree branch or another object?
This is the answer. In addition to the extendable form, it also has an octopus form which enables it to perch on any unconventional location.
It opens to new possibilities of shooting. The cradle offers an excellent grasp but won't damage your phone because it's carefully engineered with safety in mind.
It comes with a flip switch for a quick setup and is solidly built using high-grade aluminum. With this, there's no more fear of a wobbly structure.
The inclusion of metal does affect the price slightly, but $29.99 isn't what we'd call expensive, especially with the slew of features provided. Now shift your focus to the bottom area.
There's a silicone pad beneath the legs, which lends it greater stability. And by the way, this tripod can be used with cameras, too.
If your phone doesn't fare that well compared to your high-tech digicam, it's easy to switch them.
The tripod measures 16 inches when retracted and reaches over 60 inches tall when fully extended. Besides, the clamp holder also provides unmatched flexibility with its 360° swivel mechanism.
The same goes with the rotatable head, which can do visual tracking to 180 degrees. Moreover, with the use of flip locks, extending and securing the leg feels a lot easier.
Best Extendable Tripods for Smartphones FAQs
What is the best tripod for smartphones?
We've compiled a list of some of the top-rated tripods on Amazon. Some have amassed a large number of reviews with mostly Being positive.
But if you need quick advice on brands, we'd recommend Fugetek, UBeesize, and Yoozon.
What is the best vlogging tripod for phone?
Again, it's difficult to narrow down to a single product. That said, UBeesize remains our favorite because it's one of the go-to brands for tripods.
It also has sold gazillions on Amazon. Outside this brand, we'd love you to try Bluehorn, BZE, and Aureday.
Do tripods work for phones?
If it's a camera tripod, then no. You need to work around the limitations to pair it with a Smartphone.
This type of tripod has a base plate that screws into the hole at the bottom of a camera. Since a Smartphone doesn't have one, a mount adapter is required to clamp it on the plate.
Can a tripod hold your phone vertically?
Sure, some products are designed to angle the phone to portrait and landscape orientations.
All you have to do is read the specs to see if this feature is available. It's usually present given the significance of both image layouts.
What kind of tripod do Youtubers use?
Youtubers choose a tripod-based on their videography needs. Those who vlog mainly with Smartphones definitely have tripods with a built-in phone holder.
But if they use larger cameras, they'd opt for camera tripods with a bigger load capacity.
For the second type, you can consider the Joby GorillaPod tripod and Manfrotto compact action tripod.
Which Gorilla tripod is best?
For sure, nearly all products in its lineup have earned positive reviews, which indicate good customer satisfaction.
So whether it's the Joby Gorillapod SLR zoom or Joby Gorillapod 325, it would be awesome either way.
What is the best height for a tripod?
Many tripods can stretch out to more than 50 inches. But height means nothing if it's not followed by a robust structure.
For a tripod to stand firm on its legs, it needs to be well-built with top-quality materials. So make sure that both aspects go hand-in-hand.
What is the best Smartphone tripod mount?
It's still UBeesize for us. As long as it's from this brand, you can rest assured about the quality.
Others aren't bad per se, but extensive research is needed to reveal the true quality and save you from disappointment.
Good Extendable Tripods for Smartphones Conclusion
Tripods may have similar form factors, but they're generally classified into smartphone and camera tripods.
If you carry out photography work mostly with Smartphones, it's better to buy one made for phones because it includes a clamp holder to attach the phone.
That's not to say that other features aren't essential, but extendable legs are paramount as they make it possible to shoot at any height.
It also doesn't take much space when collapsed down to its compact form.
So, what's the best extendable tripod for Smartphones? We've them covered in this article, so maybe one would pique your interest.