Top 6 Best Auto Tracking Camera for Live Streaming in 2022
An auto-tracking camera does exactly what its name implies. It's a camera that adjusts automatically to follow the movements of the person being recorded. This advanced feature eliminates the need…
An auto-tracking camera does exactly what its name implies. It's a camera that adjusts automatically to follow the movements of the person being recorded.
This advanced feature eliminates the need for a human operator to control the camera. All you have to do is set it up and place it on top of the table.
It will begin recording video and will follow you wherever you go.
These cameras typically have three main functions: pan, tilt, and zoom.
Because it is formed from the first letters of the three words, the term 'PTZ' used to label these recording devices makes sense.
PTZ cameras are frequently used in security, video conferencing, and remote monitoring applications.
However, because of cutting-edge technology, they are also ideal for creating live content.
Here are our top picks for the best auto-tracking cameras for live streaming:
Best Auto Tracking Cameras for Live Streaming
This Prisual camera ticks all the right boxes as far as live streaming is concerned. You can even extend the use of it to surveillance. Just make sure to install it in a location that intruders can't reach easily. The camera would act as a deterrent since its appearance is intimidating enough with the tough metal shell adorning its exterior. It can record in full HD at 60fps, but several recording options are also available.
The 30X optical zoom covers a fantastic range of magnification. And with auto white balance on board, you can cut down on editing time. It also features NDI HX2, which allows for swift integration of video and audio control via an Ethernet cable. This results in a more streamlined setup.
Meanwhile, the output options, comprising HDMI, IP, and 3G-SDI, give the user added convenience. If you're serious about your broadcasting endeavor, the wide compatibility across communication standards makes this product good value for money. RTMPS, RTSP, and DHCP are some of the protocols it's compatible with.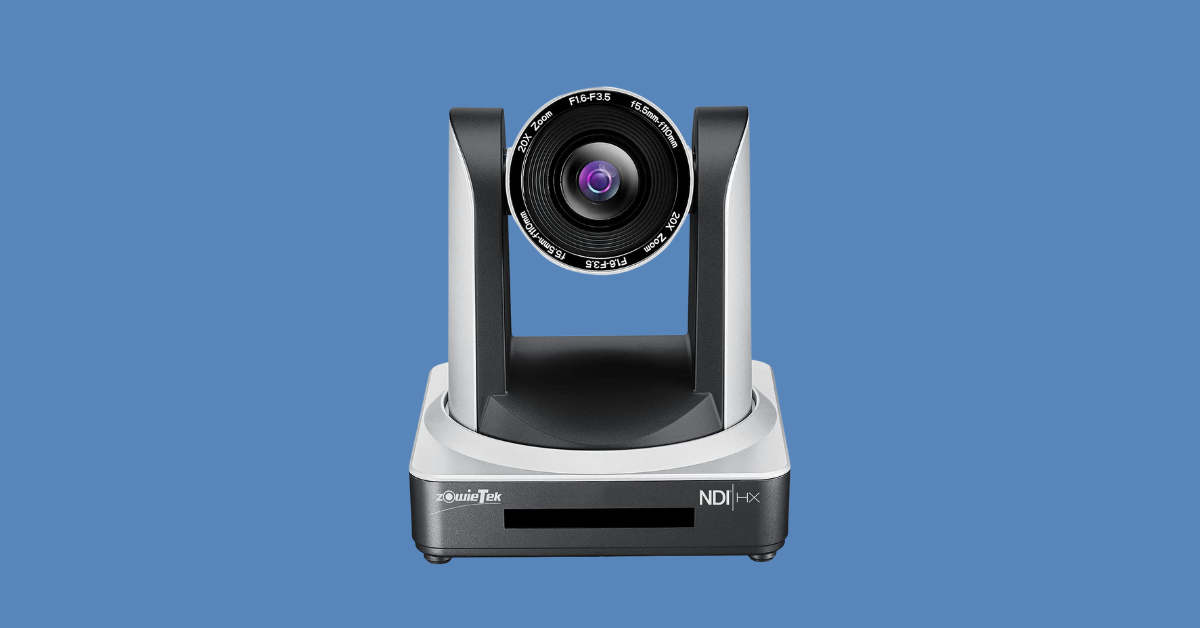 High resolution is the cornerstone of an advanced surveillance system. This is an essential feature because PTZ cameras are often used to protect facilities against crimes like theft and vandalism. And for live streaming, it's reliable too. This unit does a remarkable job on this front because it captures HD footage. This allows you to pinpoint suspicious activities as the 1/2.8 inch quality CMOS sensor produces clear videos from a distance.
The recording quality can be set up to 1920×1080 at 60 fps. The impeccable auto focus also rarely misses the mark. In fact, it anticipates the position of a moving subject with great accuracy. Another plus of this camera is that it operates quietly. The low noise output plays a factor in determining its high SNR. That's a good thing because a higher number indicates a better output.
The company also takes the silent operation up a notch through the implementation of a precise step driving motor. As for the video output, it offers several formats, including 3G-SDI and HDMI. You might be concerned about power consumption for a device that works 24 hours a day. Luckily, it has a sleep function to conserve power when needed. There's a lot more we can talk about this product, such as its flexible control protocol, 255 presets, and vast range of detection.
Also Read: Best Auto Tracking Camera for Sports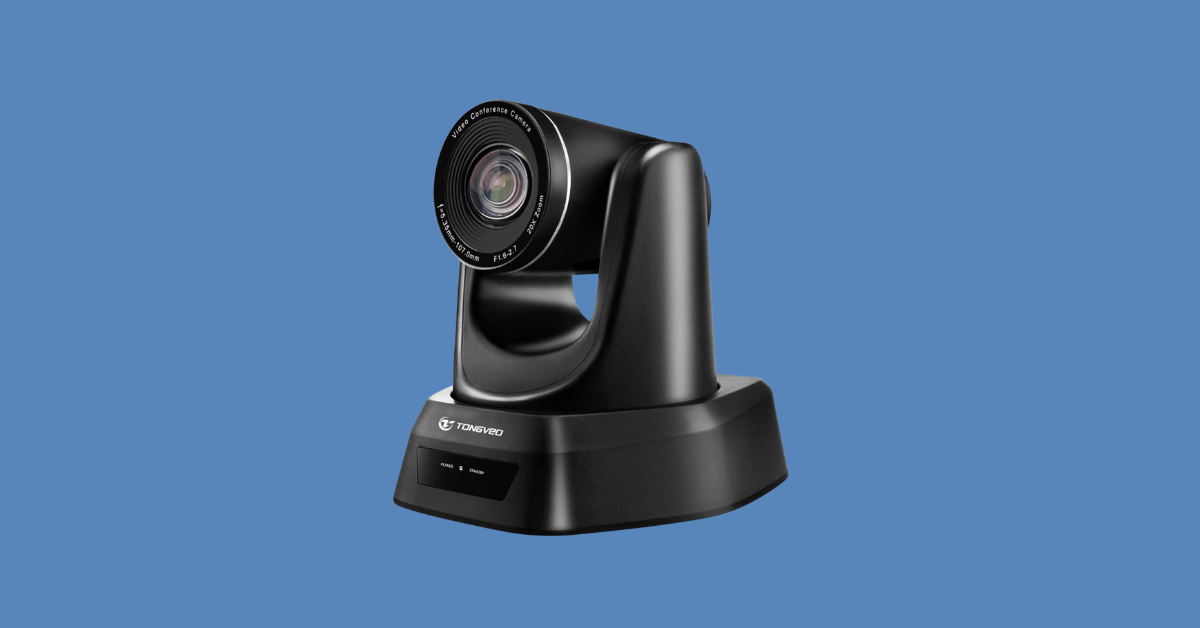 We should say this product is a fantastic deal all around. The price hits the sweet spot for many, and being that competitive, it packs a multitude of superb features like 1/3-inch sensor CMOS and 20X optical zoom. The latter lets you get up close to the subject while not compromising quality. The HD 1080p resolution creates sharp images, and the 55.5° FOV wide-angle allows you to expand the angle of coverage.
Furthermore, the perfect combination of exposure mode and white balance helps render the subject closer to what our eyes witness. The video quality is impressive and vibrant. You can take advantage of the various compression formats, including H.264, YUV, and MJPG. The camera generates little noise when working on a target. It's able to move in different orientations, up to 90 degree tilt and 350 degree pan.
Don't worry about losing signal because it has a working radius of 100 meters. The setup is straightforward, even for non-experts. It adopts a plug-and-play configuration, so you can finish the installation quickly. Remote monitoring is possible with a joystick or a USB cable using a computer running Mac 10.4 or up or Windows Vista, XP, 7, 8, 8.1.
This is another brilliant PTZ camera to mark your foray into the broadcasting space. It's probably a little bit too much for a new streamer, but a higher investment will induce substantial growth eventually. The camera delivers unmatched video quality for live streaming thanks to the 1/2.8-inch high-quality CMOS sensor, which works together with the 12X/30X optical zoom to collect more details for each captured image.
It's compatible with various platforms and encoders that support NDI HX. Manual control can be performed by means of RS232 or RS485. With the unit, you can upscale videos to full HD at 60 fps. Another noteworthy feature is the 72.5° wide-angle lens that offers a sense of immersion. If you're wondering about the IEEE standard, it is rated to be 802.3af compliant.
You can check it out on Google to learn more about voltage and twisted pairs denoted in this protocol. To further prove its worth as a broadcasting tool, it allows video distribution over NDI. What's better is that it also supports HDMI and 3G-SDI. Video footage stays in tip-top condition when the bandwidth doesn't suffice. That's because there's H.264/H.265 compression at work to improve streaming efficiency.
Also Read: How Does an Auto Tracking Camera Work?
Pivo POD Active has a built-in lens, so this device remains functional without a separate recording device. If you're looking for an auto tracking device that works with a smartphone, this is awesome. This cam is less suitable for surveillance because it's impractical for installation under the ceiling. But for telemedicine, lecture capture, and other applications where visual imaging is the primary concern, you can count on it.
In case you're unfamiliar with the name, this product used to be called the Pivo Pod Silver, but has now been changed to the Pod Active. The auto zoom is smooth, and it's loaded with features for engaging live content, such as Smart Capture and Target Exposure. Additionally, the camera also makes it easy for streamers to broadcast to Instagram, Youtube, and other platforms.
The tracking features are generally classified into action tracking and smart tracking. Action tracking monitors based on the selected area you draw on the phone display, while smart tracking is automatic. To use it, your smartphone should be at least the iPhone 8 (with iOS 13.0 or higher) or a newer Android phone that runs version 9.0 of the OS or higher. Once fully charged, this device can get you through 10 hours of live entertainment.
The SOLOSHOT3 + Optic65 cam is a more advanced member of the SOLOSHOT3 family. It packs a higher optical zoom than the Optic25 variant and better video resolution. At the same time, they also share a fair share of similarities, such as image resolution, range, and battery life. The Optic65 offers a 1/2.3″ BSI CMOS sensor, capable of taking 12MP photos.
The video quality is outstanding, not just in quality, but also in detail as it records UHD 4K at 30 fps. The operation radius is around 609 m. You should be within this range to control the camera from afar. It also supports Wi-Fi connectivity. What comes with the package? Every purchase includes an armband, a mini USB cable for charging, a tag, and a tripod tool.
There's no MicroSD card, though. If you need additional memory for storing files, please buy it separately. This camera has a sturdy build quality. Just look at the components that are secured tightly together. There's no room for water to infiltrate the robust housing, which means bad weather conditions aren't a problem at all. The shock-resistance also helps it deal with strong vibrations without causing a dip in image quality.
What to Look For When Buying an Automatic Camera for Live Streaming
1. Type
Would you rather buy a dedicated camera or a smart phone holder? The point of difference between both models is that one has a lens aboard for automatic tracking, while the other needs to be integrated with a smartphone to work properly. Those with a dedicated sensor are typically more expensive, so if price is a key consideration, then an auto-follow smartphone holder might be more attractive to you.
2. Video resolution
Video resolution is an important characteristic of a camera because it determines how detailed footage is displayed without pixelation. In this case, a higher resolution is clearly more favorable, although this can be a trade-off when you have other factors that are equally important. As we know, high-res videos require more storage. If it's bothering you, then you may agree to give it up for a lower-end model that requires less processing power and memory.
3. Features
PTZ cameras come in all shapes and sizes. To find out the features of a camera, you'd need to read the listing because it normally mentions key features of the product. Video analytics, auto alerts, and recording presets are some that get brought up a lot in descriptions. You should also learn the compression methods and types of storage, which may include DVR, NVR, etc. There are many other important things to think about, such as Wi-Fi connectivity, battery life, and movement range.
Wrap up
PTZ cameras are typically used as security cameras to combat widespread crime. These devices are built with the ability to pan, tilt, and zoom, allowing them to keep a close eye on a target once it has been locked by the AI algorithm.
However, PTZ cameras aren't just good for surveillance. It has evolved into an effective tool and can be used in a variety of fields, such as conferences and live streaming events. A PTZ camera is essentially a small video recorder with a wide range of motion and a wide field of view.
As a result, it works in situations where this type of footage is required. If you're looking for the best auto-tracking camera for live streaming, this review includes both PTZ cameras and standard auto-follow cameras and mounts.