Super Mario Bros 3 Wallpaper
Super Mario Bros. 3 is the third game in the franchise released for the NES and Famicom. The Japanese market had it first in October 1988, while the US release…
Super Mario Bros. 3 is the third game in the franchise released for the NES and Famicom. The Japanese market had it first in October 1988, while the US release followed over a year later in February, 1990.
Apparently, the two systems just mentioned weren't the only ones that included this game. In 2007, for instance, the game was ported onto the virtual console of the Wii. It also made an appearance on the Nintendo 3DS and Wii U. There are many changes in this game, but it plays similarly to the predecessors.
As with the older siblings, the game is also a side scroller. What sets it apart from others is it features new mechanics. There are new elements you can find throughout the game, including power-ups and objects. The way Mario moves is also distinguishable from that of the older games.
If you've been keeping up with the series since debut, you'd notice that the game also features new landscapes and areas. There's a spade panel room in which you can play a matching game.
Winning it gives you access to additional lives. And then, there are also toad houses, which contain some interesting items for you to pick up.
Super Mario Bros 3 Backgrounds
---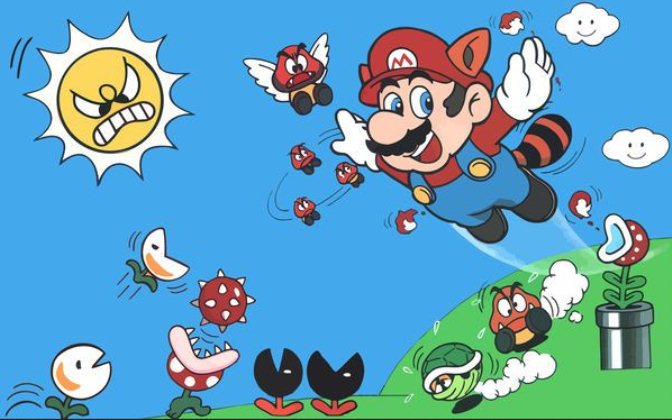 Is Bros. 3 better than Bros. 2?
That's a tricky question because they are both remarkable. Many said that Bros. 3 is among the best games in the Super Mario Bros. series, but Bros. 2 deserves just as much appreciation as it dared to break the mold or not follow the formula that made the original Mario a success.
Sure, there are similarities, but that's expected since both are from the same franchise. In Bros. 2, the player can choose between 4 playable characters. Mario was never known for having abundant characters, so to see this varied lineup in Mario Bros. 2 was truly something.
Another major change is the mechanics. The original Mario was all about stomping on enemies to kill them. In Bros. 2, this play style wasn't really a focus. Instead, Mario used his hands to pick up stuff and throw it at evil creatures lining up the platforms.
While in Bros. 3, the mechanics are somehow closer to the original. Mario was back with his strong legs, jumping on enemies like nobody's business.
By the way, if you need some Super Mario Bros. 3 wallpapers, we have some here. This is yet another early installment to the series, so it makes sense if you have a hard time finding artwork inspired by it. Well, you can still collect gameplay captures, instead.
This game is good in terms of graphics despite being part of the NES. However, it's worth-noting that Bros. 3 was a few years apart from the original, so there was room for improvements.
This game is often compared to Super Mario world, but which one stands out more?
There are areas where Bros. 3 shines and there are areas where World does better. The gameplay, for instance, feels solid on both. They're Mario games after all.
Ever since its debut, Mario had surprised with its amazing gameplay and it only got better for Super Mario Bros. 3 and World.
Now let's jump right into the story. Every Mario game has its own storyline. In this specifically, Bowser took the role of the villain. He came back to the Mushroom Kingdom with a plan. Bowser wanted to seize 7 kings in the Mushroom world and rob their magic wands.
With the help of his Koopalings or his minions, Bowser turned the kings into other forms. Knowing the mess that had happened, Princess Toadstool then sent Mario and Luigi to set these kings free and bring back their normal looks.
Mario and Luigi were rewarded with items and notes following the release of the kings. Things went smoothly until it's the seventh king's turn. Instead getting the usual goods, they got a note from Bowser saying that he had locked the princess in his realm.
It turns out that all he did was a distraction, so that he could kidnap princess again like he did before.
Fortunately, that's not a happy ending for the evil king because the two brothers decided to break into the castle and challenge him. They finally succeeded and the Princess was set free in the end.
SMB3 is designed for all skilled players. Although the original and sequel were already good to begin with, there are interesting elements introduced in the new game.
The player is spoiled with generous amounts of coins throughout the adventure. It will start to pick up steam when you progress to latter worlds. Instead of being flooded with bonus coins, you'll come across more difficult challenges. The good news is all the power-ups are well spread out, so that you won't feel overwhelmed by the enemies trying to send you back to the starting point.
Of all the additions, in this game you'll be introduced to Raccoon Mario. The signature style of this Mario is a cap with ears and a tail, which is quite a change in appearance for him.
Aside from the protagonists, the enemies are also becoming more diverse, like Koopa kids who are sent by their boss to make a chaos in the Mushroom Kingdom.
Final Thoughts – Super Mario Bros 3 Wallpaper
---
It's good that every Mario installment tries to distance itself from the previous ones through its unique settings. You can see that just as you start the game.
The landscapes look familiar, but distinct enough that you don't feel like playing the first or second Mario. The resemblance probably stems from the fact that the graphics technology hadn't advanced too much at that time.
There are 8 new worlds which cover a variety of themes, some can be seen on these Super Mario Bros. 3 wallpapers. On top of that, there's a sense of smoothness as you go from one world to another. And these landscapes also represent real-life environments, like sea, air, and land.
While this concept is hardly new, it's approached in a tasteful way. Speaking of commercial success, the game did exceptionally well, selling over 700,000 in just two months after release.
And the recent data put the sales figure at 17 million, not really decline considering SMB2 sold about 7 million.
…