Newest Handheld Game System: Recent and Upcoming Consoles in 2022
In an age when video games are playable on various platforms, it can be confusing to choose between a tablet, a Smartphone, a home console, or a handheld. While it's…
In an age when video games are playable on various platforms, it can be confusing to choose between a tablet, a Smartphone, a home console, or a handheld.
While it's daunting, you must remember that each system has a different array of games to play. Some are exclusive titles specially launched for a platform.
To make it easier to find the right gaming system, you should know the games you want to run on it. That will help you narrow down the search.
Of all the systems mentioned above, handheld consoles remain wildly popular even if they have to face competition from other systems.
They thrive because they continuously evolve to meet gamers' needs.
Handhelds can be classified into original releases and emulators.
At a glance, they can be hard to distinguish, but emulators got the moniker because they emulate other systems.
Besides, they have tons of games on offer which come from original designs.
What are the newest handheld game systems?
Some have been released throughout the years. We'll include some in the following list.
The Newest Handheld Game Systems: Available Today
---
1. Nintendo Switch
We list these handhelds in no particular order, but if they are ranked by quality, the Switch will undoubtedly secure a high placement because it's one of the best you can find right now.
It is known for its ability to 'switch' between the home console and handheld forms. This allows you to play games at home and on the go.
All the supplementary items are included in the package, so you don't have to buy separate items to make it functional as a home console.
It has a dock, joy-cons, and other essentials like a kickstand for easy placement on a tabletop.
The game selection is plentiful. There are over a thousand titles accessible via the Nintendo eShop, all you can play comfortably on the console's 6.2-inch display.
The color reproduction is impressive, and it looks sharp, thanks to the 1280×720 resolution.
Want more? Enjoy an uninterrupted gaming session for up to 9 hours.
As for storage, it provides the user with 32G, but not all is usable for game data. The system takes up a portion of that amount.
But don't worry, it's expandable to 2TB using a Micro SDXC or MicroSDHC.
All things considered, the Nintendo Switch makes a great option for those wanting a perfect blend of performance and versatility.
2. Nintendo Switch Lite
The Switch Lite made its debut in September 2019.
Though it's relatively a newcomer, it has proved that it doesn't need to live in the older sibling's shadows to get recognition from the fans.
It's designed mainly for a pure handheld experience. It's not necessarily a drawback because it leads to a price reduction ($199.99).
If you want to get your hands on a Switch with less money, then this is the answer.
At 275g, it's slightly more lightweight than the predecessor. The screen is also downsized, now measures only 5.5 inches.
Again, that's doesn't put it at a disadvantage because the resolution is maintained. This makes the image even sharper than before.
In terms of performance, they are neck to neck. And it extends to the battery life as well.
This smaller console can last up to 7 hours on one charge.
Since it's cheaper, don't expect it to be as feature-rich as the Switch.
For example, HD rumble and IR motion cameras are excluded.
That's a good move considering it's a purely handheld device.
It only runs titles that have handheld support.
All other missing features don't make it less functional than what it was intended to be.
There's no dock or TV-out support, but it's no big deal.
The joy-cons are also attached permanently, unlike the original that can be removed from the console.
3. New Nintendo 3DS XL
Albeit the word 'New' affixed to its name, this Nintendo console isn't really the newest, but it's recent enough that it deserves a spot in this list.
With the amount of attention people give to the Switch, it's easy to see how the 3DS XL struggles to catch up to the hybrid console, but it still has unique features that set it apart from other releases.
The dual-screens are one of the strongest suits.
It also features super Stable 3d, which allows the system to recognize the user's head's angle and make necessary 3D effect adjustment.
Other notable features include extra C-Stick, compact design, Amiibo support, and 256Mb of RAM, which marks an upgrade over the previous offering.
Furthermore, it ditched the SD card and replaced it with a Micro SD card.
As said before, the most striking thing about this device is the dual screens, one placed on top measuring 4.88 inches, while the other sits at the bottom with 4.18 inches.
It also offers a stylus, which was quite commonplace in devices with touch function back then.
Is this handheld worth-buying?
Well, this is a flagship model from one of the most loved brands in the history of video games.
If you consider yourself a big fan, then try it at least once in your lifetime.
4. New Nintendo 2DS XL
The Nintendo DS has had numerous iterations since its release.
The New Nintendo 2DS XL is one of the newest additions to the lineup.
It costs $149.99, but it's worth it now that the Switch is around?
While it's true that the Switch gets praised to high heavens, but it and the New 2DS XL are two entities with different form factors and features.
For the price, the 2DS XL provides an affordable way to play 3DS games.
This instantly boosts its value, but we're going to disclose more specs, so you can judge if it's perfect for you or not.
Design-wise, it's a significant departure from the polarizing 2DS design.
Just take a look at pictures of the console, and you'll get the point.
The biggest turn-off is the fact that it's not foldable, although it looks like it desperately needs a hinge between the screens.
The 2DS XL sports a clamshell design and is more compact than the 3DS XL.
The inner side also looks sleek now that the bezel appears smaller, partly due to the camera's relocation to the hinge.
When it comes to features, a charger comes with the package.
We know it sounds absurd to celebrate over such a thing, but seeing how it has been missing from the New 3DS, it's totally justified.
As for the screens, the top 4.88 is inches, and the bottom is 4.18 inches.
Though large and has adequate brightness, the 400 x 240 resolution drags it down a little.
Other notable features include free 4GB microSD, Gyroscope sensor, Lithium-ion 1300 mAh battery, Wi-Fi connectivity.
5. Sony PlayStation Vita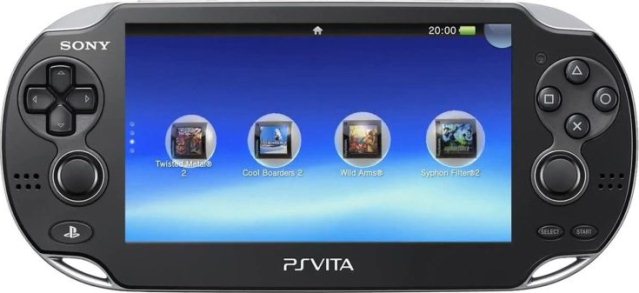 If you need a powerful console that comes laden with great features, the Sony PlayStation Vita won't disappoint.
This handheld is such a powerhouse with all the features squeezed into its fantastic design.
There are AR cameras, motion sensing, touch function, and more.
Moreover, it has superb graphics, comparable to the PS3 quality to some extent.
People also love it for the versatile control, which combines motion and touch function.
The front houses a 5-inch display, flanked by clusters of controls.
You can find 2 analog pads on both sides, situated close to the D-pad and face buttons.
The physical controls work great and have an excellent hand feel.
Other than that, the touchscreen does its job very well. Not only responsive, but it also delivers high accuracy.
Another exciting feature is dual cameras with Augmented Reality Integration.
The company's effort at incorporating the technology into the device deserves nothing but praise.
On another note, the display is simply stellar. The colors are looking vibrant, while the black has depth to it.
The OLED display comes with a resolution of 960 x 544, which is suitable for the size.
It also offers multiplayer support and several connectivity options like 3G, Bluetooth, and Wi-Fi. The 3G connection, however, is only added to select models.
Upcoming Handhelds: New Consoles Coming Out in 2021 & 2022
---
1. GPD Win 3
Have you been keeping tabs on the upcoming GPD handheld?
It's called the GPD Win 3. This portable device will be another powerful offering from the manufacturer.
Reports suggest that it will be available for sale soon enough with a base price of $799.
Why so expensive?
To start with, it gets its power from an Intel Core i5 1135G7 processor.
Another variant with an i7 1165g7 processor will be sold for a slightly higher price, $899.
Either option will be coupled with 16GB of RAM and 1TB of storage.
Design-wise, it looks futuristic with retro undertones.
Apart from control buttons, it also comes with a QWERTY keyboard, which can be revealed by sliding up the screen.
The display has a 720p and measures 5.5 inches. On top of that, it allows games to run up to 60fps.
It's claimed to nearly match the size of the Nintendo Switch Lite.
But if we take Win 2 into the equation, the new model will look surprisingly slimmer.
It has several connectivity options, such as Wi-Fi 6 and Bluetooth 5.0.
There is also USB Type-C Port, USB Type-A, as well a MicroSD Card Slot.
2. Nintendo Switch 2 / Pro
Seeing the success of the Nintendo Switch and Switch Lite, another follow-up doesn't seem far-fetched.
In fact, the company is allegedly cooking up something as a new addition to the family.
It's either called the Switch 2 or Switch Pro. Rumors have been swirling around since 2019.
Many believe that the new device will mark a major upgrade and target hardcore gamers.
Here are some of the possible tweaks. First, it may feature a Tegra X1+ custom chipset.
Second, you can expect an increase in RAM and storage. 4k TV output is also rumored to be added to the list of features.
That said, these are still rumors until proven otherwise. We have to wait for the next move from Nintendo to see if the specs are valid.
For the RAM specifically, there's a chance that it will double the current capacity to 8GB.
A similar improvement is likely to happen to the storage, with many saying 128GB as the potential candidate.
Whatever the circumstances are, we're sure that the new handheld will command attention right out of the gate.
3. Xbox Series Z
This is not an actual console needing further development and an official release.
A new 'fantasy' item made the rounds recently featuring something called the Xbox Series Z.
The clip was created by a Tiktok user Kashama.
The video was basically showing someone opening a handheld on which he was browsing through games.
Perhaps, it's inspired by the rumors about Microsoft potentially coming up with its own portable system, but we are yet to know when or if it will see the light of day.
Back to the fantasy device, it can be folded, and in this form, it's about the size of an adult's hand.
When fully open, it doubles that. It looks very cool from the way it's unfolding with a touch of a finger.
You can see the video by clicking the video above.
Final Thoughts on Another Generation of Handheld Consoles
---
The newest handheld game systems have reliable specs.
It makes sense given that technology advances have grown in leaps and bounds in the past few decades.
Just compare the current consoles and games to those released in the 90s. You'd notice major improvements on many fronts.
The same goes for handheld devices.
Manufacturers not only use state-of-the-art technology to enhance the quality of their products, but they also make them more functional.
Case in point, you must be familiar with consoles that sport hybrid designs.
The Nintendo Switch, for instance, can be a home console and transform into a handheld when you pop it off its dock.
Emulators also adopt a similar concept. They can be used as home consoles and handhelds.
Besides, they are also multifunctional as they're not only capable of playing games.
Some can also take pictures, access multimedia content, etc.
With all these tempting choices, which handheld should you buy for your entertainment?
Please take time and write down all your needs before shopping around.