List of Handheld Consoles: Bring Your Retro Games into The Modern Age
Gaming consoles are divided into two major categories, stationary and portable consoles. Portable consoles are also known as handhelds. They have unique features like a dedicated display and speaker. In…
Gaming consoles are divided into two major categories, stationary and portable consoles. Portable consoles are also known as handhelds. They have unique features like a dedicated display and speaker.
In choosing a console, there are a few things to ponder. The first one is price. Consoles are vastly different, but you should realize that they come with different price tags.
There are entry-level consoles that usually offer limited functions. There are mid-range consoles that suit those who demand extra features but without the exorbitant price.
If you want a top-tier one, a high-end model is the answer. It's the most complete in terms of features and functionality. We'll make a list of handheld consoles. They all have pros and cons, so take time to choose the right one.
Popular Handheld Game Consoles Today (2020)
---
This console has a clean look. If you're on the lookout for a console with a straightforward design, this can be an option. It has a bunch of awesome features. To start with, it comes with a 3.5-inch display with a resolution of 320×240.
While not the biggest, this is a decent size for a handheld considering many have way smaller screens. It produces good image quality, and the best part is it comes with anti-scratch protection. If you're an avid gamer, the library of 2500 classic games will keep you entertained for long. It also comes with a 360-degree joystick.
Many consoles still use buttons to control directions, so this is an upgrade to say the least. Another amazing feature is the enormous battery capacity. It's a 2500mAh lithium battery which ensures a long on-screen time.
As icing on the cake, the battery is rechargeable on via a USB cable. It nets around 6 hours of game time. Another thing we like about this console is it can turn into a multifunctional device.
Playing games is not the only capability. You can also use it to play music and read E-books among other things.
It's reasonable to have high expectations because this console is in no way cheap. As with the previous console, this also sports a 3.5-inch display, only the difference is the resolution is higher (640×480), which boosts the sharpness and clarity.
The game collection is also huge. Imagine how many weeks it takes until you finish all the 3000+ games. They can be accessed for free, too. As for the battery life, the 2500mAh battery is more than enough. It gives you around 6 hours of play and if it runs low, just plug it into a USB cable to recharge.
Another aspect worth-shouting about is the audio quality. The built-in speaker produces good sound and it also offers a 3.5mm headphone jack in case you prefer to wear headphones while gaming. For storage, there's 16GB of memory you can use to store games and multimedia content.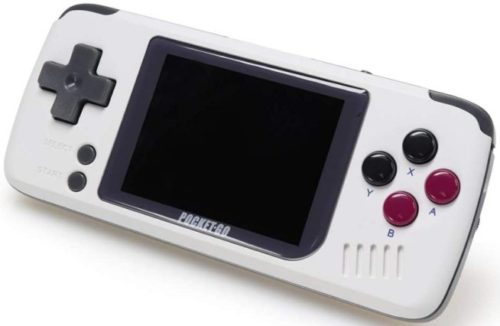 This console looks a lot like the previous product, but looks can be deceiving. Despite the premium appearance, it comes at a fraction of the price. In other words, if you need a more affordable option to play retro games, this is a good pick.
Of course, there are differences when you look at it closely. This console has dimensions of 12.3cm x5.6cm x 1.4cm. It uses buttons to control characters. The placement looks identical to many other handheld devices, but it's actually a good thing.
Since you're familiar with this arrangement already, there's no need to learn it from scratch. The console also has built-in firmware, meaning no additional steps are needed to install it. Moreover, it offers a free 8GB Micro SD card to store game data.
What games are available? There are a lot, most of which are from well-known systems like the SNES, GBA, GBC, NEOGEO, and more.
If you're wondering about 'save data' feature, it has it covered. This is imperative since starting over anytime a character dies can be frustrating.
New PocketGo Console – Retro Game System
The original Pocket already delivers great quality, so this one should be more tempting given that it's an upgrade. Let's see what major improvements that this handheld has. The first one is the D-pad becomes smoother.
If you've had a hands-on experience with the original, you'll be able to tell the difference. Another thing that sets it apart from the predecessor is the analog stick, which gets even better on this unit.
For performance, it utilizes a JZ4770 dual-core 64bit – 1.00GHz processor. While the PocketGo is basically a console, it serves a greater purpose. Whether you want to read E-books or listen to music, it can do a lot of awesome stuff. Besides, the display is simply stunning. It measures 3.5 inches with protection from tempered glass panel.
Under the hood, it has 512 MB of RAM and 32 GB of storage. The storage is quite spacious to keep multiple games. There's also an option to expand up to 128GB if you plan to add more to the catalogue.
Consoles that adopt this form factor are everywhere, but despite the similarities, each one has distinct features. For this product, the first differentiating factor is the 2.4-inch display. Many portrait consoles have low-res displays, which influence gaming experience.
The display on this device isn't only high quality, but it also comes with extra protection from tempered glass. Another useful feature is save/load progress. For the record, many consoles abandon this feature while it's proven to be very important.
Imagine you have to start from the beginning after you've got so far into the game. Luckily, this feature will save you from the desperation to keep your characters alive. On another note, the screen brightness is adjustable. It is quite a rarity in inexpensive handhelds, but this gives you the freedom to adjust brightness to your comfort level.
As for games, many platforms are part of the system, including the PSI, GBA, NES, and GBC. It's powered by a 700mAh lithium battery. It's not the biggest in this lineup, but good enough to provide a few hours of continuous play.
This easily comes out on top as the largest on this list. At 5.5 inches, the display looks spacious that you don't need to connect it to a TV in order to see clearly. In choosing a console, display does matter.
The problem is many consoles have small screens. If you need a large one, this portable handheld would be terrific. It's perfect for recreational purposes because gaming is all about being getting up in an immersive experience.
All the specs are included in the title, anyway. Aside from a 5.5-inch display, it also runs on Android 7.0. For storage, it comes with 2GBDDR3+16GB EMMC. From the operating system, you can tell that it's Android based. That means Play Store support is on board.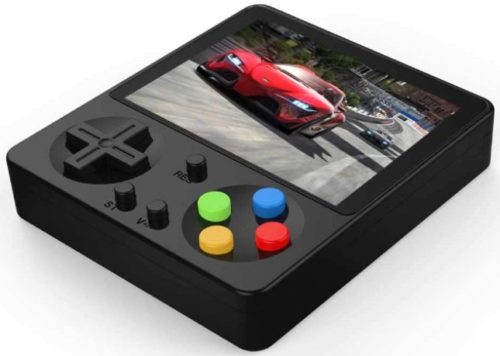 The screen-over-the-buttons design isn't completely new, but the whole thing does look different than the average portrait handheld console. It takes a unique approach especially with the bulky appearance. Although looking big and chunky, it still looks trendy.
Design aside, the console delivers in terms of features and performance. There are a total of 333 games that cover various genres, such as racing, fighting, arcade, to name a few.
The graphics are old fashion. If you know 8-bit graphics, that's how games are rendered on this console. There's nothing wrong with that. In fact, they can hit nostalgia hard considering these games are hard to come by these days. The battery can get you up to 4 hours of continuous play.
This is one of those handhelds that need a closer inspection to learn the difference. In terms of design, it looks like many other retro consoles out there. But even so, that doesn't mean it has nothing new to offer.
You have to read the specs to see how it differs from the rest. You can start with the game library. It has about 400 titles, which are quite a standard for the price. Many consoles have fewer, so this will boost its value for sure.
It also includes an external controller in case you want to play in 2-player mode. The additional controller has a blocky appearance, quite reminiscent of older controllers.
Additionally, TV output support is present. Some people don't feel like playing on handhelds especially when the displays are too small. To solve it, an AV cable can be a savior. It comes with the package, anyway.
Choosing a handheld can be time-consuming with countless products available. To make it easier, you can start with features you find the most essential. For example, some people won't settle for small screens.
If this is a big deal to you, this console won't disappoint as it has a 4.3-inch display. It's large enough to play games without straining your eyes. With over 1200 games, the console makes a good companion to spend leisure time.
The library is also comprehensive. It covers a range of platforms, like the SEGA, GBS, SNES, NES, NEOGEO, and much more. The best part is all the titles are unique. There are no repetitions, which remain a problem in many consoles. Meanwhile, the 'save game' feature is necessary to return to the latest save point.
You can take a deep breath now because the feature is present. How long can you play with it? The battery lasts for up to 6 hours, pretty good if you ask.
Other features built into the system include recorder, stopwatch, and calendar. These apps are a major part of our daily lives, so we can see you'll use them a lot.
Perhaps, the least interesting aspect about this console is the design. It has no signature style that makes it stand out, but it's not a problem if functionality is your biggest concern. Let's delve into the specs.
First of all, this unit is preloaded with 500 games. Although designs are almost identical for these handhelds, their games could be very different. 500 make for a quite extensive library. Two-player mode is included. It also allows 2 players to play simultaneously.
And if the display seems tiny, you can transmit to the video signal to a TV set through the AV cable. This has become a standard in many consoles.
Design-wise, it's compact and can easily slip in a pocket. For power, it uses a 800 mAh lithium battery that offers a duration of up to 6 hours.
Final Thoughts
---
Now that you've read the list of handheld consoles, have you made up your mind? Choosing a console can be a tricky task since choices are endless. There are many things you have to consider aside from price.
If you're on a budget, a cheap handheld can be an alternative. Cheap isn't necessarily bad, though. They can also appeal to certain demographics. Kids, for instance, don't need the most advanced consoles.
If your child just got into gaming, even a simple console will do. But if it's for you, then make sure everything fits your criteria.
Find out about the features, battery capacity, screen resolution, and many other aspects of the device. Just don't rush, so that you can get the most fitting product.