The Best USB NES Controller in 2022
Nothing beats the experience of using a controller while playing games. This is especially true for consoles because controllers have become the default input devices. Playing on an emulator is…
Nothing beats the experience of using a controller while playing games. This is especially true for consoles because controllers have become the default input devices.
Playing on an emulator is the same. Even if you use a computer that has its own input devices, namely a keyboard and a mouse, using an emulator still offers better comfort.
Not all people are accustomed to using peripherals for playing.
If you want to bring back the experience of playing the original Nintendo, you can consider buying one of these best USB NES controllers.
They can be a replacement for your lost or broken controller.
Top USB NES Controllers in 2022
---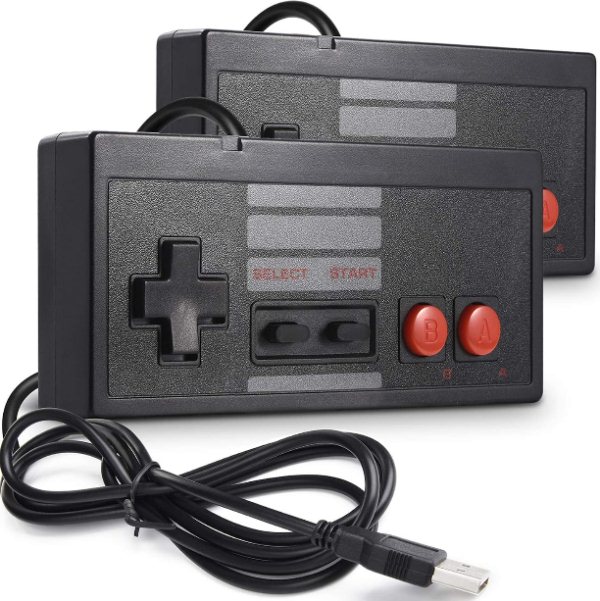 One of the best things about this pair of NES controllers is the platform support. They're compatible with most Windows versions, such as the XD, Win98, Me, Vista, 7, 8, and more. And that wasn't just Windows.
The platform support also extends to other OS, like Linux and Mac OS X. Connection is established through a USB port. Simplicity is clearly an important thing because it simplifies everything.
With this controller, there's no need to install extra software. All you have to do is insert the end of the cable into the right slot. Also, to prevent forthcoming issues, plug before your run the NES emulator.
Speaking of the form factor, these controllers remind us of the original although the color theme is a bit different. But that's not a big deal because, despite the difference, the controllers have nice build quality. The D-pad is flexible and the buttons are smooth to press down on.
This in no way looks like an old controller. The NES controller is known for its rugged appearance, but this looks modern with its smooth edges.
Despite oozing a modern appeal, it's actually compatible with the NES as well as other platforms like GB, GBC, SFC, SMD, GBA, and N64. Setup tutorial is provided on the product page.
Basically, you have to download the Migamepad app first and then run the controller afterward. It also works with mobile devices.
All you have to do is complete the setup, insert your Smartphone into the holder, and then start playing.
This controller is playable on any computer that operates on MAC or Windows. It even has support for the Retropie systems.
For the complete list of supported OS, you can visit the URL. This product is compatible with both 32-bit and 64-bit computers. Surprisingly, despite the fact that it's labeled as the NES controller, you can also use it for emulators based on other platforms, like SNES, Higan, Sega Genesis, to name a few.
In terms of looks, it's easy to mistake them for the original pair of NES controllers. Well, this is not the only product that sports a similar design. What matters is the quality. And in this case, this controller does a good job.
By paying less than $15, you'll get two controllers with flexible D-pads and convexed buttons. They offer a close feel to the actual NES controllers. It's more convenient to play using a controller than a keyboard-mouse combo especially if you're not accustomed to the latter.
Furthermore, the cord is also long on this one, so you don't have to worry about sitting too close to the monitor. To know if it works, try to use it on an emulator. Don't forget to look for ROMs to play on it.
At a glance, this controller is reminiscent of the original, but as you have a closer look, it's different especially in the way it's contoured.
Perhaps, a similar vibe results from the color theme, but other than that, this controller is quite a departure from the original design. That's not a cause for concern as there are other important factors that affect your gaming experience.
Let's start with compatibility. This pair of controllers work with most Windows versions from old to the newer ones, like Windows 98, Vista, XP, 7, 8, etc. Mac OS X and Linux are also included. Meanwhile, installation is as easy as plugging it into a USB port.
There's no need to install software because it's ready to use right out of the box. Once it's connected to a computer or laptop, you can run the emulator right away. It could be any emulator just as the listing states.
ROMS are also necessary. For those unaware, ROMs refer to the game files. There's no point in using an emulator when there are no games to play, so look them up before starting.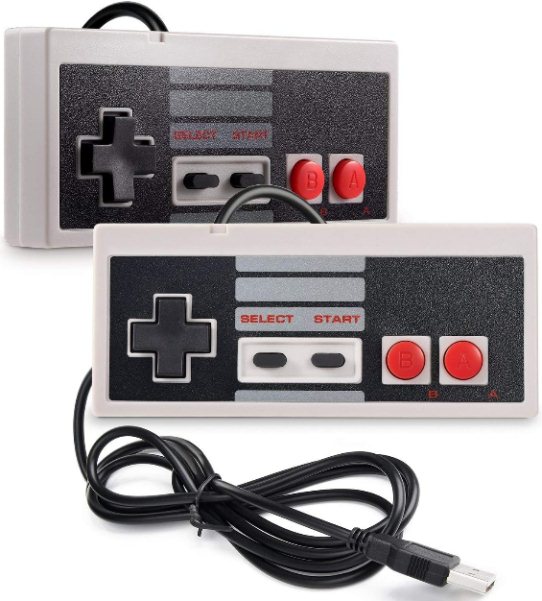 For your information, many NES controllers aren't original. If you need the actual gamepads released for the NES console, you should buy the console, instead. The NES Classic Edition, for instance, was released about 4 years ago and it was a revisit to the original NES.
Despite sporting a smaller size, the design language remains the same for both the console and controllers. Now back to this product, it's similar to the ones already mentioned. It works with Raspberry Pi, Mac, and Windows devices.
In terms of use, it follows the plug-and-play approach. Just plug it into a 2.0 USB port, the gamepad will be connected shortly after. There's no hassle like installing software to use it.
Having said that, the ad states it's not designed for the Classic Mini, Nintendo Switch, and Wii. The design takes cues from the original. It comes equipped with a 5.6ft-long cord, long enough to keep a distance from the monitor.
What games can you play with it?
There are many, but the NES classic titles like Super Mario, the Legend of Zelda, and Tetris are all playable.
Many NES controllers look similar, but they are still different products with varying qualities. For this reason, read the package to be sure about the specs. This one comes with a design that feels familiar.
Well, it's built upon the design of the original, so it makes sense. The platform support is as wide as the aforementioned products. You can use it with most Windows versions, Mac OS x, and Raspberry Pi.
However, there are some that you can't play it with, like the Nintendo Wii and Classic Mini. Speaking of the build quality, we have to say it's pretty good.
The buttons register clicks responsively. It also features a 6-foot long cable for easy mobility.
Picking USB NES controller
---
1. Compatibility
To avoid compatibility issues, make sure the controller supports the operating system that runs on your computer. Windows support is common, but it comes as no surprise given the popularity. If you want to play on another system, like Mac OS X or Linux, it needs to support it as well. If not, switch to another product that's compatible.
2. Cable length
Controllers come in two types, wired and wireless. For older consoles, They are usually wired. The length of the cable matters as it defines if the maximum distance permitted between you and the monitor. Is it that important? Yes, for the sake of your vision. Sitting too close to the monitor can put a strain on your eyes, which would result in eye fatigue. For this reason, pick a controller that has a long cord.
3. Setup
To make it easy, buy a controller that doesn't require installing software. The good news is many controllers are designed this way. You don't have to install a driver or anything to make one work. Just plug it into the correct port, the computer will automatically detect it.
FAQs – NES Controller USB
---
Do you need a controller for emulators?
Not necessarily, but a controller seems to be the standard way of using an emulator especially on PC. Android emulators, on the other hand, don't require a gamepad to control the functions because they utilize the touch functionality, instead.
Instead of physical buttons, they will pop up virtually on the screen. All you have to do is tap on them to control the actions.
Emulators also come in the form of standalone consoles. These ones do need controllers to be function properly.
What controllers work with emulators?
Every console was released with its controller. So to answer this question, you must know what kind of emulator to be used with the controller.
Let's say you want to play games on an NES emulator, then you should look for one compatible with the system. Many gamepads in the market serve as replicas of the original controllers. In other words, they look similar but are not identical.
Actually, original controllers of modern consoles can also do the job. The problem is the old controllers tend to be much simpler in their button arrangement.
Old consoles mostly use directional pads instead of analog sticks. Knowing the difference is key to choosing the right controller for emulation. Choose a controller that has D-pad positioning close to the original.
What is the best controller to use with Retropie?
It isn't fair to mention just one with many incredible choices out there. We'll suggest a few, instead. The first one is the Dualshock 4 Wireless Controller. It has had improvements over the previous releases. It's now more sensitive and the actuation also feels smoother.
This gamepad is originally made for the PS4, but if you want to use it with Retropie, it's also possible. Next, you can consider the Xbox Wireless Controller, especially for retro gaming. If you need a versatile controller that works across systems, this is the way to go.
There's also the Buffalo Classic USB gamepad. It looks like that of the SNES, except it comes with clear and turbo buttons. It's not just the retro design that will compel you to buy, but also the great build quality.
The buttons, for instance, are made to last. The reasonable price only makes it better.
What is the most comfortable controller?
The Microsoft Xbox One Controller easily stands out thanks to its ergonomic design. Don't let the appearance fool you.
While it may look bulky from the outside, it's not how it feels when you have your hands on it.
It is comfortable in every sense of the word. The buttons are positioned in such a way to allow your fingers to conveniently rest on them.
How good is Buffalo Classic USB Gamepad?
Some reviews pick it as one of the best controllers, which speaks volumes about the quality. Meanwhile, on Amazon, it has got thousands of feedback, most of which have been very positive.
Add it to the fact that the controller has a decent price tag, you can be sure that quality is well taken care of.
Simply put, the Buffalo Classic USB gamepad is one of the best gamepads you can get right now especially for playing retro games.
Good Wireless NES Controller: Final Thoughts
---
When it comes to the best USB NES controllers, there are quite a lot of choices.
But, is it necessary to spend a large sum on a controller?
Nope, expensive isn't necessarily better. There are other things that are equally important, like compatibility. A pricey gamepad is pretty much pointless when it's not compatible with the system you want to use.
So if you need a controller for an NES emulator, then buy one designed for the system. Luckily, many NES controllers are quite affordable.
The ones included in this review cost less than $20 each. While they may not be original, they can still get the job done.