18 Best Retropie Handhelds: Portable Console Reviews 2023
Are you a fan of retro games and looking for a powerful portable console known as a "retropie"? In this piece, we'll go over the greatest retro handhelds so you…
Are you a fan of retro games and looking for a powerful portable console known as a "retropie"?
In this piece, we'll go over the greatest retro handhelds so you can make an informed decision.
As an Amazon Associate, we earn from qualifying purchases (at no extra cost to you). See our disclaimer page for more information.
As you might notice, more and more people are buying retro handhelds so they can play their old retro games on the go. And this trend is especially true for more recent systems that demand a powerful CPU, like the original Playstation and the Nintendo 64.
As opposed to some of the Chinese handhelds on the market, those powered by the Raspberry Pi are selling well because of their superior performance.
However, when compared to most Chinese handhelds, the price of a ready-made retropie console can be a little steep. Therefore, for less than $100, DIY Raspberry Pi kits are a wonderful option to cut costs.
Have you ever read some tutorials on how to build a retropie-based console?
Even though it seems easy, many people don't even try to make one because they simply don't have the time.
So, if you're one of them, you should probably buy a ready-made retropie console. Luckily, there are a lot of options on the market today.
We will include both raspberry PI kits (for those who enjoy DIY) and ready-made retropie handhelds below for your convenience.
Let's check them out below.
The Best Retropie Handhelds (Raspberry Pi Handheld Emulators) in 2023
---
Handheld consoles offer fun and simplicity at hand. Buy one, it's ready to play right after you remove it from the box.
There is no need to connect it to a TV set to make it work. Also, don't worry about missing the AV or HDMI cable because it needs none. Just insert the battery, you can play right away.
This console is based on Raspberry Pi and that's not the only great thing about this console. This platform can turn into a powerful gaming machine.
The product proves that through its ability to play games smoothly on its 3.5inch IPS display at 60 fps.
The device also has high compatibility with different versions of Raspberry Pi, including those mentioned in the title.
It's powered by a 18650 lithium battery. It equals several hours of game time, but unfortunately, it's not part of the package. You need to buy it elsewhere before playing games.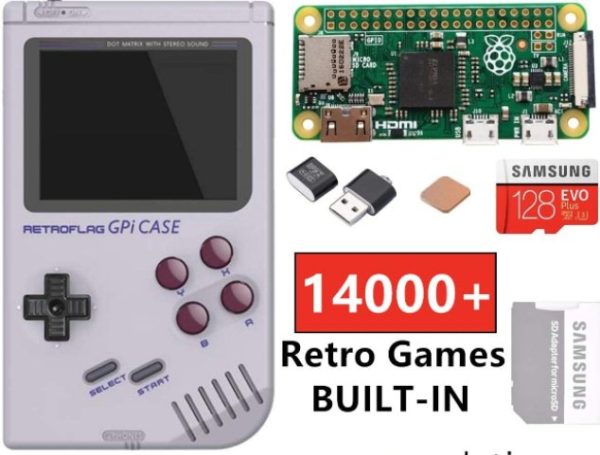 Note: This product is no longer available, but Tapdra offers a more powerful version in the form of a TV game console.
Have you seen first-hand a console with over ten thousand games?
It sounds like lots of fun. The thing is it's not just a dream. This is one of the handhelds that can supply you with up to 14,000 games in total.
It's hard to think how we're going to explore such an extensive collection of games, but at least we know that something on this level exists.
The emulator supports various game formats, including GBC, SG, PS, NEOGEO, GBA, and MSX. It comes with a free 128GB micro SD card which stores all the games. There is also an option to load games or delete some if you need to free up some space.
As for the screen, it's quite standard for a handheld emulator. It measures 2.8 inches diagonally, quite comparable to other handhelds that take on this form factor. The good news is the display is IPS, so the quality should be terrific.
For operation, it requires 3 AA batteries, which unfortunately are not included in the package. Aside from the aforementioned specs, this device also boasts a safe shutdown.
This is a feature to allow the device to turn off safely without risking all the stored data. All it takes is the power button to turn it off.
In case you're wondering about the full package, there are quite a lot of accessories in it, such as a Raspberry Pi zero board, a copper heatsink, DC power cable, and an SD card.
This is another DIY accessories kit to add to your collection. It has a few things in common with the previous model.
First of all, this kit is compatible with Raspberry Pi. It also includes a micro SD card for memory expansion.
Meanwhile, the display measures 4.3 inches, easily among the largest especially when the form factor is put into the equation.
It also runs at 60 fps which makes a big difference to the overall experience. Another thing that stands out is the compatibility with various models of Raspberry Pi, such as +/2B/3B/3B+. The device runs on a 18650 lithium battery.
As interesting as it may sound, batteries are not included in the package, so the only to operate the device is by buying it separately.
There is a battery life indicator built into the system. This way, you can tell when it's about to run out of power.
Since it's a handheld device, it also comes with a speaker in addition to a dedicated display.
The clarity is pretty good, and if it wasn't the quality you expected, there is an option to plug in headphones through the earphone jack.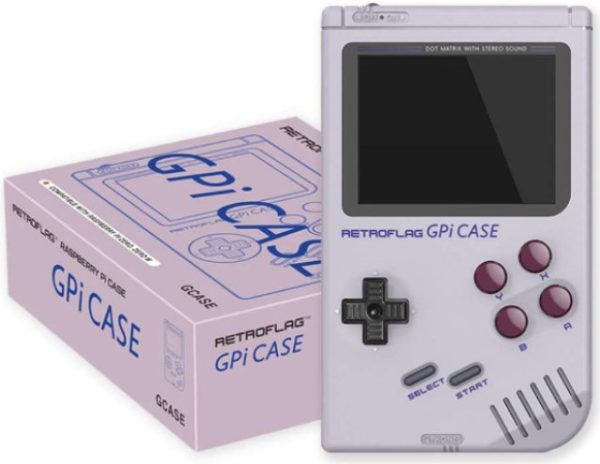 Note: As of November 10th, 2022, this product is currently not available.
Compatibility is a concern when it comes to choosing a handheld based on Raspberry Pi. In this case, the console is compatible with Pi Zero and W.
Another thing you'll appreciate about this machine is the ease of installation. It comes equipped with pogo pins and there is no soldering needed.
According to the product page, they are 4 simulators accessible to buyers. Just follow the link provided by the supplier to download the necessary files. Another awesome feature of this device is the safe shutdown function.
Just like the simulators, you're required to install scripts. They are available on the same URL as the simulators. Visit the Amazon link above for further information.
Now let's talk about the display. Nothing really stands out, though. Despite the IPS quality, it comes with a less than the 3-inch screen, 2.8 to be exact.
If you're used to playing video games on large screens, this would probably bother you a lot.
Well, this is a common size for handheld emulators. Luckily, there are some products with larger screens, so you can upgrade if you want to.
Other features you can find on this device include a speaker, a 3.5mm audio port, brightness control, to name a few.
5. Waveshare GamePi20: Mini Retro Video Game Console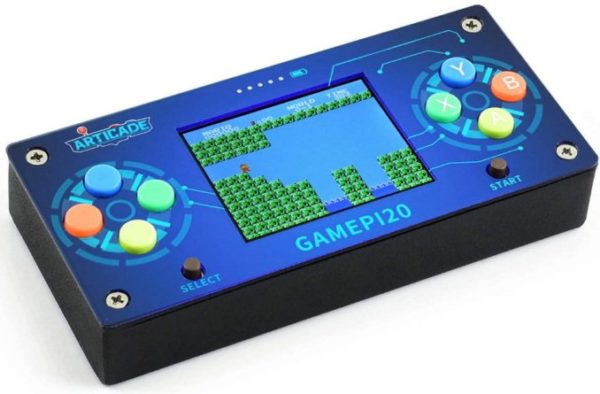 Note: As of November 10th, 2022, this product is currently not available.
One of the striking features of this handheld is the overly small screen.
At only 2.0 inches, the IPS display offers a resolution of 320×240. It's easy to see why you would be disappointed with the console. Instead of upsizing from the previous model, it shrinks in size.
Well, every product is aimed at a different demographic.
Perhaps, there are people out there who actually enjoy playing games on smaller screens. Or it could be for portability. Whatever the case might be, the screen is highly functional and produces good image quality.
The console runs on a 14500 lithium battery which provides hours of game time.
Speaking of the design, we have to say this device looks quite distinct with the choice of material, placement of the buttons, and colors.
It's durable, thanks to the use of high-quality material and solid build quality. Other features you have to check out are the volume and backlight adjustments.
Note: As of November 10th, 2022, this product is currently not available.
This Retropie system supports a variety of platforms, such as SNES, PS, MS, FDS, and GBA. It comes with a total of 6000 games.
That's one of the strong points.
Consoles with thousands of games are always tempting to check out because their libraries are bigger than let's say consoles with hundreds of games.
Hence, your chances of finding favorite games there are also more wide open.
All the games are fun to play not just by adults, but also kids.
There are a few items in the package, including a 32GB TF card which stores all the preinstalled games.
There is also a charging cable that you can connect to when the battery runs low.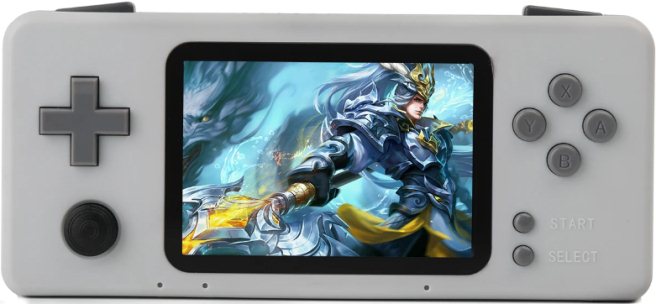 Note: As of November 10th, 2022, this product is currently not available.
Can we turn back the hands of time and bask in childhood nostalgia once again?
We know it sounds unrealistic, but there are things that are not left in the past. In reference to gaming, it's true that classic games have passed their prime.
However, it doesn't mean we can't play them today even if they seem outdated compared to modern games.
This Retropie handheld can take you back to when retro games ruled the world. Some would think that it's rather expensive, but that's the price you pay for a quality retro game player.
The good news is on sale right now. So, before the offer expires, you can consider buying one. It's claimed to adopt Pi CM3 better than Pi Zero. It's also loaded with a bunch of games. According to the product page, the console has over 10,000 games from a wide range of platforms, including the SNES, NES, MAME, CPS, PSI, GBC, and GBA.
Another awesome feature is eye protection. Staring at digital screens for long periods of time can lead to vision problems. Fortunately, manufacturers are aware of issues surrounding bad gaming habits.
This led to them creating products that not only provide enjoyment but also help offset these negative effects. This console has that. Speaking of the display, it measures 3.2 inches and incorporates IPS technology.
At a resolution of 480×320, the image appears sharp and clear. You may expect a bigger display given the price, but a small one still comes with perks.
And then, the viewing angle ranges from -170°to 170°. There's also a 3500mAh battery under the hood, which provides up to 6 hours of game time.
For those wondering about performance, CPU BCM2837 1.2GHZ 4 CORE ARM CORTEX-A53 is built into the system coupled with 1G of RAM.
This is a perfect combo for the ultimate performance. There's more to discover from this powerful handheld emulator. You can head to the link above to read the complete specs.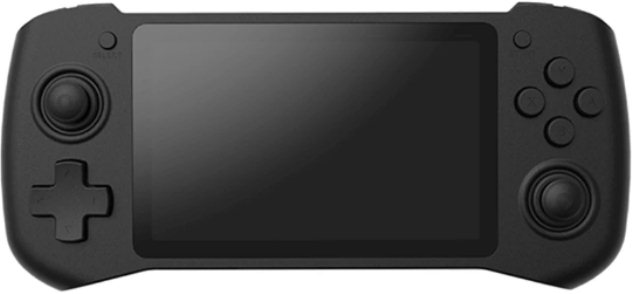 Note: As of November 10th, 2022, this product is currently not available.
There are many handhelds with competitive prices, so why should go for a top-tier one?
Well, price usually goes hand in hand with quality. The more you pay, the more you get. This product runs on Retropie and is based on the Raspberry Pi CM3-Lite.
Retropie is a software library known for its ability to emulate classic games. Therefore, it's the right decision to embark on your journey into emulation with this console.
It's powered by a Quad-Core CPU,1.2GHz processor, and 1GB of RAM. It also comes with a 64G Micro SD Card for tremendous game support. There are over 15 thousand games internally. Unless your favorites aren't included in this enormous list, there's no reason to load more too soon.
There's also an option to remove games if they start filling up the storage space. In terms of connectivity, this device has Wi-Fi and HDMI support. The latter allows for a quick connection to a TV.
Do you like watching videos on KODI? Apparently, this handheld console is also compatible with this media center software, which means you can watch video content at your fingertips.
Despite the TV-out support, it comes with a 4.3inch IPS display, spacious enough to play games comfortably. To top it off, the upsize is followed by an increase in resolution.
Hence, you can rest assured that the sharpness remains great. Moving on to the audio system, there are 2 built-in speakers at the bottom. If that wasn't enough or you don't want to be bothered by external noise, it has an earphone jack to hook up your favorite earbuds to.
Another highlight of this product is the battery life. It's a Li-Polymer 5000mAh, we didn't expect less provided the powerful specs. As for the design, this handheld console keeps a clean look, but it also exudes class and elegance.
Along the tops are the shoulder buttons, all that we all know of, such as L1/L2, R1/R2. There's also a cluster for A, B, X, Y buttons, a directional pad, and other controls.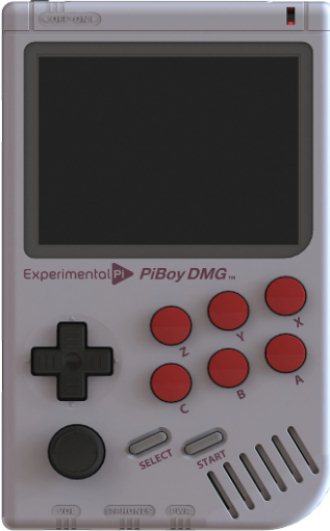 This is another powerful emulator to play retro games. It's based on a Raspberry Pi, can work in conjunction with the Pi Zero, Pi 3B, or Pi 4B. The gaming experience has a direct correlation with the performance of the system on which the games run.
That's why to load games with a quality close to the originals, a reliable system is needed. This product is an example of that. Don't stress too much over the price tag. As said before, price is a good measure of quality. If you don't hesitate to splurge, you'll also gain a lot in return.
Now let's talk about the features. This handheld console has broad system support. It can play games from the PSP, N64, and others seamlessly. This is not the average emulator.
Due to the DPI mode inclusion, games can run up to 60 frames per second. Surprisingly, this won't interfere with the way the RPi performs. Meanwhile, the d-pad feels smooth. It has a nice hand feel just like the analog joystick. The control buttons are also comprehensive.
All the essential ones for a gamepad are included. To get a better picture, please take a look at the image above. That's all the buttons you can find on the device along with their placement.
Another useful feature is active cooling, which helps prevent overheating. Any device that has built-in hardware produces heat during use. That's why a good cooling system is paramount.
By the way, this product is sold partially assembly. You can pick your desired Pi by adding it to the cart. All options can be seen on the product page. For an unparalleled experience, better go straight for the full kit as it has the following features; a Micro USB charger, a 4500mAh Lipo battery, and RPi connector faceplates.
What about the display, is it small or large?
It hits the sweet spot, 3.5″ LCD with a 640 x 480 resolution. It's moderate in size with brilliant visuals.
There are more incredible features to look for in this handheld device, such as HDMI out, safe shut down, and shoulder buttons placed unconventionally in the back.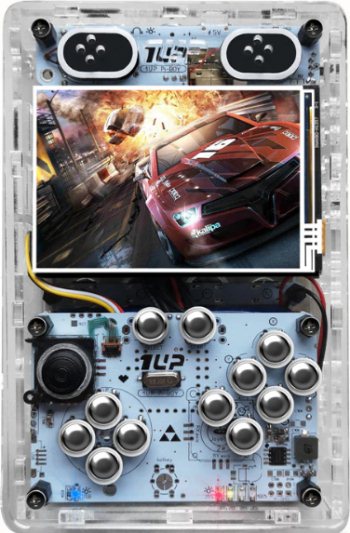 The idea of having a 2-in-1 console appeals to many as it offers versatility. Such a console can be used at home and on the go. If you need an emulator with this trait, then we'd recommend this product.
The listing states that it can double as a regular console at home beside the obvious handheld design. It is not a rare concept for emulators, though. Even cheaper models also have this functionality.
As seen in the picture, it's a handheld at its core with TV-out support, so you can cast content on your TV. It's based on the Raspberry Pi 3 Model B, provides support for a number of systems, such as Lakka, Retropie, and Recalbox.
Though it comes with physical buttons, the screen is also touch-sensitive. In games that support the feature, you can use virtual control in place of the buttons. There's a lot that this compact device has to offer, including the internet and programming on top of games.
It's sophisticated enough to allow you to run 50 different simulators, suitable for around 40,000 games. There's a 3.5-inch HD IPS screen on the front which serves an image equivalent to 60fps quality. It features a 480×320 resolution, which is also a decent spec for a display this size.
And in the event that you want to play from the comfort of your home, this handheld can convert into a home console thanks to the HDMI output.
You can continue playing games on TV this way. Other than that, the sound quality is good mainly because it utilizes a two-channel stereo speaker.
You can also take advantage of the 3.5mm audio jack for listening through headphones.
Another superb feature is support for controllers. Want to take your gaming experience to the next level? Hook up your controller and invite friends to play with you.
The battery life is also fantastic. It packs a 9000mAh battery, so you can shake off your worries about running out of power.
…
Those are our picks for the top 10 Retropie handhelds available in the market. Other honorable mentions include this E & M ELECTRIC & MAGIC handheld and this Waveshare handheld. Just because they're mentioned the last doesn't mean they are inferior in quality.
Nearly all have a premium price tag, which is quite telling of the quality. Just make sure to read the specs to find out if one lives up to your expectations.
Each product has different specs. It's not just about having a huge game library. A quality emulator goes beyond that.
An HD display, comprehensive control buttons, a powerful processor, all make up a good emulator. These features vary from product to product, so don't miss all the important details before you make a purchase.
FAQs – Retropie Handhelds Recommendation
---
1. What is Retropie?
RetroPie is a system for running old games and an application for managing them. It was made for the Raspberry Pi, which is why it is called "Pie."
On RetroPie, you can play a large number of old games from a wide range of classic systems. Even though it was made for the Pi, it can run on other platforms as well, such as the ODroid C1/C2 or any PC that runs Debian.
RetroPie is a package that combines RetroArch and EmulationStation. If you're unfamiliar, EmulationStation is the graphical front-end for RetroPie, whereas RetroArch is the front-end for emulators that allow you to run vintage games on gaming devices like PCs, game consoles, and SBCs.
2. Are the ROMs included in the SD card if you buy a ready-made portable retropie console?
It depends on the brand and model you purchase. For consoles with a free SD card, ROMs are usually installed onto it. The bigger the storage, the more ROMs it can hold. However, the number of games goes hand in hand with price.
With that in mind, if you want a console with a huge catalog of games, you'll need to spend more.
3. What game system does a console support?
This varies across products, but the information is usually stated on the description page. You can find it in between the specs. It's commonplace for a console to support multiple platforms.
It's emulation after all in which the purpose is to imitate the behavior of another platform. In this case, that platform is an old gaming system, like NES, SNES, Sega Genesis, etc.
4. Are Retropie handhelds expensive?
Consoles that are based on Raspberry Pi are moderately priced. You're lucky to find one that costs under a hundred bucks.
Many of them are above this mark. It's a good idea to spend more on a console because it means you'll have access to more features.
5. Does it include an SD card?
Consoles with thousands of games are likely to include a free SD card. The games are stored in the memory, too.
Bigger capacity means better chances of adding new games. Basically, there's more flexibility in it including removal of the existing games.
6. My console features safe shutdown, what is that?
It's a mechanism to turn off a console using the power switch instead of doing it through the system. What benefits does it have?
Well, this feature saves data automatically, so there is no need to worry if you accidentally turn it off because nothing is at stake.
7. What to do if the buttons don't work?
This problem may or may not be caused by hardware defects. It could be caused by incomplete system installation. Find out if there are additional drivers that you have to install in order to make the buttons work.
Remember that every product is different. Please read the product description carefully to spot this type of information. If it does require you to install extra drivers, find the instructions on how to do it correctly.
8. What is the best Raspberry PI 4 Handheld?
We can expect minor and major upgrades with every release of a new Pi model. The Pi 4 Model B is one of the most recent offerings. It's available in 3 different variants; 1 GB, 2 GB, and 3 GB. Many handhelds are based on the Pi because the mini computer is powerful for emulating older video game systems.
Nowadays, you can find a wide range of consoles with a Pi locked tightly inside the housing. The new offering has many advantages. It sports a slender form factor. It comes with four USB ports and has overall better flexibility. It also incorporates CSI and DSI along with a MicroSD card slot. Moreover, it includes a 40-DPI GPIO header, a necessary interface to acquire direct access for the connection of any external device.
All things considered, the Pi 4 shows significant improvements as a successor. Compared to the Pi 3 B+, it has an inevitably speedier processor. The 1.5GHz ARM Cortex-A72 is responsible for the top-notch processing performance. It also has more DDR choices than its older sibling, so it's clear which one has the leg up.
Some Retropie handhelds have started to be produced with this computer, though they're still a bit scarce. They'd be more expensive, to be sure, but they'd have more features.That said, the Pi 4 is not perfect. It's still plagued with thermal problems, not to mention that it doesn't snugly fit into cases made for older Pi models.
a. PiBoy DMG
b. PiBoy SRX
c. PiBoy CM4x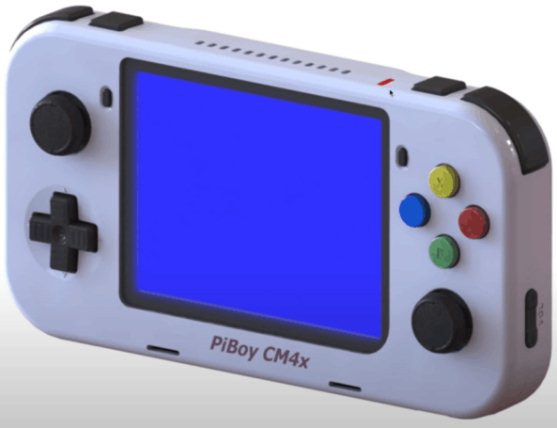 9. What is the best Raspberry PI 4 Handheld Kit?
A Raspberry Pi kit is what you'll need to build your own Retropie handheld. It's supplied with items needed to assemble an intact retro console, like a Pi computer, a case, a memory card, etc.
Putting together all these components requires technical dexterity, so we get it if some people prefer to buy ready-made products. Besides, they're overwhelmingly more popular than kits.
Since the Pi 4 is relatively new, you may find that handhelds manufactured using the system are few and far between. It doesn't help that companies often don't go into detail about the internal components of their handhelds. They just share things that interest buyers, like features.
We've compiled this list so that you know which portable retro devices have a Pi 4 in them. There's the PiBoy (see the image above), which was brought to life thanks to the crowdfunding platform Kickstarter. Many wanted to see it take off, which it did after the collective effort by the community.
With the Pi4 inside, it's more than capable of loading most ROMs. Also from the same line is the PiBoy SRX. The display is generous, layered with tempered glass, and packs a good chunk of buttons.
There are even shoulder buttons which come in handy for playing PlayStation titles. Yes, it's a bit bulky, but quite expected given that it's powered by a Pi 4. The following ones are kits you can consider for your DIY project:
a. GamePi43 Kit Portable Gaming Console for Raspberry Pi B+/2B/3B/3B+/4B
b. Handheld HAT for Raspberry Pi 4B/3B+/3B/2B/B+/A+/Zero/Zero W
10. What is the best Raspberry PI 3 Handheld?
The Raspberry Pi 3 is an older iteration, which technically makes it less advanced than the current offering.
However, it still proves to be a powerhouse when embedded in a handheld. You can find some portable devices with this computer fitted into them. The MintyPi is one of many examples.
The pi suffix gives it away. It's indeed a Pi-based unit. Just like the PiBoy, this device materialized because of the support it got from the community. This one features quite a tiny screen, but the vital buttons like the ABXY and directional pad are all included.
A retro gaming machine doesn't have to be large to attract attention, though. It may lag behind in terms of convenience, but portability is way ahead of larger models. It can play games up to the PS1.
Next up, we have the Freeplay CM3, which also has wide support for classic systems. The SNES, Gameboy, and N64 are aboard. This is more suited for people with basic knowledge of emulators. On top of that, it's not affordable at all. $200 is probably not enough to get it up and running.
a. Gameboy 1UP Micro
b. Freeplay CM3
c. MintyPi
Wrapping it Up: Raspberry PI Based Handheld Consoles
---
Clearly, it's easier to buy the best Retropie handheld than to create a gaming system using the software. However, some people choose the latter for the sake of experience. Not only does it take more effort, but it may also cost more although Retropie handhelds are very diverse. Some cost less than developing a system, while others are on the higher end in price.
If you have the time to buy all the tools needed for its creation, then go for it. Otherwise, buying is a good idea as this saves you time. However, it's still important to choose a quality product since there are many to choose from.
Raspberry Pi-based consoles vary in features. You need to make sure the one you buy fits all your requirements. For example, a console may come with a 32GB SD card. Ask yourself if this capacity is enough or not. If not, don't worry because there are products that have much bigger storage.
Another example is supported platforms. Consoles can be vastly different when it comes to system support. Find out if the one you choose includes formats you want to be supported. The extent of the support will also affect the number of games a console has.
Don't be surprised when a console with extensive system support has over ten thousand games. While it sounds too good to be true, it's a possibility.
Disclaimer: The information in our articles should be considered for general informational purposes only. If you need expert advice for a particular question, you should seek the help of a licensed or qualified professional. Any action you take based on the information on this website is strictly at your own risk.

Hobbiestly.com is a participant in the Amazon Services LLC Associates Program, an affiliate advertising program designed to provide a means for sites to earn advertising fees by advertising and linking to Amazon.com. We also participate in other various affiliate programs, and we sometimes get a commission through purchases made through our links, without any additional cost to you.