Finding the best retro handheld game consoles are sometimes confusing as various (relatively) unknown brands are everywhere these days.
Many of them even have thousands of games to explore, but more games aren't necessarily better.
There are other important considerations like screen size, TV output support, multiplayer mode, etc.
Consoles are available in different variants.
There are handheld consoles, which don't need a connection to a TV set.
There are also models that come with an AV or HDMI cable. This cable is supposed to transmit video and audio signal to a TV.
---
If you've found that the games you used to play that were fun back then have remained fun even to this day, then you might enjoy what we offer on our retro game store.
---
For this reason, you should know what you're looking for.
Don't focus only on the games. Instead, get to know what you're going to do with it.
If you need one that offers high mobility, a handheld console is the right choice as it has its own display.
If the number of games is your highest priority, then get one with a bigger library.
Retro games have found their way into the mainstream. The sheer number of emulators introduced in recent years is a proof that they have gained new interest amongst the younger generation.
The Best Retro Game Console: Handhelds with Built-In Games (2021)
---
1. MEEPHONG Handheld Game Console
Finding a console with pre-installed games isn't difficult at all. The real challenge is to find one that suits your needs.
Some consoles have more games than others. However, they are not always the best options for you.
This product has only 168 games, but even so, doesn't make it a bad console per se.
As long as you're content with the selection, that's all that matters.
What's the point of buying a console with thousands of games when you'd never play most of them?
This one is perfect because it's likely that you will play all of them.
When it comes to features, it has TV output support. That means you can play on tv in addition to using the 3.0-inch LED screen.
It's exciting to play games on a larger screen even if the games themselves aren't in advanced graphics.
This console is made for everyone. You can buy one for yourself or your child.
Kids love games, so we don't see how he's not going to appreciate this as a gift.
Consoles have been favorite birthday gifts for decades, so don't miss out the opportunity of pampering him with this product.
With an extra joystick, you can team up with him in a game.
The console is available in black and it has dimensions of 4.0 x 2.7 x 1.0 inches.
The average handheld console can run for about 5 hours, but this offers 6 hours of continuous use.
2. Weikin Handheld Game Console
If it wasn't for the name, it's easy to mistake it for another console because there are a lot that take on this form factor, but let's not downplay it just yet.
You need to read the specs to find out what's inside this compact device.
First of all, there are 168 games built into the console, some are well-known titles like Contra and Tetris.
It also includes an AV cable for connection to a TV set.
No controller is included in the package, but that's understandable given the price.
The good news is there are many consoles that look exactly like this, so you won't have a hard time finding a matching gamepad.
It's also very lightweight, making it ideal for playing while on the go.
If the absence of a gamepad bugs you, there is a 850mAh to make up for it.
Others can run up to 5 hours in a single charge, but this allows for continuous use of up to 8 hours.
Another drawback of this device is it doesn't save game progress.
Unless you're highly skilled, chances are you have restart over and over again.
This is a problem with many handheld emulators, unfortunately.
3. BAORUITENG Handheld Game Console
The large screen on this console is attention grabbing.
3-inch has become a standard size for many handhelds, so when one breaks the mould, it's hard to not notice.
Apparently, it's not only the ample screen size that makes it interesting.
The console is also loaded with 3000 retro games, a large number for such a small device.
It supports storage expansion of up to 32 GB via a TF card.
Another advantage it has to offer is multi-language support.
Others only include English as the default with probably Chinese as an option, but this goes the extra mile with 26 languages.
Speaking of the display, the 4.3 inch TFT display offers rich image quality.
Despite the large screen, the console manages to appear slim. You can even put it in the pocket.
Add it to the fact that it supports 720p TV output, the console is value for money.
If you're wondering about the price, it costs a little over $50.
There are many others that cost more, but with all the features included, this device is worth buying.
And it's not just for playing games, anyway. The same exact device can be used to browse images, read e-books, and do other things.
The game system support is also extensive.
Whether you love Sega games, or NES, or others like CPS, GBA, GBC, the library is surprisingly big.
4. Retro Plus Handheld Games for Kids and Adults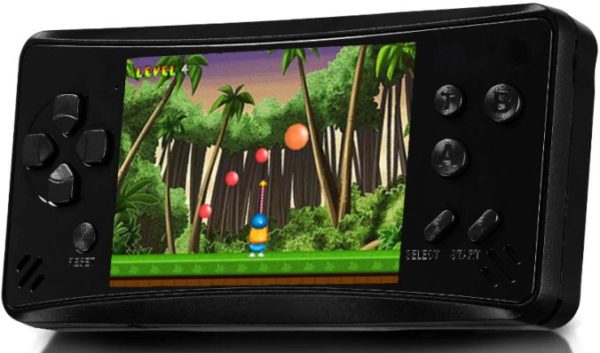 As with other retro handhelds, this also offers a variety of games. There are 218 in total.
The console is easy to use and navigate. You can start playing right after you turn it on.
The games are quite diverse. There are puzzle games, adventure, action, and much more.
They are the kind of games that will relive childhood memories especially if you grew up with them.
And then, there's an option to connect the device to a TV set. Just plug in the AV cable coming with the package, the video and audio will be transmitted to your television.
The working time is quite decent, too. It allows you to play game for up to 6 hours nonstop.
Another awesome feature is the 3.5-inch HD display. Games look good on the screen.
And if you want a surround sound while playing games, just attach your headphones.
What's in the package? It includes basic items like an AV cable, a user manual, a USB cable, and of course, the console itself.
5. Diswoe Handheld Game Console – Retro Mini Game Player
This console's screen is slightly smaller than average. It measures 2.8 inches, not really noticeable especially compared to 3-inch variants.
Although lacking in screen size, the console includes a whopping 400 classic games. Some products have fewer than 200, so this is a pretty good number.
As usual, TV output support is present. You can play on TV in case the small screen interferes with your gaming experience.
In terms of design, this device is compact, like you can fit it in the pocket or another small space.
It's powered by a 800mAh battery, enough to get you up to 5 hours of play.
By the way, the AV cable has a terminal for audio. It's the red one, and you're supposed to connect it to the audio terminal of the TV.
The yellow one is for video or image. It should be plugged into the yellow terminal of the TV.
6. Mademax RS-1 Handheld Game Console – Classic Retro Game Player with Portable Video Games
Game consoles are available in handheld variants. This product, for instance, has its own LCD display and speaker to let you play without the need to connect it to the TV first.
This simplifies everything, exactly why portable consoles are becoming so popular.
It has a total of 152 retro, not the most complete, but still takes long to finish all of them.
And then, it also supports TV output to create an immersive gaming experience.
One could argue that transmitting the audio visual to a TV won't make a difference in quality, but it's still a different experience.
Some people would rather play games on a larger screen if given the opportunity.
But for travelling, carrying a TV around isn't practical at all.
This is when the built-in display comes in handy. There's no need to worry about an AV cable or another as it takes just the console for you to play.
This handheld device is lightweight and powered by 3 AAA batteries.
It makes a perfect gift for children, friends, relatives, and others you care about.
They would have fun with the games that belong to several categories, such as strategy, card games, arcade, shooting, sports, puzzle, to name a few.
7. Beijue 16 Bit Handheld Games – Large Screen Preloaded 100 HD Classic Retro Video Games
The form factor of this device isn't exactly distinguishable from the rest, so is the color.
Many retro game consoles come in solid colors. It's easier to identify the unique characteristics by diving into the specs.
The number of games is the first differentiating factor. It has 100 games which consist of educational and casual games.
Anyone can play, but judging by the preloaded games, it seems that it's marketed towards the younger audiences, especially those who just started learning to use game consoles.
Of course as an adult you can also find pleasure in using this device. Design-wise, nothing stands out.
It looks quite average from build quality to color. However, it's still made of a shatterproof material.
There's no denying that plastic can catch fire, but it's still resilient against other damaging factors.
On the front, you'll see a 3-inch display that produces good image quality.
Under the hood, the console promises a fun gaming experience with its 16bit retro games. There are various categories, too.
Charge 1 hour to play for up to 4 hours. It won't abruptly shut down because it comes with a low battery reminder. There is also one to show that the battery is full.
FAQs – The Best Retro Handheld Game Consoles
---
1. Do all consoles have built-in games?
It depends. If you buy the emulator type, then games should be preloaded onto the unit.
But if it's an old console that has a cartridge slot, you'd need ROM cartridges to make it work.
The good news is new versions of older consoles include free games, too.
2. How many games can I play?
The number of games varies across consoles, but classic games like Super Mario and Tetris are almost always included.
However, the system support also plays a role in the amount of games provided.
If a console is focused on NES emulation, then expect to see more NES games on it. If it supports other game formats, then you should see a lot more titles.
As said before, some of the most complete consoles have up to 3000 games ready.
3. Are controllers included in the package?
Some do have one controller or two. Others don't have any. Read the description to find out if a product includes a controller.
Consoles that are supposed to be connected to a TV usually include controllers.
Meanwhile, handheld devices are more likely to not include a gamepad although it has become a standard addition in newer products.
4. Buttons on the joystick are unresponsive, what do I do?
Replacing the button pad will usually fix the issue, but if the problem isn't too serious, you can consider cleaning it first.
It probably has to do with dust or particles getting trapped under the buttons.
Use a brush or a wet cloth to wipe off dust. Alcohol might also help.
5. Are old game handhelds expensive?
Consoles with built-in games come in a variety of prices.
You can get some for under $50. Others are priced within the range of $50 to $100.
There are also variants that cost over a hundred.
Final Thoughts on Picking Retro Gaming Handhelds in 2021
---
Classic games take us back to the fun of childhood.
Although the games have largely faded from public eye for quite some time, they have made resurgence recently following the release of some retro consoles.
They evoke strong feelings of nostalgia. It's not hard to find the best retro handheld game consoles with built-in games nowadays.
Not just ones from reputable manufacturers, you can also find emulators which cost much lower than official consoles.
Every console has a different collection of games which span across multiple genres. For this reason, you must know what you need before shopping around.
A quality console isn't necessarily one that burns a hole in your pocket. Take into account the number of games built onto the system.
There are consoles with hundreds and thousands of games.
Let's say you want one that has an extensive library, then you should be willing to shell out more.
User interface is also important. A good console needs to feature an interface that's easy to navigate.
Another important requirement is TV output support since not all consoles have a dedicated display. For some, the only way to play is to connect them to TV sets.