Best Mini Arcade Machine: Reviews and Buying Guide 2021 (still perfect for 2022)
Games in the 80's and 90's weren't as advanced as they are today. Graphics looked pixelated, but even with the lack of crispness, games were still fun to play. They…
Games in the 80's and 90's weren't as advanced as they are today. Graphics looked pixelated, but even with the lack of crispness, games were still fun to play. They reached a new height in popularity and keep growing until today. Nowadays, there are many consoles that allow us to play all kinds of classic games. And of course, the graphics have improved by leaps and bounds.
When you compare a brand new game to one released decades ago, there will be a striking contrast in graphic quality. One would look blocky as hell, while the other one would look crisp and detailed. Although far from perfect, retro games still have that charm that make many people want to experience them once again.
---
Enjoy Retro Gaming? then you might also enjoy what we offer here on our online retro game store.
---
Well, if you want to play games of the days gone by, you can buy one of the best mini arcade machines. They are like emulators, but with a unique cabinet design. You can get one for less than $50, not too expensive right? Playing classic games today isn't just a dream. No, we aren't talking about the old console you bought years ago. We're talking about re-released versions of those old consoles.
Another way to play classic games is using an emulator. They take on various forms, such as handhelds, consoles with TV output support, and mini arcade machines.
The Best Mini Arcade Machines You Can Confidently Buy in 2021 (still our top choice for 2022)
---
1. My Arcade Retro Machine Playable Mini Arcade: 200 Retro Style Games Built In
This arcade machine has a collection of 200 games. They cover different genres, such as racing, sports, puzzle, to name a few. It measures 5.75 inches in height, which is small enough to fit in any space. The device is powered by 3 AA batteries. They are not included in the package, though. If you want to operate the machine, then you have to buy them separately.
There is a 2.5-inch screen on the front. While not the largest, it's decent especially for those who just learned to use these kind of machines. Despite the small size, the screen can produce vivid colors. It's better than a large screen with a limited resolution. Who is this for? It's for anyone who wants to recollect the fun of using an arcade game.
It may not give the same experience as a full-sized machine, but the nostalgia factor is definitely there. It's like downsized version of an actual arcade machine. The good visual is one of the reasons why the experience feels surreal. Furthermore, the authentic game sounds add depth to the games.
2. Golden Security Mini Arcade Game Machine RHAC01, 156 Classic Handheld Games Portable Machine for Kids & Adults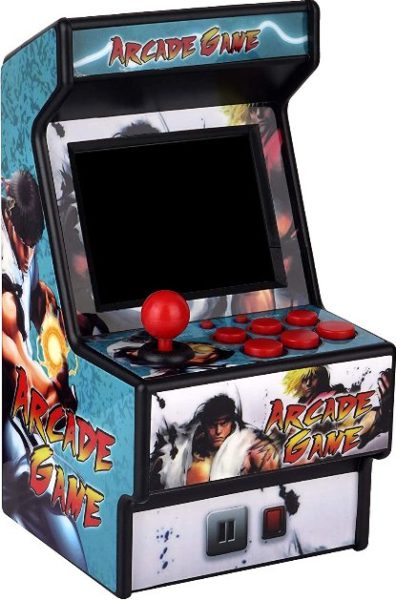 As with handheld consoles, mini arcade machines also come in different numbers of games. This one has 156 preloaded games. That's decent enough especially for novices. There are many categories, too, including race, action, and chess. If you can't wait to see the games, just buy one unit and explore the library yourself.
Unlike other machines, this doesn't require the use of a controller. There are buttons and controls built on the machine. They replace the buttons commonly added to conventional joysticks. This machine runs on a 700mAh battery which allows you to play for a few hours. In terms of display, it features a 2.8-inch TFT screen.
It's slightly bigger than that of the previous model, but can it keep up quality-wise? Well, you should see it in person to tell the difference. Although it has everything to make for a functional console, it still supports TV output. In case you aren't satisfied playing with the small screen, you can transmit the audio/video signal to your TV. It's a lot of fun playing retro games on TV.
What's in the package? In addition to the machine, there is also an AV cable for TV connection, a USB cable, and a battery. Another thing you might like is the ease of use and intuitive interface. All you have to do is insert the battery and then turn on the switch located at the back. That's pretty much it. Once the screen comes on, you can select games and play.
3. Tiny Arcade Pac-Man Miniature Arcade Game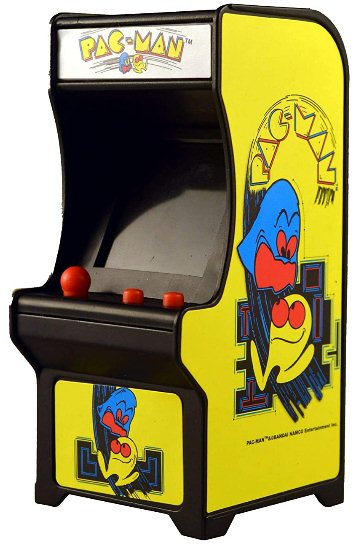 As the name suggests, this is a miniature version of Pac-Man game. It's worth-noting that not all arcade machines have multiple games. Some are focused on one, but they're not inferior in terms of gaming experience. This machine is small enough that it can easily slide into a backpack or any space for traveling.
The screen also comes in a high resolution, which really enhances the play. Another thing we find appealing is the sounds which are very close to the original. Sounds are obviously a factor that determines success in emulation. The whole machine just measures about 4 x 2 x 2 inches.
Although it's nothing compared to a full-sized arcade game, you'll still have fun playing the game especially because the graphics are outstanding for the price point. You can get it for less than $20.
4. Mini Arcade Game Machines for kids with 200 Classic Handheld Video Games
The new upgrade of this arcade machine offers maximum eye protection. There are a total of 200 games pre-installed across different categories, such as sports, puzzle, action, table, and adventure. Anyone can play the games, but children in particular will benefit from the sophisticated elements. Playing such games will have a good impact on their cognitive skills.
As for adults, games are also fun to play and addictive. For your information, the machine operates on 3 x AA batteries. It offers up to 4 hours of continuous play. Meanwhile, the screen is a 2.5 inch TFT display. It's quite a commonplace for mini arcade machines.
Another advantage it has to offer is awesome sound effects. You'll feel like playing on a full-sized machine thanks to the superb sound effects. Speaking of build quality, the unit feels solid as it's made of a robust material. The whole thing measures 7×3.5×3.5 inches. To start playing, you must insert batteries first.
Unfortunately, they aren't included in the package, so the only option is to buy elsewhere. During setup, there are some problems that you might face, like the screen goes blank. It may have to do with the batteries. Make sure they're properly installed. Another possible problem is no sounds coming out of the device. Try to adjust using volume controls.
5. Mini Arcade Game, 4.3 Inch Retro Arcade Console, Classic Handheld Video Games
Do you need an arcade machine that doesn't put a strain on the eyes? Mini arcade machines come in all screen sizes. Smaller machines aren't necessarily worse or less reliable. They simply just have small screens. For some, it's highly uncomfortable playing games on a small screen. A 3-inch screen already feels cramped enough, and then some products manage to shrink screen size more.
Well, if you don't want to deal with this inconvenience at all, you can invest in this product. It's a bit pricier than smaller machines, but it's expected given the screen size and other extra features. One of the features we're talking about is a total of 3000 HD games.
Can you imagine how large of a library that is? The previous models have hundreds, but this takes the lead with 3000. You won't run out of games to play. They fall into many categories, such as strategy, adventure, arcade, shooting, action, etc. The best part is it supports various game formats, like SEGA, NES, GBA, GBC, GB, and more.
And if that wasn't good enough, it also features a high-quality speaker and multi-language support. It includes 26 languages to be exact. As for the screen, it's a 4.3 inch TFT display with a resolution of 480×272. Although the screen is quite large, the device remains compact. You can pack it in the carrying bag and take it for traveling.
6. My Arcade Micro Player Mini Arcade Machine: Galaga Video Game, Fully Playable
Now if you're looking for a mini arcade with a 3.5mm headphone jack, this can be an option. Design-wise, it takes cues from conventional arcade machines and it's quite accurate, too. The screen is 2.75 inches wide and in full color quality.
It also features a joystick that can be detached with ease. Take it off whenever you feel like playing with the directional pad. Besides a headphone jack, there's an external speaker along with volume controls.
For the record, the package doesn't include AA batteries, which is the type it operates on. Therefore, you have to buy them separately. The machine needs 4 of these batteries to work. Galaga made its debut in the eighties, and even to this day, it's still insanely popular and loved by gamers. If you haven't had an arcade, yet, consider this or another model.
FAQs – Best Popular Mini Arcade Machine
---
1. Can I add ROMs to the arcade machine?
It's possible to add ROMs to a machine, but you need to read the specs and see if this option is available. Data transmission is usually done via USB ports located somewhere on the machine. It's also important to the read the instructions, so that you know how to load games into the device.
2. Do I need a joystick to play?
Just like full-sized arcade machines, the mini variants have controls on the front that eliminate the need for a joystick because the controls have the same function as those in a joystick. However, some products may also include an extra joystick for a unique gaming experience.
3. Can I connect it to a TV?
This feature is optional. Check out in the box if there's an AV or HDMI cable. If one of these is present, that means the machine supports TV connection. Just plug the cable in the right terminal, so the video and audio signal can be received by the TV set.
4. How long can I play?
It depends on the battery capacity. Larger capacities equal long hours of game time. This should be one of the primary considerations in choosing a mini arcade machine.
However, it's also important to stop every once in a while. Looking at the screen nonstop can wreak havoc on your vision. For this reason, even if a machine provides a long duration of play time, you still have to rest every one or two hours to maintain the health of your eyes.
5. How many games are included?
There is no definite answer to this. Every product has its own library. There are machines with hundreds of games. There are also some that have thousands. Interestingly, some machines have only one.
What's the appeal of a single game machine? Well, they are popular, so there has to be a demand for the product. It doesn't take multiple games to make an arcade machine appealing. One game with good gameplay is enough to stir great excitement.
Final Thoughts on Picking The Right Mini Arcade Machine in 2021
---
Some of the machines mentioned above are solid in terms of quality and gaming experience. They also have quite extensive game lineups. Why should you get a mini arcade instead of a handheld console? Both have unique qualities to them. While they play similar games, they can't replace each other.
The best mini arcade machines have cool elements that make them unique. If you want to reminisce on the fun of playing retro games, why not buy one of these machines? There are quite a lot of choices out there. They vary in design and size.
In choosing a mini arcade, screen size should be one of the first to take into account. Some products feature 2.5-inch screens. While playable, keeping the eyes locked on a small screen can cause eye fatigue.
If you don't want that, be willing to invest in a larger machine. Larger machines usually have larger screens and better build quality. They may also have more games to play.