The Best Donkey Kong Mini Arcade Machine [2022]
Donkey Kong is an arcade game by Nintendo that the main character was also named after it. As we know, it introduced one of the biggest characters in video game…
Donkey Kong is an arcade game by Nintendo that the main character was also named after it. As we know, it introduced one of the biggest characters in video game history, Mario. Shigeru Miyamoto was the guy who invented this character.
The name was derived from the words Kong and Donkey. Kong was inspired by King Kong, while the donkey was a word Miyamoto thought had the same meaning as stupid. In the original version, the player needs to jump over barrels to save the girlfriend held hostage by Donkey Kong.
Kong tries to fail Mario's way to the top by throwing barrels at him. It starts out easy, but the difficulty increases with each level. Although the game was introduced in the arcade game machines, it found its way to other platforms.
If you want to return to childhood nostalgia with the Kong, playing it on a Donkey King mini arcade machine sounds like a good idea.
Unfortunately, due to licensing or another reason, it's very difficult to find this game on emulators. But there are knock-off versions on some of them. While not perfect, they are better than nothing, though. Please check out some of the mini arcades below.
Best Mini Donkey Kong Arcade Machines
---
Mini Arcade Games Machine Portable, JULYFOX Handheld Retro Game Consoles
Finding a console that includes Donkey Kong takes a lot of effort. This is one of the mini arcades that luckily include Kong. If you want to relive childhood memories with this amazing game, why not buy one? It's not just Donkey Kong. There are other fun games on it, too, like Galaga, Contra, and Street Fighter.
The device comes with a TF card support of up to 32GB. That means if you need more games outside the built-in titles, you can make use of the expandable storage. It supports numerous game formats, such as GBC, GB, SFC, CP1, CP2, and NEO. One thing really commendable about this device is the large screen.
When other consoles are still stuck with 3-inch screens or smaller, this offers a new gaming experience with its 4.3-inch full view display. It also comes equipped with a 2200mAh battery that can net around 5 hours of playtime. And that's not the end of it. If you're looking for a mini arcade that has multi-language support, this is the one for you.
It also allows the user to play music in various formats, including WMA and MP3. A mini arcade and a handheld can have similar collections of games, but they offer different experiences.
With a mini arcade, a joystick becomes a standard control. If you want to play games like you play ding dong, this is a better choice than a handheld console. How many games are included? There are 3000 games that you can play in your spare time.
RUIER Retro Mini Arcade Game Machines with 220 Classic Portable Gaming Arcade Cabinet Children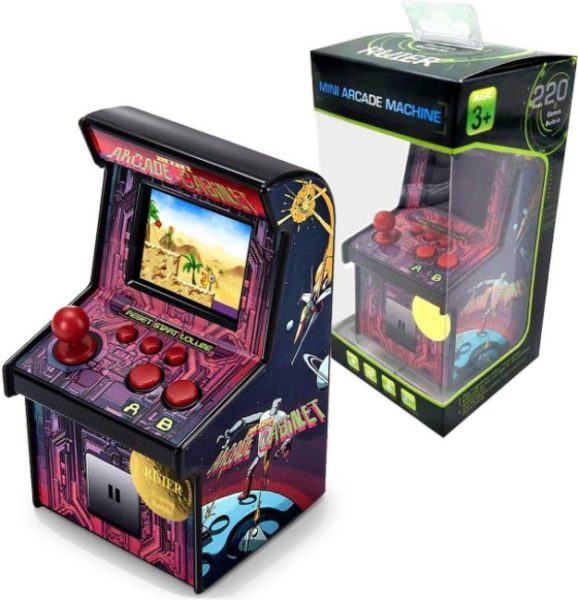 This console has a total of 220 classic games. The bad news is Donkey Kong can't be found anywhere on that list. Should this stop you from buying this mini arcade? We don't think so.
Firstly, it has a lot of other fun games which fall into various genres, such as venture, action, sports, and much more. Secondly, it has another version of Donkey Kong, or better just be blunt, a knock-off version. It has similar gameplay, though. If you have a hard time finding a machine that has the original Donkey Kong, this can be an alternative.
It does the same exact thing, so it should be fun. Since it is a replica of a full-sized arcade machine, it doesn't use coins to play. Instead, the device is powered by 3 AA batteries which can get you up to 4 hours of continuous play. This variant also offers more advanced eye protection, so you can play more safely.
My Arcade Retro Arcade Machine X, Playable Mini Arcade: 300 Retro Style Games Built In
With such a large library, it turns out that the device doesn't feature Donkey Kong. Well, at least you know it in advance, so you can make an informed decision. It's still fun to play because there are 300 games on this handheld device.
The cabinet is 5.75 inches tall, while the display measures 2.5 inches diagonally. The color quality is nice, too. Insert 3 AA batteries and you're ready to play. The package doesn't include batteries, though, so make sure to buy them separately before playing. In the meantime, other features are similar to other mini arcades.
It has buttons with a backlight, a volume control, and a speaker. Is it worth buying? If you plan on buying a console solely for Donkey Kong, then this might leave you disappointed. Popular titles can be difficult to find on emulators sadly.
But if that's not a big deal, then the machine is definitely a must-have. It has a lot of games to have a blast with. Even if none of them is the game you originally wanted, they will keep you entertained.
My Arcade Data East Classics Mini Player, 10 Inch Mini Arcade Machine Cabinet
This console has 35 classic games, but Donkey Kong doesn't make the cut. How so? As said before, it probably has to do with licensing. Add it to the fact that some mini arcades are just focused on one game instead of many, you'll even have more difficulty finding this game on them.
But let's see the bigger picture. Although the game is missing, it offers quite a lot of other games. The full list can be seen in the product description. As for the specs, it has a 4.25-inch screen, which is generous given that many consoles don't even have 3-inch screens or smaller. This creates a wonderful gaming experience.
The sound effects are also stunning. Part of the reason why playing on an arcade is such an incredible experience is because the sound effects are authentic. This device tries to replicate that through the external speaker and we think it does the job very well.
There are also volume controls as well as a 3.5 mm headphone jack in case you want to hear better sounds through your headphones. By the way, the joystick is functional and removable at the same time. If you prefer to play using the directional pad, then just go ahead.
GBD Kids Mini Retro Arcade Game Consoles Machine, 200 Handheld Video Games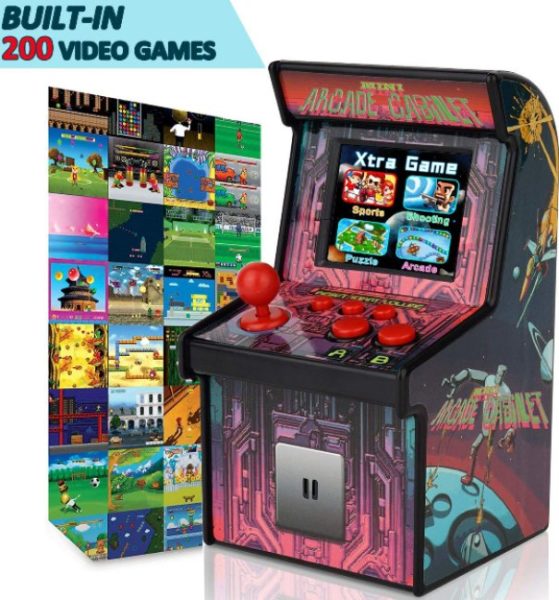 One of the things that tempt us to buy a console is because it includes games we want. This one unfortunately doesn't have that convenience, but you can work around it. Donkey Kong is quite difficult to find on emulators, but there's an option you can try with this product. That option is to download the NES version.
Remember that the device supports memory expansion. All you have to do is open the memory card. After that, create a folder WMGame and then put in the suitable game format, which in this case is NES. Hopefully, this will solve your problem.
Now back to the specs, this device looks quite appealing with the 200 preloaded games. It also features a 2.5′ TFT screen that produces awesome graphics. To start playing, turn on the device and then select a game. Use the joystick to control actions. It also comes with volume control to adjust the loudness of the speaker.
Thumbs Up UK Mini Arcade Machine with 240 Pre-Installed Games
As the name suggests, there are a total of 240 games built onto the system. Don't be discouraged if you can't find your favorites on the list because the rest are still interesting to explore.
Speaking of the design, this machine has cool artwork all over the cabinet. It also features rear light to provide illumination in low-light settings. Just like many similar products, it operates on 3 AA batteries. They are sold separately. It has dimensions of 3.46 x 3.54 x 5.91.
What we like about the design is the use of black as the predominant color. Others choose to feature popping colors. This one has a more subdued appearance, but black looks good on it nonetheless.
FAQs – Vintage Donkey Kong Game
---
Do mini arcade machines have Donkey Kong?
Some do, some don't. If that's your purpose in buying this machine, then it's important to read the complete list of games that a product has.
The information is usually included on the product page. For the record, Donkey Kong has several versions. Even if a machine doesn't have all versions, it could feature one or two.
Are there similar games on the consoles?
Some consoles make up for the lack of the original game with games that have similar gameplay. If you're fine with that, you can get a device with a Kong knockoff on it.
These sorts of games are usually reminiscent of the original, but there are some noticeable differences. Well, they're knockoffs after all. They can't outright copy the original game and make them identical.
Are the machines different from other mini arcades?
Except for the game library, there isn't one thing about Donkey Kong arcade machines that are exclusive to them. Most of these machines have the same form factor.
They look like miniatures of full-sized arcade machines. They still vary in features, though. Some of the differentiating factors include screen size, number of games, dimensions, and price.
Does every machine contain multiple games?
This is not always the case. Although there are machines that include hundreds of games, there are also some focused on one game only. One example is Pac-Man mini arcade machines.
These devices may feature officially licensed of the original Pac-Man. That means everything will look and sound exactly like the original game. There's nothing wrong with single-game arcades. They could offer a better overall experience than machines with plenty of games.
How to add ROMs?
You can ask for instructions on adding ROMs right from the supplier. As long as a product has big storage, there should be an option to add or delete existing ROMs. However, you need to learn how to do it correctly.
Final Thoughts on Buying Modern Mini Arcade Machines
---
There's no denying that Super Mario was such a hit back then, but we shouldn't forget the game that first introduced the worldwide famous character. It is Donkey Kong, the ape's original game that took the world by storm. It became a staple in arcade game machines.
Donkey Kong has become such a phenomenon in the gaming industry even to this day. This has made some gamers find a way to return to the old days when it first burst onto the scene. Well, if you want to experience the glory days of Donkey Kong once again, you can try a Donkey Kong mini arcade machine.
While it's difficult to find it on retro game consoles, some have it. Others have to settle with knock-off versions. If you want to play the original game, perhaps the most convenient way is by buying a new NES or SNES. They are relatively new and include all your favorite NES games.
Hoping for the game to get featured on an emulator sounds like wishful thinking more than anything, but the beauty of an emulator lies in its huge library. Even when it doesn't include the games you want, there are still plenty of others that are just as exciting.
Just make sure to check out the full list of games that a console has because in some cases, they only have a couple or even one game.