Best Cheap RC Cars: Reviews and Buying Guide 2022
Seeking the best cheap RC cars on the market? We have done thorough research and have some recommendations for you here.
As an Amazon Associate, we earn from qualifying purchases (at no extra cost to you). See our disclaimer page for more information.
If you know what you're looking for, RC vehicles don't have to be a costly pastime. While it is true that some automobiles cost more than $100, there are plenty that cost less.
There are several elements that influence the cost of an RC car.
The first is size, which makes sense because a larger device would require more material to manufacture.
Furthermore, larger models are more likely to have extra features that entry-level ones do not.
Another influencing element is power, which is connected to acceleration and max speed.
There are several other important aspects to consider, such as design, battery, and so on.
Without further ado here are some recommendations for the best inexpensive RC vehicles.
Best RC Cars for under $200
The first noteworthy spec of this RC truck is the powerful 3000kv(18000r) motor that allows it to accelerate up to 60 km per hour. It also uses a brushless motor which ensures a longer lifespan. Not only that, it's more energy efficient compared to the brushed counterparts.
It's built upon the 4WD system, which sends torque to the front and rear axles. This way, the vehicle has more control over different road conditions. Another thing that makes a difference is the 22 kg servo system, which lends extra stability and provides protection in the event of a collision. For the price, you probably expect more features.
Well, the unit has more to offer, such as an IPX5 waterproof and low voltage cutoff system. It results in an ability to resist water splashes. Other than that, the tires are also designed anti-skid, so they're ready to handle muddy and wet roads.
With a 2200 mAh battery inside, this RC can operate for more than 20 minutes. That's a decent figure for such a workhorse.
RC cars come in various shapes. If you're into cars that resemble those in NASCAR, this can be an option. It incorporates 4WD technology with 3-way electronic speed control. This car will always be ready to get instructions from its owner.
It also has a lightweight chassis along with an advanced RC 540 motor. This combination helps reduce impact especially when it's driven at high speeds. Aluminum alloy can be found all over its body.
Other notable features include adjustable height and shock absorbers. And if you want the front wheel to shrink in size, you can eye on the newer model. It has that component revamped. Overall, the RC car brings a lot of bang for the buck. Though it's in no way cheap, the price is justified.
3. Gizmovine RTR Hobby RC Car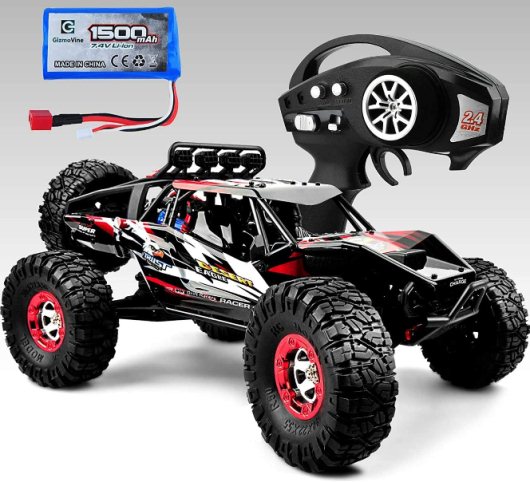 Note: This product is currently unavailable. As the best alternative, you can pick up this nice RC car from Laegendary.
One of the first considerations in choosing an RC car is size. This 1:12 scale truck is ideal for those who want a decently sized car to satisfy their hunger for off-road driving. As with many others, it also operates in 4WD to give a strong grip, especially on difficult terrains. It comes equipped with classic ball bearings known to deliver a seamless drivetrain.
Additionally, the RC car boasts independent suspension, which is exactly what it needs to perform amazingly off-road. It guarantees improved stability and rides quality.
It's powered by an RC 2216 brushless motor, can reach a top speed of 60 kmh. You can do no wrong with this model if you're in dire need of speed. The operation relies on a remote controller which works via a 2.4GHz wireless connection. The maximum distance it can go before slipping under the radar is 320m.
Hence, make sure to drive the car within this range to ensure that it responds to your commands. The chassis is lightweight, which contributes to its amazing speed. It's also made of high-quality PVC for the best longevity.
Best RC Cars for under $150
This is slightly more affordable than the products mentioned above. The form factor is one of the differentiating features. But besides its awesome design, it also has a brushless motor embedded inside. This 4×4 race car can accelerate to over 60 km per hour, which is respectable enough.
The high speed isn't much of a surprise because it sports a slender frame on top of having a powerful motor. It also features flexible steering, and the addition of anti-skid tires boosts its performance in different road conditions.
As for the remote control, there's nothing special. This uses a 2.4GHz band for data transmission. But the interesting part is it has throttle and turn trims on board. With all these features, no wonder it can conquer obstacles like nothing.
Furthermore, the shock absorbers get the job done. They're added to boost impact resistance. This way, you can drive it anywhere without fear that it may bump into a hard surface suddenly. The use of ABS takes damage resistance up a notch because it's known for being lightweight and strong.
Speed-wise, it can compete with others on this list. The maximum speed it's claimed to hit is 52 kmh, part of it is because it's powered by an RC2485 3200kv brushless motor. This variant offers many benefits, one of which is better durability and lower power consumption. Besides, it also has a low noise output.
The ESC receiver is secured with a number of protective measures, such as a low-voltage cut-off function. This RC car may not be the best on water-covered roads, but the IPX4 waterproof is a tell-tale sign that it has some water resistance ready. Some splashes here and there shouldn't damage the internal components. Just make sure it's not dipped in the water because that's beyond what it's capable of.
There are other features worth shouting about. In addition to dual-speed modes, this 4WD car also has a robust chassis that's not susceptible to impact damage. Meanwhile, the digital servo can deliver around 300 pulses in each second. This is better on many fronts, especially in response time and accuracy.
3. Losi RC Car, 1/16 Mini-B Brushed RTR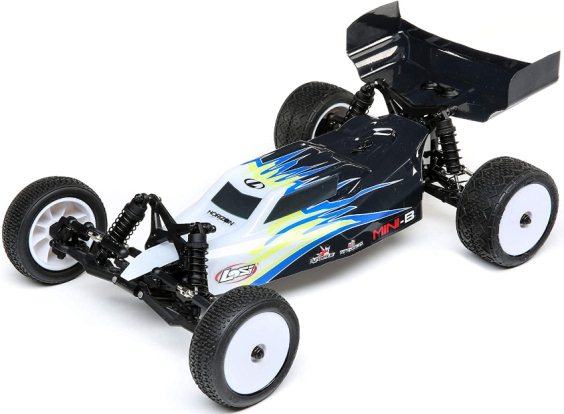 Note: This product is currently unavailable. As the best alternative, we recommend this nice RC car instead.
The design of an RC car is one factor that contributes to its speed and performance. This RC buggy capitalizes on its slimmer frame to boost on-road performance. But of course, it also has the power to propel it at a high speed.
For those into this form factor, the 1/10 scale car won't disappoint. You may notice the direct resemblance with the team LOSI buggy. Well, as the advertising states, it does take a cue from the amazing car. It's a mini version of that. It packs a 650mAh 2s lipo battery.
Though it doesn't seem a lot, a smaller frame means it has little resistance, so it doesn't need the same amount of pull power as a bigger one. By the way, the car is ready for use out of the box. There is no need to buy additional components. All you need to do is turn it on and control it via the controller.
Best RC Cars for under $100
There's the notion that cheap equates to crappy, but that's not always the case. This is a perfect example of that. For only $79.00, you get an RC unit with many tempting features.
Let's start with the performance. It's powered by a 380 brushed motor, which cranks out enough power for it to accelerate to 36 kmh. It may not be the fastest, but that's enough to give you the thrill. Besides, it's reliable to handle different terrains. Be it a muddy road or a sandy area, this mini truck will pull through. You can control it using the remote controller that comes with the package.
It operates on a 2.4GHz frequency and offers dual-speed modes. You can adjust it to your liking or skill. On another note, the suspension also does a good job of absorbing shock. This is one of the things that do damage to an RC car. With a reliable shockproof system, it can reduce impact to a minimum. Besides, it also has a PVC shell, which gives it another form of protection.
Another thing that deserves praise is splash-proof. For the price, it's nice to see it included. It's IPX4 waterproof certified, which means it has good resistance to water splashes.
2. IMDEN Remote Remote Control Off Road Monster Truck, 1:18 Scale with 2 Rechargeable Batteries
Note: This product is currently unavailable. As the best alternative, we recommend this nice RC car instead.
Simply put, this RC truck is designed to give you a realistic off-road driving experience. It runs up to 30 mph and gets its power from a 390 brushed motor. The control range extends to 260 feet. It should have no problem receiving commands as long as it's used within this distance.
The steering is highly responsive, so is the throttle. Similarly, this product is also designed shockproof-resistant. Constant bumps and bounces should do no harm because the suspension system maintains stability while driving through uneven surfaces. This may be a toy car, but it's designed by taking into accounts elements of a real car so that it could last longer.
The 4WD system transmits power to the back and front, which is helpful for off-road purposes. How long can you play the RC car? It's around 30 minutes, but the good news is it includes an extra battery, so you can play a bit longer.
3. New WLtoys A959-B 1/18 4WD Buggy Off Road RC Car 70km/h by KTOY
Note: This product is currently unavailable. As the best alternative, we recommend this great RC car instead.
The size of this buggy is revealed in the title. It's quite compact, suitable for those who just got started with this hobby or prefer smaller RC units. It comes with a controller that works on the 2.4GHz frequency.
Interestingly, it can be used for several cars and has a control range of up to 10m. For performance, it relies on a 540 brushed motor. It propels the car to over 70 km per hour. That's a highly impressive speed nonetheless.
It also packs a generous battery of 1500mAh that nets around 15 minutes of playtime. What about its capability across different terrains? This RC car is quite good at that as it can speed up on smooth roads and slopes.
Best RC Cars for under $50
This model looks lavish for the price tag slapped on it. Well, it's cheap, so it's only sensible to not get your hopes up. There are things it may lag behind especially compared to those in mid-high range categories.
To start with, the car can run up to 20 kmh. What it lacks, the car makes up for it with its lengthy playtime. Thanks to the 1000mAh battery, you can play it for 120 minutes straight. That's the silver lining because many barely hit the 30-min mark. Also, the remote control works exclusively with the unit it comes with.
Basically, there wouldn't be signal interference even if someone is playing the same type of car nearby. Just keep focused on yours and pay no mind to the rest. Another advantage is that it's designed for different road conditions. The anti-slip tires play a part because they make sure the unit can grip strongly onto rough surfaces.
This RC car sticks out like a sore thumb with its popping color theme and unique design.
But, does it go beyond that? Let's find out.
First of all, this 4WD model can drive on both sides. Power is sent to the rear and front wheels to propel the car in the direction you want it to. It's also capable of dealing with steep terrains. Flat ground, muddy roads, can drive through all of them.
Another interesting thing about the unit is the mecanum wheels, which allow for all kinds of acrobatics. Heck, it can even drive sideways. If you're looking for an RC car with quirky features, this is definitely worth trying. It's not the fastest RC car, but that's not necessarily the most important factor to define a good RC car.
There's much more it offers, like a flashy light and one-piece chassis design. The latter increases its shock-absorbing performance. As a result, it's not prone to damage caused by shocks and collisions.
That would be nice to have an RC car that can change shape. Unfortunately, not all are designed like that. If you need one that doubles as a transformer, we'd recommend this. It's quite small, making it suitable for little children. It can do maneuvers in any direction.
The small design also helps with quick action. Meanwhile, the remote control provides a good grip and it feels nice in the hands. For those wondering about all acrobatics, it manages to do a 360-degree spin and flip.
Having said that, but it needs a skilled operator to reach its full potential though you can do it as well with practice. There are also 2 LED lights put in place to provide some illumination. The body is made of ABS, which is a common type of plastic because it has some great properties.
Budget Friendly RC Trucks/Cars FAQs
What is a good cheap RC car?
It depends on what constitutes cheap to you. Some people consider $150 to $200 models cheap, while others have to dig deeper into their pockets to buy something in this range. Fortunately, we've included RC cars in different price ranges. Please scroll back up to find out.
What's the best RC car to buy?
They are usually the ones with a hefty price tag. Besides some in this review, you can also consider products from Traxxas, such as the Traxxas Bigfoot, Traxxas Rustler RTR, and Traxxas TRX-4 Defender.
Is RC cars a fun hobby?
People have different hobbies. Some people are excited about radio-controlled cars, others don't. So to answer this question, better ask yourself if you have a genuine interest in these toy cars. If so, then it would be a fun hobby for sure.
How much is a fast RC car?
Some can reach over 100 kmh, but to control one reaching this speed is not easy and requires skill. You can probably settle with a slower unit. Even 60 kmh can already give the thrill.
Picking Affordable Remote Cars/Trucks Conclusion
With so many choices, we can understand if you're undecided on the best cheap RC car.
Perhaps, the best way to start your search is by setting a budget, so that you can buy something that's consistent with the budget.
We've sorted units by price in this review. It should be easy for you to find the most appropriate one.
Disclaimer: The information in our articles should be considered for general informational purposes only. If you need expert advice for a particular question, you should seek the help of a licensed or qualified professional. Any action you take based on the information on this website is strictly at your own risk.

Hobbiestly.com is a participant in the Amazon Services LLC Associates Program, an affiliate advertising program designed to provide a means for sites to earn advertising fees by advertising and linking to Amazon.com. We also participate in other various affiliate programs, and we sometimes get a commission through purchases made through our links, without any additional cost to you.