The Best VR Racing Game: Must-Play Titles You Don't Want to Miss in 2021
Gaming on a VR headset is totally different from gaming on a console. The immersive technology lets you play in a first person view and in a real-like environment. It…
Gaming on a VR headset is totally different from gaming on a console. The immersive technology lets you play in a first person view and in a real-like environment. It feels as though you're involved in the game.
There are many types of games that can be displayed on a VR headset, but racing games are especially thrilling because you'll suddenly turn into a professional driver albeit virtually.
If you're looking for the best VR racing games, here are some that we'd recommend.
The Best VR Racing Game for 2021
---
1. Project CARS
This game has been released on several platforms, including the Xbox one and PS4. And it also offers VR support. If you own an Oculus Rift or PlayStation VR, you're lucky because the game is compatible with both devices.
The best aspect of this game is the captivating visuals. You'll be spellbound by the effects shown throughout the game.
Despite not being associated with a major studio, it was a success. There's even a mobile version now that goes by the name of Project CARS Go.
2. Gran Turismo Sport
Many tout it as one of the best racing games, which is not exaggeration after having a closer look of the elements in this game.
The graphics are simply mesmerizing. It's not easy to convince our vision that a virtual world that resembles real life exists. With how detailed graphics have become, it's no longer just wishful thinking.
This game is a proof that visual graphics have come a long way. They look very real, like you actually drive your own race car.
The attention to detail is also outstanding. While it may not feel like playing the standard game, the VR version is still magnificent.
3. Assetto Corsa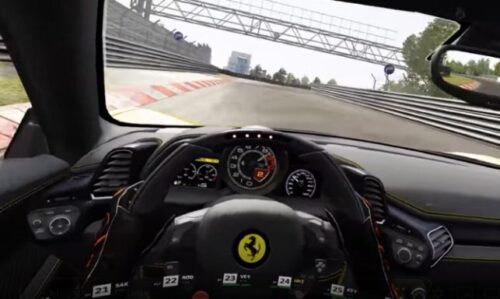 At first, this game wasn't meant for release on VR.
But with the craze of VR headsets, why not release it on VR as it could capture a new audience?
Assetto Corsa is one of the games that provide realistic graphics. Well, that comes as no surprise. Modern games have become increasingly intricate with their visuals and it really help create an immersive experience.
Graphics-aside, the game is fun to play although it comes with a few problems like inaccurate mirrors. Overall, it's a great game that you should give a try because the visuals will blow you away.
As for VR support, a few headsets are included in the list, such as the HTC Vive and Oculus Rift.
4. Wipeout Omega Collection
There are games that do well on VR headsets, and there are games that will leave you in awe. This belongs to the latter. Simply put, this game is everything you'd want from a VR racing game.
The controls are superb, the gameplay is also awesome and engaging. Among the games released for the Sony's headset, we daresay it's up there with other classic titles. There are elements in it that are derived from the previous games.
The single player mode alone is challenging to beat with its 3 different campaigns.
Another thing that makes it work as a VR game is the cockpit view. With this, you'll feel like the one controlling the ship.
5. DiRT Rally
Many racing games have similar plots. They pit you against the enemies and expect you to beat them along the track. There are also power-ups that can give you the upper hand over your competitors. But this game is different.
There are no enemies and there's no need to beat them out of race. Your enemy is not other players or CPUs, but the road. It is not that smooth track you find in Nascar games.
The road is designed like a rough terrain you won't pass through easily. There are turns, jumps, and other obstacles that will stop you from reaching the finish with ease.
But don't worry, the game also offers a range of cars that you can use to conquer these difficult roads.
This sounds awesome, isn't it?
We can already imagine how amazing that would translate on a VR headset. The cockpit view will teach you how to tackle steep terrains found along the way.
6. RUSH
RUSH is slightly different from games that put emphasis on cars. This one doesn't have that, but replaces it with wingsuit flyers. Although it's not as common as games centered around cars, sure you'v seen this sport before, right? In this game, you play the role as a flyer.
The display shows the surroundings in the first person view. Although the graphics look cartoonish, it still has that immersive effect. You'll feel like flying down through breathtaking mounscapes and a steep canyon.
To control the movement, all you have to do is spread your arms, pretty much like doing it in real life.
7. Distance
This works with a number of headsets, including the HTC Vive and Valve Index. Compatibility is the first thing you should learn about a game because it dictates if it's playable on a VR headset or not.
Speaking of Distance, visuals really help it stray from others. If other racing games take the realistic approach, this looks different with its neon-colored theme, which is actually a great thing.
Just because it's VR doesn't mean it should appear realistic. But at least, the gameplay doesn't lag behind other great games. You'll wholeheartedly love how it plays.
8. iRacing
This game is subscription-based, but it's worth every penny. What distinguishes it from others is it's focused on simulation of real racing leagues.
By signing up, you'll be able to join in various leagues, competing with other members from across the globe. It borrows the elements of actual leagues, so you'll hear popular terms like time trials a lot.
With this game, your dream of becoming a pro race car driver would come true even if it's just in a virtual world. That would feel so rewarding nonetheless.
9. RaceRoom Racing Experience
Everything about Raceroom screams a top VR game. While it wasn't intended to be that like many other games, the advancement of VR has led the developer to get on board and take advantage of the immersive technology.
In VR mode, the game works flawlessly. Besides, it supports quite a lot of devices. There are many things worth-shouting about, including the gameplay.
VR racing games aren't just about Gran Turismo and other big titles. Raceroom isn't less fun, just give it a go if you need more racing games to play on your headset.
10. Driveclub VR
Computer imagery has been progressing by leaps and bounds in recent years. Only a few decades ago we had blocky visuals of 8-bit graphics, fast forward to this day, everything looks smooth and realistic.
All the consoles have left their marks in the industry and become part of the growth. However, despite the rapid advancement, there's something we've never missed in each era, namely quality games.
We've seen quality games since day one and now on VR, there are many as well, including Driveclub VR.
If you're a long term PlayStation fan, this makes a perfect introductory game to the virtual reality world.
FAQs – Racing VR Games to Play in 2020
---
What is the best VR for sim racing?
There are a few headsets that we'd recommend. The first one is the Samsung HMD Odyssey+ because it has an incredible AMOLED display offering a 3K resolution.
If you care about visuals, this high-end headset won't let you down. It's simply one of the best especially because it manages to cut down on the screen effect.
The sound is another strong suit. Other products you can try to play sim racing is the Oculus Quest and HTC Vive Pro. Neither needs an introduction. These names can easily be found in the list of most reliable VR headsets.
Is VR worth it for sim racing?
Absolutely, sim racing is one of those games that desperately need a new adaptation featuring the immersive technology. The cockpit view gives you the impression that you're the driver and even on a TV screen, that concept works.
Now if we bring it to a 3D virtual environment, it would feel even more engaging. You'll find a real connection with the dashboard, basically the inside of a race car.
Can you play Forza in VR?
That has been on people's mind for quite some time actually. It's one of the games people most excited about to be ported onto VR. While there are other amazing games in this genre that have been introduced to VR, we'd love to see the same for Forza. Fans are still eagerly awaiting regardless.
Can you play Assetto Corsa in VR?
Yes, the above rundown has it covered, just scroll back up if you're interested.
In playing a racing game, compatibility is something you shouldn't overlook because every game doesn't work for every headset.
Read the requirements, especially the part stating devices it's compatible with.
Is iRacing VR compatible?
This, too, is included in our list today. iRacing is focused on realism, so that would be a missed opportunity if it's not available for VR.
Fortunately, it's indeed VR compatible. All you have to do is find the right headset to play with. The developer has put their best effort into bringing realism to this game, so don't mess it up by picking a low quality headset.
There are some that you can consider, such as the Pimax 5K Plus, Oculus Rift S, Valve Index, Samsung HMD Odyssey+. These are among the top-rated headsets, so if you can get one, that would be terrific.
Mind you, iRacing is not your usual racing game. Choosing the right headset to play it on will greatly affect your experience.
Will F1 2020 have VR?
We don't know about it, yet. According to several sources, fans are waiting for the rollout. Many racing games deserve VR adaptation, and this is no different.
There have been reports about it having features carried over from the previous release, but that's not something to freak out about since it's quite a commonplace.
Online leagues and multiplayer mode may still exist and have some improvements.
Does WRC 8 support VR?
There was a statement from the official twitter account that VR support hadn't been planned for this game and it dated back to just a year ago.
Besides, haven't come across a review of the VR version of this game, which means it's safe to say that the idea is yet to materialize.
Who doesn't want to see it on VR, though? That would be amazing news to hear.
Does Project CARS have VR?
Yes, it's actually the first mention on this review. Even Project CARS 2 also has VR support, go check it out if you haven't already. This game lets you have full control over how the car runs.
Hence, you'll learn how to operate the steering wheel, pedals, and others. It's incredibly exciting, but at the same time demanding as well.
Why?
That's because it requires decent PC specs. Without them, you may not have the best experience with the game.
Final Thoughts
---
When it comes to the best VR racing games, each one has its own unique elements. But most of us would agree that they are some of the best games for virtual reality. The act of driving a race car is something we don't usually experience in real life.
Simulation is our best way to know what a pro driver feels while being inside a cockpit. Although there are many games in this genre, they all have differences. Some games are more focused on the competition, providing you with a bunch of power ups to win the championship.
And then, there are also games that take another approach to entertain you. For example, they rely on real graphics to impress. While realism is a good thing, it doesn't have to do with gameplay.
Games with cartoony graphics can still deliver a good gameplay. The only way to find out if a game would bring excitement or not is by playing it yourself. The ones mentioned in this review are some you shouldn't miss out.
Last but not least, choose the right headset to play them on and make sure the PC specs suffice.