Cheap Gaming Room Ideas: Inspiring Home Game Space Decor 2022
Cheap gaming room ideas are ideal for those who have a limited budget to spend on a gaming setup. Not everyone has the money to splurge on a lavish setup….
Cheap gaming room ideas are ideal for those who have a limited budget to spend on a gaming setup. Not everyone has the money to splurge on a lavish setup.
A gaming room is the owner's private space, which is you should decorate to your liking. While it isn't wrong to draw inspiration from others, you should put your spin on the final design.
A gaming room is more than just a place to play games. It can also be your personal retreat or a place to unwind after a long day's work.
For this reason, it needs to be set up in a way that exudes a homey vibe. Is a gaming room even necessary, anyway?
Well, for someone who spends much time gaming, it is.
But even if you're not an avid gamer, having a personal space for gaming is quite a dream. It doesn't have to be built on a dedicated area.
You can actually turn your own bedroom into one. Just make sure to keep the gaming area separate from the sleeping area to help with the cleaning and management of devices.
Tangles and cords are a common sight in this area, so keeping it too close to the bed can create clutter, which eventually interferes with your comfort.
Things to consider when setting up a game room
---
1. Size
There are endless possibilities when it comes to a gaming room setup. However, size should be the primary consideration.
Think of the size of the station, and then think of whether you can to set it up in your bedroom or a dedicated area.
This matters as it affects how you'll approach the layout and stuff.
You can use a virtual app to figure out the most appropriate furniture placement for the room.
As we know, gaming essentials aren't the only part of a gaming setup.
Furniture is just as important because it will hold your devices. If the room is quite large, then it's okay to bring in larger furniture.
A desk can be an option because it comes with extra compartments to store supplies and accessories.
A simple table makes a good substitute if you work on a limited budget. Nearly all items that make up a battle station are pricey, so get your priorities straight.
2. Style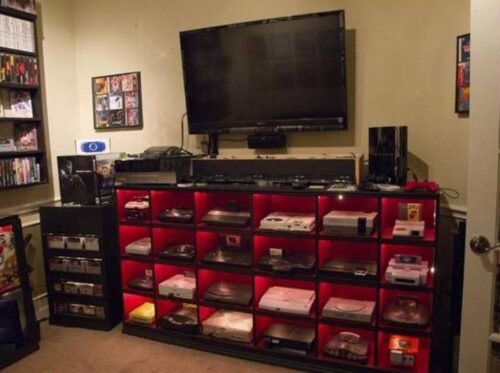 Style matters just as much. As said before, it's going to be your personal space, so you have the freedom to pick a style for the setup.
Whether you want it to look modern or retro, the decision is all yours.
There are many styles you can adopt. You can even mix some to create something new.
Deciding on a theme can be time-consuming because it's hard to make a decision after seeing so many tempting designs.
They're all attractive in their own way, so take your time.
3. Décor
Décor serves to beautify the appearance of a gaming setup. But if you're on a budget, there's nothing wrong to keep it to a minimum.
Furniture items are part of the décor, but you can buy more than just the basic additions.
You can also add paintings, area rugs, light fixtures, and other works of art to the room.
As long as they don't clash with the design you've agreed on, they should blend in well. Decorating is all about personal preferences.
Again, it's good to get some references, but at the end of the day, that's your room. You're the one who will use it most.
So when it doesn't click, you may have to revamp it again, which is time-consuming. To avoid it, make proper planning in advance.
4. Storage
Storage is one of the major components of a gaming room setup. It is necessary for space management.
You're not supposed to leave everything on the desk because it will create clutter. Maximize storage use, instead.
And, one of the ways is by choosing a desk with compartments.
This way, you can put unused items in the storage instead of leaving them scattered around. It will make the room look neater.
As a gamer, we're sure you have possessions that you need to keep for a long time.
They could be game cartridges, old consoles, action figures, and other priceless collectibles.
Storage doesn't only come in the form of a desk. If it's deprived of storage, you can get yourself shelves or something.
Affordable Gaming Room Ideas
---
1. Spacious gaming room setup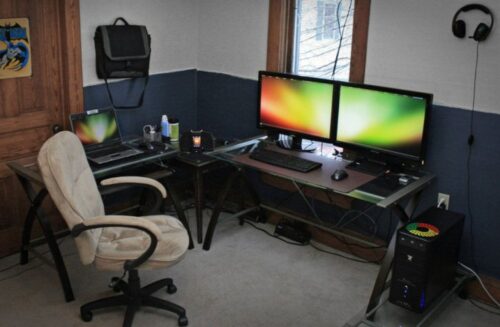 Keeping the space open is one easy way to decorate on a budget.
If you don't have enough cash to blow on lavish furniture, you can choose affordable furniture items.
Besides, limiting the number of items in the room creates a bigger space, which helps create an uplifting atmosphere.
Another way to make it spacious is by adding more vents and windows.
In case it's possible to build a gaming room that's adjacent to the exterior of the house, then it would be great. It's easier to build windows when the room is situated at the outermost part of the house.
Windows are more than just aesthetics. They're also designed to keep the air clean and healthy.
Imagine if you get locked in a room with no ventilation, it can feel suffocating, right? It will only increase stress levels.
2. Bright gaming room setup
Light plays a major role in the presentation of a gaming setup. Hence, don't overlook this part.
As a rule of thumb, you can start with lights that give the most illumination to the room.
Decorating with lights is relatively cheaper than decorating with other fancy items. Ambient lighting is a must.
You can install one or a few depending on the size of the room. Add another layer with accent lighting. And to help you with work, add another on the desk.
This type of light can provide a good amount of illumination when you work on something because it's placed close to what the light is pointed at.
With proper lighting, the room will feel warm and cozy. It can also add depth and dramatic effect to the room.
3. Collectible gaming setup
One good way to save on a gaming setup is by decorating with things you already have.
If you're a collector who has plenty of action figures, replicas, and other valuables worth showing, why not use them to liven up the room?
These are just effective as decorative pieces although that's not their primary function.
Just buy a display rack or shelves and then organize all those things on it. Let them take over the room and become new centerpieces.
What makes it more interesting is you can flaunt the collection to colleagues.
Remember that not everyone has the time and passion to be a collector. So when you consider yourself as one, why not show it to others?
Let your gamer friends see what you've been up to all this time.
4. Straightforward gaming setup
If the gaming setup is geared towards a straightforward design, then you have to reduce it to the essentials.
Everyone has a different perception of this, but you should only include the most important items in the room. Start with the gaming supplies.
Apart from the usual items, you can also consider adding a projector, a speaker, a router, and other accessories.
Basically, everything should end up being used.
So, avoid making impulse purchases if they only fill up the room with no purpose at all.
5. Wall decal gaming room setup
It doesn't take a professional to adorn a room tastefully. You can also be a professional with enough experience.
Wall art has long been used as an inexpensive way to spruce up rooms.
If you are on a budget yet still want to make the room look attractive, apply some decals on the walls. They come in various interesting patterns.
However, wall decals don't last forever.
Sure, they have an adhesive to ensure they last longer, but they would need maintenance and replacement every once in a while.
The good news is wall decals are relatively cheap. They make a good investment especially if you don't feel like spending too much on decorations.
Not just theme-wise, this wall art is also available in countless colors from calm to popping ones.
6. Greenery gaming room setup
Using plants to decorate an interior isn't a new concept.
Although it's mostly for decorating in a traditional sense, you can also apply it to your gaming room.
What about displaying a few potted plants on the desk?
If you plan on using actual plants to decorate the room, keep up the maintenance because they need water and nutrients, unlike artificial flowers.
It's also important to choose the right plants for this job.
Succulents make a great option because they are stunning. These small plants also come in many varieties, so it's not hard to spruce up the room with them.
Besides, they can help revitalize the air in the room. They are plants after all, which do photosynthesis and release oxygen as a byproduct.
You can also choose leafy plants or flowering plants.
Whatever you end up with, remember that plants need light to thrive, so best to place them by the window or use LED lights if natural light isn't an option.
7. Modern game room setup
Having a gaming room like that in sci-fi movies sounds fantastic, right? Well, you can also create that kind of setting in your room. Just bring in elements often shown in fantasy movies like neon lights and gadgets. By the way, modern doesn't have to be sci-fi-inspired. You can keep the modern charm without at all making it look overly futuristic.
The contemporary style has been around for ages. It encompasses a range of designs that represent now and the future. The use of sleek elements and clean lines is widespread in this style. In other words, it's designed to not overwhelm the senses.
Also Read: Modern Gaming Bed Room Ideas
Inspiring DIY Game Room on a Budget FAQs
---
What is a good color for a gaming room?
Colors are more than just hues differentiated by our visual receptors. Colors can convey emotions, so don't throw random colors into your gaming room.
Mind you, each color has its own psychological meaning. Here are some that you can consider for the room.
1. Yellow
Yellow is known for its uplifting vibe. You can choose it if you need to feel energized throughout the day.
However, despite the positive vibe, it's not advised to pick it as a primary color as it's often associated with anxiety when overdone.
A splash of yellow is nice, though.
2. Green
Green symbolizes growth and harmony. This shade is known for its relaxing vibe, so it's a good idea to paint the room a shade of green.
It could be a darker or lighter shade. Just suit it to your taste.
Green brings a sense of comfort, so even if it doesn't take over the whole room, some green here and there will still elevate the atmosphere.
3. Blue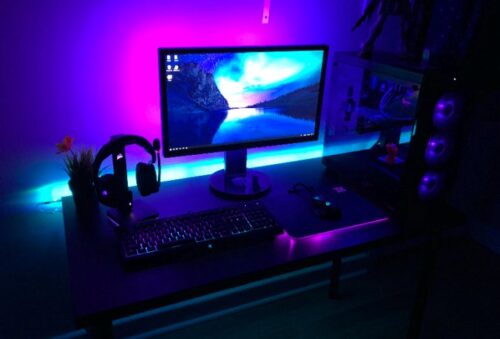 Blue is one of the most common colors for gaming rooms. It goes well with futuristic-themed gaming setups.
As with green, blue also has a relaxing effect. It helps bring a sense of serenity into the room.
With all the psychological benefits, no wonder people choose it for their personal spaces as well.
Blue comes in many shades, like royal blue and navy. Although they look different, they're similar in the way they promote relaxation.
4. Purple
Purple is revered as the color of royalty. If you want to feel like a royal, then you can use this color to decorate the room. It's just about the walls.
You can also apply it to other embellishments. Purple is often associated with spirituality and creativity.
Remember, none of these are bad things. Hence, if you want the setup to make you feel some type of way, incorporate purple elements.
5. Red
Red represents passion. This isn't a strange color in gaming as RGB lighting often emphasizes it.
We're sure you can picture what a room will look like in this hue. The thing is, many people are reluctant to step out of their comfort zone.
Although red is popular, it's quite a rarity for interiors.
Well, you can give it a try to increase energy levels. Just make sure to not overdo it because it has the tendency to cause tension.
6. White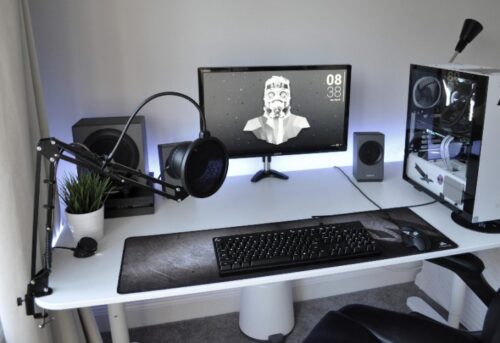 People like white because it's the safest option to go with for an interior.
White color symbolizes cleanliness and purity. Many people find it a tad boring for a gaming room, but everyone has different opinions.
If you want to keep the room simple and presentable, white is a good pick. It opens up the space, making it look bigger.
In case you're struggling with space, you can do no wrong with this color.
What lighting is best for gaming?
You can be creative with lighting.
To start with, the light fixtures need to go well with the decor.
Every light installed should also make sense.
If the room is quite spacious, then you can add a few different sources of light to provide proper illumination.
Lights come in a myriad of styles. It's easy to be confused by all the choices but to make it easier, set a focal point first.
It's the part that needs to receive the most illumination.
As for the types, you can combine different ones, like recessed lights, pendant lights, and wall sconces.
A chandelier is also stunning, but if your goal is to stay within the budget, it's probably not the best option.
How much does a cheap gaming room cost?
Even if you tighten up the budget, it will still cost several hundred dollars.
That sum was just from gaming essentials, including a PC and a monitor.
Even peripherals that are typically cheaper like a mouse and a keyboard can add a few hundred to the total. The worst has yet to come.
You should also invest in furniture items like a desk and a chair. Each can cost a few hundred, but there are cheaper models, of course.
It's okay to be careful with your spending, but learn to lower expectations, too.
Essential things for a video game room?
There's nothing we haven't said before. A desktop PC is an integral part of a battle station, so you can't miss it.
A monitor, a CPU, a mouse, and a keyboard are some of the most essential items.
In fact, these 4 are enough for you to start playing.
The sound system is another, but that's not the most urgent especially compared to the ones already mentioned.
You can add accessories accordingly. Maybe you need an arcade cabinet or another board game in the room.
By the way, today's subject matter is cheap ideas, so these extravagant items don't really fit in.
Focus on the basic ones, like the ones you can't go without.
A speaker and a headset are also necessary, but you can pick only one as they have the same function.
Final Thoughts on Game Room Decor
---
Setting up a game isn't always an easy task especially when you face constraints like budget and time.
The good news is you don't have to set it up with lavish ornamentation.
A gaming room is a room for playing games, so focus on that purpose, others can follow.
Create a list of items you want to add to the room. This is to prevent overspending and unnecessary purchases.
You wouldn't want to buy items that you don't actually need and use.
Speaking of cheap gaming room ideas, there are many that you can implement.
A gaming setup doesn't have to cost a fortune. Even a simple one is good if it brings you comfort and joy.