[2023] Best Microphone for Gaming: Reviews and Buyer's Guide
When it comes to gaming equipment, there's more to ponder than just a powerful PC, a keyboard, and a mouse. Although these matter for gaming, you shouldn't overlook other essentials,…
When it comes to gaming equipment, there's more to ponder than just a powerful PC, a keyboard, and a mouse. Although these matter for gaming, you shouldn't overlook other essentials, like headphones and a microphone.
A microphone turns to be a major aspect of gaming, especially online gaming.
To connect with players around the world, you need a tool to communicate with others, and that's when a microphone becomes necessary.
What's the best microphone for gaming?
There are many of them, but let's check out the following ones:
The Best USB Microphones for Gaming
---
This is one of the best condenser mics you can buy to record your gaming sessions. It connects via USB, so setup is easy as you just have to plug and play. Meanwhile, the audio quality is stunning thanks to the high sampling rate. It also comes with a headphone jack and a volume control, so turning it up and down is as easy as they come.
Another benefit that this mic has to offer is the ability to mix pre-recorded sound and the output. If you're looking for a mic that puts emphasis on sound quality, this is the way to go. The amplifier also ensures that you can listen to your voice in great detail.
Speaking of platform support, it can work with some operating systems, such as Mac OS X, Windows 7, Vista, XP, and 2000.
With all the features, it makes an ideal choice for gaming and other uses, like podcasting, streaming, and recording voiceover.
This microphone has a distinct form factor with its two-legged base. The features are way more interesting, though. It features 4-capsule array, which allows it to capture sound with awesome focus. This will surely make a difference to your gaming experience.
It also has with high-resolution LED metering.
For those wondering what it's about, it helps you visualize your voice level. To put it simply, you can measure the level of your voice precisely.
Do you see the knob on this mic? It's not an accessory, but provided to adjust several parameters. For example, you can use it to mute the volume and blend audio and mic signal. Last but not least, you may find the LED lighting appealing. It adds a lot to the aesthetics.
While this may be the least of your concern, LED light on a mic isn't something to see on every product. Hence, this makes a good pick if you care about lighting.
Who doesn't know Razer?
Those who are into gaming must have heard of the brand at least.
Well, if you consider yourself as a hardcore gamer, you should equip your battle station with the best product and Razer turns out to be a great brand you can put your trust in. In fact, it's an industry leader in gaming hardware, which means its products are subjected to strict quality control.
What's special about this mic, though?
The most prominent feature is probably background noise reduction. While this may not be a problem for gaming as it's usually done in a closed space, this feature takes versatility to the next level.
That means you can use it in noisy environments without a problem. We all know how distracting external noise can be. It gets even better with the shock amount. This helps prevent unwanted sound from being picked up.
Bumping into the mic even lightly would still lead to an audible sound. This is what the feature is trying to fix. You'll also live for the zero latency monitoring.
Well, that's what a quality mic is supposed to be. There's no delay or interruption during the game thanks to this.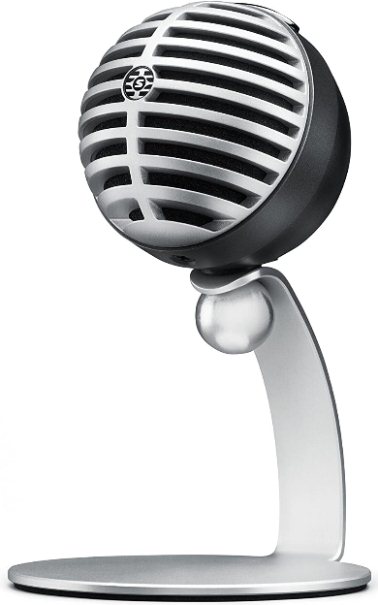 There's something charming about the way this mic is designed. Fortunately, it's more than just a cute appearance. It can still deliver epic performance with all the built-in features. In terms of audio, this mic doesn't disappoint. This doesn't come as a surprise given the high rating. It proves that customers are happy with it.
The capsule-head mic offers USB connectivity, so setup is easy as long as there's free USB port on your desktop computer. It doesn't require an adapter or anything. The user is also given the freedom to edit recordings using the ShurePlus MOTIV. Besides, it features DSP preset modes that you can take advantage whenever you need to achieve the right sound.
Additionally, the stand is easily adjustable and it can also be used with the average tripod. If you need to add a dash of style to your gaming room, this mic will help you with that. The design is simply iconic, while the performance is magnificent.
The Best Microphone Headsets for PC Gaming
---
A headset can be a substitute to a standalone mic. The biggest advantage of using a headset with built-in mic is you don't have to buy them separately. Besides, some headsets also look very stylish. They will adorn your already perfect gaming rig.
Now let's talk about this specific product. 50mm drivers are built into the unit, creating superb surround sound. Every game will feel surreal when the audio quality is top-notch. These headphones are also made of premium material. Despite the affordable price, the manufacturer knows how to step up the game and stands out from the competition.
Not just easy on the eyes, the design is also ergonomic, meaning that it conforms to the contours of your head. It results in extra comfort even for prolonged used. In terms of compatibility, you can use it with a range of consoles. It has its own 3.5mm audio jack, so pairing is easy. Xbox One, Nintendo Switch, Nintendo 3DS are some of the platforms supported.
Furthermore, it has a noise-cancelling feature. We all know that tends to drive up the price, but you can get this product for less than $40.
Is noise cancellation that important?
Well, gaming feels more immersive when no sound but the game sound is heard. This feature drowns out ambient noise, leaving you and the game only.
Not everything has to look intricate to stun. Despite the simple approach in design, this headset proves to be a reliable sound device. Well, it's crafted by one of the most well-known brands for gaming peripherals. This headset delivers surround sound through the 40mmd drivers.
It's designed to give you the ultimate comfort. At 250gr, it feels light on the head. It won't weigh your face down. Another highlight of this product is noise cancellation. It picks up sound only from the direction it's pointed at. As a result, the recording will sound clear and free of ambient noise.
Just like other headphones, it offers several controls. These are shortcuts to volume control and mute. By the way, don't let the simple design fool you. It may be understated in a way, but the whole unit is made of long-lasting material.
If you couldn't care less about brand, this is an awesome headset to buy. Many headsets cost over $100. Granted, they come from well-known manufacturers, but quality isn't exclusive to tech giants. This brand may sound unfamiliar to you, but this particular product has a high rating and has earned thousands of feedback, which speaks volumes about the quality.
Now let's break down the features. When it comes to platform support, these headphones are quite extensive. Apart from desktop computers, you can also use them with other devices, such as laptops, PS4, Xbox One, and Nintendo Switch.
Luckily, all of these consoles are highly popular, so if you have one, pairing would be easy. And it's made specially for gaming. The 50mm drivers are responsible for the superior audio quality. It has a sensitivity level of 103+/-3dB.
For the price, it's normal to not get your hopes up, but this will exceed your expectations for sure. Noise cancellation is one of the premiums features you can find in this affordable headset.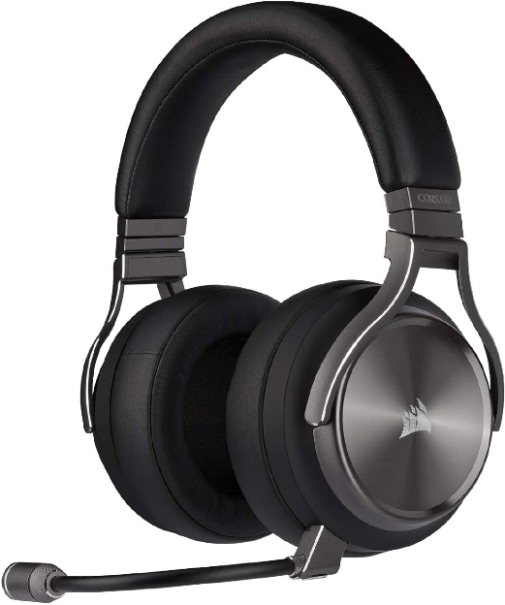 Corsair is another brand to keep an eye on for quality. It has a wide range of gaming accessories, such as mice and keyboards. And if you need a headset to complete your gaming rig, this is one to consider.
First of all, this headset isn't cheap. The ones mentioned earlier cost less than $100, but this will stretch out your pocket with its $209 price tag. Headphones with premium prices aren't unheard of, but they usually have features that ordinary headphones don't.
To start with, the audio quality on this one is stellar. The 50mm neodymium drivers are responsible for the stunning output. It also doubles the frequency range of the average gaming headphones. On the outside, this headset doesn't try to impress with a popping color theme or quirky design.
Instead, it looks very calm and straightforward. But don't mistake it for being cheap. It's actually the opposite. The moment you grab it with your hands, you know that it's made of premium material. In terms of connectivity, wireless connection is available. The low latency will also boost your experience.
To top it off, the microphone is equally great. It picks up sound with exceptional clarity. It's omnidirectional, which helps with indoor use.
The Best Clip-on Microphone for Gaming
---
If you don't want to be bothered by bulky headphones, a clip-on mic can be a substitute. Despite the small size, it can produce quality sound like a condenser mic. This product, for instance, produces superb sound and it has a frequency range of 50-16000Hz. The small size also allows for easy storage.
You can use it for vlogging, streaming, gaming, etc. Another standout feature is noise isolation, which makes recordings sound clear, free of unwanted noise. It connects via USB, so it should work as long as you plug it into the correct port.
As for the cable, it's 2 meters long. It gives the flexibility to pick up sound far from the desktop computer. And don't worry about unforeseen damage especially when it happens within the first year of use.
With the 1-year warranty, it can be serviced when the problem occurs during the period.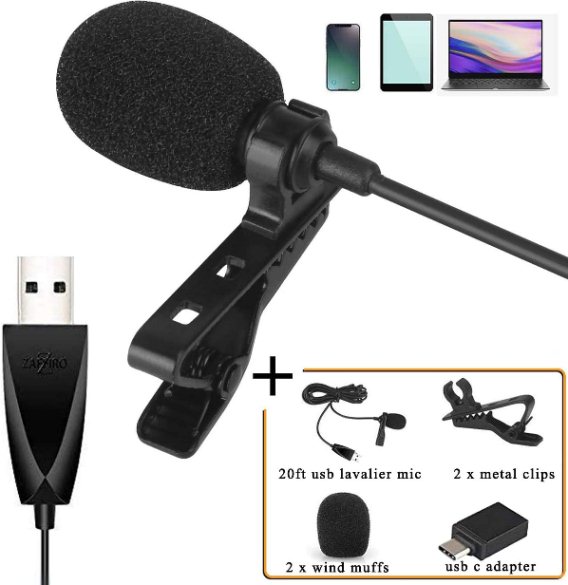 This mic looks big on the picture, but that doesn't do it justice. This is a clip-on mic, so even if it's the larger type, it's still small enough to clip onto your collar. Let's dive into the specs. Platform support is surprising broad. Aside from desktop computers, it can also be used with laptops, PS4, and major brands, including ASUS and Apple.
It adopts the omnidirectional polar pattern, which means it's sensitive at any angle, which can be tricky though in certain situations. There's no denying that the sensitivity puts it at an advantage when it comes to detail, but at the same, it's more prone to capturing ambient noise.
Hence, make sure the environment is quiet before hitting the record button. Otherwise, the recording will sound too busy. As for the sample rate and bit rate, they are up to 96kHz and 24bit respectively.
The high sample rate adds a lot to audio quality. It will sound crisp, natural, and rich.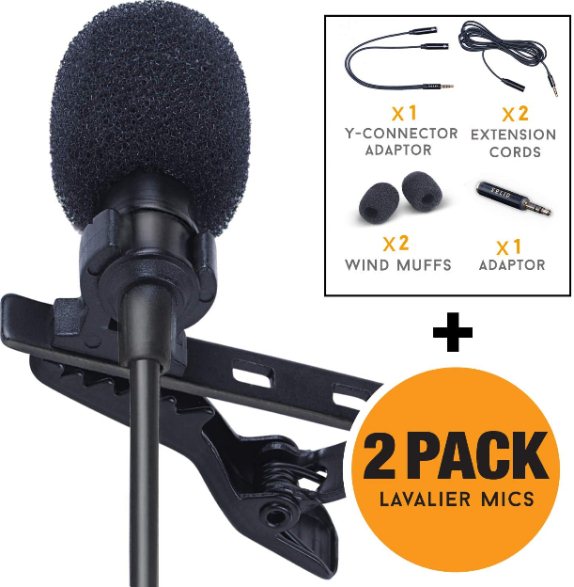 If you need a mic that provides the best clarity, you can count on this one. It won't let any unwanted noise ruin your recording. It even tries to drown out the sound of wind effectively. Another advantage of buying this mic is it comes in a complete set. You will get most of essentials just by paying less than twenty bucks.
This product costs about the same as other clip-on mics, but it includes everything necessary for setup. And then, you don't have to worry about compatibility as it can be paired with most devices, including DSLR cameras. It gives it the most flexibility as you can use it indoors and outdoors.
There's an extra mic coming with the package, which comes in handy in interviews. You can use one for you and let the interviewee hold the other for himself.
Flat frequency is something you shouldn't miss out on the specs of a mic because it determines audio clarity. Since this mic has a broad flat frequency response, it makes a good choice for recording vocals. Besides, it has multi-device support.
Whether you want to use it with a camera or a smartphone, all you have to do is plug the 3.5mm TRRS into the compatible slot. Another benefit of buying this mic is it comes with an adjustable velcro for easy use.
And then, the cord provided stretches very long, making it suitable for all settings. Of course, being a clip-on mic, it's free of unnecessary weight that will weigh your face down.
How to Choose the Best Microphone for Gaming, Streaming, or Podcasting
---
1. Audio quality
This is one of the most crucial aspects of a microphone. A nifty mic will lose a large chunk of its charm if it comes up short in this area. Quite the contrary, a mic can be understated looks-wise, but if it makes up for it with great audio, you won't be disappointed at all.
In determining audio quality, pay attention to factors like flat frequency response, directionality, sampling rate, etc. All these are usually included in the specifications.
2. Pickup pattern
This also matters. Imagine buying a mic but not knowing about pickup pattern, you may feel let down in the end. Pickup pattern directly affects how a mic picks up sound.
A unidirectional pattern won't be reliable to capture ambient noise because it's not designed that way. But for recording one sound source, it's to count on.
The same goes for omnidirectional mics. They tend to be noisy when there's much noise around, so be careful if you want to choose this type of mic.
3. Setup
There are different types of mics, but in terms of setup, there are USB and XLR mics. If you need a mic that's ready to use right out of the box, then a USB mic is the answer. It doesn't require installing software. You can use it by plugging it into the right slot.
The good news is plug-and-play microphones are everywhere. What about XLR mics?
They share similarities with USB mics, but need additional equipment to finish the setup. Therefore, if you don't want the hassle, a USB mic might interest you more.
Gaming Microphone PC (FAQ)
---
What mic do pro gamers use?
There are many that come to mind, but we'll share some that would complement your battle station. The first one is the Blue Snowball. This comes first for a number of reasons.
To begin with, it costs only $55, quite cheap given the performance. It offers multiple pickup patterns. You can go with the omnidirectional pattern as it captures more details than the cardioid one, but the latter is useful when you want to focus on one sound source.
The next on this list is the Razer Seiren X. It's made by one of the most trusted brands in PC gaming, so quality should be great nonetheless. The audio is excellent and the response range spans from 20Hz to 20kHz, making it terrific for picking up vocals and instruments.
There's more to check out, such as the Samson G-Track Pro and Audio-Technica AT2035.
What mic does POKI use?
She uses the Audio-Technica AT2020. This mic is the condenser type with a cardioid pickup pattern.
It will highlight your voice more than the background noise. By the way, this is an XLR mic, so it's not to be mistaken for a USB one.
What mic does Lilypichu use?
Lilypichu uses the Shure SM7B Vocal Dynamic Microphone. Again, this is a cardiod. It seems that many Youtubers and gamers use cardioid mics.
Why is that?
Even in an indoor setting, you'd want a mic to only pick up your voice. If it captures everything, instead, it would affect the quality of the recording.
However, it's worth-noting that there are no bad mics as far as directionality is concerned since they all have specific purposes.
What mic do most streamers and podcasters use?
The ones already mentioned are people's favorites. But if you need more recommendations, we can extend the list with the following microphones; Blue Yeti X, Razer Seiren Elite, Elgato Wave 3.
They have remarkable features and stylish designs to go with every gaming setup.
Is a condenser mic good for gaming?
Yes. In fact, condenser mics have the versatility for all applications. They are known for having high sensitivity and the ability to pick up a broad range of frequencies.
If you need a mic that delivers stunning performance and adds warmth to recordings, go for a condenser mic.
Final Thoughts on Top Gaming Mics
---
Choosing the best microphone for gaming isn't just about choosing an expensive product. What's more important is the microphone should be suited to your needs.
Microphones aren't created equal. They fall into so many different categories. They can be grouped by their internal mechanics, directionality, price, and others.
Hence, you should know what you're looking for.
For example, you can start with asking what the mouse will be used for. Podcasting is different from recording music. Podcasting needs a mic that picks up sound coming from one direction.
Music recording, on the other hand, needs a mic that has the ability to capture all frequencies produced by human voice and instruments.
With all these differences, increase your knowledge of all types of mics, and then learn their pron and cons before shopping around.
…
Related Posts
---