15 Gaming Valentine's Day Cards for The Gamer in Your Life [2023]
Everyone has a different story to tell about celebrating Valentine's Day as a kid. This day isn't just about sending treats to people you care about. It's also a perfect…
Everyone has a different story to tell about celebrating Valentine's Day as a kid.
This day isn't just about sending treats to people you care about. It's also a perfect occasion to spread the love, especially to your significant other.
The heart shape is probably the most ubiquitous thing on this day. It's used in chocolates, candy, and keepsakes.
What about gift cards?
Do you still send them to your loved ones?
If that was one of the fondest memories of you growing up and you haven't done it much in recent years, it's a good idea to take a trip back down memory lane.
You can find gaming Valentine's Day cards on e-commerce sites or offline.
The design isn't the only thing that matters.
The thoughtful messages written on it is just as important.
Let's take a look at these gorgeous cards we found after scouring the internet for hours.
Some of The Most Unique Gaming Valentine's Day Cards Out There (2023)
---
This card looks simple, but it effectively sums up the video game theme.
We know that consoles are an integral part of the gaming industry, right?
They come with gamepads like that shown here.
Meanwhile, the color theme screams Valentine. It's soft and enchanting.
The ad states that the card is printed on 110 lb cardstock, which feels solid on top of being handmade.
If you want a card made from the heart, this can be an option.
It measures 4.25 x 5.5 inches with a coordinating envelope included.
Given that Valentine's Day is right around the corner, you can order it right now because it's shipped in 1-3 business days.
It's to make sure that you receive it on time.
Now, if you need a card with a personalized design, this would be very fitting.
The set consists of 4 different cards, so you can get some attractive designs by placing one order.
The best part is they are open to customization.
Simply head to the seller personal website and do some fixing there.
Once the alterations have been applied, the next step is to download and print.
By the way, the cards in the set are identical in size; all measure 3.75 x 3 inches.
It's important to note that this is a digital product.
The cards you see on the pic are digital versions, not physical ones.
What you're entitled to is the designs. You can print them on paper of your choice later.
The phrase 'less is more' seems to be emphasized on this gift card.
If others have popping colors, this appears minimalist with its black and white theme.
But a Valentine's Day card is more than just a cool design.
The message written on it should be the center point. This card perfectly summarizes it.
As we know, the internet has become a basic necessity for most of us.
And to use it on a PC, we need a wireless router or an ethernet cable.
The saying on this card implies that two individuals are inseparable because they need to cooperate to reach the same goal.
Regarding the paper, the design is printed on a 300gsm matt card.
The reason why this makes an awesome gaming Valentine's Day card is that Bulbasaur is freaking iconic.
It's one of the characters that define the franchise.
Whether or not the recipient fancies this Pokémon, you can present this on a special day.
Little did you know that Bulbasaur has a Pokédex number of #001.
Thus, it can imply that you consider the recipient as the number one person in your life.
This card is sized at 5.5 x 5.5 inches. It's also adorned with a cute sticker.
There's nothing on the inside, so you can literally write anything your heart desires.
Once you're done writing, put it in the envelope and hand it over to your special someone.
Among Us burst onto the scene unexpectedly, although the game has been around longer than people think.
It perfectly captures the spirit of Valentine's Day because there's a lot of distrust and suspicion going on in the game, which is not supposed to exist in a healthy relationship.
In the game, impostors are the bad guys that need to be kicked out of the spaceship.
But funnily enough, this card portrays them as the ones in love.
Whatever the case might be, we believe it's meant to be lighthearted fun.
Giving it to someone doesn't mean you accuse them of being disloyal.
By the way, this card has its own envelope made of brown kraft.
Do you still remember the console displayed on this gift card?
It's the classic game Boy. Though it's past its prime, it has left its mark in the industry.
Each console is known for having a unique form factor.
This handheld is no different.
If you used to play games on it a lot, you could bask in nostalgia by sending this Gameboy-themed card to your loved one.
It takes on a square shape, measures 15 x 15 cm.
As usual, a matching envelope is also included, so you don't have to look elsewhere.
This gift card has a unique pattern on it. It resembles a controller, but unlike the rest, it's heart-shaped.
Imagine how cool that would be to get a hold of a gamepad that looks like this.
It's probably too good to be true, though.
Controllers are designed to provide comfort, so they are contoured in a way to offers a good grip and a nice hand feel.
A heart-shaped controller, while nice to look at, is probably uncomfortable to use for extended periods of time.
Speaking of the size, this Valentine's Day card has dimensions of 5″ x 7″.
And it's customizable. You can opt to print in landscape or portrait orientation.
This is the same as the previous product in the sense that it allows for personal customization.
Right on the side, you can see tools to alter the card's appearance.
For example, you can switch from small to a standard size, vertical to a horizontal format, and matte to semi-gloss paper.
Apart from a message, it also has a pixelated heart printed on it.
For some reason, pixelation has become an effective way to add a dash of retro to something.
It's probably because retro games are synonymous with pixelated graphics like those from the 8-bit era.
Hence, if you want to send her a card with an authentic retro game vibe, this would be perfect.
Some Valentine's Day cards for gamers are quite universal like this one.
The color scheme doesn't look like it's designed to depict intimacy, which is a common theme for this special day.
Therefore, you can send it to just about everyone, not just your partner.
It's quite small, sized at 3.5″ x 2.5″. Small or large, it doesn't really matter.
The most important thing is it conveys your message.
The card is produced using a full-color CMYK printing process on matte paper.
Having a gamer as a life partner sounds like fun.
If both of you identify as avid gamers, you can treat each other with this cool card.
It has 2 controllers with a connected cord along which a heart shape is formed.
Gaming is a favorite hobby for many, so this sort of pairing doesn't seem far-fetched.
The card is sized at 5″ x 7″, can be positioned vertically or horizontally.
The size remains regardless of the orientation.
It's printed on matte paper, which not only looks good but is also resistant to smudges.
This greeting card is indeed funny.
You can't say you love your partner just a little more than your console because that sounds offensive.
But this is just wordplay and doesn't mean to rile up somebody.
Valentine's Day cards aren't just about romantic or tear-jerking messages.
Funny ones are also good to express love.
The card measure 148 x 148mm and is square in shape. It also comes in a red envelope.
By the way, the referenced funny phrase is only for the cover.
You can still write your personal message since the inside is empty.
In case you need one for this Valentine's Day, place an order early on because the seller only processes transactions on weekdays.
This card basically says you will put your significant other before your gaming hobby.
Well, that's cute because video games can make us forget about other responsibilities.
When you mean the words on this card, you'll leave the chair anytime your spouse calls you.
As with other products, the quote is only printed on the outside.
Meanwhile, the inside is just blank paper that you can fill with any message.
The card comes in a red envelope, so you can wrap it up after writing.
For those wondering about the paper, it's printed on a 350gsm card that has a smooth texture.
Given the enormous popularity, it's not surprising that Zelda is featured in many commercial products, including greeting cards.
This one is inspired by the main character of the series, particularly Breath of the Wild.
The design is printed on premium cardboard, so it feels solid.
As for the size, the dimensions are 10cm x 15cm. An envelope is also included with every purchase.
The seller puts us on notice that the actual design may be a bit different than what appears on the pic.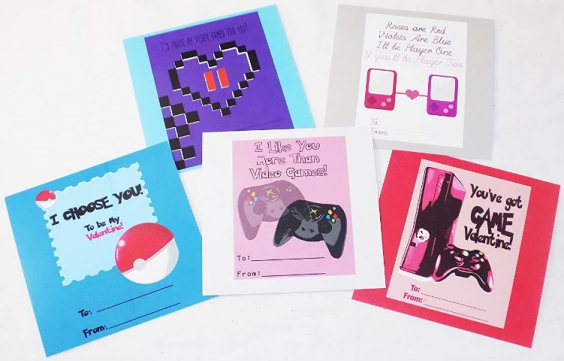 We've shared quite a lot of designs shared so far. If you need more, this product from Amazon is great.
Besides varied phrases, each one also carries a different theme. It can be time-consuming to buy several cards from different vendors.
The solution is a set that includes several pieces like this.
That said, only cards are included; all measure 4×4 inches.
It has no envelopes, so this will be another task for you.
This is another set with a bunch of items in it.
The total number has been specified in the title.
Deciding on a design is probably the trickiest part, let alone choosing more than one.
But this set can put your mind at ease because it has many pcs with varying designs.
The sayings and colors are displayed in the picture above.
You can write anything inside prior to sending.
Tips for Choosing a Gaming Valentine's Day Card
---
1. Design
This is probably the most essential part because the first thing people notice from a gift card is the design.
Cards can feature consoles, characters, and other elements of video games.
Take time to choose one that reflects your true self.
2. Quote
The quote on a card is equally important.
Some quotes can bring us to tears; others can make our sides hurt.
As with the design, the quote should also be a representation of the feelings you share with your loved one.
Some cards have funny or borderline offensive sayings, but they aren't meant to be taken that way.
3. Size
Which one do you prefer, a small or a large card?
It's good either way. If you have a lot to write, a larger one is probably more suitable.
If you plan on sending it out in bulk, you can choose smaller ones for easy carrying.
4. Paper
Every card uses a different type of paper. The details are usually included on the product page.
Aside from the type, you can also learn about the thickness and dimensions.
If there are terms you feel unfamiliar with, Google is your best friend.
Final Thoughts
---
With all gaming Valentine's Day cards available, we get it if you feel confused.
After all, you probably want to go all out for your lover, friends, and family.
Why not buy several designs, then? If you have a hard time picking only one, buy a couple that sparks your interest.
Start the search early on because game-themed cards probably take more effort to find.
They can be inspired by different aspects of video games, such as consoles, characters, franchises, etc.
Good luck on the hunt!