10 Best Christmas Gift For 7 Year Girl [2022]
Does your little girl have enough toys already? Well, Christmas comes every year, which means she'll keep getting new gifts from parents, grandparents, and relatives. The thing is some may…
Does your little girl have enough toys already?
Well, Christmas comes every year, which means she'll keep getting new gifts from parents, grandparents, and relatives. The thing is some may be obsolete and broken eventually. As she gets older, they will no longer suit her.
For this reason, it's not wrong to give her something new each Christmas. Just make sure she gets what she really likes.
What's the best Christmas gift for a 7 year girl?
There are too many actually. Just browse through your favorite retailer's inventory. There has to be something nice you can present to her.
The Best Christmas Gifts for 7 Year Girl (2022)
---
A crayon set is probably one of the first things that come up in your head when considering a Christmas gift.
Well, crayons can be found anywhere. This set has more than just crayons. It also includes colored pencils and washable markers.
To prevent her from making a mess on the walls, there are also 15 pieces of paper in the package, so she can draw on them, instead.
For all the items included, the pack isn't really expensive. If she doesn't have something like this, yet, just buy her one. She will appreciate it because it looks so colorful and we know that kids love colors so much.
Most importantly, everything in this set is non-toxic, meaning that it won't cause adverse effects when applied on the skin.
Have you heard of a terrarium? It's a miniature garden set up in a small container.
It resembles a natural environment, but in a tiny and controlled space. If you want to teach gardening at a young age, you can give this to her for Christmas. It's basically a kit containing items you'd need to create a terrarium. The light makes it more interesting to look at.
Turn it on at night and see it transform into a stunning spectacle. There are several items in the package, including a jar, a micro USB cable, an instructional booklet, chia seeds, soil, and more.
Kids are curious especially to things they've never seen before. While gardening isn't a new concept, she's probably still unfamiliar with terrariums, so this would make a good educational gift for her.
A doodle board is a way to unlock creativity. The best thing about this is she won't easily be bored of it because it acts just as a medium. Whatever she'll draw on it depends on what she has on her mind. A drawing board has many benefits.
First, it doesn't contain dyes, so there won't be a mess like when she draws with crayons. While it's not necessarily a bad thing, if you don't want to be bothered with regular cleaning, this could be a solution. It comes with two pens, so if one is lost, there's still one left.
Meanwhile, the stylus responds to touch with high accuracy, which is important to avoid errors. As for the screen, it's safe for the eyes since it's radiation-free.
This jewelry kit will get your kid's creative juices flowing. It contains beads to craft various items, like necklaces, bracelets, hair bands, and more. Even if they are made of plastic, they still look lovely.
You don't have to impress a little girl with expensive goods, this one is enough. To get started, just put the tiny pieces together to craft something.
There are a total of 520 snap pop beads in the kit, so there's a lot she can do with them.
For the record, it's important to accommodate her creative spirit as pent-up energy may lead to a destructive behavior.
It takes time to learn how to roller skate, but proper equipment is also necessary to help her learn faster.
What's the most important equipment for roller skating?
That's obviously roller skates. This is an activity that kids normally love, but learning to do is challenging. We advise you invest in quality shoes like this pair. They're available in adjustable sizes.
For more info about that, just visit the URL above. It has some cool features, such as glowing wheels. The light becomes more apparent when you bring them into the dark.
Interestingly, there's no battery added. The light is directly powered by the wheels. As for quality, the wheels are made of PU, which is known for its durability.
Don't panic if you run out of ideas. There are many other things you can present to her this Christmas season, like a water bottle.
Of course, it's not the usual water bottle that lacks ornamentation. For something billed as a gift, it needs to look and feel special. This one stuns with its meticulous design. Just take a look at the gems all over the bottle. That's how creative it can be.
The kit includes 7 sheets of stickers with each having a different set of gems. There's also a template inside, so if she's clueless about what to do, she can use it as basis for the design.
The reason why this makes an awesome gift is because it's educational and functional. After decorating, she can bring the bottle to school.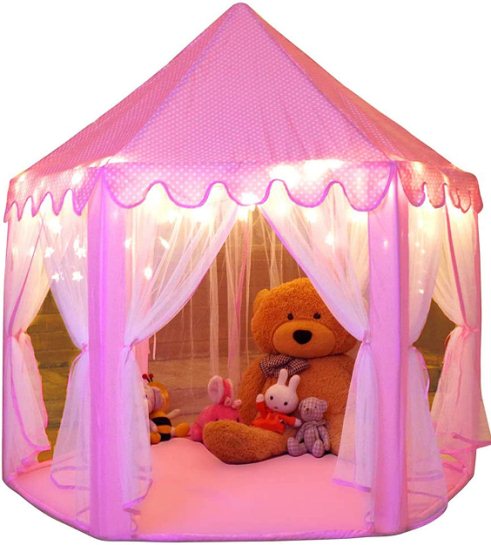 Isn't it awesome to have a sanctuary in the backyard?
Well, you can make it happen with this princess tent. It draws inspiration from castles in fairy tales. With this, she will feel like a princess. It seems that the tent is aimed at young girls because the design is very cute.
But even if it's just a child's play, it's large enough to accommodate 3 children. The tent measures 55 x 53 inches.
Quality-wise, it should last long because it's made of top-grade fabric called polyester taffeta, which has many good properties.
Aside from extra comfort, it also offers easy cleaning. By the way, the tent isn't terribly huge. If you want to set it up indoors, it's possible, too.
If you're still looking for a toy to keep your kid occupied, you can try this. For those wondering what it's all about, it's a scratch art paper set. It contains boards, cards, ribbons, and a few more supplies. Don't worry about safety because all items in the set are non-toxic.
As you can see, even the styluses are eco-friendly because they are wooden based. The first impression we got from the set is that it's full of colors, but contrary to watercolor, it doesn't leave stains because it has no pigment in it.
Well, it's called scratch art for a reason. All she has to do scratch and then create something out of the pieces.
Educational toys like this are necessary to spark a kid's imagination, so don't hesitate to give her one. Besides, it's not expensive at all.
If the previous toy is about creativity, this will be good for her memory. Parents often avoid these kind of toys because they may bore their kids out if they can't solve them. The thing is not every child would react that way to such toys.
We still encourage you to give her one especially when she's old enough to have critical thinking. Not only is it good for the brain, it can also help with her hand-eye coordination.
In case you're unfamiliar, this is a term to describe human's ability to perform tasks while being guided by the vision. It is something we should practice to be good at.
There are several games she can play with the cube, generally classified into memory and speed games.
Smartwatches are a new trend in the market. They've been gaining in popularity because they are fashionable and functional. However, it doesn't mean they're going to replace traditional watches anytime soon.
Both are extremely popular, but if you want one for your kid, a Smartwatch is a good pick because it looks cute. Besides, it's more than just a timepiece.
This product is built with cameras to take photos and videos.
The files will be saved in the preloaded TF card, so don't worry about storage. It's spacious enough to hold thousands of photos and videos up to 45 minutes in duration.
Tips for choosing the best Christmas gift for a 7 year girl
---
1. Shop around
Don't stick with one retailer if you want to get the best offers. Keep in mind that as Christmas is approaching, many retailers will put out great deals. All products displayed in this page are from Amazon.
Well, Amazon is one of the largest retailers with tons of tempting deals you can find every Christmas season, that's why we recommend the products especially if you don't have time to visit different stores.
2. Ask your kid
Perhaps, the best way to find out the most fitting gift for her is by asking what she dreams of having.
You don't have to tell her that you're going to buy that for Christmas. Just try to dig information as much as possible before you head off to the store.
3. Shop on Black Friday or Cyber Monday
These are two of the biggest shopping events leading up to Christmas. Don't waste these opportunities to catch deals. You can receive over 50% off various items depending on where you buy.
Keep in mind that these events take place just weeks before Christmas, so it won't be too early to buy a present.
4. Consider unisex products
These are products designed for both boys and girls. They usually don't have striking features that make them lean towards one gender.
Colored pencils, crayons, stationary sets, these are some products that any kid can use regardless of the gender.
But if you want one catered towards your daughter specifically, there's nothing wrong with that, too.
5. Think again before buying
Before adding something to the cart, you should be sure that it will be the Christmas gift for her.
If you rush to buy something and end up not liking it, you'll probably buy another next time.
Impulse purchases should never get the way of your shopping because they only cause unnecessary spending.
Good Christmas gift for a 7 year girl Conclusion
---
Choosing the best Christmas gift for 7 year girl isn't just about choosing the priciest item. It needs to be meaningful as well.
Her wishes may change from time to time. If last year she begged for a backpack, this year it could be another. It's better to ask her to be open about what she wants.
You can use it as a reference to buy a Christmas gift this year. There are many things to take into account. Besides her age, you should also consider your budget.
If you have more to spend, then it's a good idea to buy a scooter or a bike. If not, there are many affordable alternatives, just take your time to shop around.
…