15 Best Black Friday Deals 2022
The biggest shopping event of the year is around the corner. With just a few weeks to go until Black Friday Deals (2022), you must have your shopping list ready…
The biggest shopping event of the year is around the corner. With just a few weeks to go until Black Friday Deals (2022), you must have your shopping list ready because countless items will be on sale during the day.
For this year, Black Friday falls on November 25th although in some retailers, the shopping event is extended a few more days. Just make sure to mark the date on your calendar because on that day, products sales will be in full swing.
Do you already have a plan on what to buy?
This is a time where retailers discount all kinds of products. You can basically find anything, such as electronics, clothing, health-related products, hobby products, etc.
Need some inspirations? here you go, our list of best black friday deals of 2022.
The Best Black Friday Deals 2022
---
If you're looking for an affordable laptop, this ASUS product is great to consider. With 15.6" full HD display and slim design, this makes a perfect choice for day-to-day work. Design-wise, this laptop looks captivating with its dark theme. The screen is almost bezel-less, which helps create immersive visuals. Luckily, it boasts more than just a stunning display.
The unit also delivers awesome performance thanks to the AMD Quad Core Ryzen 5 3500u processor. Another standout feature is the elevated keys. As you can see on the picture, there are no sharp edges around the keys. Besides, they are also slightly elevated, which should translate into a better typing experience.
The keyboard automatically tilts up as you open the lid because it comes with an Ergolift hinge. Most of us agree that the best typing feel is when the keyboard is slightly angled to provide support to the hands. There are more features to check out, such as 8GB DDR4 RAM, 256GB of storage, and essential ports.
Garmin is no stranger when it comes to Smartwatches. If you don't have one, yet, and need one at a lower price, please consider this one. Here are some of the highlight features. First, it allows you to access Garmin pay contactless payment. With this, you can complete a transaction right from the watch. It also offers numerous customizations.
Not only can you change the face, but you can also add extra widgets and apps as needed. This is assuming that the default 15 apps aren't sufficient for you. The preloaded apps are quite extensive actually, which can help you keep track of your health.
Worried about battery life? The Smartwatch mode allows it to operate for up to 7 days, but that would be shorter when the GPS is active.
You can get this action camera for $245, quite reasonable if you ask especially because it's a DJI product. The first thing you'd notice from the camera is the dual screens. Besides the one on the back, it has another placed next to the lens, so you can see the footage directly.
In terms of performance, the camera delivers fantastic videos. There are many ways it brings a lot of bang for the buck. First, it records with superb stability. Second, it's capable of 8x slow motion. In case you record fast-paced footage on camera, you can use this feature to see what's going on more closely.
As for the specs, the camera comes with a 1/2.3″ CMOS sensor, 12MP lens, which can shot in 4K HDR quality.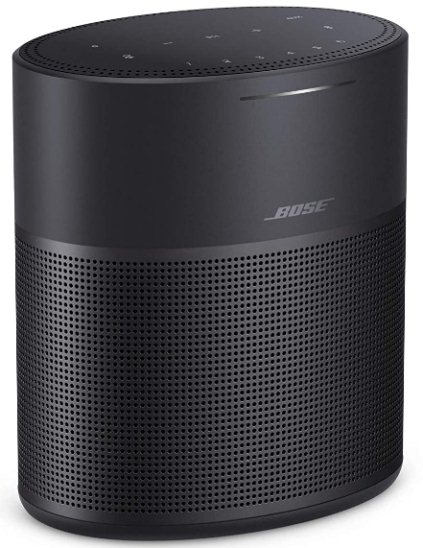 Now take a look at your workstation and see if there's a quality speaker on the desktop. If not, go grab this stunning speaker. Bose doesn't need an introduction, that's how trustworthy this brand is. Whenever you need an audio-related product, you can shop from the store.
What's special about this speaker? First, the sound quality is terrific, which is no surprise given the brand name. It has surround sound quality to it despite coming out of a compact design. And then, it also works with Alexa and Google Assistant, so anytime you need an answer, just say the specific command to wake the voice assistant.
The connectivity options are also varied. Besides Bluetooth and Wi-Fi, it also has Apple Airplay 2 compatibility. On top of that, it comes preloaded with proprietary Bose music app, which helps with the setup.
A smart TV is different from a regular LED TV. They may look indistinguishable from the outside, but there are things a smart TV can do that a regular TV can't. Well, they aren't called smart for no reason. This one is no exception.
It's integrated with Alexa and Google Assistant. If you've used them before, we believe you know what to do with the technology. There are more than 5 thousand channels you can watch on it as well as staggering 500,000 movies.
Furthermore, it doesn't just rely on content. In terms of display, the TV is also great. The contrast, color, sharpness, everything is well-balanced. And it shows content in 1080p full HD resolution.
Choosing a rice cooker isn't an easy task because there are an overwhelming number of choices out there. But to make it easy, it's better to go for a multifunctional cooker, one that can do many things like this one. The multi cooker now comes at a slashed price.
Go get it if you haven't already. It provides detailed information about time, temperature, pressure, etc. Besides, it cooks more quickly compared to traditional cookers.
Thanks to the advanced features, this product can come in handy for cooking all types of foods, including rice, beans, and even ribs. Cleaning is also easy since the components are dishwasher washable.
Don't let the appearance fool you. This may look like a regular a power outlet, but it's actually a smart version of it. Anything branded as smart usually incorporates cutting-edge technology to increase their value.
In this case, this outlet is equipped with voice control, which means you can adjust the way your electronics work just by saying something to this device. There's no need to get close to the power outlet since it can be controlled remotely.
You can also use it to set timers on your appliances, so they can turn on or off at specific times. Meanwhile, connection uses 2.4GHz Wi-Fi frequencies, and the setup is also easy.
Just as the listing states, you can save 30% on this item. That's a decent amount of saving. Most importantly, this product is high quality, so don't hesitate to add one to the cart. By the way, it is in the same vein as many of the previous products in the sense that it incorporates current technology to make it smarter than a regular doorbell.
As you can see, a 1080p HD video is embedded in the front of the device, making it easy to see who is coming. Data transmission occurs remotely via a tablet, a PC, or a Smartphone.
Basically, you can be anywhere around the house and still see who's standing in front of the camera. There are more great features to check out, such as motion detection, improved night vision, and privacy zones.
This product earns a perfect rating on Amazon, which indicates that customers are satisfied with the quality. Some may find the price expensive, but it has quality to fall back on. Besides, it comes from a brand known for its top-notch products.
Hence, if you consider yourself an audiophile who always wants the best sound quality, the price shouldn't bother you. The product has exemplary build quality and it's also loaded with incredible features. As far the sound, the hard-hitting bass is noticeable, which is a good thing. Besides, the battery life is long, which makes the experience even better.
Another thing that boosts its appeal is the water resistance. This product IPX7 certified, so it can deal with wet environments very well.
This is another product with excellent features up its sleeve. Judging by the brand, you can't underestimate the product's quality. In terms of features, Bose is very generous with this one.
Let's start with noise cancelling technology. With this, music will sound crisp and clear because there's no disturbance from external noise. These headphones are over ear, which can provide extra comfort and boost the noise-cancelling ability.
Additionally, there is Alexa voice assistant built into the system, so you can control anything with your voice. As the pic shows, the headphones work wirelessly. Bluetooth connectivity isn't special or anything these days, but this product comes with the Bose connect app for better pairing.
For those having a problem with humidity in their house, you can buy this product. It releases moisture into the air for up to 24 hours. The gallon can contain 1 gallon of water, making it suitable for large spaces.
And it's more than just a humidifier. Coming with the relaxing effect is an optional night light. If you have trouble sleeping at night, the light might help relax your wandering mind. There are different colors it can emit, such as red, green, and blue.
The name sums up the key features of this product. We're sure you have seen a massager that looks like this before. It provides many health benefits.
For example, you can use it to relieve tensions and ache in the muscles. The impact is deep, it even reaches the deeper tissue. It also has different strength levels, so you can adjust the power to the needs.
If it hurts, just set it to a lower level. And then, it comes with 3 different heads with each having a unique application.
You might be curious as to what this headband is used for. It's actually a sleep inducing device in the form headphones with built-in speakers inside. They can help curb sounds coming from the environment. As a result, it will be easier for you to sleep.
This product has broad compatibility, you can use it with Android, iOS, and even Windows operating systems. The fabric is soft and comfy to wear. Besides, it's also breathable, so you won't break a sweat at night.
A flashlight is a basic tool you should have in your backpack. They come in numerous styles. This one is unique because it has a magnet on its end, so you can attach it on a metal surface firmly.
It also comes with a rechargeable battery. This way, there is no need to carry heavy batteries around. All it takes is a portable charger or a device that has a USB port. Another feature it has to offer is 4 different settings, which affect how the flashlight projects light.
Amazon has a product for everyone. If you have a child, you can give him this educational toy. He can learn a lot about how a robot works and figure out the basics of robotics. This is beneficial for improving his critical thinking.
Having said that, his response to the gift still matters. If he's excited with the toy, you can give more that operate similarly. If he doesn't, then give him something else.
Final Thoughts
---
If you're looking for Black Friday sale in 2022, find out when the deals start because the days leading up to the main event can also be filled with tempting offers.
Many people wait until the day after Thanksgiving to search for goods they want because the discounts will be more in-your-face around that time.
However, it's also important to note that major deals attract more buyers, so you have to be ready to compete with others for limited quantities of low-priced products. Make a list of products you want to buy. Don't start the hunt empty-handed because you're more likely to engage in impulse purchases and we know it's bad especially when you're on a budget.
In case you have broken items that are too costly to repair, you might as well consider replacing them with new ones. Or if you need products that you've never had before, it's a good idea to get them through these annual deals.
There are many to choose from, such as Smartwatches, tablets, power banks, earbuds, Smartphones, home appliances, cookware, cutlery, etc.
Regardless of where you get the deals, we're sure you can get the best prices on Black Friday because retailers usually pull out all the stops to attract consumers.
Read More