Can You Use a Controller on Fortnite Mobile?
Fornite has been ported to mobile for a while now. While most of us are used to using the touch function to control the game, there's no denying that physical…
Fornite has been ported to mobile for a while now. While most of us are used to using the touch function to control the game, there's no denying that physical buttons can boost the experience.
This makes us wonder if the game can actually be played using a controller.
Well, you'd be happy to know that it's a possibility, but you need the right controller to do it.
Epic Games announced last year that a new update brought support for Bluetooth controllers.
That means Android users can officially play the mobile version of the game using their controllers. It was also revealed that support was mainly for Mfi gamepads.
So if you own the Steealseries Nimbus or another that belongs to this group, you should be able to use the feature.
The support has expanded since. Now we can find quite a lot of controllers that support the game.
Fortnite Mobile Controller Support
---
So, can I use a controller on Fortnite mobile?
This question may pop up in your head every now and then because it would be epic to play Fortnite with a controller. The answer is yes, you can. But the problem is it's not compatible with every gamepad out there.
You need to specifically look for an external controller that has support for the game. As for the setup, it usually follows these simple steps.
First, you have to press down buttons on a gamepad to turn on the pairing mode. Once it's enabled, you have to turn on Bluetooth on your Smartphone. It could be an iPhone or an Android phone.
Try to locate the gamepad on the list. Tap on the correct device and wait until the connection is established.
That's all. Once both devices are connected, you'll be able to play Fornite using physical buttons instead of the on-screen controls.
The Best Fortnite Mobile Controllers
---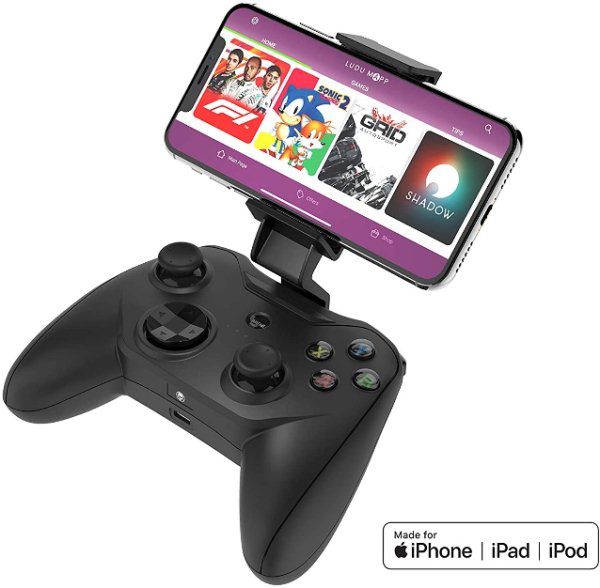 Compared to other controllers, this one boats L3 R3 functionality. Mind you, not every gamepad has this, so you need to know exactly if it's present or not in a product.
Another advantage of this product is it offers zero latency, which is important for first person shooter games because you're up against the enemies who are ready to kill you at anytime. Thanks to the wired connection, delay time is no longer an issue. In case you're afraid that the controller will drain your phone battery, it has a unique mechanism to charge during use.
Additionally, it also boasts extensive game support. There are thousands of them, not just Fortnite. Don't stress over your favorite games because they're likely compatible with it.
By the way, this model is designed for iOS only. If you need one for Android, check out the store's inventory.
Don't feel like browsing through the previous store's catalogue? You can consider this one. Unlike the first product, this one is compatible with Android and Windows. Just make sure to install a newer version on your mobile device. It communicates through 2.4GHz wireless connection, but there's also a wired option just in case.
The build quality is great. The D-pad responds to movements with high sensitivity. This controller is equipped with analog joysticks which are equally sensitive. Moreover, it also includes the R2 / L2 functionality. Speaking of user experience, it's comparable to other products in its price range.
Besides the solid construction, the vibration also feels alive. You'll know when using it to play games. As you can see on the picture, this controller has an extension in the middle which serves to hold a Smartphone in place. Right after putting your phone in it, you can adjust the angle to your comfort level.
It supports Smartphone with displays measuring 3.5 to 6 inches. For those wondering if this gamepad is playable for Fortnite, the advertising clearly states yes, so put your worry to rest.

This controller works for multiple platforms. For Android, it should be version 6.0 or higher. There are 2 different play modes to choose from, Android Standard Mode and Direct Play More. The former is compatible with Android devices and it allows for easy setup.
All you have to do is insert your phone, it will connect right away. No settings are needed to enable it. The other mode works with both operating systems. It offers a few benefits, like broad game support. if you want to play more games, please try this mode. And then, it also allows you to remap buttons easily.
When it comes to display size, it fits any Smartphone with a screen smaller than 6.2 inches. There's a total of 8 action buttons, all of which can be set to your needs.
However, the settings aren't saved forever. The moment you shut down the phone or restart it, the saved profile will be discarded. You need to set them once again.
Some of us are very concerned about price because it has an impact on quality. For some, an ideal controller is one that doesn't cost a fortune, but isn't too cheap, either. This one fits in the mid-level category, so you can rest assured about the quality.
Speaking of connectivity, it supports 2.4G wireless and Bluetooth 4.0. You can connect it to any device with either type of connection. It's compatible with Android iOS, but for iOS, it doesn't work with version 13.4. Design-wise, it looks solid and doesn't lack any essential buttons.
Just look at the picture if you're curious about the button configuration. There are 23 action buttons in total along with an array of 4 light modes.
Another strong suit of this product is the durability. It can operate for up to 80 hours, long enough until you need some break from staring at the screen. As with many other controllers, this one also vibrates.
Vibration enhances gaming experience, but you can disable if you prefer it off. Moreover, it has sensitivity adjustment, which comes in handy for FPS games. You can adjust it individually to give more accurate aiming.
To start with, this controller has no support for iOS. Just because a controller is made for mobile doesn't it will support every platform. It could be iOS only, Android only, or both. This one happens to exclude iOS, which means it's not suited for your iPhone.
To ensure that it works properly, you need to follow the setup tutorial. The controller requires the user to install a third-party app. For further information, you can visit the URL above. Now let's delve deeper into the specs.
This gamepad has built-in dual motors to generate vibration. This feature has become a staple in gamepads, so don't be surprised that it's included in affordable controllers as well. The L2/R2 function is also present.
Design-wise, the the most standout feature is probably the texturized surface. The form factor, on the other hand, isn't anything special. It looks like any other controller out there. You can use it for 4-6 inch Smartphones.
Mobile controllers are quite varied. There are basic controllers with no extension. There are controllers with an adjustable phone holder attached on top. And then, there are also retractable controllers. The last type can stretch out sideways to hold a Smartphone.
Try to pull it to either side, it will grow in size, creating a space for a Smartphone. This retractable controller comes with a 300mAh battery and operates on the Android operating system. It also includes a proprietary app called Beboncool gamepad, which gives a quick access to around 300 games, 145 of them are free.
Keep in mind that it's for Android and Windows only, so it won't work for iOS devices. In terms of connectivity, there are two choices, wired and wireless. The wireless connection relies on Bluetooth.
How long does the battery last?
On average, it lasts about 8 hours, but could be more depending on the use. Once the power has depleted, you can charge it back which takes about 90 minutes to reach full capacity.
FAQs – Play Fortnite on Mobile with Controllers
---
Can you get banned for using a controller on Fortnite mobile?
There isn't much info available on this topic. However, several publications have reported that Fortnite has advanced its controller support, which means it should be fine to play the game with an external device.
Epic announced support for Bluetooth controllers in Fortnite last year. It applies to both Android and iOS. For Android particularly, most controllers are supported from cheap to expensive ones. Justake sure to check out the compatibility before buying to prevent pairing issues.
Can you recommend Fortnite mobile controller for iOS?
There are a few that we'd recommend. The first one is the Steelseries Nimbus. As stated on the listing, Fornite support is included, so can play this FPS game without worrying about compatibility. It uses Bluetooth 4.1 for connection.
You can use also it with Mac devices in addition to iOS devices. For a lower priced model, try the Steelseries Stratus XL. Or if you want something from another brand, the Gamevice Controller might interest you.
Any recommended Fortnite mobile controller for Android?
The ones in this review mostly support Android. Just scroll back up if you've missed something. It's not hard to know all operating systems that a controller supports because the information is included in the product page.
Knowing OS support should is crucial in choosing a controller. If a controller doesn't support the Smartphone you use to play Fortnite, it's not gonna work.
Can you use PS4 controller for Fortnite mobile?
Yes, and the setup is fairly easy. First, update your Android or iOS to the latest version. And then, take your DualShock controller. Press down the PlayStation and share buttons for a few seconds until the light flickers. It indicates that the device is ready to enter the pairing mode.
Now head to the Bluetooth settings on your smartphone. Try to scan nearby devices. The controller should show up on the list. Try to connect and once it's successful, proceed to open the Fortnite mobile. As you get into the game, you'll be prompted controller input.
How to pair PS4 controllers with iPhone?
It's the same as pairing with an Android device. You should press the share and Playstation buttons until the light blinks.
Open the Bluetooth settings on your iPhone. The controller would show up under the Other Devices section.
After pairing is successful, you can play Fortnite using the gamepad.
Mobile Controller for Fortnite: Final Thoughts
---
Needless to say, playing with a controller is more convenient than using on-screen buttons. That applies to many games, not just Fortnite.
So, does controller work on Fortnite mobile?
Fortunately, support for gamepads has now included in the game, but you need to use the right device. The options are becoming more diverse, though. Just make sure to read the description of a product because it should confirm whether it's Fornite compatible or not.
Also, you should also figure out how to install because every product is slightly different on this. Once the setup is done, you can try to play the game using the controller.
Are external devices costly?
Those from popular brands are a bit on the pricier side, but they're still value for money because they have quality to fall back on. By the way, your choices are not just limited to high-end controllers.
There are also mid-level products in the market. They cost lower, but still deliver good performance. You can consider one if you don't feel like spending big bucks on a controller.
Related Posts